It can be said that there are a good number of applications available for Mac and Windows that don't have a Linux version and one such app is the famous note-taking app, Evernote.
As expected, the Open Source community has intervened by providing alternatives to provide the same (or at least similar) services. Today, we'll mention our top 5 picks for Evernote-like productivity on your Linux system in no particular order. Be on the look out for any apps that may be new to you.
1. Everpad – An Evernote Client
If your intention is to use an Evernote alternative that will make you feel at home the most, then just stop here because Everpad is as close to Evernote as you can get right now.
It's an Evernote client that is so well integrated with the Linux desktop you can search for Evernote notes right from the Unity Dash. It has a unity launcher icon, unity lens, and an indicator applet.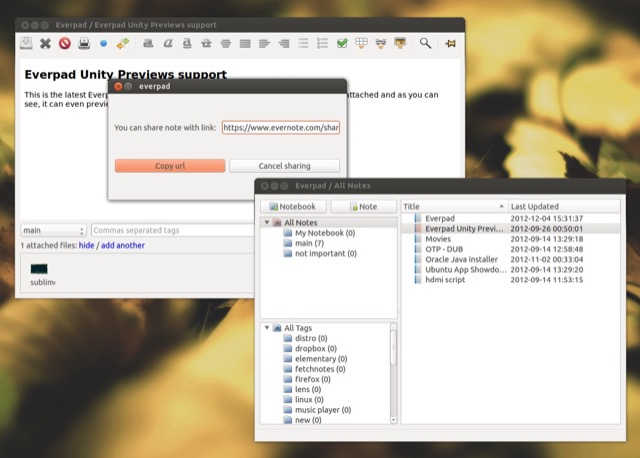 Everpad Feature Highlights:
Free and Open Source.
Add tags and places to notes for better organization and referencing.
Notebooks for an even more constructive organization.
Evernote stores notes in an SQLite database and then communicates with Evernote's API via Thrift using https.
Unity Lens that allows to search for Evernote notes from the Unity dash.
An indicator applet.
Installation of Everpad in Ubuntu
$ sudo add-apt-repository ppa:nvbn-rm/ppa
$ sudo apt-get update
$ sudo apt-get install everpad

If you would like to install Everpad on other Linux distros find the installation guide here.
2. NixNote- An Evernote Client
NixNote is an Open Source Evernote alternative formerly known as NeverNote whose sole purpose is to keep your work organized.
It lets you create notes with attached media content and then sync them with Evernote so you can access them wherever you are.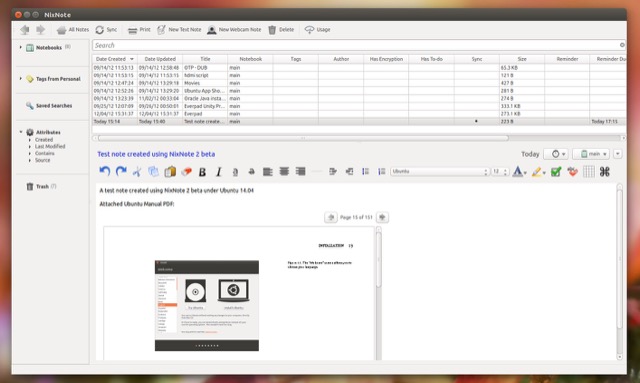 NixNote Feature Highlights:
Available for Linux and Windows.
Note taking.
Media attachment.
Evernote sync.
The option to keep local files without syncing with Evernote's servers.
Installation of NixNote in Ubuntu
$ sudo add-apt-repository ppa:vincent-c/nevernote
$ sudo apt-get update
$ sudo apt-get install nevernote

3. Springseed – An Evernote Client
Springseed is another Evernote alternative you might fall in love with. It uses a minimal design to present you with just the information you need to get on with writing with support for HTML, CSS, and Markdown.
It doesn't have a sync feature for Evernote yet but it does come with inbuilt Dropbox support to allow for easy cloud access.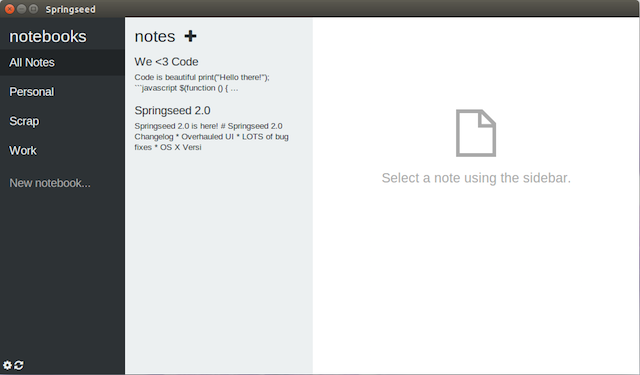 Springseed Feature Highlights:
Free and Open Source.
Full HTML and Markdown support.
Support for CSS styling.
Dropbox integration.
Minimal design UI.
Installation instructions for Springspeed can be found here.
4. Simplenote – A Note Taking App
Simplenote is an Open Source note-taking app built using Electron for those who want most of Evernote's features but not all of them.
It has a glossy, intuitive, and truly minimal design UI with support for Markdown, collaborating (almost like in Google Docs), and a fully-fledged web version.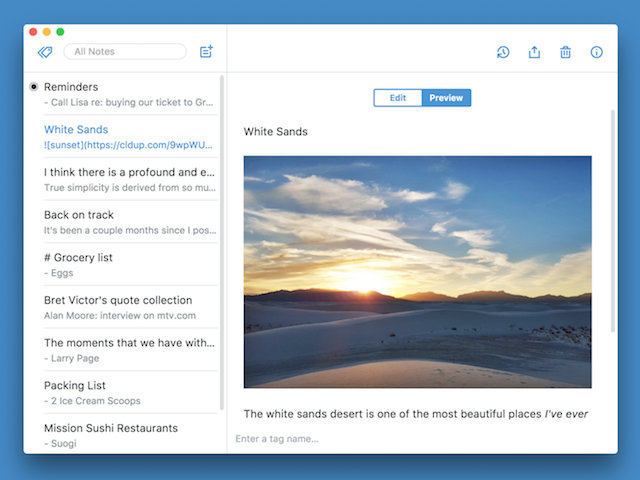 Simplenote Feature Highlights:
Free, Cross-platform, and Open Source.
Tag feature for easier categorization.
History feature: go back in time to revert to previous note versions.
Collaboration: share your notes with colleagues and allow them to be edited from anywhere.
Publishing: you can make your notes public with its own URL.
Support for reminders.
Installation of Simplenote in Linux
Simplenote for Linux is available for download in two versions:
5. GeekNote – Evernote Console Client
This is secretly my favorite Evernote alternative because it is the most unique on the list. If you love using the CLI then GeekNote is for you.
It's an Open Source Linux console client for Evernote available for Linux, FreeBSD and Mac OS X. You can use it to create notes and notebooks as well as sync them with Evernote from your local directories.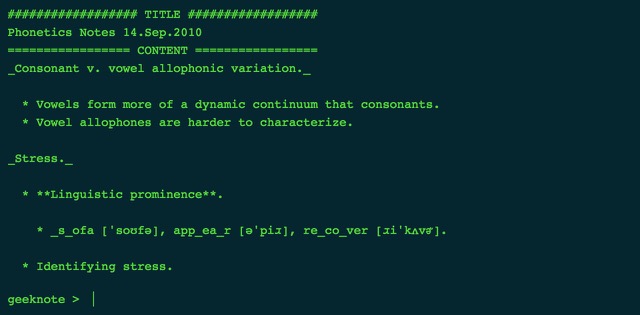 GeekNote Feature Highlights:
Search, read, and sync notes from the CLI.
Work with notes using any editor of your choice from the CLI e.g. nano and vim.
Automatic syncing with Evernote.
Easy syntax; You don't need to be a Linux genius.
If you are skeptical of how refreshing GeekNote can be to use try out this demo. You will have to log into your Evernote account to grant access.
Installation of Geeknote in Linux
First, download the repository from your terminal.
$ git clone git://github.com/VitaliyRodnenko/geeknote.git
$ cd geeknote
$ sudo python setup.py install

Launch Geeknote and log into your account to complete the setup process:
$ geeknote login

6. Turtl – A Secure Encrypted Evernote Alternative
Turtl is last on this list because I have written on it before. It's a note-taking app that you can use to keep website bookmarks, articles, screenplays, and project documentations with an assurance of privacy thanks to its use of the best cryptographic practices.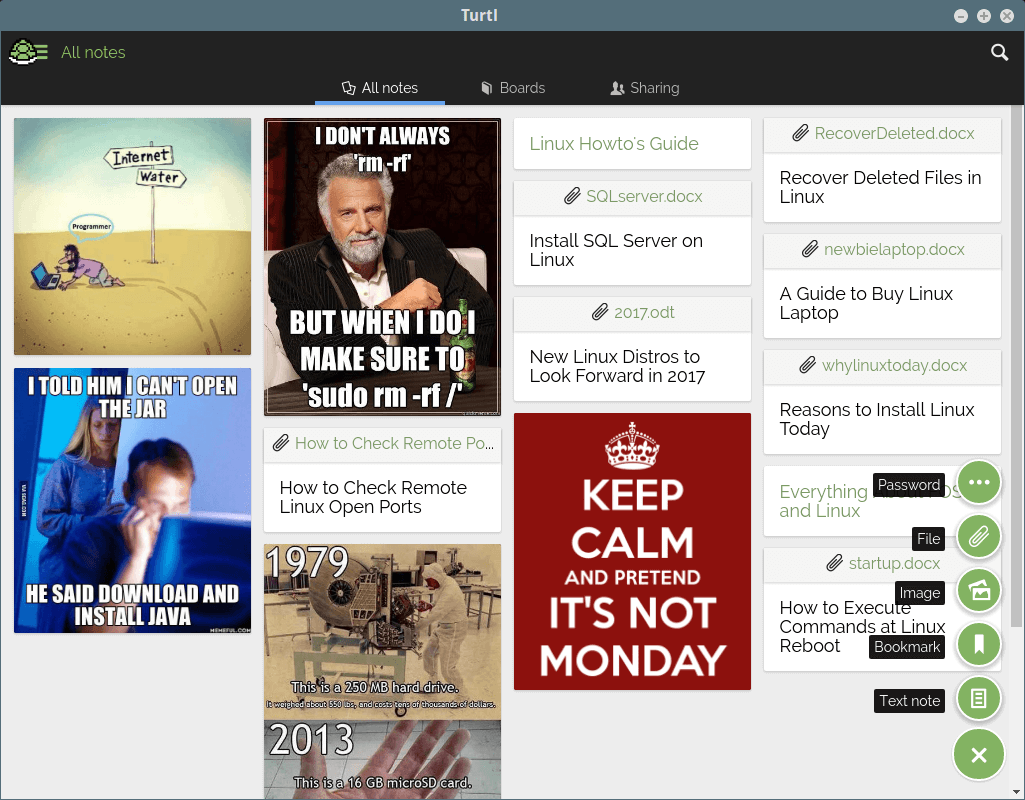 Turtl Feature Highlights:
Use markdown support to easily take notes and then convert them to HTML.
Securely share your documents and bookmarks with only the people you want to share with.
Turtl goes an extra mile to keep your information safe by encrypting everything you keep in it so you can use it without the fear of your privacy being compromised
Installation of Turtl in Linux
Download the app for your Linux version below:
Which note-taking app do you use? If you're to get one must it be one that has Evernote integration or are you not a fan of Evernote all together? See you in the comments section.