Searching for solutions to the Netflix Error Code NSES-404 in India? Dive into our comprehensive guide for quick and easy fixes to resolve this issue in no time.
Encountering the 'NSES-404 Netflix Error Code' indicates the content isn't available in your regional Netflix library. For uninterrupted viewing and bypassing this error, consider using a top-tier VPN and connecting to an appropriate country's server.
Utilizing a VPN empowers you to modify your Netflix region, unlocking a plethora of content otherwise restricted in your geographical area.
What is Netflix Error Code NSES-404?
The "NSES-404 Netflix Error Code" typically signifies that the content or page you're attempting to access is unavailable or doesn't exist on Netflix's servers.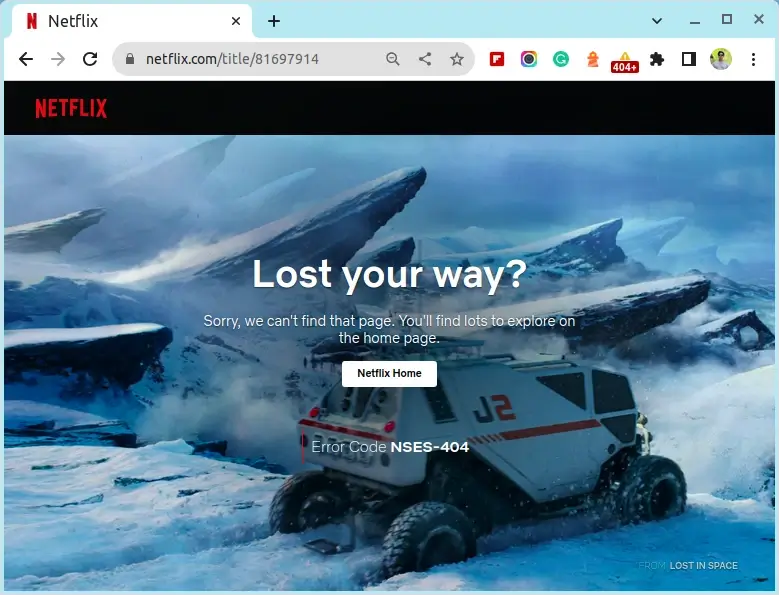 This can be due to several reasons:
Content Removal – The specific movie or series might have been taken down, either temporarily or permanently, due to licensing agreements or other internal decisions.
Regional Restrictions – Netflix's content varies by region. A title available in the US might not be accessible in India, for instance. If a user tries to access region-specific content not available in their country, this error might pop up.
Server Glitches – Occasionally, technical glitches on Netflix's end can lead to this error, even if the content is available.
URL Errors – For those accessing Netflix via a web browser, an incorrect or outdated URL can trigger the NSES-404 error.
In essence, the NSES-404 error is Netflix's way of communicating that the content you're seeking is currently out of reach, whether due to regional restrictions, content removals, or other reasons.
How to Fix Netflix Error Code NSES-404 in India
To fix "NSES-404 Netflix Error Code", you need to use a reliable VPN, which masks your IP address, making it appear as though you're streaming from a different country.
Use a VPN to Unblock Netflix
For true online anonymity, a VPN is essential, but free VPNs often fall short when it comes to unblocking Netflix.
To ensure seamless content streaming, consider premium options like ExpressVPN, PureVPN, or NordVPN.
Once VPN set up on your system, you can identify the country where your desired movie, web series, or documentary is accessible and connect your VPN to that specific server, refresh the Netflix page.
For instance, if you're keen on streaming 'The River Wild (2023)' on Netflix, ensure you're connected to a US server, as this title is exclusive to American Netflix.
Conclusion
Dive into our straightforward guide on resolving the Netflix Error Code NSES-404 in India. With our insights, you'll swiftly bypass the NSES 404 Netflix error, ensuring uninterrupted streaming of movies and web series from the Netflix catalog.