Subtitles are captions displayed at the bottom of a cinema/television screen for the purpose of translating or transcribing dialogues and/or narratives. For language learners, they're a perfect way to learn words and slang when watching shows in a new language.
For everyday movie watchers, they enable dialogue transcription from source to target language as well as narrations of background events, transcriptions of sometimes inaudible sounds, etc.
If you aren't using a movie streaming service like Netflix or Hulu, the movies that you watch might not the subtitles in your target language or perhaps, no subtitles at all. But that doesn't have to be final because there are a ton of websites for you to download them from and manually add to your favourite movie-watching app.
As usual, it is my duty to provide you with a curated list of the best you can use. Many of them display subtitles in different languages and formats, and with relevant rating and comments.
1. OpenSubtitles
OpenSubtitles is among the biggest platforms for subtitles with north of 5 million subtitles in 50+ languages. Elmedia Player for Mac has integrated support which enables users to watch movies with subtitles without having to download them manually. Users can also upload subtitles, make requests, participate in a forum, install recommended browsers and extensions, and follow its blog.
The new website features a simplified approach to finding subtitles as users can choose to search for subtitles using a series or movie title, IMDB ID, or go to their dedicated pages.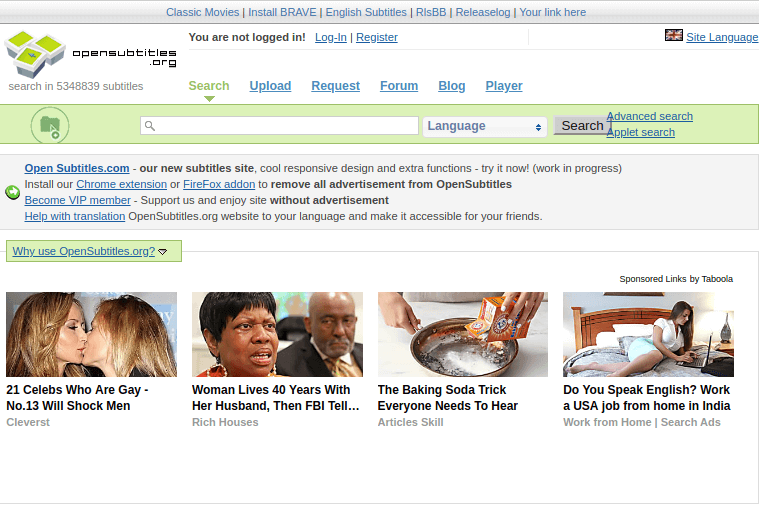 2. Podnapisi
Podnapisi is an excellent platform for finding subtitles in different languages for movies and tv shows. Currently, it hosts 2,078,527 subtitles for 58,959 movies and 6,715 series in 100 languages of which 61,697 are made by the community, and 00,235 are adapted for hearing impaired and hard-of-hearing (SDH) viewers!
Podnapisi uploads new subtitles every day and you can search for subtitles by year, genre, keywords, or using the options in its advanced search engine. You can also choose to create a user account with them and engage in the forum where you can post questions, subtitles requests, etc.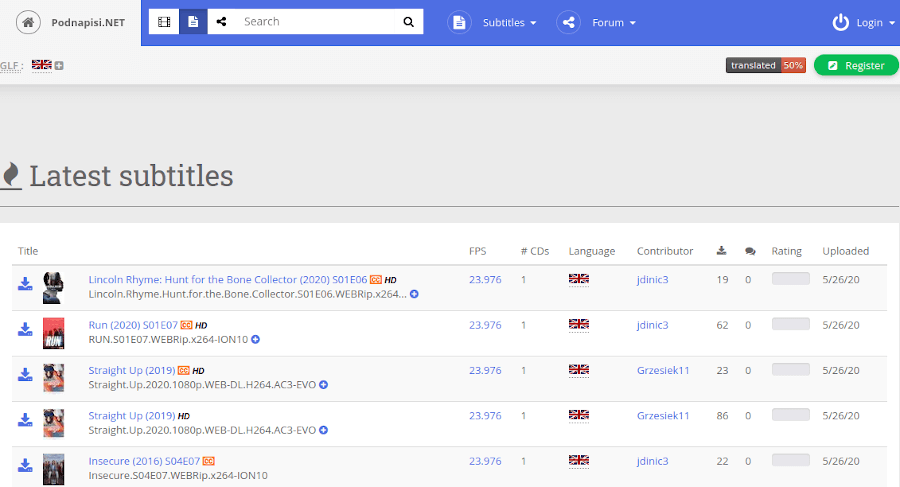 3. YIFY Subtitles
YIFY Subtitles is the subtitle-dedicated platform owned by YTS (a.k.a YIFY Torrents) – a P2P group famous for distributing movies via BitTorrent. Unlike with most of their competitors, YTS uploads were in HD and maintained a small file size. This made them stand out from the rest.
YIFY Subtitles features a clean, dark-mode UI and its users are welcome to search for subtitles using keywords, year of release, genres, languages, and popularity. All subtitles are piracy and ad-free. Unlike other options in this list, though, you can't make any requests or join forums.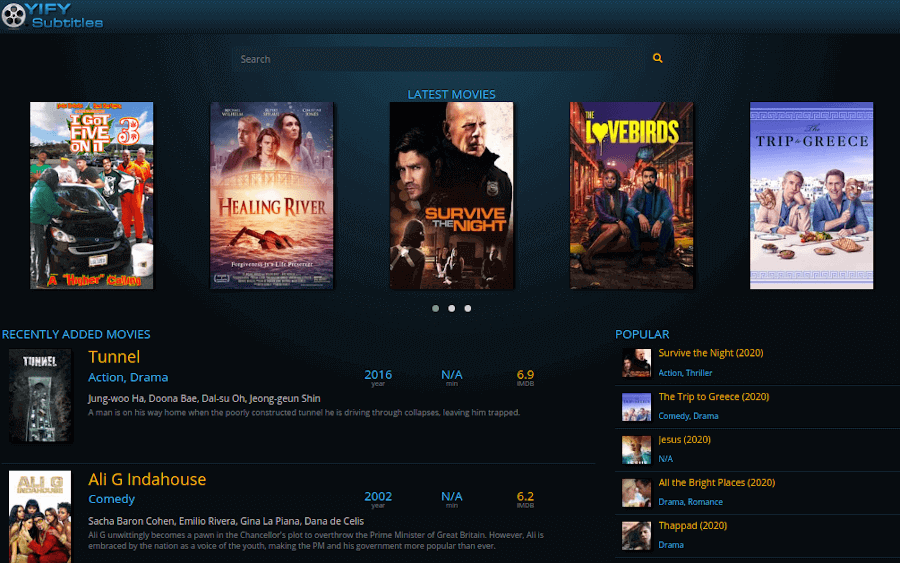 4. Subscene
Subscene is a type of website I call an old-timer. It has been serving users with subtitles in several languages for free since 2005 with the option for users to make their own subtitle uploads, participate in the forum, and request for subtitles in different target languages. For these extra options, however, a user account is required.
Subscene has a light and dark mode for is UI and apart from movie and TV show subtitles, you can also download subtitles for popular music videos to sing along with your pals.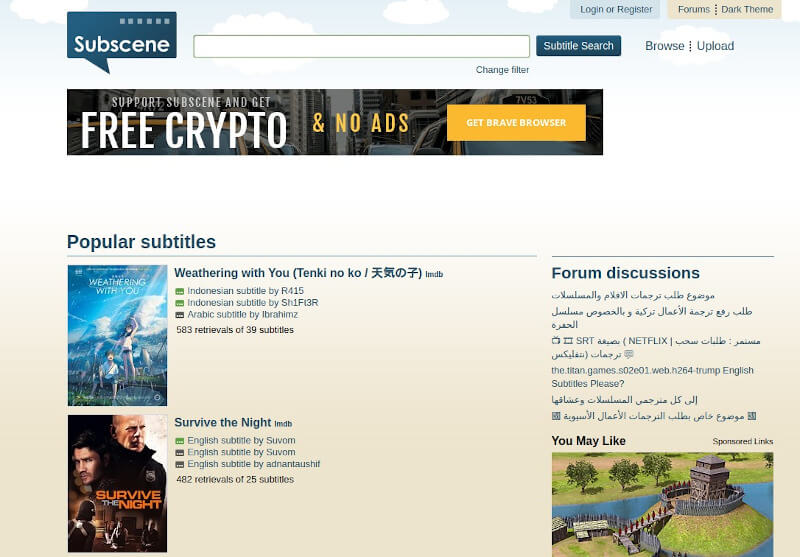 5. Addic7ed
Addic7ed is another cool one-stop hub for downloading movie and TV show subtitles. It doesn't have the fanciest user interface, but its organization is on point. My favourite feature is its option to show movie and tv show air dates with new releases prominently displayed at the top of the page in an RSS feed.
Users can request for subtitles, upload theirs, participate in forums, and offer to join the development team. The only drawback with Addic7ed is that you must be logged in to complete downloads. While the subtitles and user accounts are free, downloading subtitles comes at the cost of creating a 'free' account.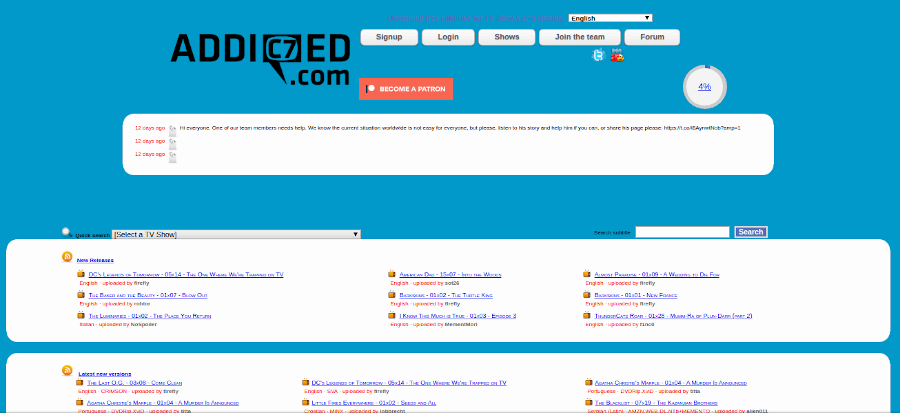 6. English-subtitles
English-subtitles prides itself as the platform with the largest collection of English subtitles and it has been gathering subtitles for both movies and TV shows since 2015. It features a simple dark mode UI with options for users to search using keywords or the linked lists displayed on the homepage.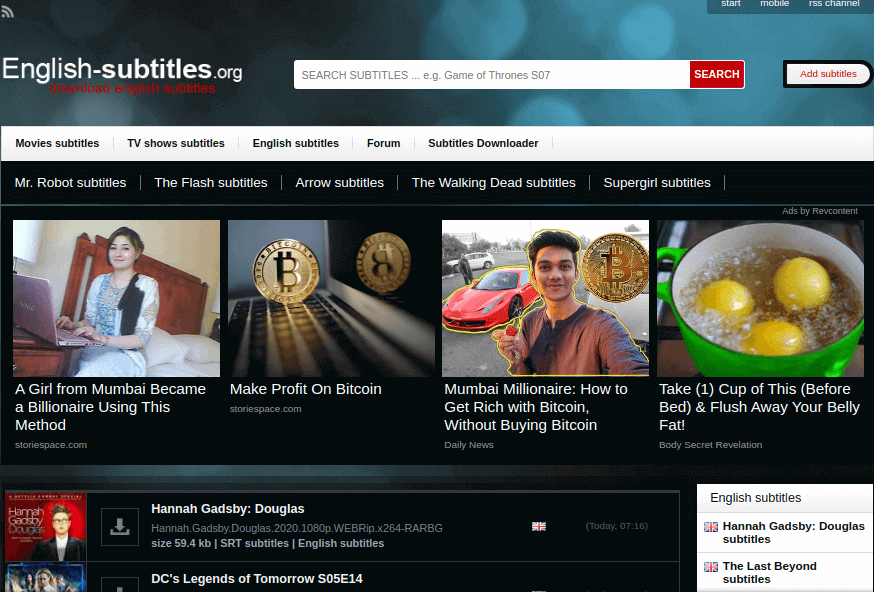 7. iSubtitles
iSubtitles allows users to search for movie subtitles by title, release year, genre, or anything using its simplified user interface. On its homepage is displayed a list of movies with their subtitle count and if you prefer, you can browse movies by country, language, and genre.
Since it opened in 2015, iSubtitles has indexed a total of 68,573 movies and 1,584,090 subtitles. You're sure to find what you're looking for here.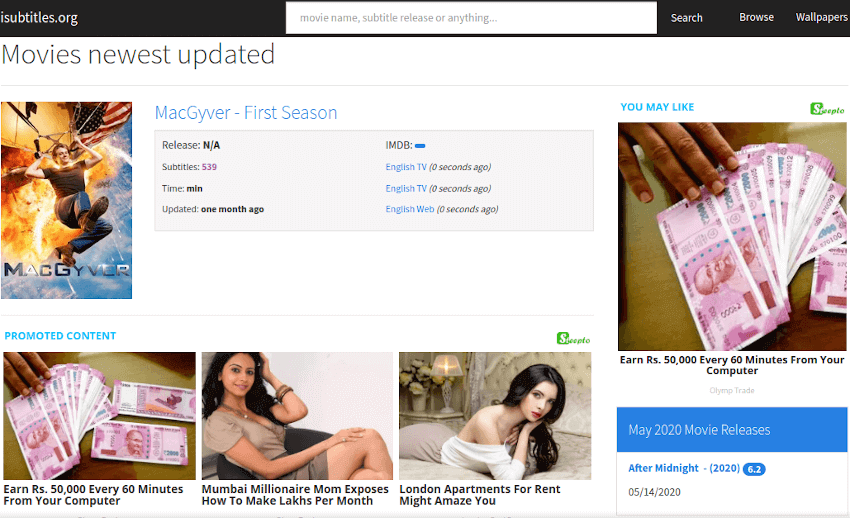 8. SubDivX
SubDivX is one of the largest databases of subtitles that are free, legal to use, and accessible from video players and media centres (e.g. Kodi). Users with permission to share subtitles can make uploads and others can participate in the forums.
You can browse for subtitles using the listed query links (e.g. most commented) and while its UI is far from the best, you will get the hang of it after using it once or twice.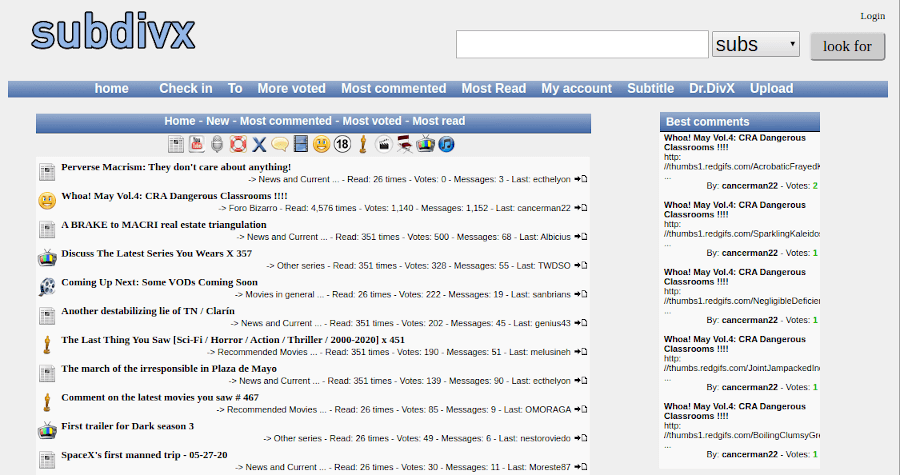 Notable Mentions
Modern video players have a built-in feature that enables users to download subtitles without having to leave the app. Elmedia Player for macOS and VLC Media Player are excellent examples. In VLC, activate the subtitles from the menu View > VLsub.
There are many popular websites where you can download subtitles but I've excluded them from this list because they don't use proper encryption methods (e.g. no SSL certificate). Odds are that you would have found the subtitles you need before you get past #8.
But if for curiosity purposes you want to check out some others, here's a list of the most popular ones:
So there you have it, folks. The 8 best websites for downloading TV Series and Movie subtitles. You're welcome to suggest secure and reliable suggestions in the discussion box below. When you use links, endeavour to format them nicely since Disqus now has full support for HTML.