Artificial Intelligence, commonly abbreviated as AI, is the ability of machines to mimic tasks and operations that require human intelligence, logic, and discernment. It's a technology that has revolutionized the tech industry and made life simpler and more efficient.
AI-driven tools cut across various fields: from healthcare, robotics, customer service, social media, and education, to security, surveillance, and military disciplines.
In this tutorial, we explore a myriad of AI tools in various fields and how to make the most of them.
AI Design Tools
Whether you're a part-time web designer, graphic designer, UI/UX designer, or just making a start, AI design tools can assist you in taking your work to another level. From launching web applications to producing customizable color palettes, these tools can be essential to unleashing creativity.
1. Flair AI
Flair AI is an open-source tool that packs amazing features and fixes, including prototyping, design system optimization, Integration with other tools, and workflow automation.
Besides that, Flair AI is a Natural language processing (NLP) tool built on PyTorch, and it offers a friendly interface for NLP researchers and practitioners.
To stay in the know, head over to the Flair AI homepage to start creating with Flair.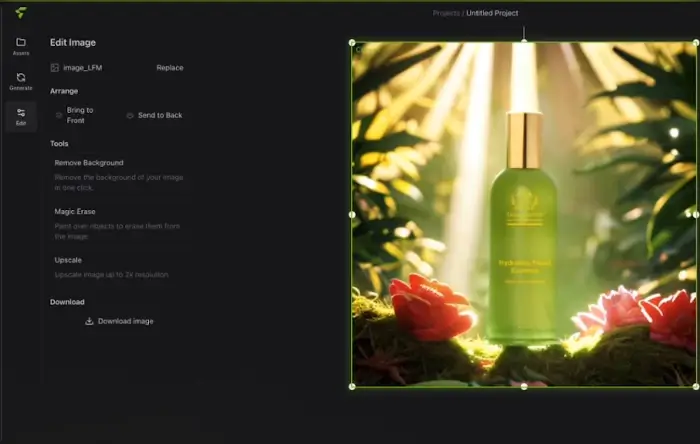 2. Autodraw
Autodraw, as the name implies, is an AI-supported design and drawing dashboard. You don't need prior knowledge or drawing skills to use this tool because the AI design engine will process your work for you. It was released by Google to simplify the process of creating images.
Autodraw also has several features, such as multimedia functionality, an intuitive user interface, and AI-driven guessing. For those who are not perfect at drawing, you can use the Autodraw icon below.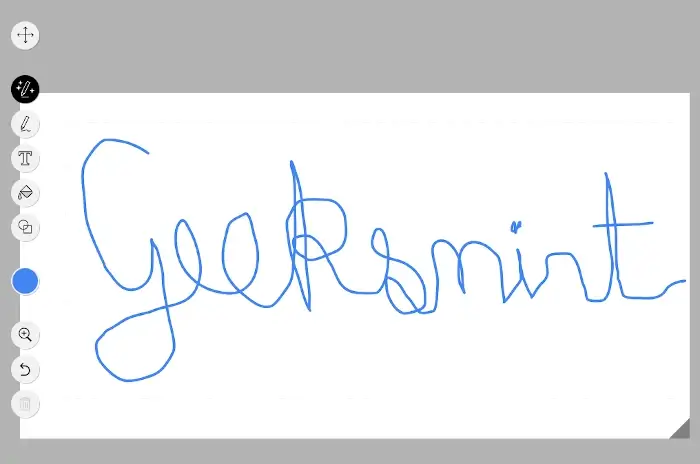 By just sketching an image, the AI design tool automatically identifies what you intended to draw and highlights several options, as shown above
3. Stock IMG
Stock IMGs are illustrations, icons, and generic photos established without any motive in mind. These images are licensed and free for use by organizations and individuals. They are often used for marketing materials, packaging, book covers, and websites.
Some basic features of this tool include seamless integration, versatile design options, AI-driven upscaling, and instant production of high-quality images. To begin with, this tool provides several options to choose from. You can click any option, as shown below.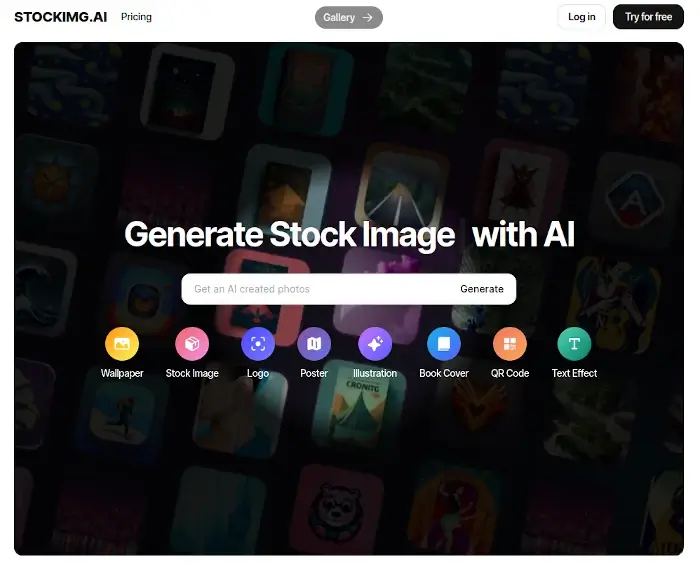 4. Booth AI
If you want to make phenomenal photographs without paying a skilled photographer, Booth AI comes in handy. With Booth AI, you can produce high-quality lifestyle photography by just inputting some sample product images and describing your ideal shot.
This tool employs algorithms to generate original and realistic images that are in line with brand guidelines and your vision. To get the most out of it, start by creating an account first, and once you are done, click the Get Started button below.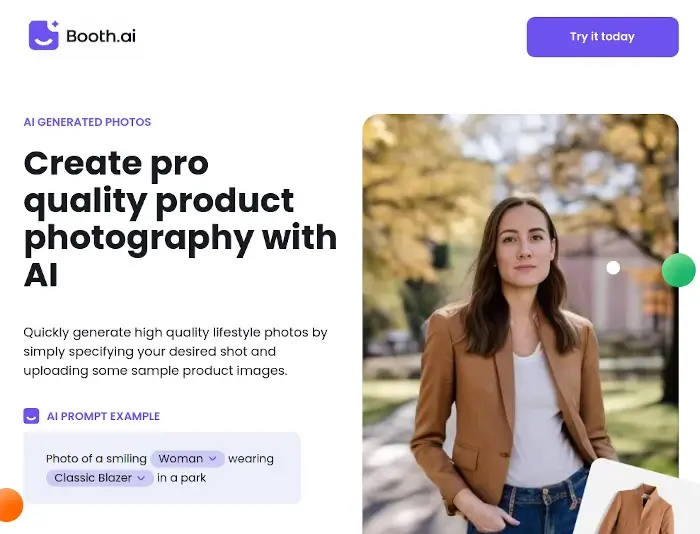 5. Clipdrop
With the help of the Clipdrop app suite, you can instantly use AI to edit and modify your photographs. This tool is ideal for producing product pictures for your company. To swiftly produce outstanding images, developers, photographers, and expert studios use ClipDrop.
Its features include relighting drawings and photos in seconds, producing images from text, removing defects or objects from pictures, and generating various variations from a single image. The Clipdrop dashboard offers various options you can select to get started, as shown below.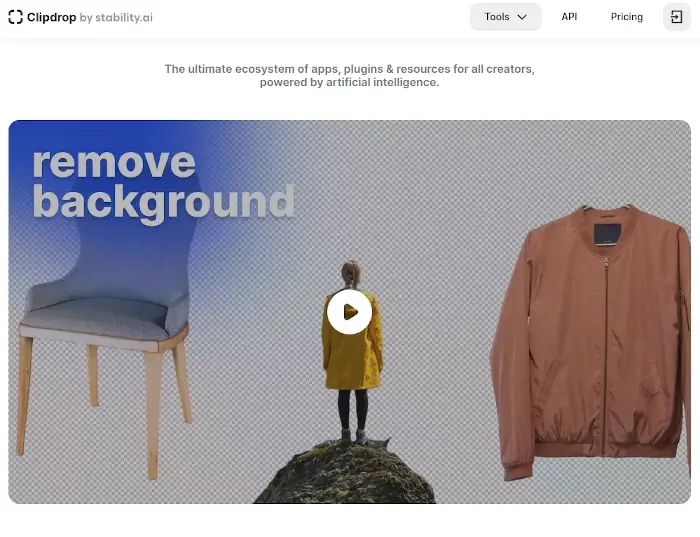 AI YouTube Tools
The rise of AI has also shifted perceptions in this dynamic landscape of YouTube. There are a couple of handy YouTube tools you can use to monetize your YouTube content and realize significant profits.
Whether you're a well-known YouTuber or just making a rocky start, taking advantage of the tools below can help you create engaging content and grow your audience.
6. Eightify
Eightfiy is an AI-powered tool that assists you in getting the most out of YouTube videos. It helps in summarizing key points in selected videos: news articles, podcasts, interviews, lectures, and much more. This just makes it simpler for you to make decisions on what videos are worth watching.
This tool uses Algorithms to break down and analyze the content of any selected video into all-inclusive summaries. What is needed is for you to provide the video URL, and the tool takes over from there. To get the most out of this tool, follow the outlined steps.
Access the Eightify dashboard.
Enter the URL of the YouTube video.
Wait for the summary Edit.
Review the summary Export or save the summary.
Explore any additional features.
Stay updated with any improvements or new features to the Eightify platform.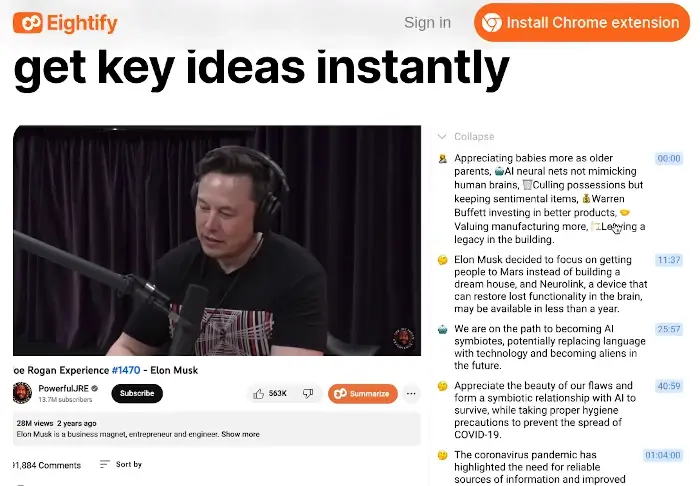 7. Thumbly
Thumbly is an AI-powered clickbait and a thumbnail generator. The tool provides creators with a friendly user interface experience which makes it easy to use. With its AI technology features, Thumbly generates high-quality and custom thumbnails that are tailored to boost clicks and capture attention.
Additionally, Thumbnail Maker for Thumbly employs a rich YouTube snippet to craft clickbait thumbnails. In doing so, it saves valuable time and resources for content creators by instantly automating the thumbnail creation process and producing scenic designs.
To get started with Thumbly, begin by creating an account.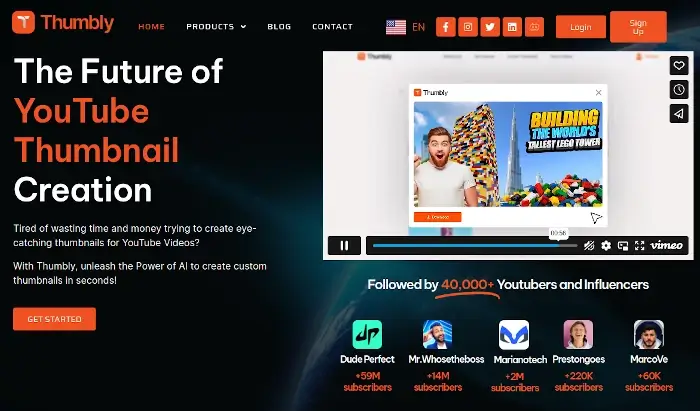 8. Steve AI
Steve AI is one of the YouTube tools that provides the option to create animated videos and live, engaging videos from just text.
You just need to type the text into this tool, and it takes it from there. Thanks to its AI-powered features, the algorithm can grasp the context of the YouTube video by analyzing the script and keywords.
This tool works in this way, It first extracts the text you have entered from your blog URL and then selects large, medium, or small excerpts to turn into alluring videos.
Furthermore, this tool has built-in features that come with a payment plan, such as video templates, 2K video resolution, animated characters, a shared library and team library, text-to-video, and an exclusive media marketplace.
With just a click below, transform text into engaging video content and churn out impeccable videos.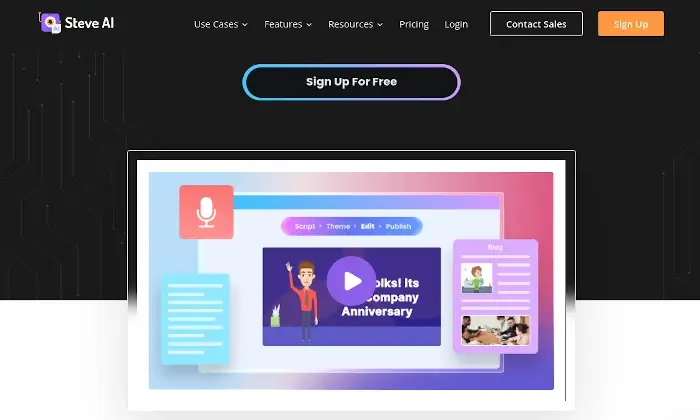 9. ClipMaker
ClipMaker is one of the YouTube video editor tools that uses Al technology to create polished HD videos, trim and clip videos, and edit raw video footage in minutes. With this tool, you can take your YouTube content to another level thanks to its special effects, filters, and vast library of transitions.
Besides that, ClipMaker provides a user-friendly UI and packs features such as audio editing, motion titles, and reliable rendering.
Do you want to make short YouTube video clips? Well, definitely with ClipMaker, you can, and even more interesting is that you can select if it's just your favorite part, the intro, or the outro of the video you want to trim.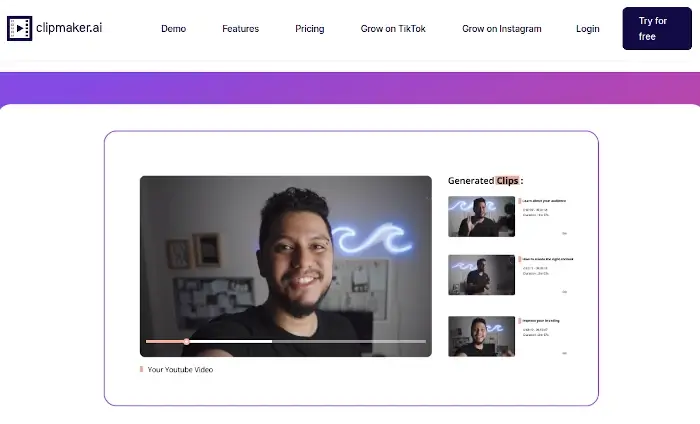 10. TubeBuddy
TubeBuddy is a web browser extension that links to your YouTube profile and offers the tools needed to optimize your YouTube videos, increase audience growth, and boost your YouTube channel.
Additionally, this tool comes with paid plans, which ship with more features, and free plans as well.
This tool's homepage dashboard packs several tools, such as keyword explorer, bulk processing, click magnet, data and research, title generator, thumbnail analyzer, and video tags.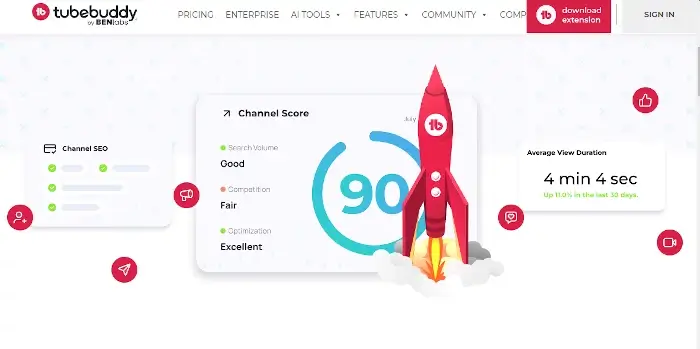 AI Research Tools
As the use of Artificial intelligence continues to reshape the landscape of technology, so too does the realm of research. The influence of AI in academic and scientific research gives a breeze to researchers, opening more comprehensive, effective, and vast explorations.
Instead of tirelessly navigating through a thousand PDFs just to find information, employing the below AI research tools can come to your rescue by extracting and summarizing vital information from your research papers.
11. Consensus
Consensus is an AI-powered search engine that uses language models to synthesize and analyze claims from research papers. To learn more, this tool is not a chatbox but uses AI technology to solve research questions that are within papers.
This tool's source material comes from the Semantic Scholar database, which contains over 200 million research papers from all domains. Additionally, Consensus comes with affordable plans for reliable and intuitive research. To begin with, sign up and head over to the query bar.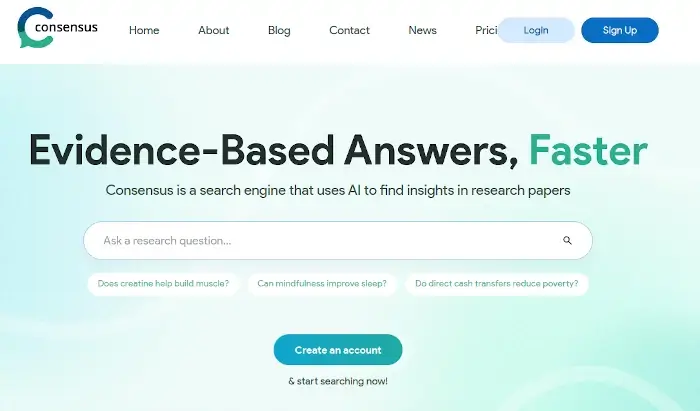 12. Paperpal
In this Grand tapestry of academic research, writing a research paper can be a daunting task, especially if you're not a gifted wordsmith. But worry less, because with Paperpal, you can write like an expert in no time. This tool is designed to help you produce high-quality papers and improve your writing proficiency, which is sure to be eye-catching.
This tool is also designed to integrate with Microsoft Word as an add-in, therefore providing seamless writing suggestions for improving your sentence structure, grammar, word choice, and spelling.
With this tool in place, you can write with ease and confidence, knowing you'll get in-depth language feedback to improve the flow and clarity of your text.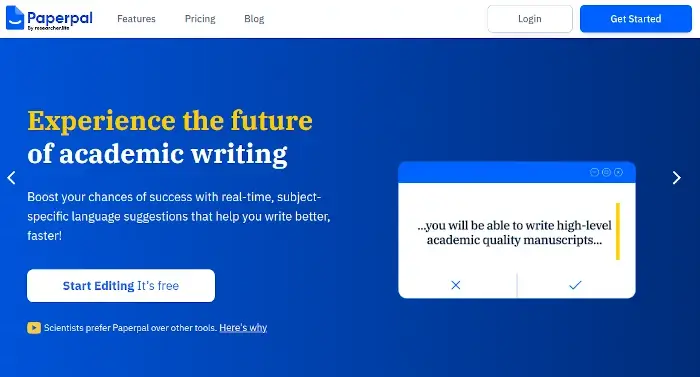 13. Trinka
Trinka is an AI-based writing assistant that checks your text for spelling, consistency, and grammar errors, providing actionable corrective feedback.
Specifically, the tool is designed for technical and academic writing and can identify and correct over three thousand intricate grammatical errors.
Furthermore, Trinka comes with a pricing plan that includes features such as auto-editing capabilities, a plagiarism checker, and advanced spelling and grammar checking.
Besides the pros of this tool, it also has some cons, which include:
Sometimes the software may make significant errors since it relies heavily on AI, which is not all-around perfect.
Some users may find Trinka's support team does not respond quickly.
If you feel like Trinka is the best choice, then start by creating an account to access its dashboard.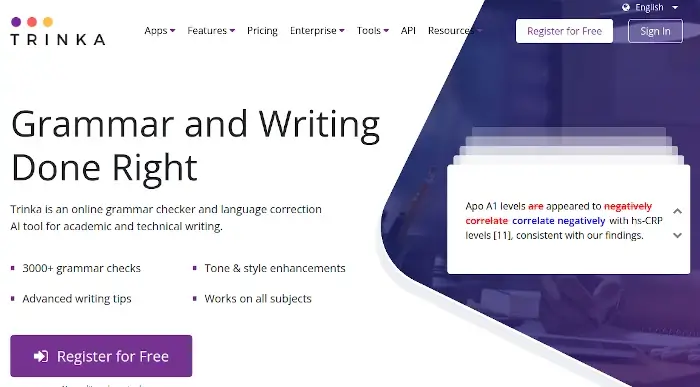 14. Writesonic
As the name implies, Writesonic is an AI-powered writing tool whose main purpose is to create stunning content. This tool is ideal for those who want to create marketing content in long-form text format, create copy, and create landing pages.
Additionally, the content it writes sounds human, content generation is swift, and it provides an intuitive user interface.
At the moment, this tool supports over 25 languages and allows users to use the tone of voice. It also has pricing plans, each packed with its features, and a support center that has guides and tutorials on how to use the platform tools.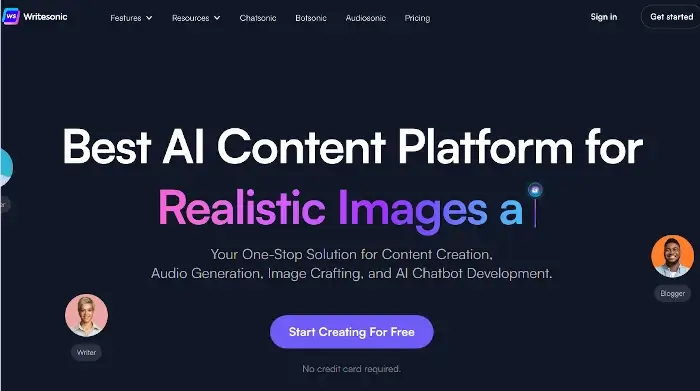 15. Scholarcy
Scholarcy is an online AI-powered summarizer tool that reads your reports, book chapters, and research articles in seconds. After summarizing the content, this tool advances to breaking it down into bite-sized sections, so you can easily get the most out of it.
By pinpointing vital information, including data analyses, main findings, limitations, and study participants, students appraise this tool because studies are reduced by over 70 percent
Additionally, this tool can be configured to extract images, tables, and figures and also create links to access the versions of the cited sources.
Scholarcy has three main pricing plans, which include a Personal Library, an Academic Institution License, and Flashcards, each packed with vast features.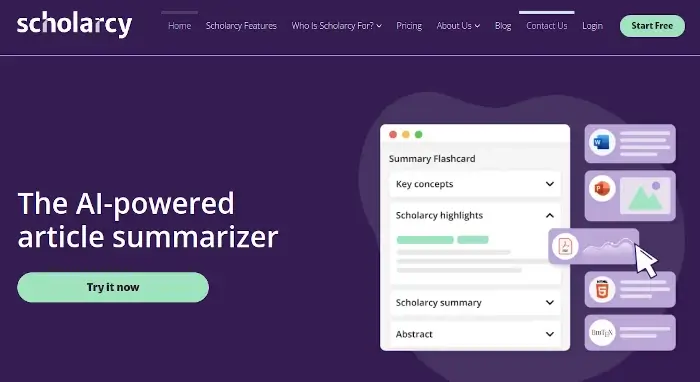 AI Writing Tools
Writing engaging content requires in-depth and meticulous research, creativity, and a great deal of time spent crafting the content. But what if it can be performed with less effort and time? Deploying the AI Writing tools below can assist in writing compelling content and publishing it in a timely fashion.
16. AISEO
AISEO is a writing tool that can be handy when it comes to crafting introductory parts for blog articles. As the AI-written content grows, search engines such as Google use their Experience Expertise Authoritativeness and Trustworthiness (E-E-A-T) guidelines to assess the AI-driven content.
This tool is also tailored to generate content that is aligned with Google's E-E-A-T guidelines, increasing the chances of achieving top search rankings.
Additionally, the AISEO dashboard packs the following tools you can leverage advanced paraphraser, readability improver, bypass Al detection, and blog image generator. Besides that, it has pricing plans, each with its own merits.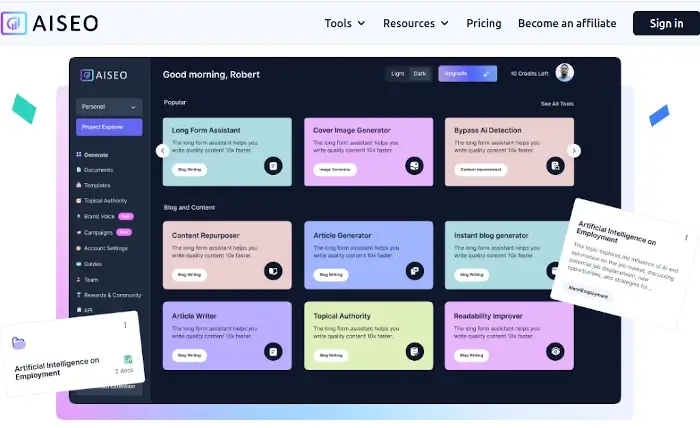 17. QuillBot
Quillbot is an AI-powered writing and paraphrasing tool that packs the following functionalities out of the box.
Plagiarism checker
Grammer checker
Co-writer
Summarizer
Translator
Reporting and statistics
Contextual speller
Citation generator
paraphraser
In addition, it provides Google Docs and Chrome extensions to help paraphrase and summarize your work. The good part about Quillbot is that it offers free usage.
However, premium users have more functionality and versatility. To use Quillbot, just sign in to the website to start paraphrasing.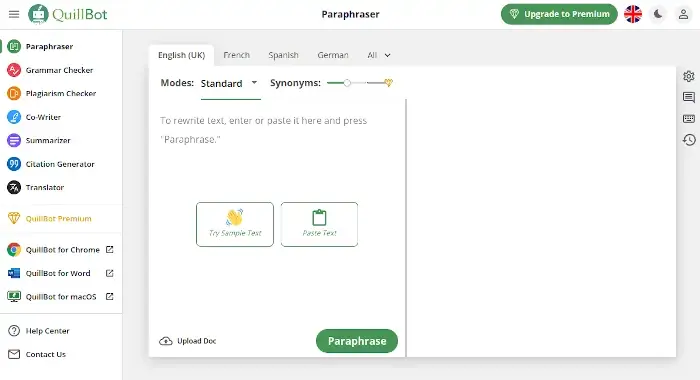 18. Bertha AI
Bertha AI is a writing assistant tool that can help you produce converting and engaging copy in minutes. You can gladly steer away from the daunting task of crafting captivating content because this tool is a creation wizard that can dazzle your audience in no time.
Additionally, you can get product descriptions using Berth AI. It generates impeccable product descriptions by providing you with insights and ideas regarding the product.
Furthermore, you can create cool images using this tool. Bertha Chrome extension is available for download and comes with a premium plan as well as a free plan.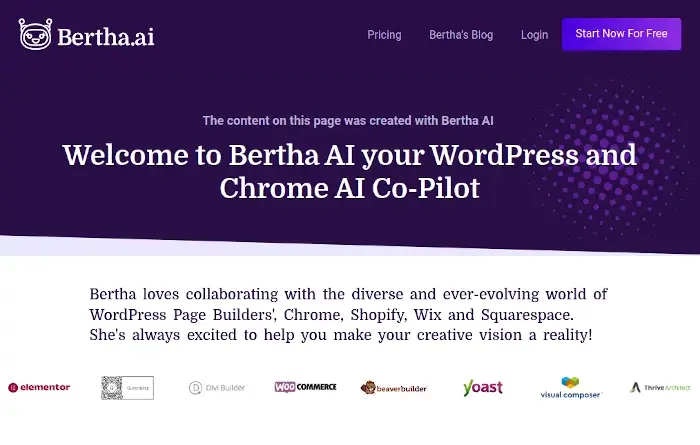 19. Simplified
Simplified is an AI-powered content creation tool that allows you to rewrite content with ingenuity, create copies using keywords, and produce images using natural language.
Simplified has over seventy templates for landing pages and short ads on social media. Furthermore, it supports ten different writing tones and translates content into more than thirty languages.
Just recently, Simplified integrated an AI image generator into its dashboard, which works great. All that is needed is for you to enter the text input in natural language, and it instantly generates images based on your input.
To access all of this tool's functionality, you can select one of the plans and subscribe.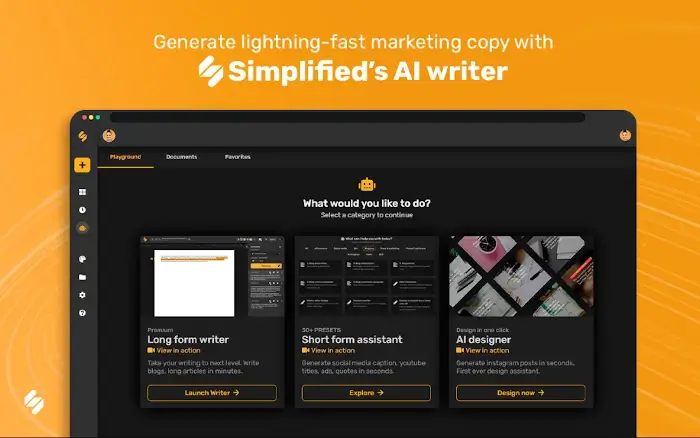 20. Grammarly
Grammarly is a writing tool that employs AI to boost your productivity and writing abilities. A variety of features are available, including tone detection, grammar and spelling correction, and style recommendations.
To build a powerful system for addressing grammar, Grammarly's AI system makes use of patterns, grammar rules, natural language processing, machine learning, and deep learning.
Additionally, Grammarly offers a free version with constrained functionality as well as a premium version for $29.95 per month.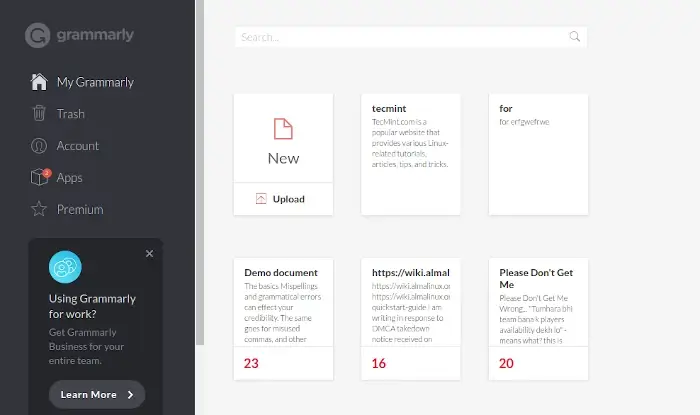 AI Coding Tools
As the use of AI continues to chart its course in this technology industry, programmers can gladly say goodbye to the daunting task of generating codes because AI has also been integrated into the programming realm.
Employing the AI coding tools below can help you, as a programmer, simplify the coding procedure and improve your productivity levels.
21. Durable AI
Durable AI is a website-building tool that provides services such as hosting services, analytic tools, generating website content, an Al-powered editor, and customizable domain names.
With this tool, you can establish a powerful online presence and make the website creation process simple and shorter. Upon creating a website, whether for personal or business use, you can leverage powerful tools like CRM, invoicing, and marketing to grow your business.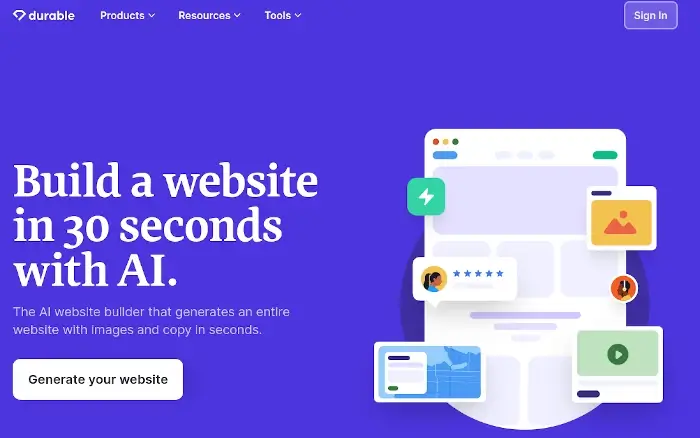 22. 10Web
10Web is the first website builder to be created with an AI assistant. This tool provides hosting services for WordPress websites that are AI-powered by Google Cloud.
With 10Web, you can optimize your website with PageSpeed Booster to receive a 90+ speed score and improve website performance.
Additionally, you can customize images and content and add more pages to complete your website, which can be tailored for small or medium businesses.
A good number of web agencies and freelancers use this tool because it allows them to create unlimited site templates based on their websites in just minutes.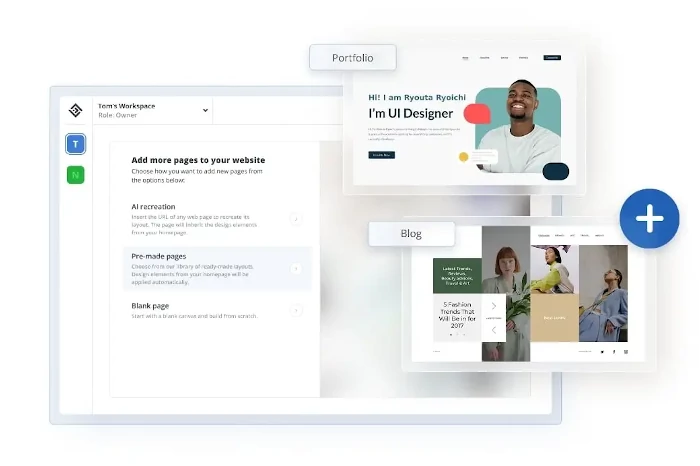 23. Akkio
Akkio is an automated machine learning tool that facilitates the rapid development of AI models by developers. It facilitates the rapid development, training, and deployment of machine learning models without the need for users to write code or possess machine learning knowledge.
Additionally, this tool is designed to be quick, clear, and innovative. It includes several capabilities, including the ability to quickly generate dashboards, reports, and generative visualizations.
The application of machine learning by users to foresee crucial business outcomes, such as sales projections, lead scoring, employee turnover, and more, is also possible.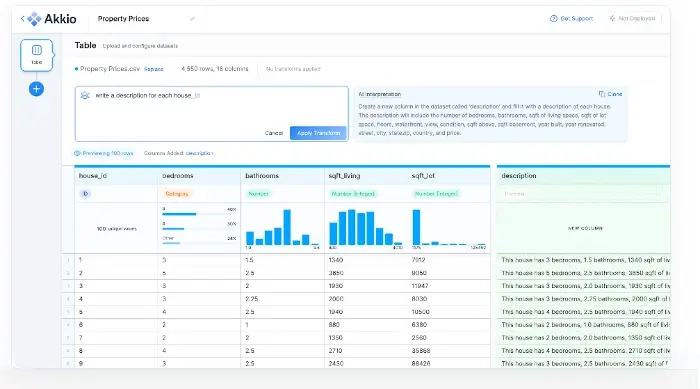 24. Replit
Replit is a cloud-based platform for software creation that enables programmers to use the power of AI to create websites from anywhere on any device. By making suggestions and automating repetitive processes, Replit's AI assistant, Ghostwriter, enables engineers to produce better code more quickly.
You can code at the speed of thought with the aid of Ghostwriter, an in-IDE developer AI conversation.
This tool's dashboard is clear and easy to use. It includes features such as the ability to quickly generate reports and visualizations.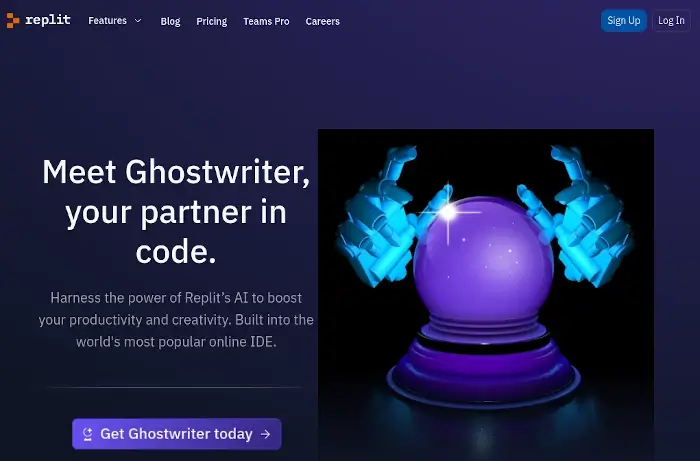 25. Deepcode
DeepCode is An AI-driven code review tool and software startup with its headquarters in Switzerland. The platform's goal is to improve developers' coding by making suggestions and automating tedious activities.
Without generating codes, customers can ask questions, change their code, and obtain insights quickly using DeepCode's platform.
With just a few clicks, you can quickly and easily generate charts and reports because the DeepCode site is tailored to be clear and intuitive.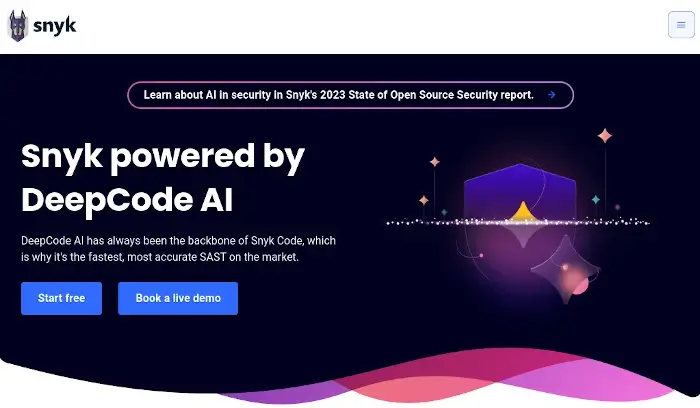 AI Marketing Tools
There always seem to be new trends, marketing-related tools, tactics, and strategies to learn about in this realm of marketing. How can you stay informed in this ever-evolving sea of technology?
Below, we've highlighted suggested tools to keep you updated and help you better understand the tools available for various work functions.
26. ContentEdge
An AI-powered copywriting and SEO content-generating tool called ContentEdge can assist you in quickly producing high-quality content. It is made to assist you in creating long-form website content that is mainly centered on marketing copy that is written to convert, and it can help you do so more quickly than you ever imagined.
ContentEdge uses the GPT-3 language model to generate human text that truly interests readers. It can also help you elevate your content marketing strategy by writing website copy that is ideal for your audience and niche.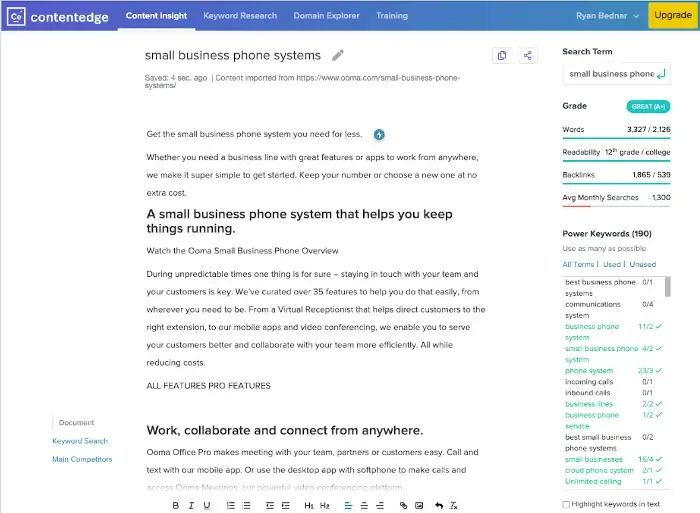 27. Copysmith
Copysmith is an AI-powered SEO content copywriting tool that can quickly produce outstanding material. With this tool, you can create long-form website content that is mainly focused on marketing.
With Copysmith, you can also create blogs, product descriptions, ads, and more. Besides that, it provides several tools like a plagiarism checker, tailored content for various audiences based on their age, geography, and interests, and content SEO optimization to increase its likelihood of appearing in the top search engine results.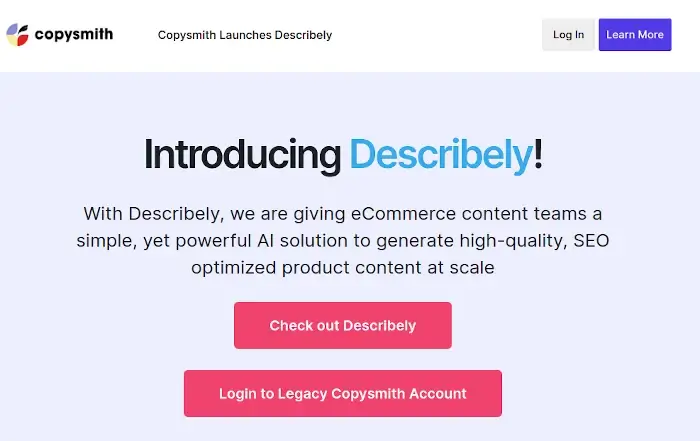 28. Copy AI
Copy AI is a copywriting tool that produces excellent marketing content for businesses. It uses machine learning to produce a variety of content types, including emails, social media posts, web copy, blog headlines, and more.
To assist customers with the copywriting process, Copy AI is built on top of OpenAI's GPT-3 large language model (LLM).
Additionally, this tool offers a variety of capabilities, including generative AI, which enables users to work more quickly and intelligently. It also has a chat option that you can use to generate ideas and get professional copywriting tips.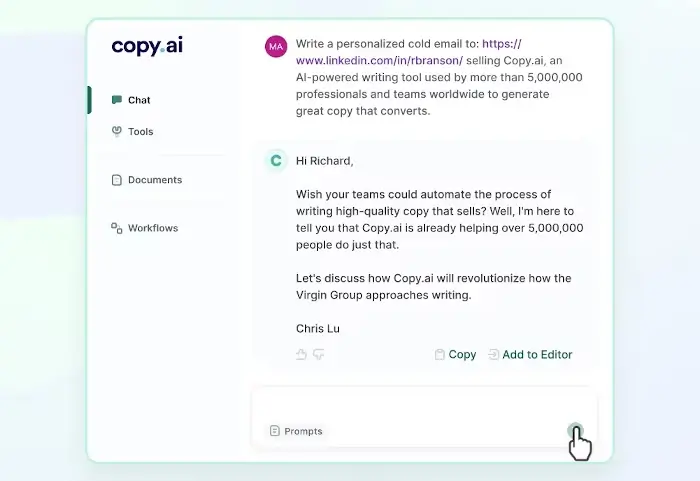 29. Mutiny
A no-code AI technology called Mutiny assists marketers in turning their top-of-funnel demand into income without the need for programmers.
With no-code web personalization, it provides an AI web conversion platform that may assist you in attracting and converting more B2B visitors to your website. The software employs pre-built data connectors to categorize users based on their web activity, organization size, industry, and funnel stage.
Along with the most successful personalization playbooks used by its customers, it also offers an AI-powered recommendation engine that surfaces the ideal audience groups for you.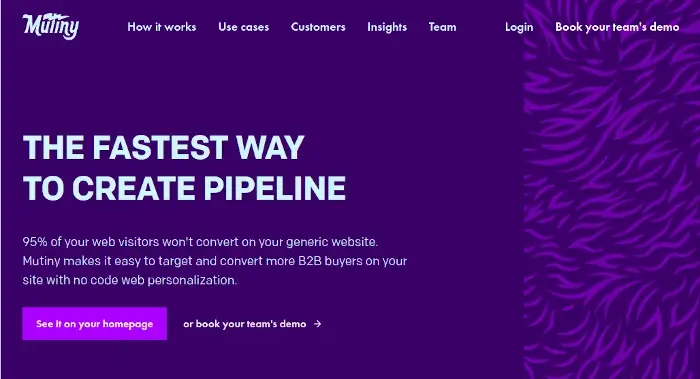 30. ClickUp
An AI-powered assistant called ClickUp is there to make your work life easier and more productive. It is a productivity platform with hundreds of well-made, empirically supported AI solutions that are adapted to your function and use case.
With this tool, you can quickly summarize extensive content, such as meeting notes and comment threads. Additionally, you can use documents and tasks to develop action items and insights, communicate clearly and consistently, and improve your writing so that it is engaging and clear.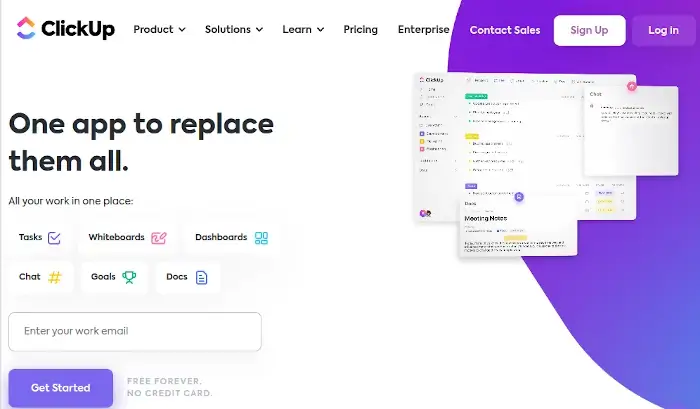 AI Sales Tools
In the sales domain, we've got dozens of AI tools. To help you get started, we've handpicked a couple of handy AI sales tools that can help you save time with day-to-day activities and enhance productivity in all aspects of the sales stage.
31. Lavender
Lavender is an AI-powered sales email coaching site that you can use to write effective emails faster. This tool integrates with email providers to suggest ways to optimize messages to get replies and serve up the context of sales aspects.
This tool works by combining broad learning on email data with behavioral psychology and communication. With that deep combination, its AI writing assistant comes with a way to identify, increase, and implement reply rates.
To understand this tool better, it is made of three main components, which include an email coaching portal, a personal assistant, and email intelligence.
These email tools provide news, updates, jobs, tweets, and more to the recipients and can automatically generate insights to work with the ongoing email thread. To start writing an email using Lavender, you'll just need to research, learn, edit, and create.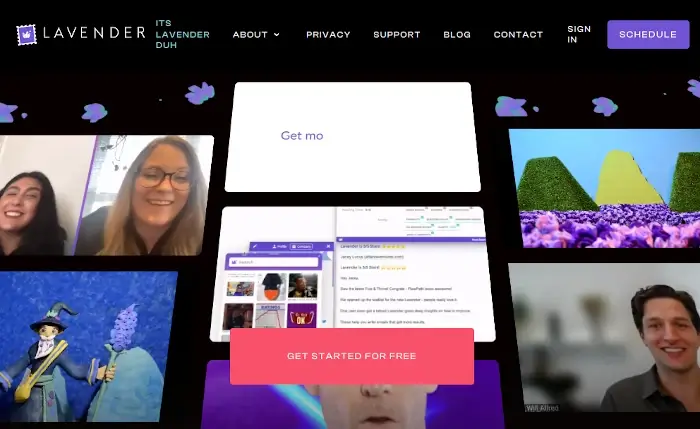 32. Warmer
Warmer is an AI-powered innovative email writing tool that can help you generate productive emails and get replies in no time.
Often, personalizing emails can be a hard nut to crack. Still, with this tool, you can skyrocket and pitch your cold emails for different purposes, such as generating sales, booking a meeting, and driving traffic to a site.
Additionally, Warmer thoroughly analyzes your website page or LinkedIn profile and creates a relevant, engaging, and unique introduction that increases the chances of a response rate.
If you prefer Warmer as your best option, you can try it and see the different plans it comes with.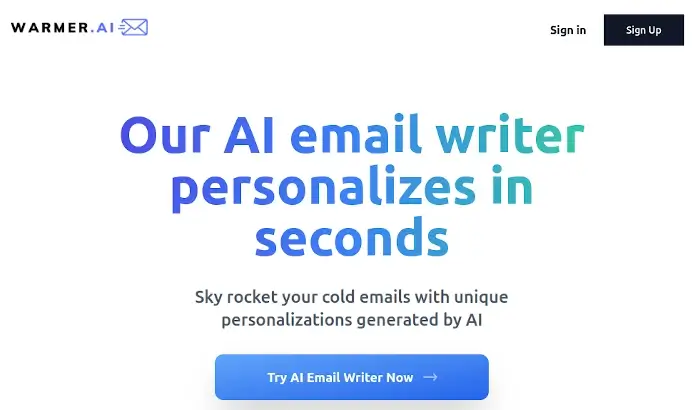 33. Regie
Regie is an AI-powered platform established mainly for enterprise sales teams. With this tool, you can easily generate effective and personalized emails, generate sequences, and optimize one-on-one sales emails.
Furthermore, it can help in automating your work by saving time on rigorous sections of the engagement process and improving levels of productivity.
To use Regie, first, access the website by signing up. Then create and publish a sequence into their sales engagement dashboard. When the time comes for reps and SDRs, this tool analyzes the sequences instantly, researches contacts, and writes effective and personalized emails.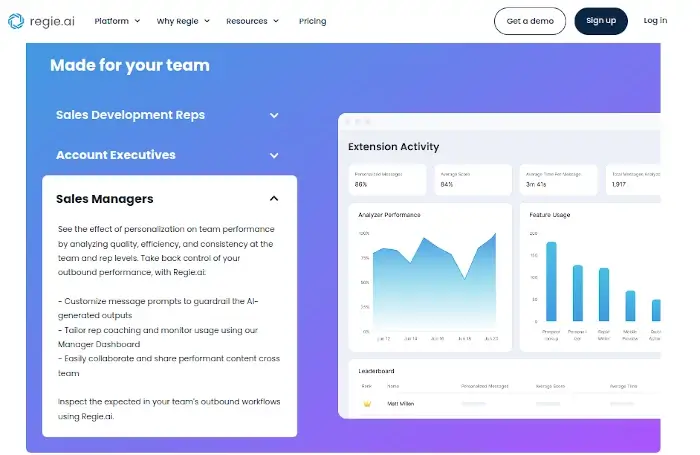 34. Twain
Twain is a communications writing tool for outreach that uses AI technology to assist users in writing personalized emails and getting more replies from recipients.
This tool works by analyzing the user's text input in the editor and then providing several recommendations based on the best industry practices.
Additionally, this tool can detect filler words, small talk, exclamation words, and conditional statements and make suggestions on how to make the message sound more effective.
With this tool, salespeople can write appealing emails for outreach and ameliorate their communication skills for better results.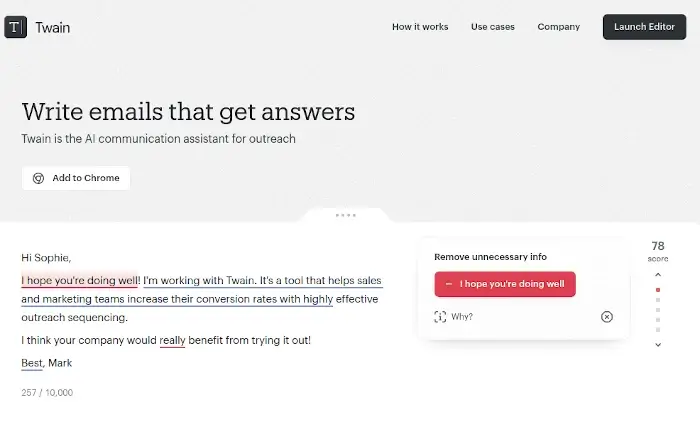 35. Octane
Octane is an AI-powered all-in-one platform that provides data collection, engagement quizzes, SMS automation, and personalized Facebook Messenger.
This tool is trusted by 1,000+ Shopify Plus and Shopify brands. The Octane Company was founded in 2016, and it offers employment to team members in 10+ countries, which are all remote.
Merchants use the Octane tool to convert, connect, and retain current customers by personalizing the customer's journey and giving them the confidence to purchase.
You can select a pricing plan to get started with Octane.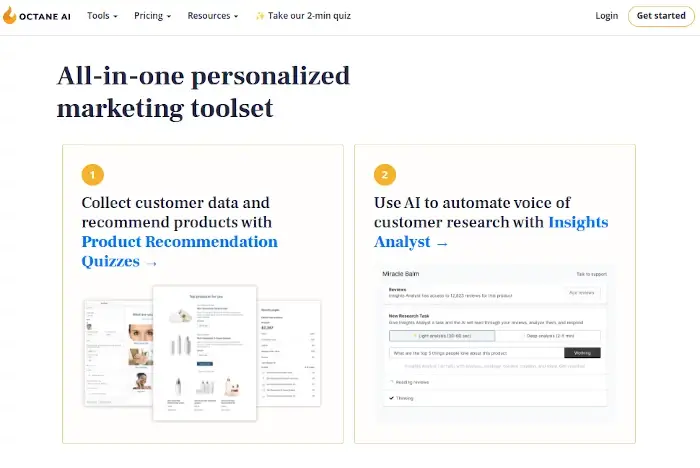 AI Twitter Tools
As a content creator, establishing and growing your Twitter account can be like finding a ghost in town, especially when generating good ideas for engaging tweets.
But worry less, since the emergence of AI can help you produce high-quality and catchy tweets. With the AI twitter tools highlighted below, you can generate productive tweets even if you are a digital marker or a creator.
36. Tweetmonk
Tweetmonk is an AI-powered thread-publishing tool that you can use to schedule, write, and publish threads and Twitter tweets seamlessly.
With this tool, you can grow your analytics, metrics involving your account, and engagement on Twitter. Besides that, Tweetmonk supports media formats such as image recommendations and specifications, and you can rewrite tweets with tone.
This tool is tailored to give you an intuitive user experience when coming up with insights and creating threads for your tweets. On top of that, it generates hashtag suggestions and thread ideas using its AI feature.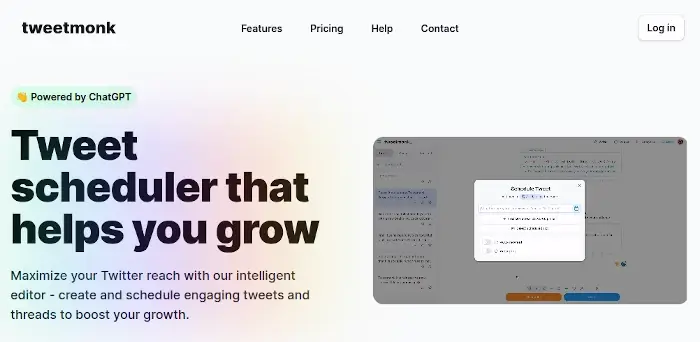 37. Tribescaler
Trivbescaler is an AI-powered refiner and a hook generator that can assist you with content creation on Twitter by generating irresistible hooks to make your tweets spread like wildfire.
This tool provides an intuitive user experience, and hook library, and makes the process of hook writing simpler.
Tribesclaer works by using the AI algorithm to make alluring hook threads in seconds. With this tool, you can get vast impressions, earn significant profits, and grow a better network. It's just that simple.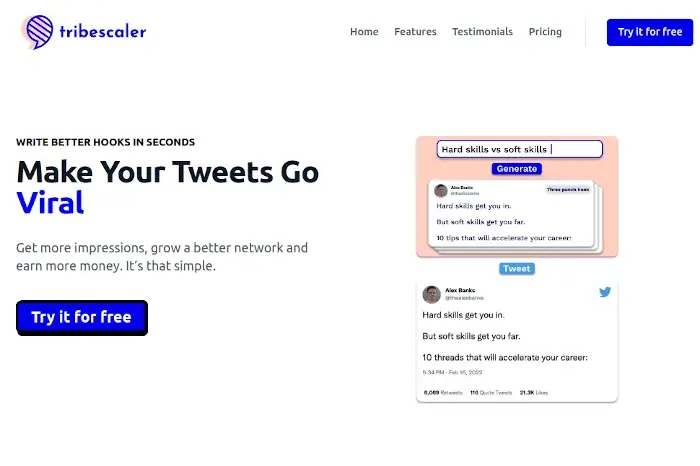 38. Postwise
Postwise is an AI-powered management tool that is tailored to help you grow your audience, schedule tweets, and increase the engagement rate of your account on Twitter.
Additionally, as a digital marketer and content creator, you can optimize sales and generate engaging tweets that will boost engagement rates.
If you're still mulling over what to speak about, this tool has got you covered because it has an inspirational library that encompasses the top trending tweets from various accounts around the globe.
You can gladly join the thousands of satisfied users who have gotten the most out of this tool.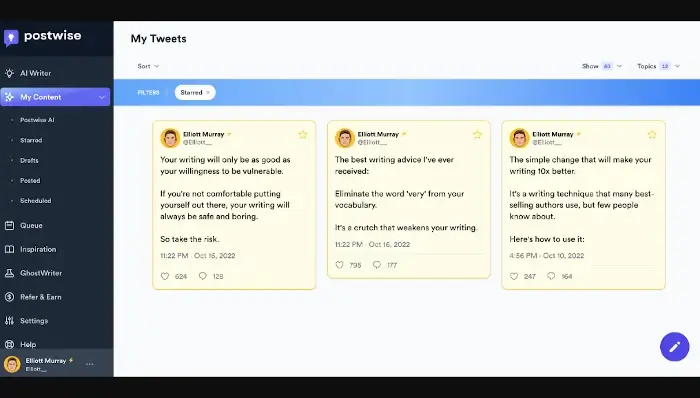 39. Tweetlify
Tweetlify is an AI-powered all-in-one competitive-priced Twitter platform that you can use to create engaging, high-quality, and viral tweets. Besides that, you can monetize and grow your followers using this tool.
It also provides strategies and automated tools to help increase your account engagement and growth.
Furthermore, Tweetlify provides a streamlined user experience, a collection of top-notch tweets from 20-plus niches that you can leverage to generate ideas, and a scheduling tool that you can use to schedule and create tweets with a single click.
You can check out its affordable pricing plans to get started with it.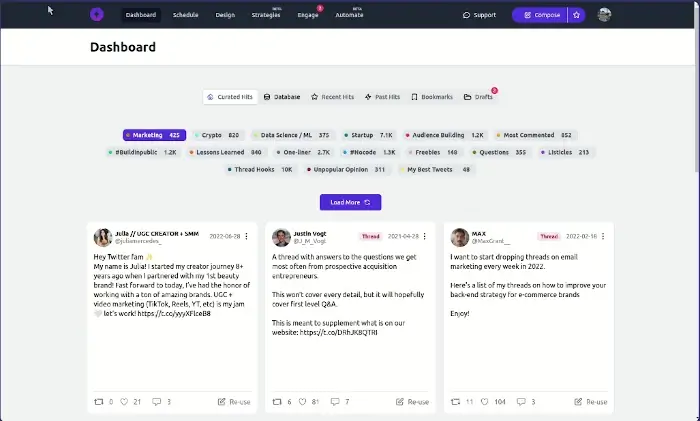 40. TweetyAI
An AI-powered tweet generator called TweetyAI can assist you in coming up with original and interesting tweets.
Based on a user's prior engagement on the site, it generates tweets using both proprietary and ChatGPT models.
By generating new, original tweets that are catered to your interests and preferences, TweetyAI is intended to improve your Twitter experience. Find out more about TweetyAI by visiting its platform.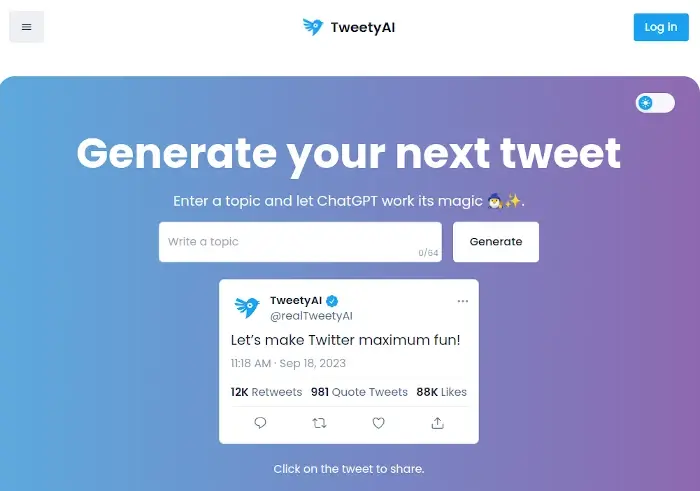 AI Music tools
The music industry has also morphed over the past few years, with a recent wave of AI music tools that are getting better day by day. These tools are taking the audio production process to another level and making it accessible to all users.
If you're enthusiastic about learning more about these AI music tools, below we've handpicked the best ones that are worth checking out.
41. Boomy
Boomy is an AI-powered text, voice, and customer engagement tool that can assist in creating original music in no time, even if you don't have prior music skills. This tool works by using AI automation to produce and personalize songs at the user's direction.
It starts by generating a starting line for the user's song composition and production. The song can be further customized using the accessible tools on its platform.
At the moment, Boomy has made over 10 million songs, accounting for 11.82 percent of all recorded songs in the universe. This just shows how you can use AI to create a complete piece of music in seconds.
42. Amper
Amper is an AI-powered tool that handles the technical aspects of music production. With its customizations and options for mood, structure, and length, Amper gives users full control over the music narrative.
Its pricing comes with royal free access, which has limited features, and monthly plans that allow users to unlock unlimited features such as video producers, podcasters, advertisements, and many more.
Additionally, this tool has custom music-producing technology for customer use or personal use with its API. Unfortunately, Amper was acquired by Shutterstock in 2020, and Shutterstock incorporated the Amper musical output into a static music library.
You can freely join Shutterstock, which generates over 100,000 exclusive tracks.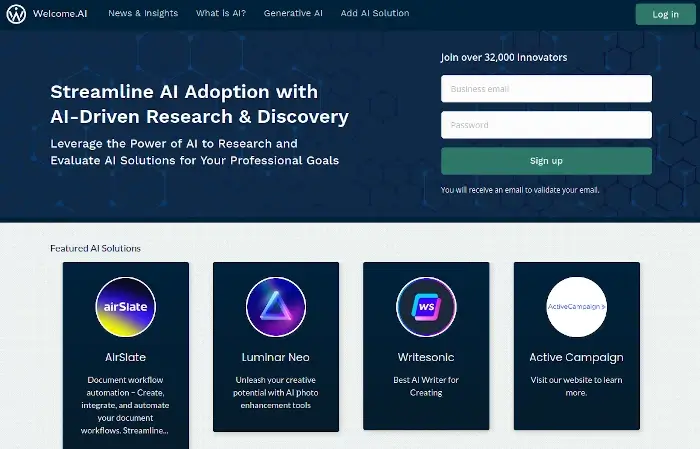 43. Audior
Audior is an AI automation company that combines both music generation and lyrics through learning algorithms. It works in such a manner that it analyzes and learns the structures and patterns of appealing music pieces and produces thousands of hit songs.
To get started with Audior, you can use one of their music generator apps to create a song from scratch, generate rhyming lines, and get line suggestions.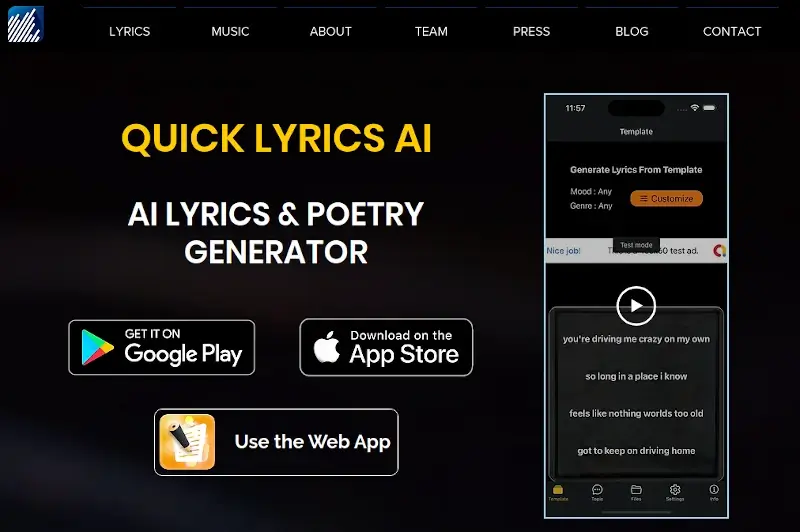 44. Melodrive
Melodrive is an AI-powered music system that generates original, infinite, and emotionally driven music in real-time.
This startup has allowed game developers to produce customizable soundtracks in seconds, saving their music costs by 90 percent. Just recently, this tool has made significant updates to its website, which includes two versions of the music engine for independent game developers.
One version is available from Unity's asset store, while the other is available from the Melodrive website. Additionally, this startup provides several music styles, such as piano, rock, and ambient house. You can start creating amazing soundtracks using this tool.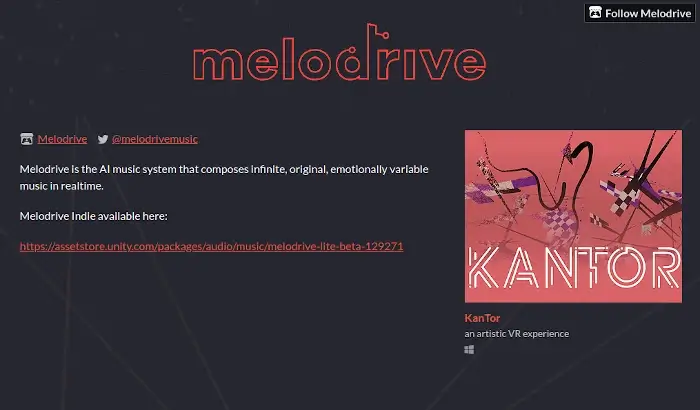 45. BrainFM
BrainFM is an AI-powered website that harnesses all the interesting parts of music's effects on your brain.
This startup is tailored to provide music in three different sections aimed at sleep, relaxation, and focus. However, as a listener, you can merely select one at a time.
Some of this tool's features include downloading music for offline use, Pomodoro mode for generative sprints, tons of genres from nature soundscapes and Lofi beats to classical, and personalized music for brain type.
To get started with BrainFM, sign up and enjoy full access for up to 14 days, then advance to a subscription plan.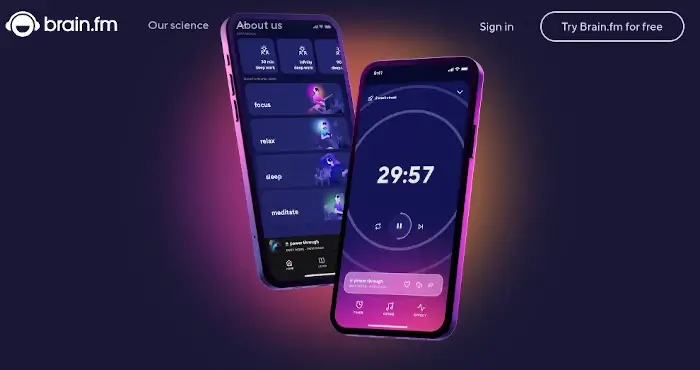 AI Content Creation Tools
At the moment, there's a lot of buzz concerning the use of AI tools in content creation, but as a creator, you're probably still mulling over and skeptical about using these tools.
What if the AI-generated content does not align with your style and tone? What if the AI content does not live up to the standards?
The truth is that it all comes down to how you leverage the tools to give you the standard output. Ideally, these tools have stepped up to the plate, especially when it comes to creating engaging content and taking it to the next level.
Therefore, taking advantage of the highlighted tools below can assist you, as a creator, in creating and selling content.
46. Beautiful AI
Beautiful AI is a presentation platform that is gradually changing how individuals create beautiful visual documents. It uses AI technology to design outstanding presentations in minutes.
As a PowerPoint user, you can gladly say goodbye to the daunting task of trying to line up arrows and textboxes because, with this startup, as you add your content, the slides instantly adapt.
Additionally, each template is easy to customize and edit. You can create on-brand presentations with your company's logo, custom colors, and fonts.
Besides that, this tool has been integrated with Google Drive along with other documents. Upon enabling this startup, All your presentations will be accessible on Google Drive for you to organize, edit, and view without the need to go to the Beautiful.ai platform.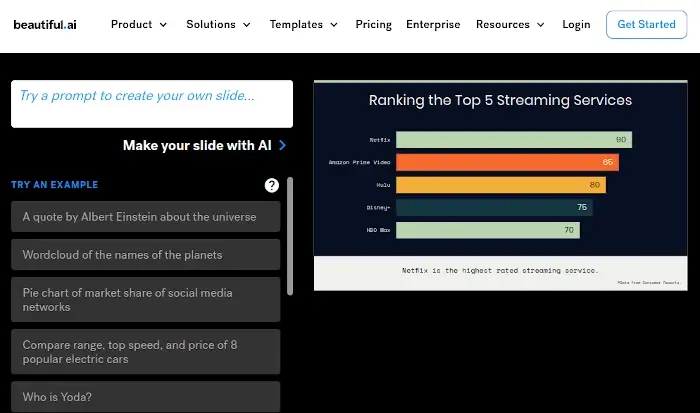 47. Tome AI
Tome AI is a collaborative tool that allows users to add content to existing pages and instantly generate entire narratives. This startup is tailored for easy use, with responsive pages, drag-and-drop functionality, and one click-themes.
On top of that, it has a DALL-E 2 built-in feature for creating customizable images.
This tool incorporates several forms of media into its platform, such as live web content, prototypes, native video recordings, and 3D renderings.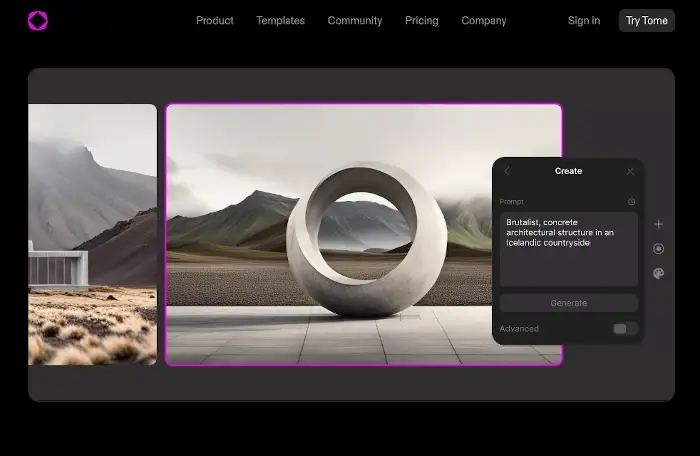 48. TeamAI
TeamAI is an AI-powered collaborative tool that offers advanced chat options using GPT modes and features. As a user, you can benefit from its features, which include prompt libraries, team collaboration, web search, never-down service, power features, and support for GPT models.
With this tool, you can upload documents, organize charts, and create custom prompts in no time.
This startup comes with a free plan with no credit card required and provides several pricing options for small teams, individuals, and customized enterprise needs.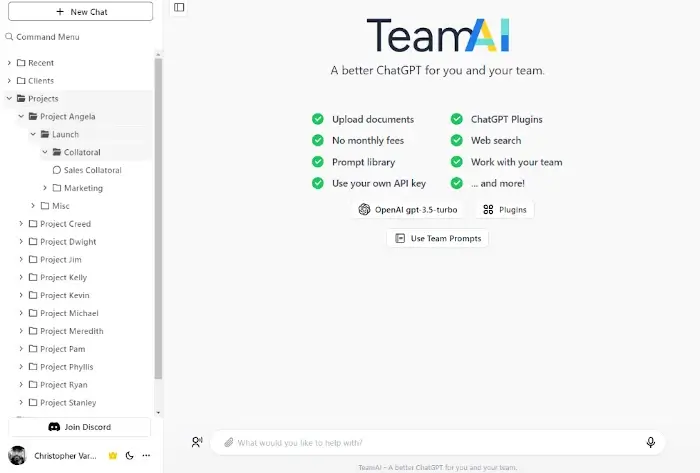 49. Jasper
Jasper is an AI-powered content-writing tool that you can use to write product descriptions, blog posts, and articles on website pages. This tool has a Boos Mode feature that lets you create text according to your preferences.
Besides that, 26 distinct languages are available for writing and translation, and it provides sophisticated capabilities like subject discovery, phrase editing, and synonyms to assist you in writing effective prose for any situation.
Visit their website to find out more about Jasper and to register for a Free Trial (for up to 10,000 words).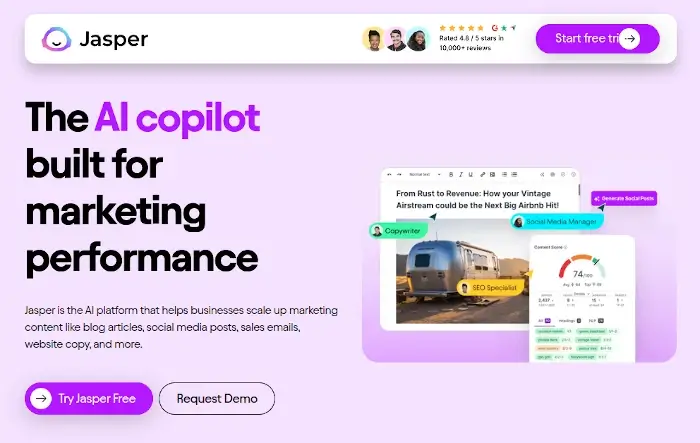 50. Nichesss
Nichesss is an AI automation content writing tool that provides a wide range of templates, including those for blog posts and articles. This tool's "Inner Writer" function is one of its best features; it can create texts depending on your input (such as a title) and then continue with the text in the appropriate style.
It also provides a wide range of themes for different uses, including blog entries, articles, and press releases. To find out more, visit the startup website.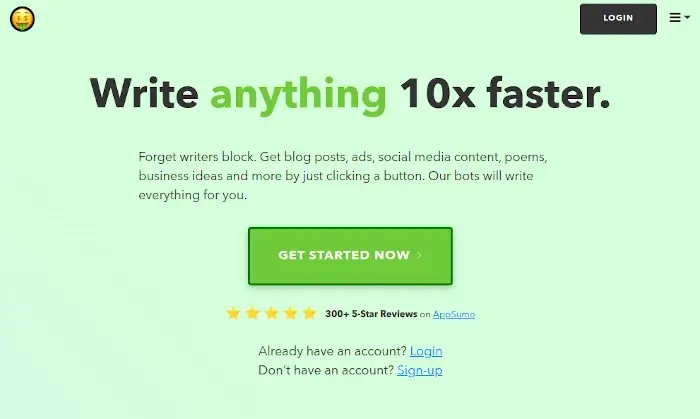 AI Chatbots Tools
An AI chatbot is a simulation software that uses machine learning and Natural Processing Language ( NPL) to generate a human-like experience. These AI chatbots can also perform and speed up tasks such as answering questions, checking bank statements, and writing content.
Besides all that, we can use them to chat, and that's where our main interest lies. Below, we've handpicked the perfect Al chatbot tools to help you get started on the market.
51. YatterPlus
Yatterplus is a WhatsApp chatbot that uses AI technology to answer your questions and concerns, providing you with the right information at the right time.
With this startup, you'll save time navigating through endless searches just to find information because it has features such as instant answers, mathematical calculations, language translation, and more.
Additionally, this tool is made with love in India, and it embodies the country's dedication to advanced technological development. If you quickly want instant information at any time, then this startup is the right app for you.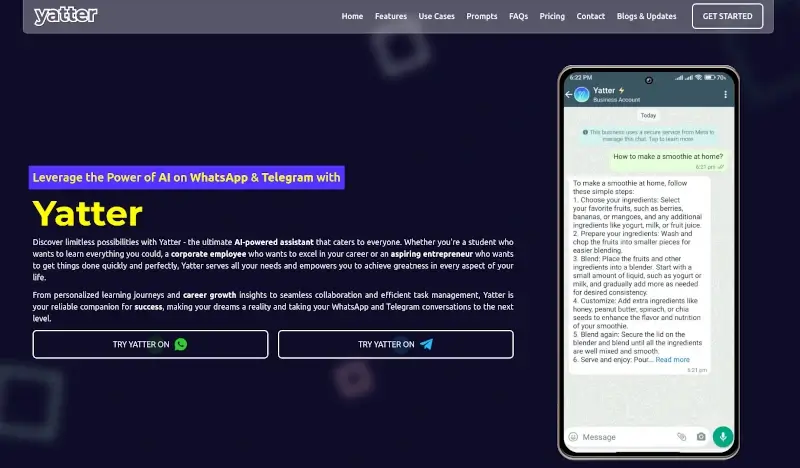 52. Typewise
Typewise is an AI-powered Writing Assistant that is a browser-based, predictive text application made to speed up and improve written communication.
An iOS and Android smartphone application called Typewise Keyboard offers features for smartphone typing. The keyboard uses gestures that supplant keys such as backspace and shift to edit text.
Additionally, this startup keyboard allows concurrent typing using AI language recognition and supports 40-plus languages. Just recently, Typewise launched an API that enables users to use the tool on third-party platforms.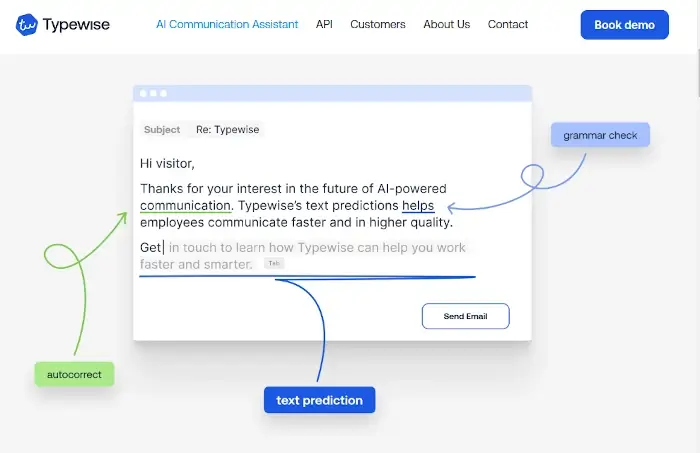 53. Quickchat
A conversational AI platform called Quickchat enables developers and businesses to create their multilingual AI assistants that are powered by generative AI models like GPT-3.
With this tool, You can create conversational AI interfaces and connect them to any website, item, app, game, or smart device using its no-code platform and strong integrations.
Besides that, processes like sales, customer service, onboarding, or online reservations are automated using Quickchat. Additionally, Quickchat provides an API that can improve the user experience of your application by incorporating fully customizable text predictions and autocorrect in 40+ languages.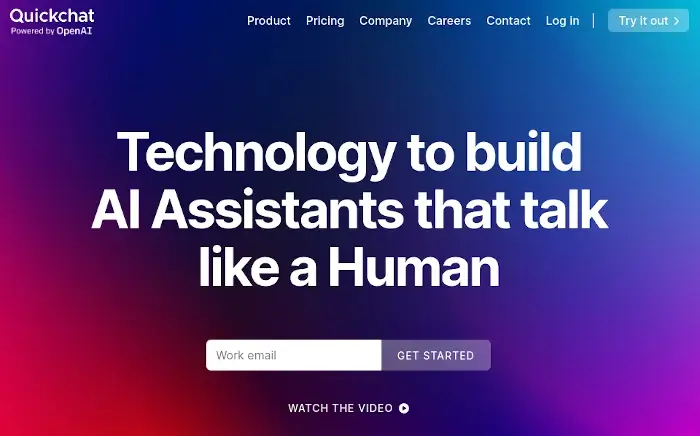 54. Cohere
Cohere is an AI-powered interactive chat capability with text generation for product descriptions, blog entries, and articles, as well as search, content moderation, and intent recognition.
Besides that, this tool website is cloud agnostic and can be used on-site, in virtual private clouds, and in public clouds such as Amazon Web Services and Google Cloud.
This startup platform is made accessible through an API that enables programmers to use Cohere's pre-built LLMs to carry out typical operations on text input, such as summarizing, classifying, and identifying content similarities, often known as natural language processing (NLP).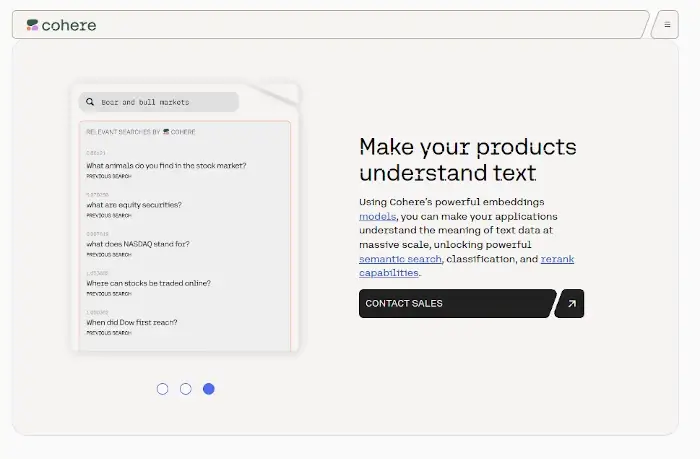 55. Kaizan
Kaizan is an AI-powered platform that offers insights and crucial steps to support client success, assisting businesses in keeping and expanding their client base.
The client success teams can better understand their clients, efficiently manage client relationships, and ultimately retain and increase income by using advanced language models to extract essential tasks and actions from client dialogues.
Additionally, this startup provides a browser-based plugin that allows for effortless CRM system integration. It also integrates with Salesforce, ServiceNow, MS Dynamics, and other systems.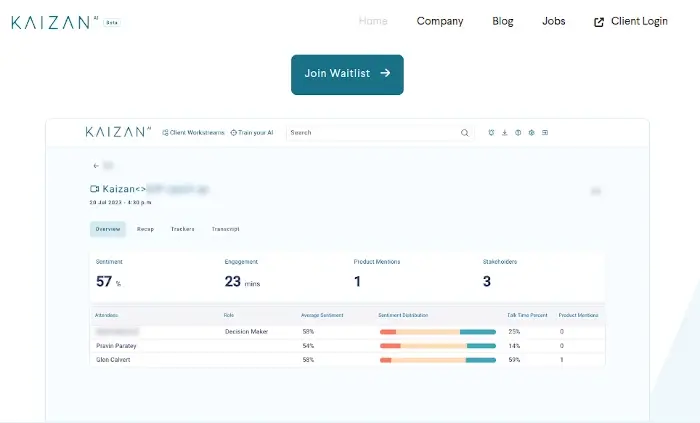 AI Productivity Tools
Most people who are less tech-savvy find AI an enigma and are unaware of its integration into their daily lives. You might think this so-called Al is only centered on big tech giants and has nothing to do with your personal life.
Well, in reality, you encounter AI from morning to night. To definitely stay in the know, check out the tools below.
56. Taskade
Taskade is an AI automation all-in-one productivity tool that combines five potent features to boost team collaboration and productivity.
Users may automate activities, create dynamic workflows, create mind maps for brainstorming, communicate with an AI assistant, and visualize notes and documents using this startup.
Taskade uses the power of openAI's GPT-4 to help users work with intelligent AI assistants. Besides that, you can enrich and expand your content to be engaging and descriptive, and you can also improve the clarity and legibility of your writing using Taskade.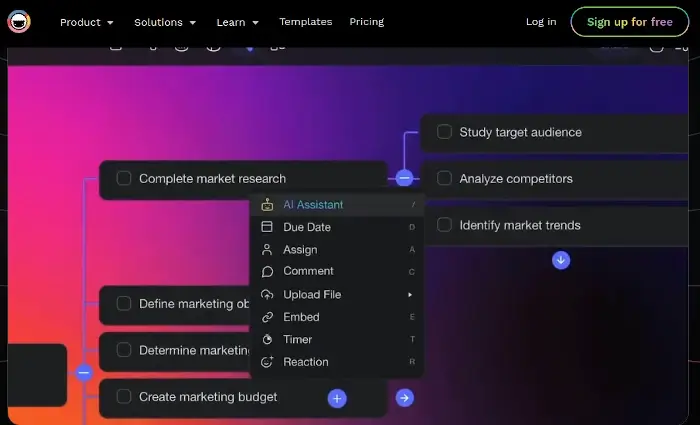 57. TLVD
TLVD is an AI-automated meeting recorder that summarizes and transcribes calls with your team, clients, and prospects. It includes capabilities like automatic call recording and transcription for Zoom and Google Meet, high-quality video and audio capture, and access to recordings in your meeting's library.
With speaker recognition, the AI Meeting Transcription function from TLVD can digitally record meetings in more than 30 different languages. Using TLVD's AI Meeting Note Taker, you can quickly and easily search every word said throughout any meeting, timestamp important meeting moments, and summarize the most important moments.
Additionally, You can access limitless recordings, transcripts, and time-stamped notes with TLVD's free plan, or you can subscribe to a plan to unlock unlimited features.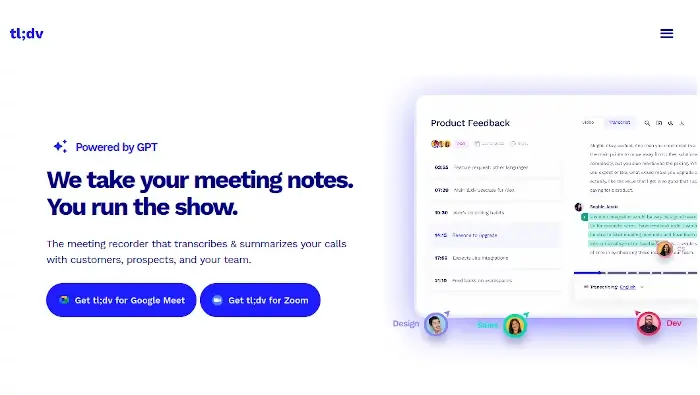 58. Bardeen AI
Bardeen is an AI-powered platform that enables remote control of your web apps and the replacement of monotonous chores with a single shortcut.
It has capabilities like advanced scraping, generative AI actions, premium integrations, and premium actions.
You can construct customized workflows using Bardeen's Magic Box feature by entering your desired workflow and watching Magic Box develop complete automation from scratch. You can easily examine and alter any workflow it creates.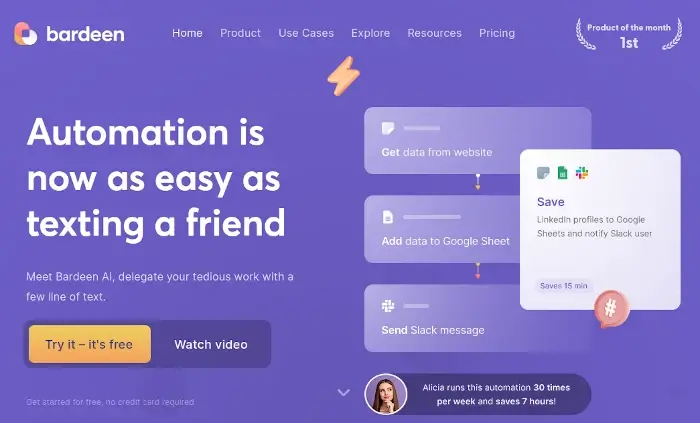 59. Vondy AI
Vondy is an AI automation platform that you can use to build your AI-powered apps to boost daily productivity. Discover the realm of visual creativity with Vondy's picture creation tools, get to know their selection of chatbots, each with a distinct personality, and peruse their database of conversation starters for your assistant.
Additionally, this startup provides Vondy for Teams, a productivity platform designed for teamwork. It has the components needed for groups of any size to use AI productively.
With Vondy AI to automate monotonous chores, analyze data, and foster creativity, you can design individualized workspaces that are tailored to your team's particular needs and preferences.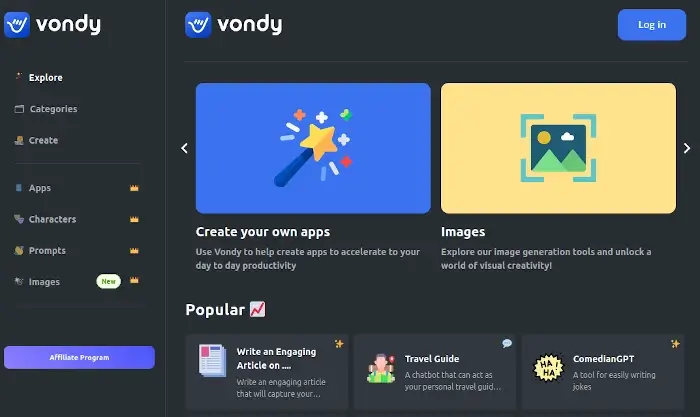 60. Notion AI
Notion Labs Inc. created the web application Notion AI as a productivity and note-taking tool that provides administrative capabilities including bookmarking, task management, project monitoring, and more.
This startup provides more offline functions, and it is available as an app on Android, macOS, Windows, and iOS.
Additionally, numerous capabilities are available with Notion AI, including the creation of text, the automation of routine operations, and the creation of fresh material for your linked workspace.
You can ask AI questions using the space bar. Simply click "Ask AI" while text is highlighted, or by using slash commands.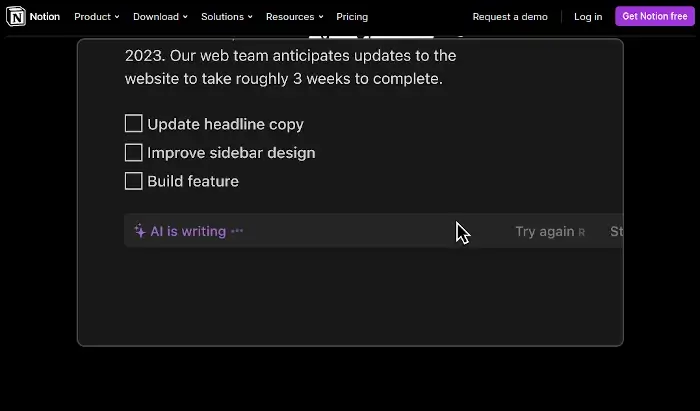 Conclusion
AI continues to make major leaps and features across almost every domain: from customer support and entertainment to content writing and writing code. In this guide, we have featured 60 AI that you can leverage to boost your productivity and work seamlessly.