Pithos is an excellent Pandora Radio Client (only available in United States, Australia and New Zealand) for Linux that natively integrates with various desktop features including the sound menu, media keys, and notifications. It has a minimal UI and easily accessible control options.
The latest 1.3 update came with mostly bug fixes and performance & feature improvements including an improved station search list, accessibility, and buffering behavior.
The update also added support for MPRIS TrackList and PlayList interface, the ability to dynamically rate tracks, and style cover icons using theme colors.
"Pithos" originates from the same Greek word which was erroneously translated as "box", and according to the dev team, "a flash applet is a mistranslation to the Linux platform".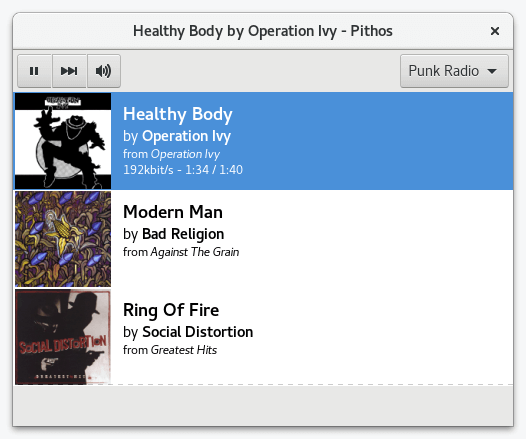 It is lightweight compared to Pandora's official web client and can even rub shoulders with a handful of Music player apps for Linux out in the market today.
Features in Pathos
Being a desktop client for the famous Pandora Radio, Pathos packs in a handful of features and control options. They include:
Saving username and password
Media key support
Cover art
QuickMix editing
Scrobbling on Last.fm: Thumbs Up / Thumbs Down / Tired of this song
Rating options:
Support for proxy configuration
Media key support
Desktop notifications on track change
Multiple stations
Install Pithos Radio Client on Linux
Pithos can be installed using official PPA on Ubuntu and its derivatives using following commands.
$ sudo add-apt-repository ppa:pithos/ppa
$ sudo apt-get update
$ sudo apt-get install --install-recommends pithos

You can also install Pithos for Fedora after adding the RPMFusion repository:
$ sudo dnf install pithos

Pithos is also available for installation via Flatpak.
$ flatpak install --from https://dl.tingping.se/flatpak/pithos.flatpakref

Pithos is not affiliated with or endorsed by Pandora Media, Inc, but it advises that users subscribe to Pandora One in order to support Pandora Media Inc. and enjoy optimum audio quality.
Will you now use Pithos as your Pandora client app or do you already know of a better app? Let us know in the comments section below.