One of the reasons Markdown is a very popular language is its flexibility. It is used by people from different walks of life including lecturers, research scientists, web developers, bloggers, and technical writers and developers are doing a good job of making various app choices available to the public.
Today, we're adding yet another Markdown editor to our list and it is one we suggest that you check out.
UberWriter is free, open-source, GTK-based, and filled with tons of features that make writing, especially in Markdown, a stress-free experience. It was developed by one who enjoys writing in Markdown and decided to create an app that will make the experience enjoyable for others.
UberWriter features a clean, modern, minimalist UI with a hamburger menu in its toolbar. In the bottom bar, it displays the word and character count on the right, and its screen modes on the left, Focus Mode, Fullscreen, and Preview.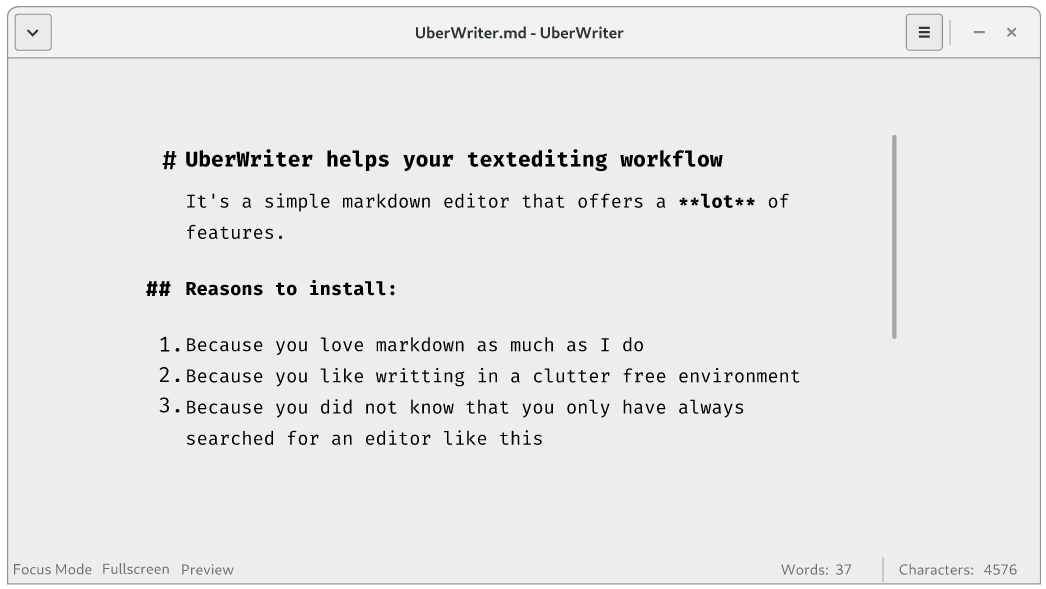 Focus Mode allows you to zoom in on the block of text where the cursor is positioned, Fullscreen removes the toolbars and allows you to see only text, and Preview displays the converted Markdown content.
UberWriter features other nifty features like inline preview which allows you see elements instantly by clicking on them (e.g. links, images, latex formulas, footnotes) while holding Ctrl.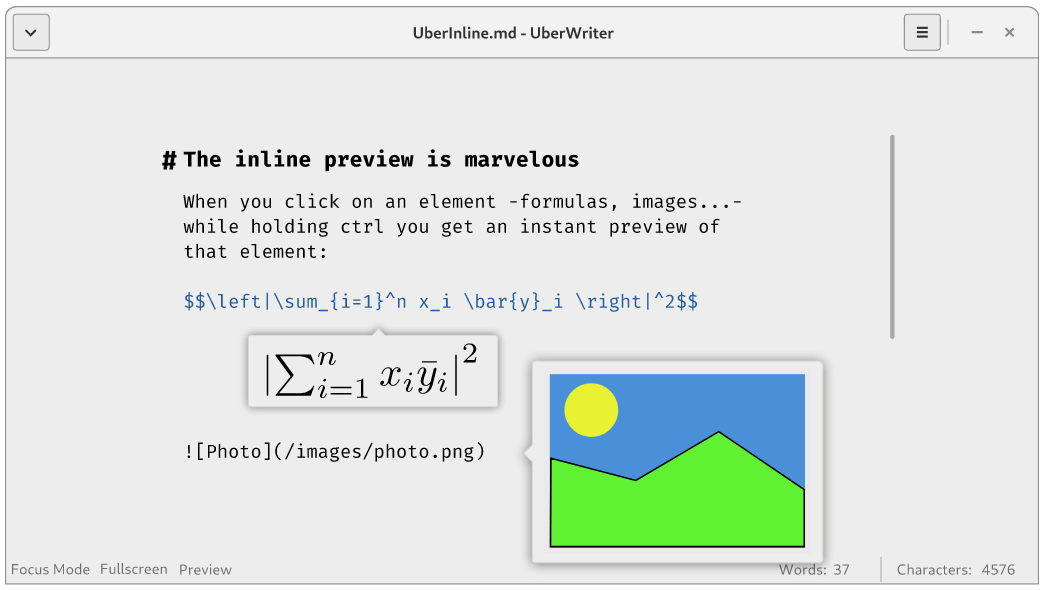 It also has spell check, syntax highlighting for PDF and HTML which you can export your documents to, and dark mode for lovers of dark colour schemes.
Features in UberWriter
Free to download and use on GNU/Linux.
Open-source with source code available on GitHub.
A clean, minimalist, distraction-free UI in a responsive app window.
Drag-and-drop.
Auto-formatting and content alignment.
Distraction-free mode.
Dark mode.
An inline preview that is triggered with Ctrl + click.
Displays word and character count.
Syntax highlighting for HTML and PDF.
Export documents to PDF, HTML, ODT.
Customization using CSS.
Installation of UberWriter in Linux
The easiest way to install UberWriter is from FlatHub, where it is securely bundled for developer and user convenience.
[mks_button size="medium" title="Install UberWriter from FlatHub" style="squared" url="https://flathub.org/apps/details/de.wolfvollprecht.UberWriter" target="_blank" bg_color="#529b30″ txt_color="#FFFFFF" icon="fa-download" icon_type="fa" nofollow="1″]
Alternatively, you can install UberWriter from Flatpak using following commands.
# flatpak install flathub de.wolfvollprecht.UberWriter
# flatpak run de.wolfvollprecht.UberWriter

Searching for "markdown" on our website will return over 10 results for Markdown-focused and/or related apps. What do you think makes UberWriter special?
Check it out and tell us about your experience in the comments section below.