This article brings you some amazing Adobe apps for which you don't have to shell out anything from your pocket. Just follow the below guide to check out these applications!
Adobe is counted as one of the well-known computer software giants that have successfully established its name in the world of technology and programming. Earlier to access any adobe made app, you had to shell out some pennies from your pocket but nowadays, the company has started with some free apps that you cannot miss to try.
Applications like Adobe Scan are one such example of a free Adobe app that automatically recognizes any document, whiteboards, and business cards, etc. via your phone's camera to convert them into high quality and clear pictures.
To know more about these free apps from Adobe, follow the below post!
1. Adobe Photoshop Camera
Get yourself familiar with the whole new style of clicking photos with a Photoshop Camera from Adobe! Generally, you first click pictures and then apply various filters to enhance them. But with this app, you can apply filters even before you click to take a picture. This application is based on an artificial intelligence software called Adobe Sensei.
This AI software is capable of detecting the scene from your camera and simultaneously adjusts the settings. All you need is a decent internet connection to use this amazing application and turn your pictures into a piece of art.
Besides adding filters to your pictures, this application also assists with powerful AI features like adding objects, creating mirrors or clones and changing background, etc. So why to wait anymore, just grab your phone and download this application from Adobe at no cost.
Download: Adobe Photoshop Camera for Android | iOS (Free)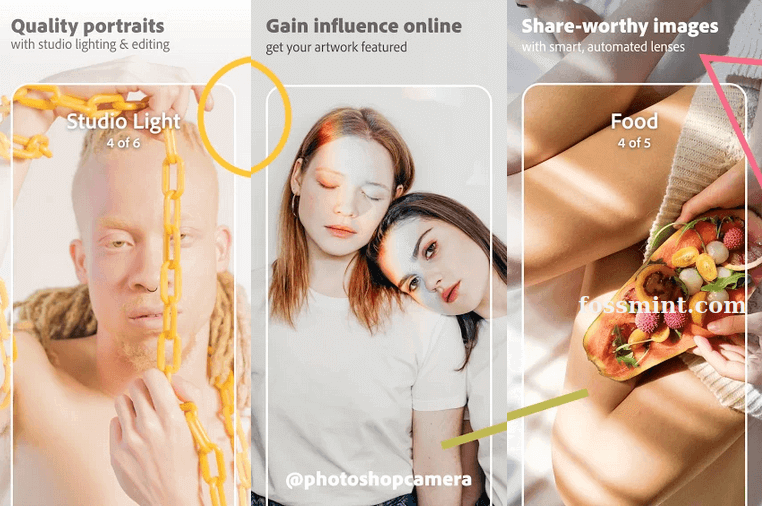 2. Adobe Lightroom
Adobe Lightroom is another free and interesting app from Adobe that will turn your pictures into professional portraits. This app allows you to experiment with fine details, shadows, and light, etc to add life to the pictures you take.
Its mobile version comes at no cost whereas the professional desktop version remains paid. The app features free tutorials to teach you how to use work on the pictures to pop their every detail out. Its Learn section has step by step explanations for any kind or user starting from beginner to advanced users.
The guide will help you enhance your skills and show you the basics of photo editing by letting you play around with pictures while you learn. So go ahead and turn your amateur skills into professional ones with this incredible free Adobe app.
Download: Adobe Lightroom for Android | iOS (Free)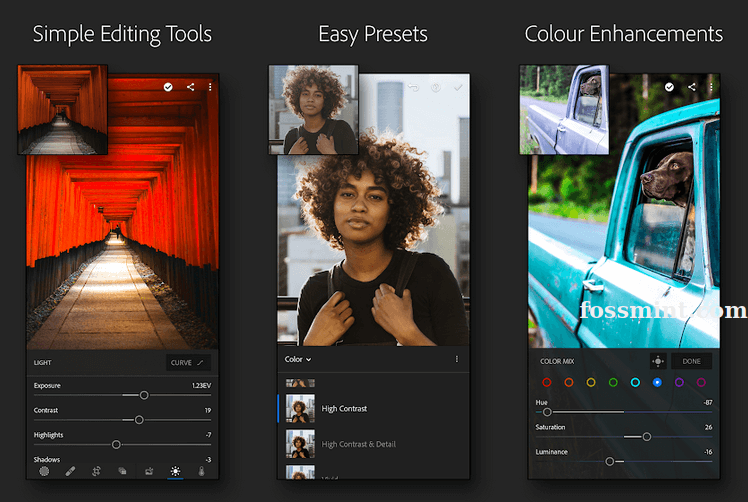 3. Photoshop Mix
Photoshop Mix app by Adobe is there to compete with power-packed apps like Photoshop Touch and Photoshop express! This easy to use and fun to play with app focuses on vital elements of editing and lets you work with layers.
With this app, you can create complex images while clubbing up to five layers with added filters, blending modes, and controlling capacity. Such powerful features make it a professional application just like any image editing desktop version which offers a delightful opportunity to upgrade your photography skills.
Download: Photoshop Mix for Android | iOS (Free)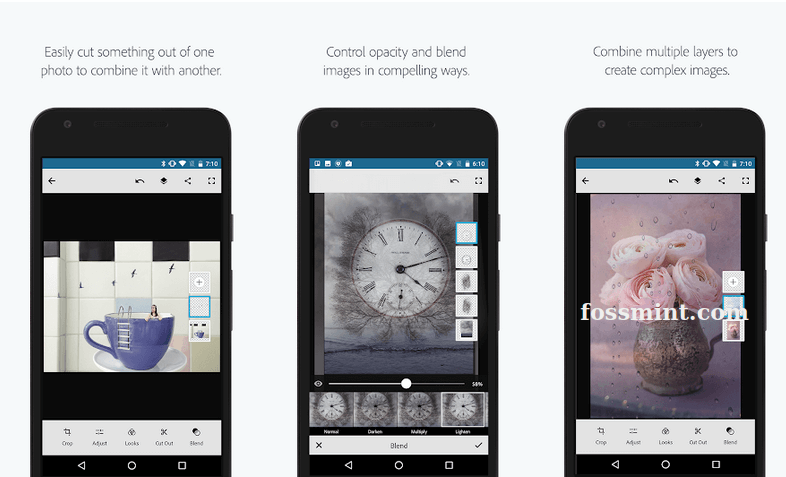 4. Adobe Acrobat Reader
Adobe Acrobat Reader is the master of PDF reader tools. This free application from Adobe has a sleek design and works well on both desktop and mobile phones. Replacing the old Acrobat Reader, this sleek version is easy to use and does its job perfectly. This application is useful when you need to take digital signatures on any PDF document.
It works by simply uploading the image of your signature and then drawing or type using your mouse, fingers, or text that matches your signature. This tool is considered to be more powerful when used on mobile phones.
It lets the user highlight PDFs and add annotations at no cost. Besides, its Liquid Mode makes reading PDFs much easier and eliminates the need to browse any other format for PDF files.
Download: Adobe Acrobat Reader for Android | iOS | Windows or macOS (Free)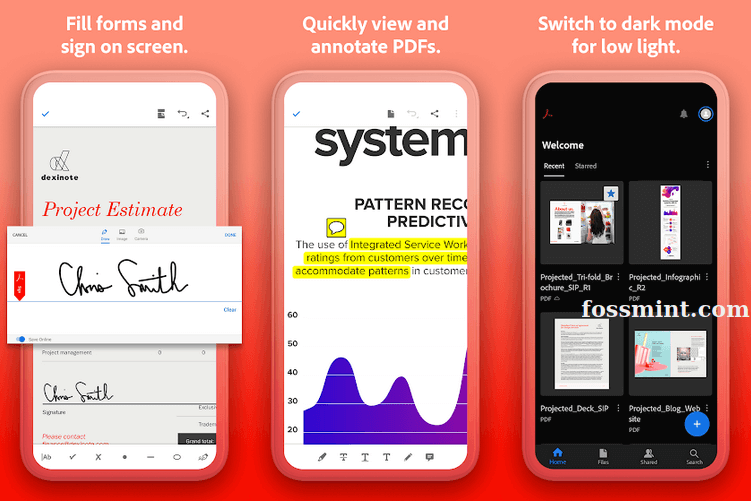 5. Adobe Premiere Rush
Give a new twist to your video with the Adobe Premiere rush free application. This easy to use app lets you have complete control over videos by providing motion graphics, access to a creative cloud library, and audio features. Using this tool, you can conveniently adjust colour, change sequence, capture, add text, adjust filters, crop and record off-screen voice comments, etc.
Adobe Premiere Rush app lets you embed three audio and up to four video tracks. Besides, you can create or add creative transitions and animations to your videos.
Download: Adobe Premiere Rush for Android | iOS (Free)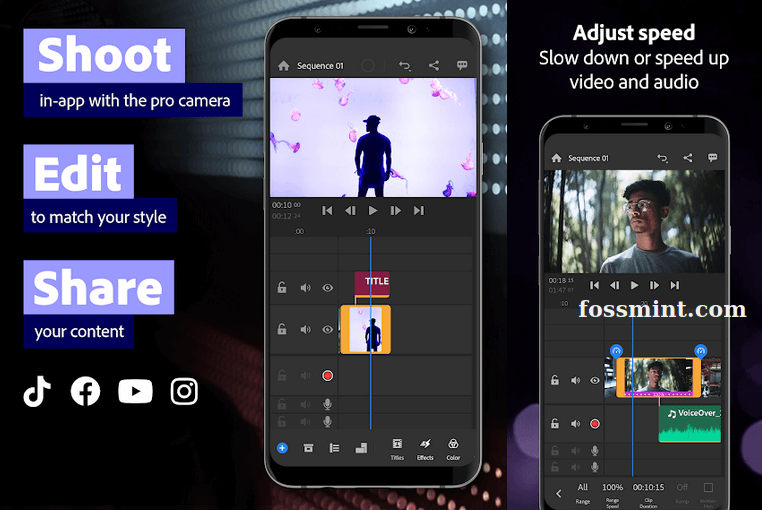 6. Illustrator Draw
Unleash the artist within you with this creative and free app from Adobe. The Illustrator Draw has a friendly interface which makes it a great choice for beginners. The app allows you to view and evaluate the work of other artists for your reference. It is equipped with six different kinds of brushes to draw and each brush can be customized as per your needs based on colour, size, and hardness, etc.
Apart from brushes, it also includes interesting tools like Shape Line which lets you draw perfectly straight lines for geometric representation, etc. What's more? It also lets you draw over photos to create catchy portraits and drawings.
Download: Illustrator Draw for Android | iOS (Free)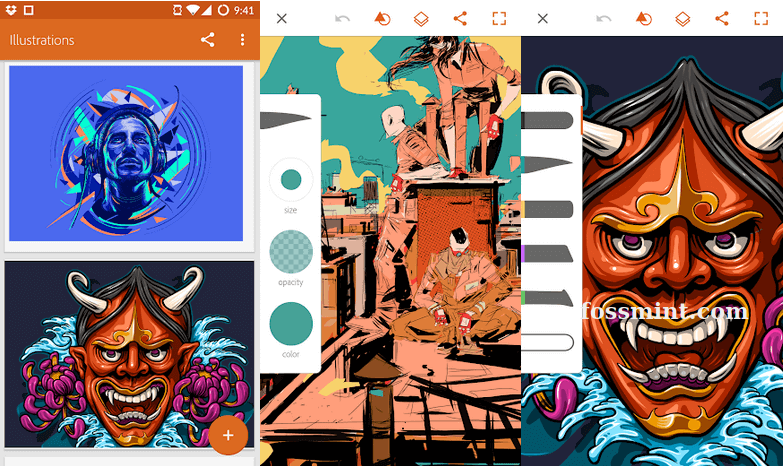 7. Photoshop Express
Photoshop Express can either be used as a plug-in for your mobile phone or as a standalone application. This effective application is capable of supporting PNG and RAW image files which makes it a better alternative than any other paid application.
With the Photoshop Express app you can adjust exposure, crop, glare, add shadows, change colour tone, correct perspective and adjust brightness, etc. of the pictures or images.
The best part about this app is its Text Tool feature which allows access to over 50 fonts and customization options for colour, size, and style, etc. Additionally, it not only lets you create stunning inscriptions but also allows you to add watermarks.
Download: Photoshop Express for Android | iOS (Free)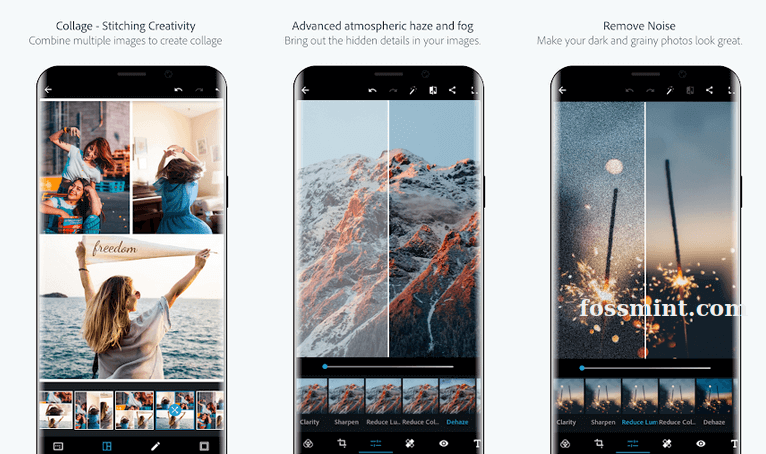 8. Adobe XD
Adobe XD is seen as a competitor of tool Sketch meant for Mac. This free adobe app provides support to system libraries and advanced design systems. It is equipped with able tools that can create interactive prototypes to perform user testing without any need for coding.
Being a part of the creative cloud family, this app works on resource sharing. It allows the users to accumulate or compile the common design elements and easily move them to any other software. Similar to Adobe Illustrator, this design tool is much simplified but it doesn't come with an editing feature like Underline, rather it lets you draw strokes for every underlines requirement.
Download: Adobe XD for Android | iOS (Free)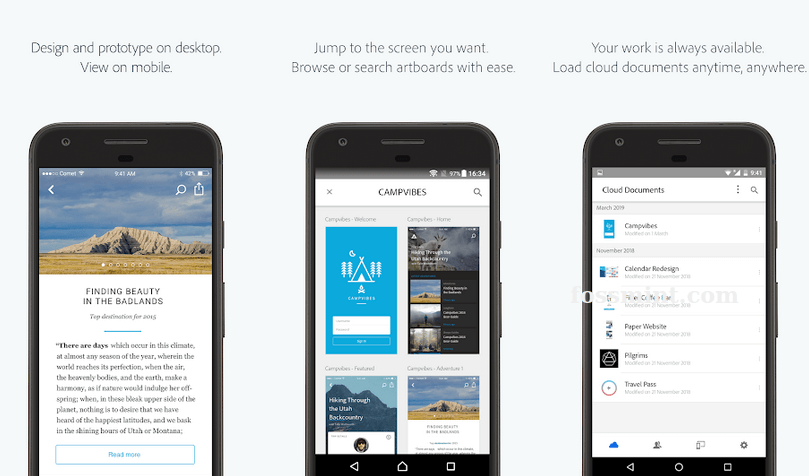 Conclusion
Adobe brings a great opportunity to use the above listed engaging and creative apps for free. So don't wait for any further and install any of the above listed Adobe apps that strike your interest and unleash the inner creativity of yours!