In this golden age of digital entertainment, finding the best free movie streaming sites is like discovering hidden treasure troves of cinematic wonders. Whether you are a cinephile on a budget or just looking for a casual movie night, there are numerous options to consider.
Legal Notice for Readers: Before exploring the list of the "Best Free Movie Streaming Sites" it's essential to be aware of the legal aspects associated with online content consumption. While some streaming sites provide free access to movies legally, others may host copyrighted material without proper authorization. As a responsible user, it's crucial to adhere to copyright laws and terms of service outlined by the streaming platforms.
Key Points:
Legitimate Sources – Prioritize streaming platforms that offer movies legally, ensuring content creators are rightfully compensated for their work.
Terms of Service – Always read and understand the terms of service of each streaming site. Compliance with these terms is vital to a lawful and respectful online experience.
Copyright Awareness – Be mindful of copyright laws and avoid accessing content that infringes upon intellectual property rights.
Important: At GeeksMint, we don't support any kind of piracy or illegal activities. Free movie sites might not always have permission to stream copyrighted content. Accessing illegal content can lead to serious consequences, such as losing your internet connection, facing financial penalties, or even legal action.
Why Should You Use VPN to Stream Free Movies Online?
To enhance your online privacy and security while streaming content, we recommend using a reliable VPN, such as Express VPN, can encrypt your internet connection, safeguarding your data from potential threats and providing anonymity online.
Security – Ensures a secure and encrypted connection, protecting your personal information from unauthorized access.
Anonymity – Masks your IP address, allowing you to browse the internet anonymously and preserving your privacy.
Access Restricted Content – Allows access to geo-restricted content, expanding your streaming options.
Disclaimer: While a VPN can enhance your online security and privacy, it does not condone or support any illegal activities, including accessing copyrighted material without proper authorization. Always respect the terms of service and legal regulations outlined by streaming platforms.
How to Safely Stream Movies with ExpressVPN?
ExpressVPN is a most popular VPN service that adds an additional layer of security to your streaming experience. Here's a step-by-step guide on how to safely stream movies using ExpressVPN:
First, visit the ExpressVPN website and sign up for an account. Choose a plan that suits your needs, and follow the registration instructions.
Download the ExpressVPN app on the device you plan to use, the app is available for various platforms such as Windows, Linux, macOS, iOS, Android, and more.
Open the ExpressVPN app and log in using the credentials you received during the registration process.
Before you start streaming, select a server location that close to your actual location for faster streaming. If you want to access content from a particular region, choose a server in that location.
Click the "Connect" button to establish a secure connection.
With the VPN connected, open your preferred streaming platform and start streaming your favorite movies and TV shows securely.
Now that you're connected to ExpressVPN, you can enjoy your favorite movies with added security. Your online activities are protected, and your IP address is masked, offering a private and secure streaming experience.
A Quick List of Top Free Streaming Websites
In this list, you'll discover the top free movie streaming sites that were active when this article was written. These are currently the most popular platforms on the internet where people can find great movies to watch without any cost.
For a safe browsing experience, it's a good idea to use a ExpressVPN as suggeted above, before checking out our complete list of the best websites offering free movies.
Best Free Movie Streaming Sites in 2023
As an avid movie lover, we have personally explored and tested various platforms to compile this list of best Free Movie Streaming Sites in 2023. Now, let's get into these free movie streaming sites.
1. SolarMovie.Pe
SolarMovie.Pe gives you access to the latest content from around the world for free. On the home page, you can see their library consists of movies like Expendables 4 and The Burial.
Even though the site is relatively new, it has gained a lot of attention in the past couple of years due to its personalization features. However, you may have to be slightly careful of malicious links on the site. To simply start a movie, you will have to get rid of at least six pop-ups. That's why using a VPN and an ad blocker is advisable to enhance your online security and minimize potential risks.
It's also important to note that SolarMovie.Pe operates in a legal gray area, as it streams content without proper licensing. While users enjoy free access to movies and TV shows, it's essential to exercise caution and use the platform responsibly.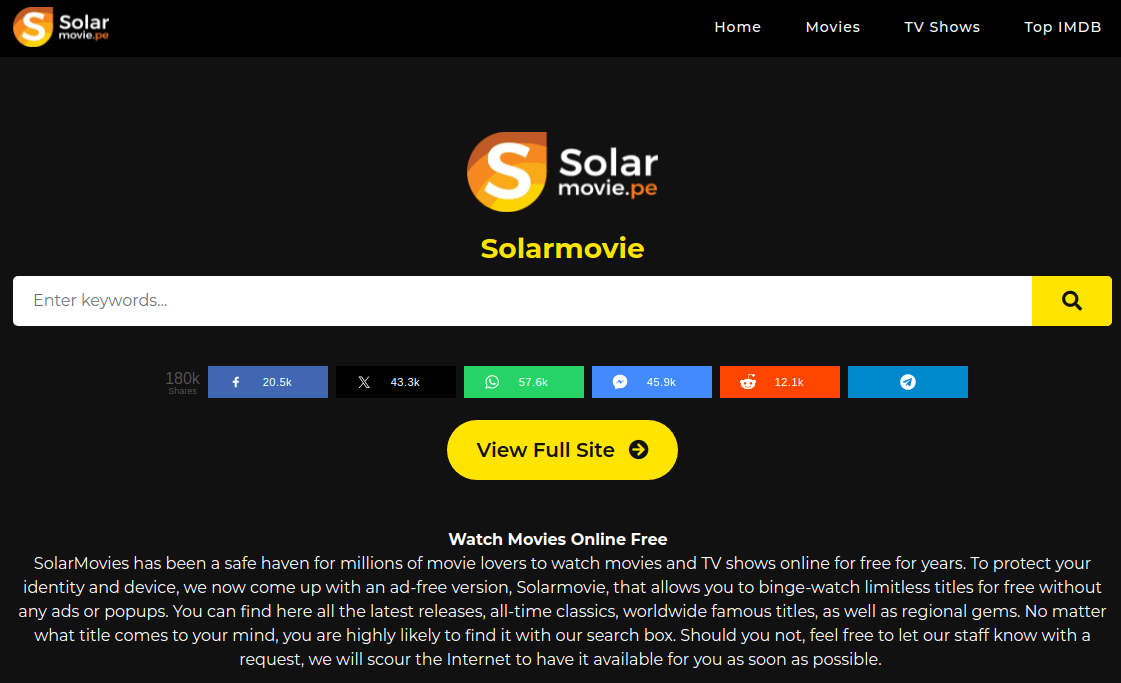 2. Peacock TV
Launched by NBCUniversal in 2020, Peacock TV is one of the best sites to stream movies for free. It offers a fantastic collection of movies and TV shows. The site is home to some of the biggest sitcoms of our times, like The Office (U.S.), Parks and Recreation, Modern Family, and many more.
Peacock TV is one of those rare sites that has something for everyone. On top of that, this platform will not bother you with pop-ups. You can also upgrade for an ad-free experience.
Peacock TV ensures that viewers enjoy high-quality streaming, with options for various resolutions, including 4K Ultra HD. We don't have many complaints about this platform. Users can stream without concerns about potential legal issues, making it a safe and legitimate platform.
As the site is currently only available in the US, you must use a VPN and set the location to the USA to access it. If you want an ad-free experience, upgrade to the paid version for $4.99 a month.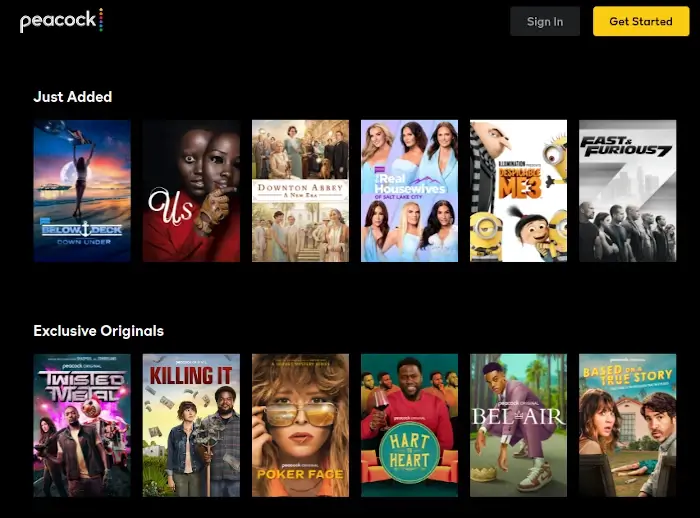 3. Sony Crackle
As part of the Sony Pictures network, Sony Crackle is a good choice, with a mix of old and new movies along with original content, and have done a great job of organizing their library. The homepage showcases featured movies and TV shows, and a straightforward menu allows you to browse through different categories. You can easily find what you want to watch on the site.
While Sony Crackle doesn't require users to create an account to access its content, registering for an account offers additional benefits. With an account, you can create a watchlist, save your favorite movies and TV shows, and receive personalized recommendations.
The occasional ads can be a bit annoying. Sony Crackle doesn't offer paid plans, so you are stuck with the ads. However, the frequency of the ads is reasonable, and the vast content library makes up for it. Also, Sony Crackle operates legally, securing proper licensing for the content it offers.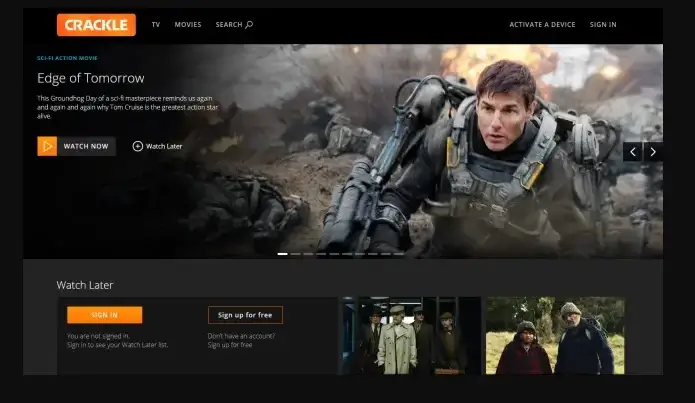 4. Tubi
Tubi site is a gem for classic movie enthusiasts that features a wide range of cult classics and hidden gems. You can watch outstanding cinema from countries like Spain, France, Hong Kong and many more.
Tubi is another one of those rare sites that has minimal ads and doesn't believe in pop-ups. Similar to Sony Crackle, it doesn't offer paid plans for an ad-free experience. Ads can be disruptive for some views. Apart from that, the user interface is clean, making it easy to find and enjoy your preferred content.
One of the drawbacks of Tubi is that the titles occasionally rotate in and out. While this can introduce fresh content, it may also mean that some favorite titles become temporarily unavailable.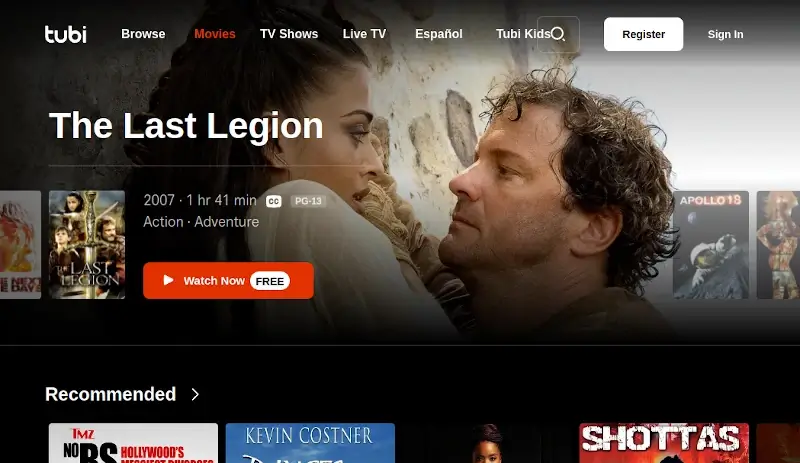 5. IMDb TV
IMDb TV is a must-visit site, especially for fans of IMDb. Since Amazon owns this site, the user experience is very similar to what you get with Amazon Prime.
You can create watchlists and track their viewing history, just like Prime. But this doesn't mean that you get to enjoy the same library as Prime. Yet, whatever collection they have is decent enough for you to check it out.
Not all content on the site is free to watch. You will have to look for the "Free" tag to watch free movies on the site. For some TV series, you can only watch the first episode for free, and the rest of them are paid.
The site is only available in the US. So, if you want to access this site, ensure that your VPN location is set to the USA.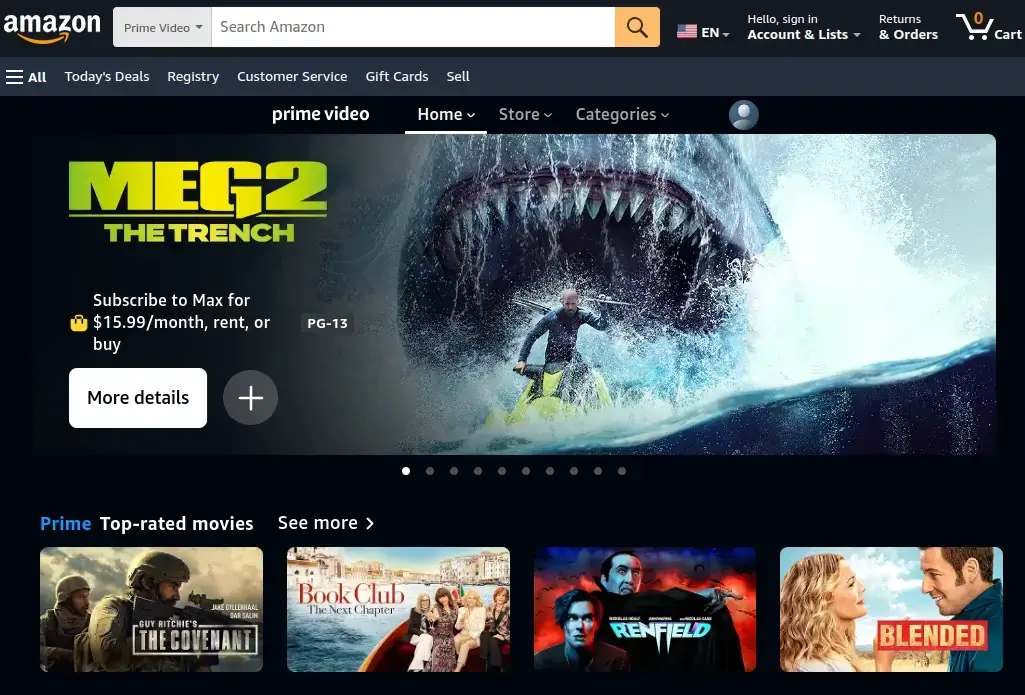 6. Vudu
Vudu offers an extensive collection of movies and supports 4K streaming. While not entirely ad-free, it provides an excellent movie-watching experience. The frequency of ads varies, and it's not as ad-heavy as some other platforms.
The library is not as massive as other sites on this list. Still, it promptly adds the latest titles. Here again, not all content is free to stream. If you want to watch the latest content on Vudu, you will have to rent or purchase movies and TV shows.
However, if you want to watch timeless classics, you can stream them for free, so we would say that the site is worth visiting.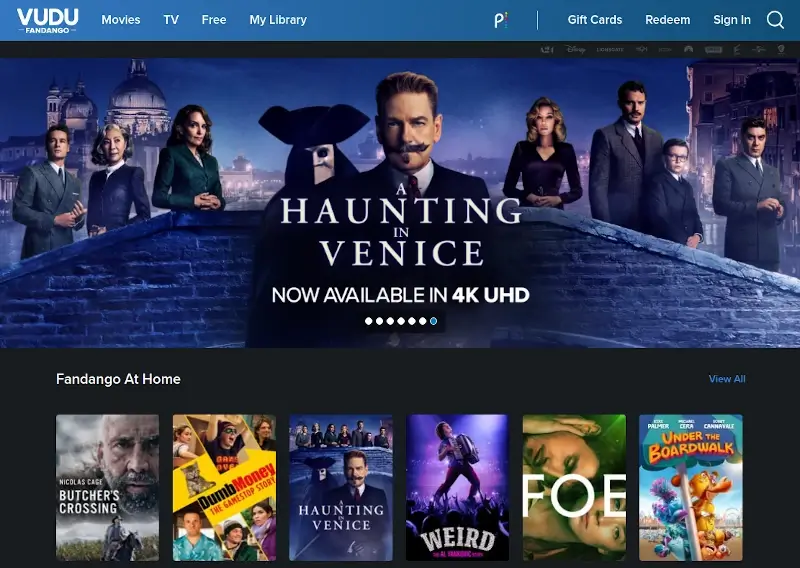 7. AZMovies
AZMovies is a hidden treasure with a vast selection of movies. However, it can be tricky to navigate due to the numerous pop-ups. Also, the site gives you only two server options, which is less than what most streaming sites have to offer.
You will find the latest releases on the site. Everything on this site is free to stream. Therefore, all the movie buffs will find this site amusing for sure.
Note that AZMovies doesn't have any TV series. It is a movie-centric site, so if you are into binging long hours, you will have to look for other sites on this list.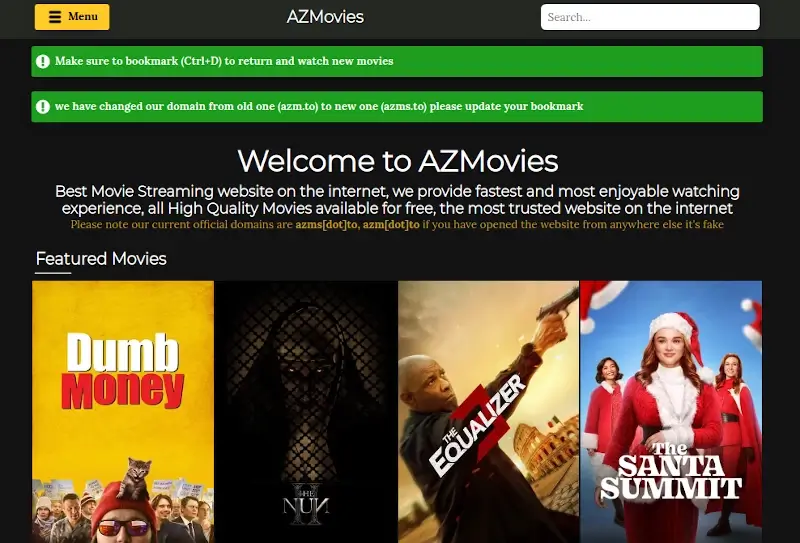 8. MyBundle.TV
Don't know what to watch? Don't know where to watch? These are questions that MyBundle.TV tries to answer. This site is more like a directory that takes you to a site that can stream movies for you. Therefore, once in a while, it will direct you to paid platforms like Netflix or Disney, which is one of the biggest drawbacks of this site.
The modern design, minimal ads, and curated content bundles make the site stand out. They have a responsive search box and filtering options to further enhance content discovery. Just type in the search box what you are looking for, and within a few seconds, you will have the details of where to watch the content, along with similar recommendations.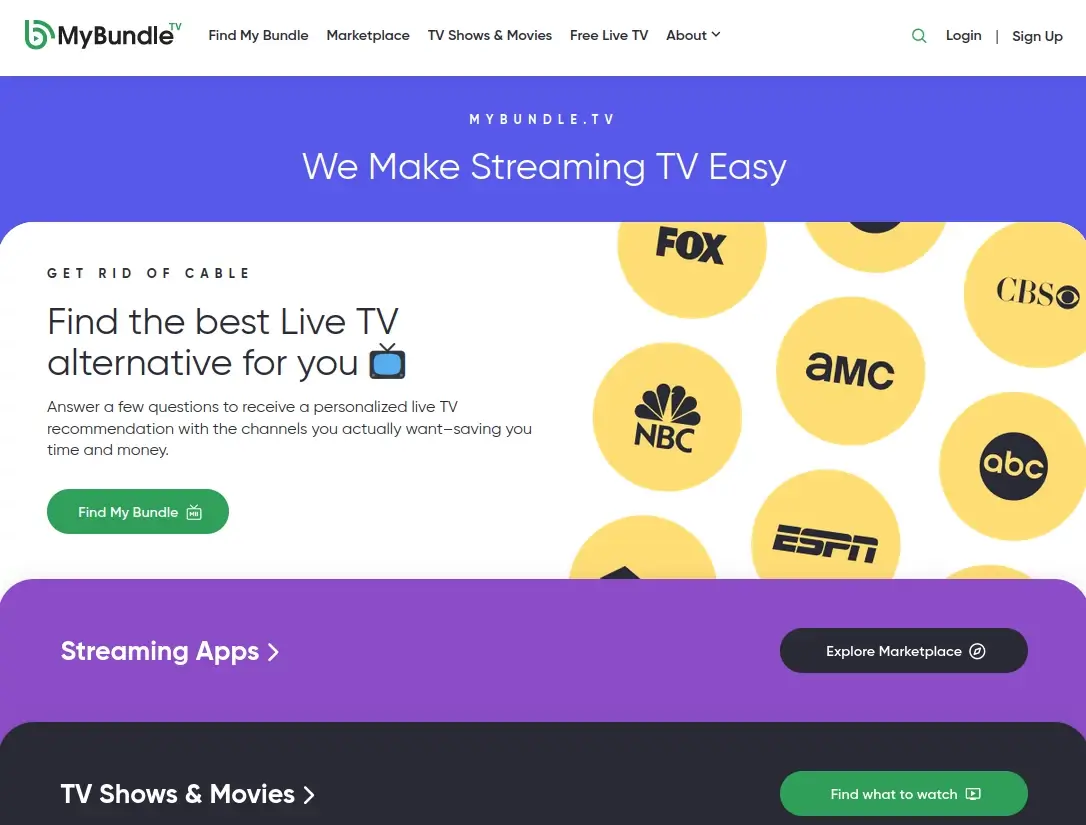 9. FlixTor
No ads, no pop-ups, a relatively intuitive user interface, and the latest releases for free. If you want all these things, visit FlixTor now. Everything is available on this site, from Hollywood to Bollywood.
However, sometimes the latest release may be a theater-recorded video. So, do keep an eye on it. These things make FlixTor's legal status a bit unclear. It seems like the site streams content without proper licensing. You should use a VPN and ad-blockers to protect yourself from malicious links and maintain online anonymity.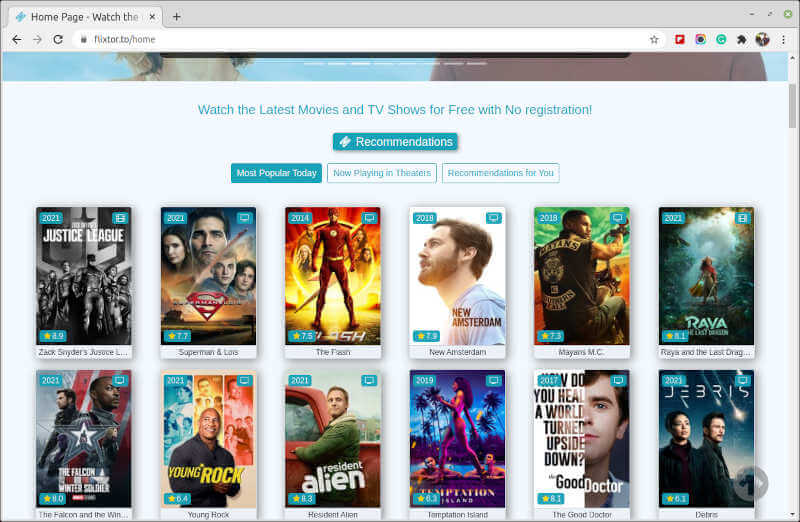 10. StreamM4u
StreamM4u offers a broad movie and TV show selection, all for free. The good thing about this site is that they have a dedicated section for new movies. Korean, Japanese, Indian, etc., you can find content from across the globe on this platform.
The user interface of the site is not as smooth as we expect modern websites to be. You will be bombarded with ads as soon as you open it. To make matters worse, StreamM4u displays explicit ad banners as well as pop-ups with adult target content and is definitely not suitable for streaming movies with family and kids.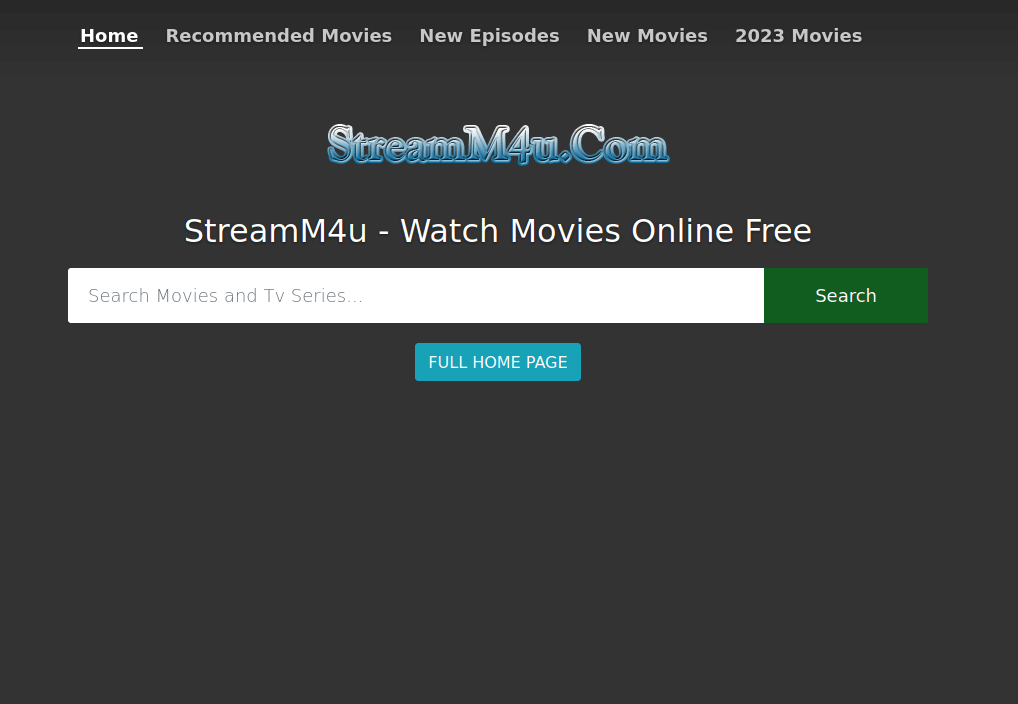 11. Music HQ
Music HQ is another decent free movie streaming site. The occasional pop-ups might be a drawback. Still, they make up for it with their vast collection of movies, TV series, and even anime. You can watch anything from The Godfather to the last season of Attack on Titan.
You will find the filters on the site to be handy and organize content as per genre, country, and IMDb rating. If we have to point out another drawback, we would say that the site has fewer server options.
Even though it's unlikely that both servers fail to stream movies, it can happen. Sometimes, the content is geo-restricted; changing your IP address can allow access to the content. If this is the case, try again by enabling VPN.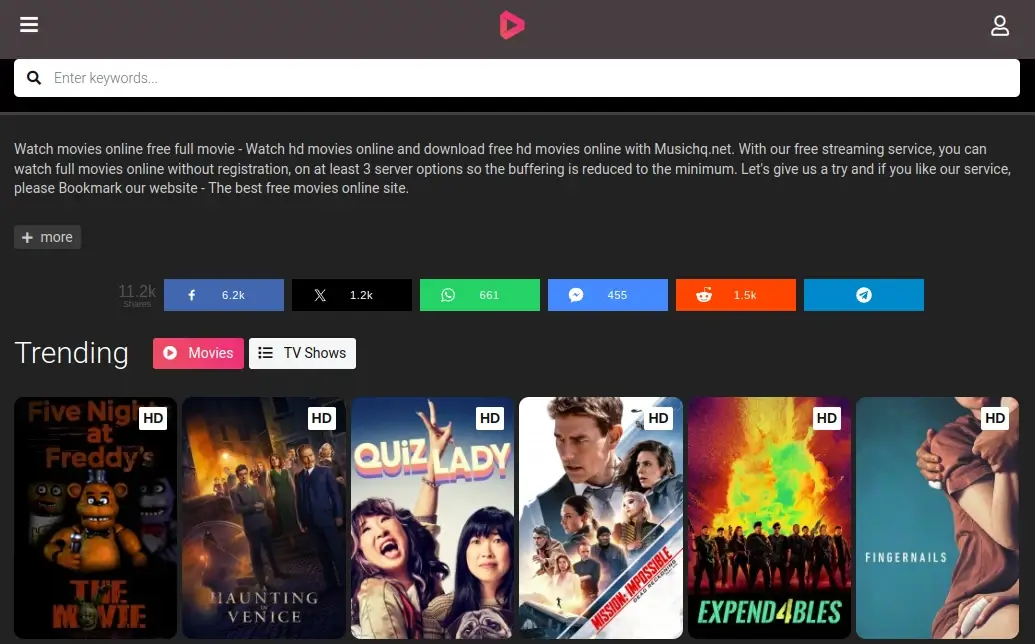 12. YouTube
Yes, YouTube! Every once in a while, search for the movie you want to watch in the YouTube search box. The platform can surprise you. While you may not get access to the latest releases, there's a good chance you can find some classic films on the platform.
If you don't have the premium version, you already know how YouTube ads nowadays can annoy a person. To get rid of the ads, you will need to purchase YouTube Premium at $13.99/month. If you want it for a group or family of five, you can get it at $22.99/month.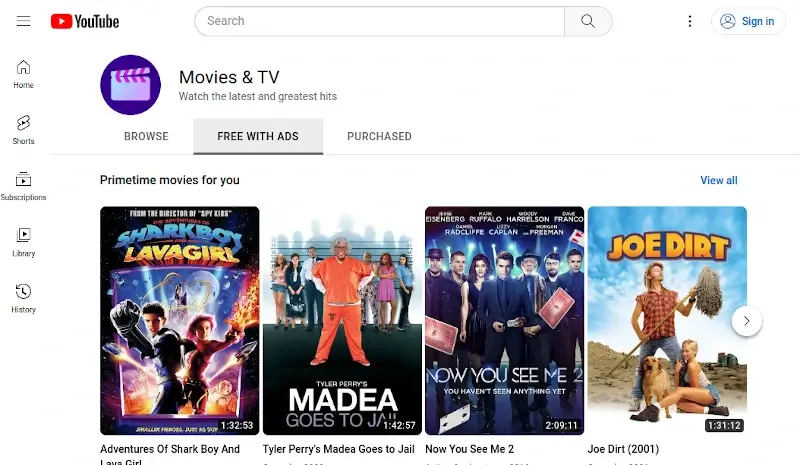 13. Yes!Movies
Yes!Movies is a pop-up-heavy website. It can take you 10 to 15 clicks just to start a movie. The ads banner can also make the site slow. Nevertheless, their content library will not disappoint you. From the latest movies to classic sitcoms like Friends, you can surely find your type of content on Yes! Movies.
The site makes it easy for you to search for movies with their comprehensive categories. You can even find movies based on their IMDb ratings. It has a feature to save your watch history. So, if you leave the site in between, you can continue right where you left off.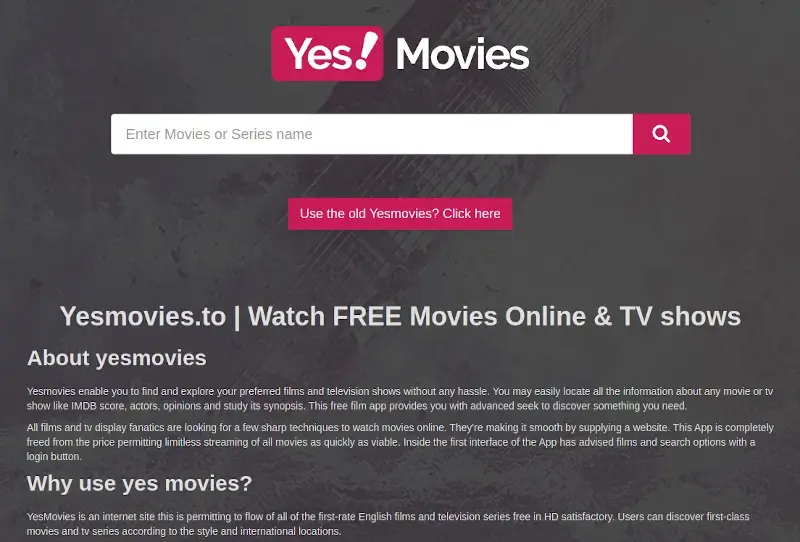 14. Internet Archive
The Internet Archive is a goldmine for public domain movies. It's an excellent resource for historical and classic film buffs. So, if you are looking for the latest blockbuster, we would recommend you use another moving streaming site.
Note that Internet Archive is ad-free, which means users can explore its vast collection without interruptions or distractions. You don't need to turn on your VPN or worry about malicious links on this site.
You don't need to bother with logging in on this user-friendly website – it's refreshingly no-nonsense. Give it a try; you might find something you like. Beyond movies, this platform also offers a treasure trove of public domain books, music, podcasts, and various other media content to explore and enjoy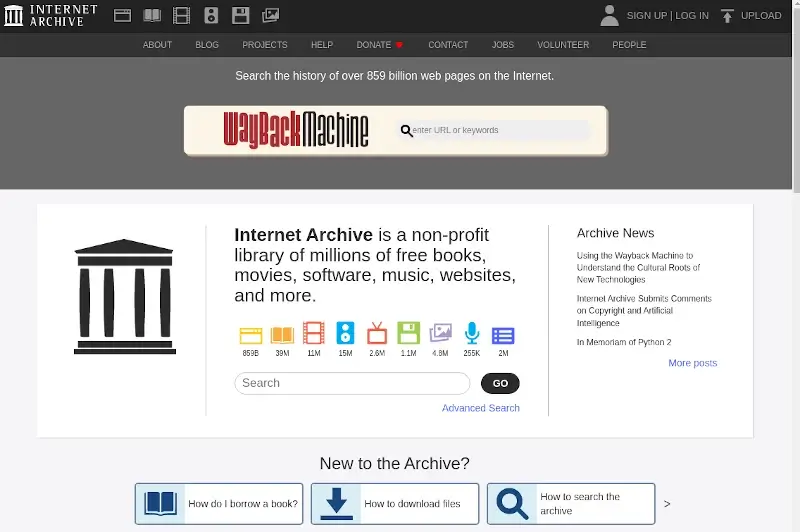 15. Afdah
Download or stream movies for free with Afdah. You can find movies as per genre. The quality of content on Afdah can vary significantly. While some movies and shows are available in high definition, others may be of lower quality, with potential issues like buffering.
Afdah operates with fewer pop-ups and is less likely to get on your nerves. However, it's essential to use a reliable ad blocker because the site can be plagued by ads, which can take too long to load.
Ads can sometimes interrupt your watching experience as well. That's because Afdah wants you to opt for their premium ad-free version, which we don't recommend.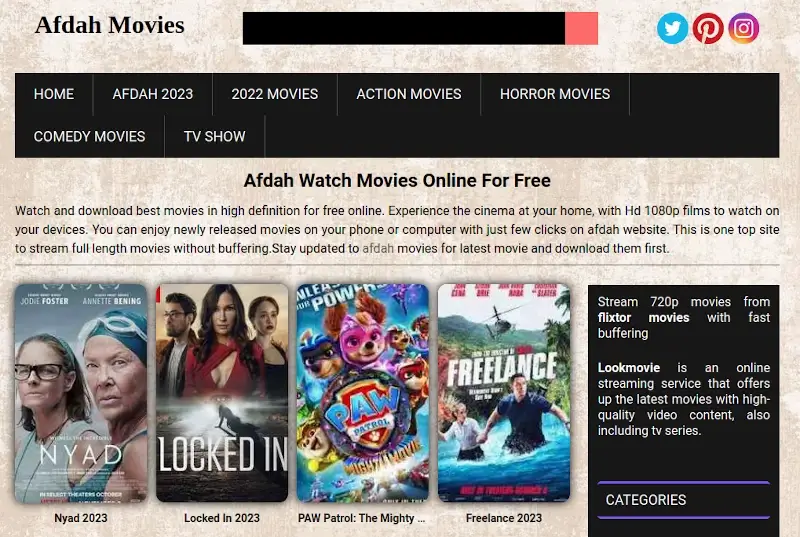 16. Pluto TV
Pluto TV is a unique option, offering both live TV channels and movies for free. To sustain its free service, Pluto TV incorporates advertising. However, they are not as disruptive as most of its competitors.
The site has no shortage of classic movies like Indiana Jones, Titanic, Back to the Future, and others alike. Along with movies, Pluto TV's inclusion of live TV sets it apart from many other streaming platforms. You can watch TV channels like MTV, Nickelodeon, Comedy Central, and others.
Some content on Pluto TV may be restricted to certain regions, limiting the accessibility of certain shows and channels depending on a user's location. To access them, you will have to use a VPN with the location set to the U.S.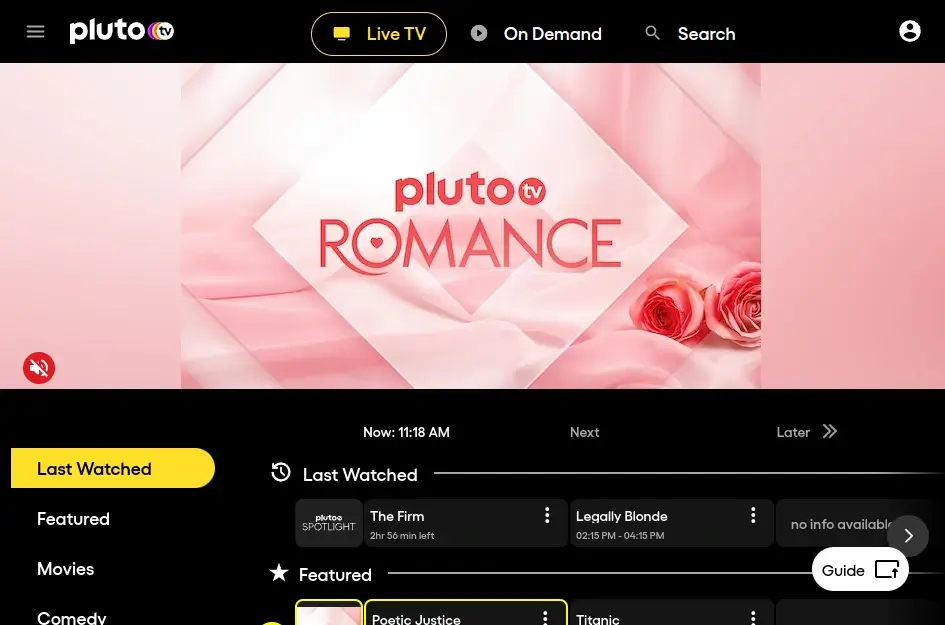 17. Yify TV
For those looking for high-quality movie streams, Yify TV is perfect. Whether you're a fan of classic films, the latest blockbusters, or TV shows from various genres, you'll find plenty of content to enjoy. People turn to this site when they are not able to find shows or movies on other sites.
Let's take a look at some cons of Yify TV. At times, content can take too long to load. Excessive display of banner ads is another issue with the site.
Ads are embedded within videos, which can keep you hanging for a long time and disturb your viewing experience. Also, most of the ads are explicit. It is better to turn on ad-blockers before streaming content on Yify TV.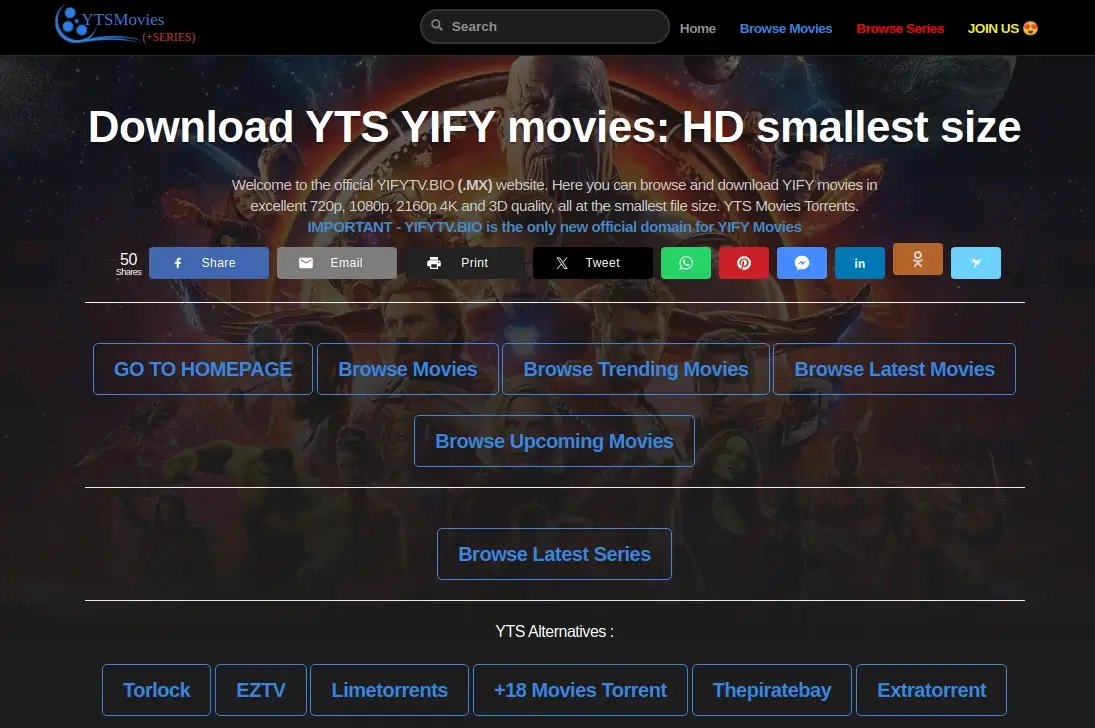 18. Xumo Play
Xumo Play has a decent user interface, relatively fewer ads, and a smooth streaming experience. You won't find Barbenheimer on this site. Still, you can watch some of the classic movies and TV shows for free.
Including live TV channels sets Xumo Play apart from many other free streaming services. You can enjoy a selection of real-time content, providing an experience akin to traditional cable or satellite television.
The user interface can be a bit confusing to navigate at first. But you can get the hang of it with every visit.
They have unique menu options such as Live Guide, Free Movies, TV Shows, Networks, and Discover. This will definitely help you find the kind of content you like to watch.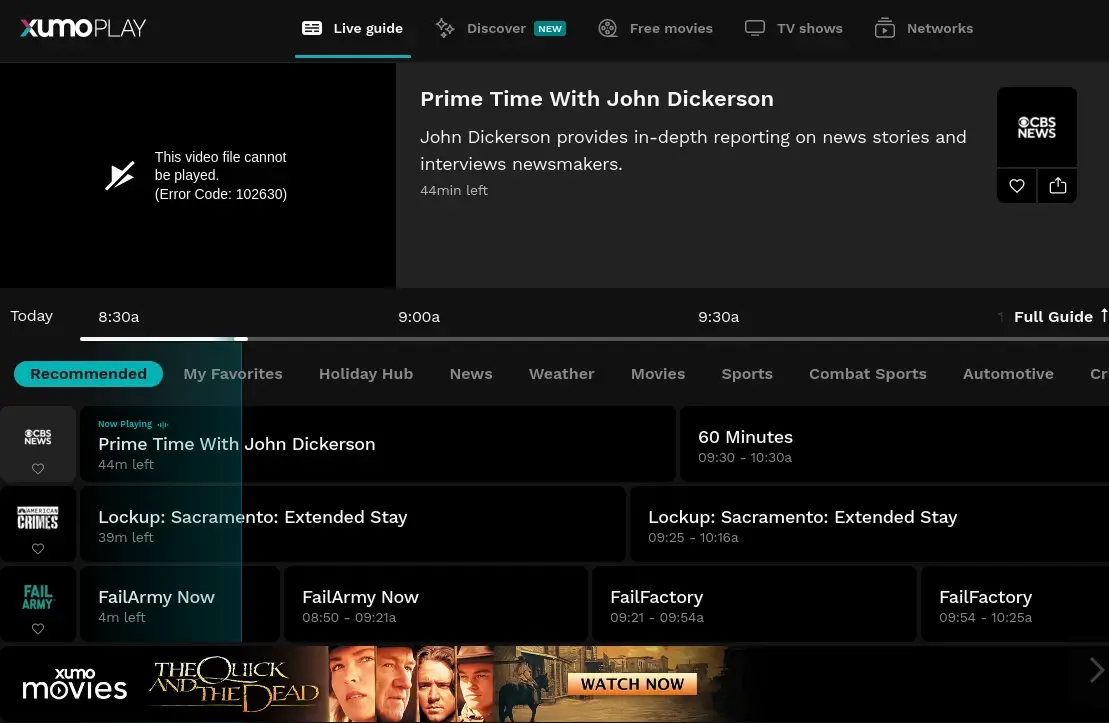 19. Bounce TV
Bounce TV is a more than normal movie streaming site; it's an OTT platform that produces original shows.
Everything is readily accessible without any cost, and the advertisements are notably less intrusive compared to other platforms. Most of the content on the site is targeted toward the Afro-American community, providing a wide array of content that reflects the diversity and richness of African-American experiences, making it a valuable resource for anyone interested in exploring this cultural tapestry
Bounce TV goes beyond entertainment by actively engaging with communities and promoting social initiatives. They are dedicated to making a positive impact beyond just providing content.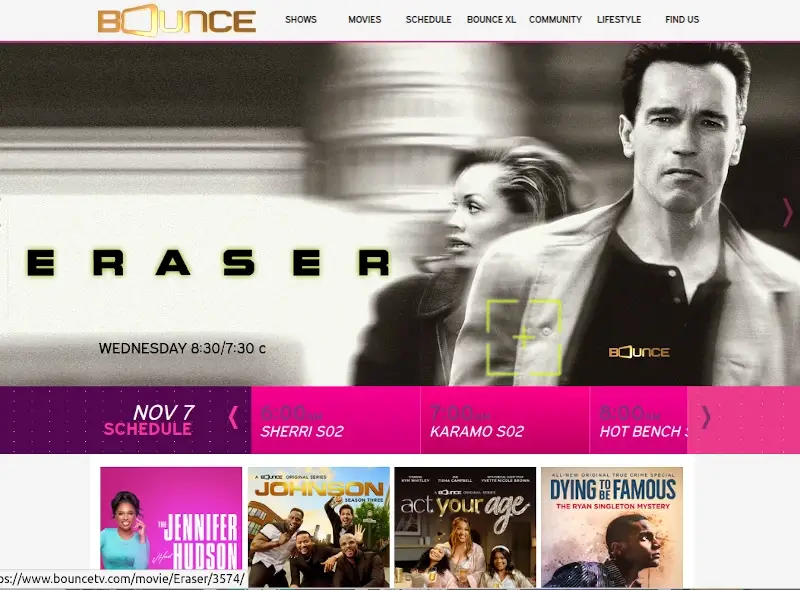 20. Yidio
Yidio works in the same manner as MyBundle.TV. It's like a TV guide. The site is known for its ability to aggregate your streaming platforms.
Yidio's ability to offer personalized feeds is unparalleled as compared to other sites. This site has an alert system that notifies users when their desired content becomes available on streaming platforms.
While using this site, you will find that not all options suggested by Yidio are free to stream. The site design is outdated, which makes it a bit difficult to navigate. However, the absence of ads and pop-us is refreshing.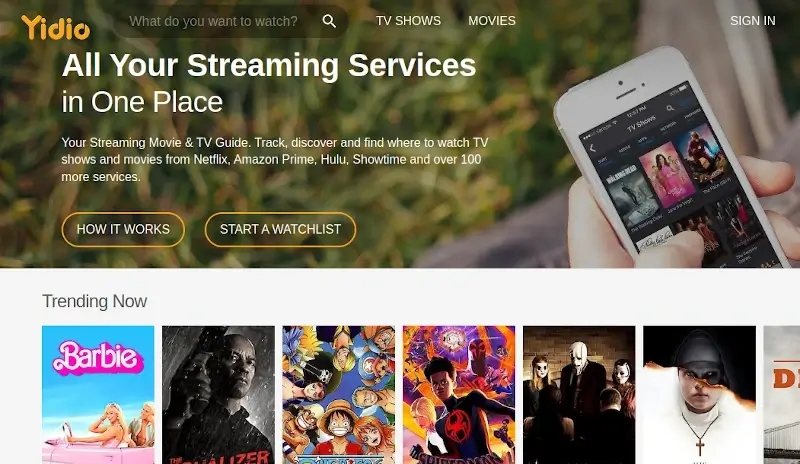 21. Popcornflix
Popcornflix is dedicated to streaming TV shows. They do have movies, but the collection is not vast, and you won't find any latest blockbusters. If you look through, you can find movies from Hollywood as well as Hong Kong and South Korea.
Browsing through the website or app is easy, and finding your desired content is a hassle-free experience. That's because the site has carefully curated lists like "Legends of Action", "Thriller Instincts", "Crime Time" and many more.
The site will not shove ads in your face, and pop-ups are also tolerable. It's user-friendly across all devices. Popcornfilx does have a collection of exclusive original content. However, the reviews from viewers suggest that it's not very captivating.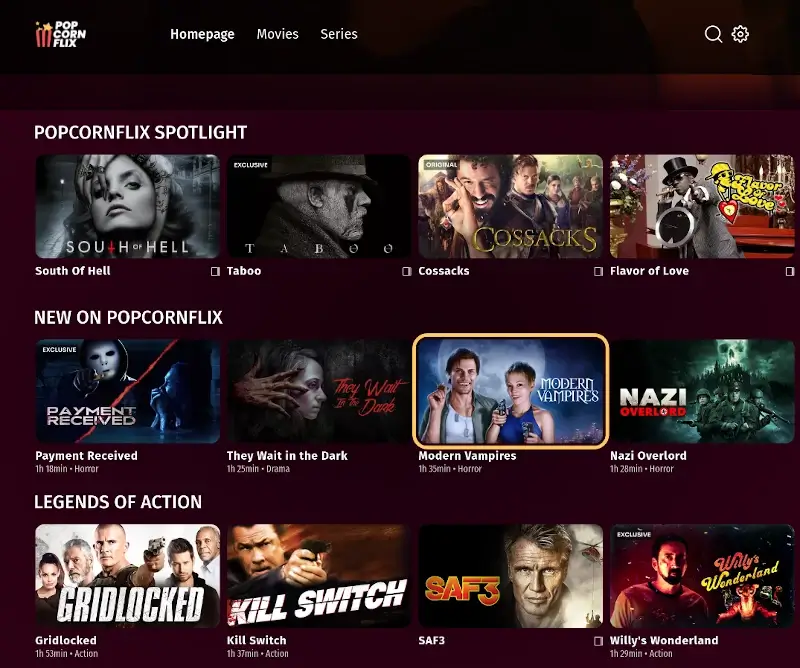 22. VexMovies
VexMovies has a great collection of movies and TV shows. This diversity is particularly appealing to those seeking foreign cinema and global perspectives. The content is categorized by genre, year of release, trending, and alphabetical order.
They do have the latest titles. You should note that the quality of the latest release can be a bit distorted. There are also malicious links present on the site. Be careful while navigating this site. Ensure that you don't accidentally download something.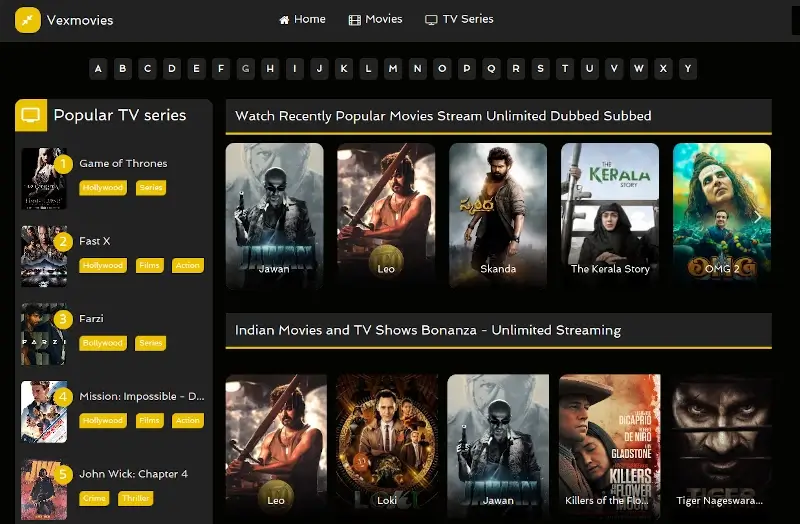 23. TinyZone
Another pop-up-driven website. But we do like the mammoth library of TinyZone. The quality of streaming is decent. TinyZone's site user experience is not as smooth as one wants it to be. Still, it's forgivable as all the movies and TV shows are free to stream.
If you log in, you can add movies and TV shows to your favorites and save your watch history. The site also offers a mobile application that you can download on an Android phone. One main benefit of using the TinyZone app is the complete absence of ads and a much better viewing experience than the site.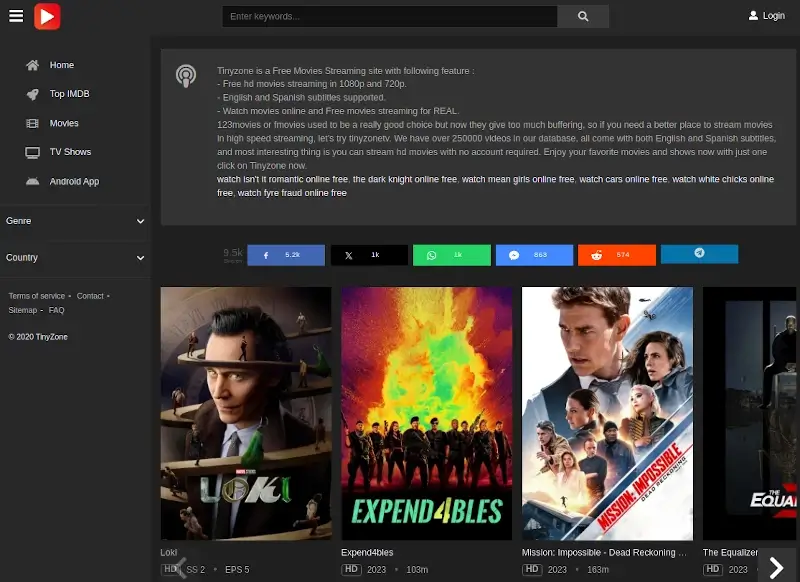 24. Movies Found Online
Movies Found Online has a collection of movies, short films, animated films, and even stand-up comedies. It mostly has public-domain movies and films by independent filmmakers, hence you can easily find classics on this site. If you are a documentary buff, Movies Found Online will certainly amuse you.
The site works like a cheap replica of YouTube. You will find that it's easy to navigate the site, but the search box is not as responsive as one would want it to be. Sometimes, ads also make it difficult to play the content.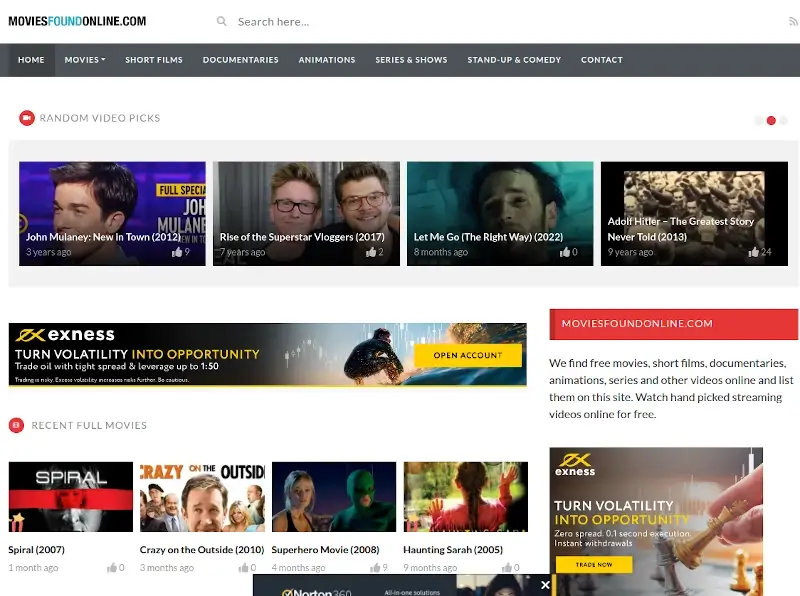 25. VidCloud
This is the best site to get the latest movies for free. VidCloud even had the new theatrical release "The Creator" which we couldn't find on the other sites. The site is known for its fast loading time, which can be a common frustration on other streaming platforms.
Certainly, it's important to note that the site does feature pop-up ads, which, while generally not excessively disruptive, can occasionally interrupt the viewing experience for some users. Additionally, you might need to adjust your settings to unblock the content, so it's advisable to be prepared for these minor inconveniences when navigating the site.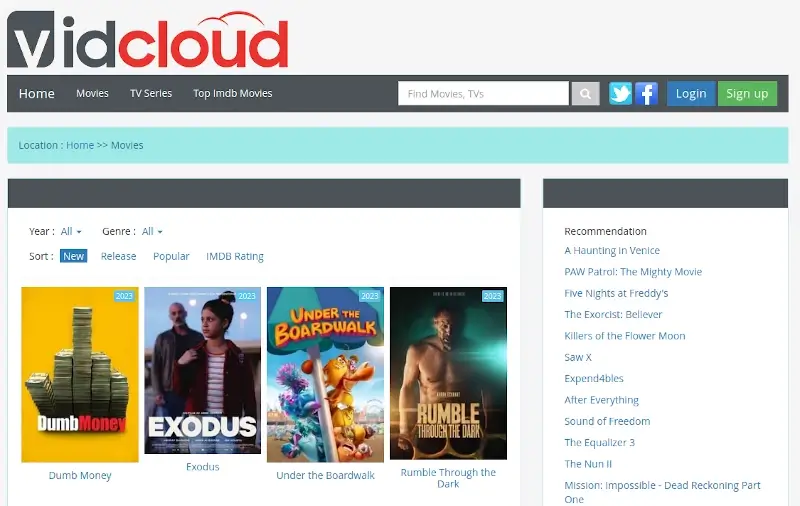 26. Kanopy
Kanopy offers a wide range of educational and indie films, celebrated for their socially relevant and intellectually stimulating content. These featured films tackle global issues and offer diverse perspectives, contributing to a more enlightened and socially conscious society.
Importantly, the platform maintains an ad-free environment; however, similar to a library system, when you complete a film, it is returned, and you can then request another, though this approach may pose some inconvenience for viewers with a strong desire to watch specific titles that could potentially disappear from their watchlist.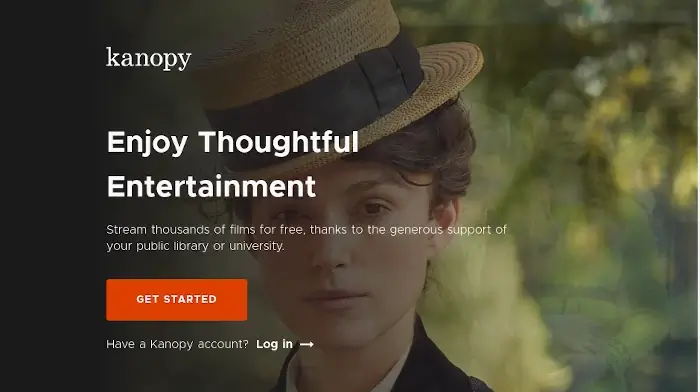 27. FMovies
Stream movies for free in 4K or HD with FMovies, a highly popular platform known for its frequent content library updates. Though the search box is not very responsive, the site content categorization is commendable, making it a fan favorite when it comes to free movie streaming sites.
The FMovies relies on advertisements to sustain its free service. As a result, you will have to go through several layers of pop-up ads and redirects before playing the content. While these can be an annoyance, it's a trade-off for the cost-free access to content.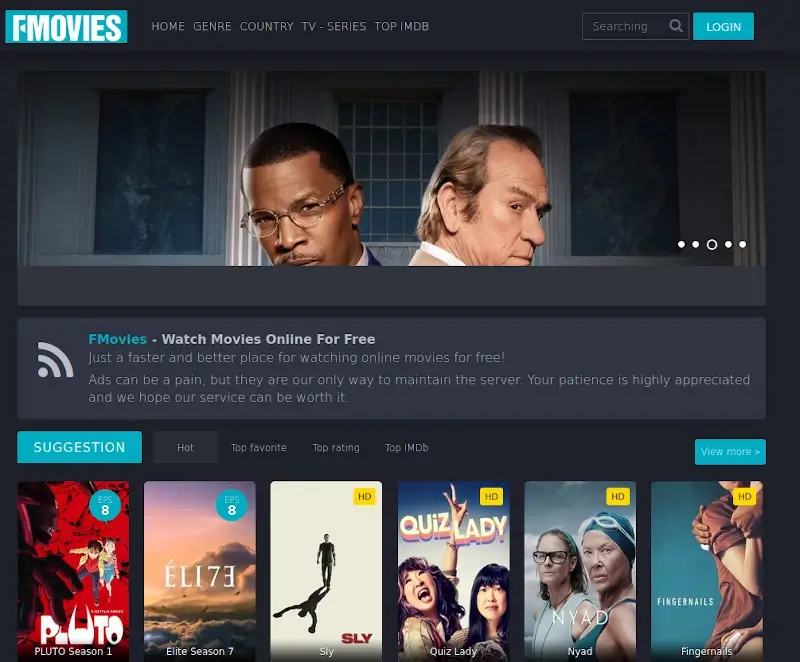 28. MoviesJoy
The site has a vintage vibe to its interface. MoviesJoy focuses on offering a minimal ad experience. One of MoviesJoy's standout features is its extensive library of movies and TV shows featuring blockbusters as well as older classics with the added perk of HD streaming options.
You should exercise caution when using MoviesJoy, as the platform might expose them to potential security risks due to unverified third-party websites or advertisements that could lead to malware or phishing attempts.
The absence of pop-ups preserves your viewing experience, but ads are seamlessly integrated within the content, occasionally requiring viewers to endure brief waiting periods of over a minute before content playback begins.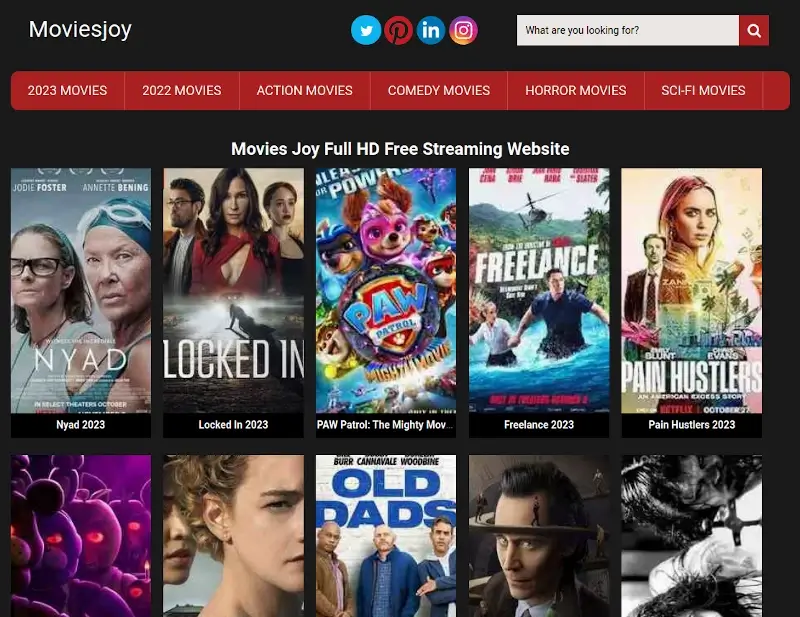 29. StreamLord
If you prefer an ad-less experience, try StreamLord, it's an excellent choice with banner ads and relatively non-intrusive pop-ups compared to typical free movie streaming sites. Their subtitle feature is on-point, enabling you to stream content from across the globe seamlessly.
Be mindful of downloading items from this site. A certain pop-up can automatically start to install an "antivirus" which can be harmful to your device. Also, be aware that if your internet connection isn't stable, the site may experience slow loading times for content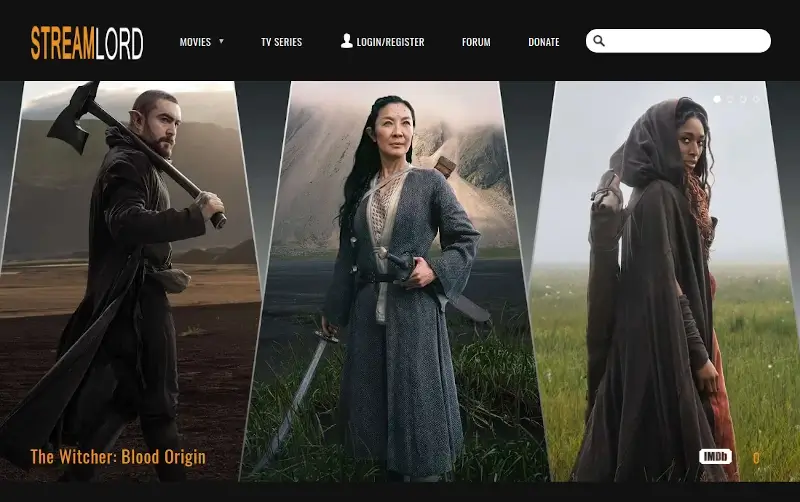 30. Putlocker
Putlocker is a well-known name in the world of free movie streaming offering a plethora of content but is notorious for pop-up ads. Keep in mind that the original site was shut down, and now remains a series of mirrors and clones that still offer TV shows and movies for free. Maybe that's the reason behind the pop-up-heavy nature of the site.
It has also got a reputation for directing users to explicit outbound links. Before playing the content, the site also asks you to scan a QR code to verify yourself as not a robot, which seems a bit spammy.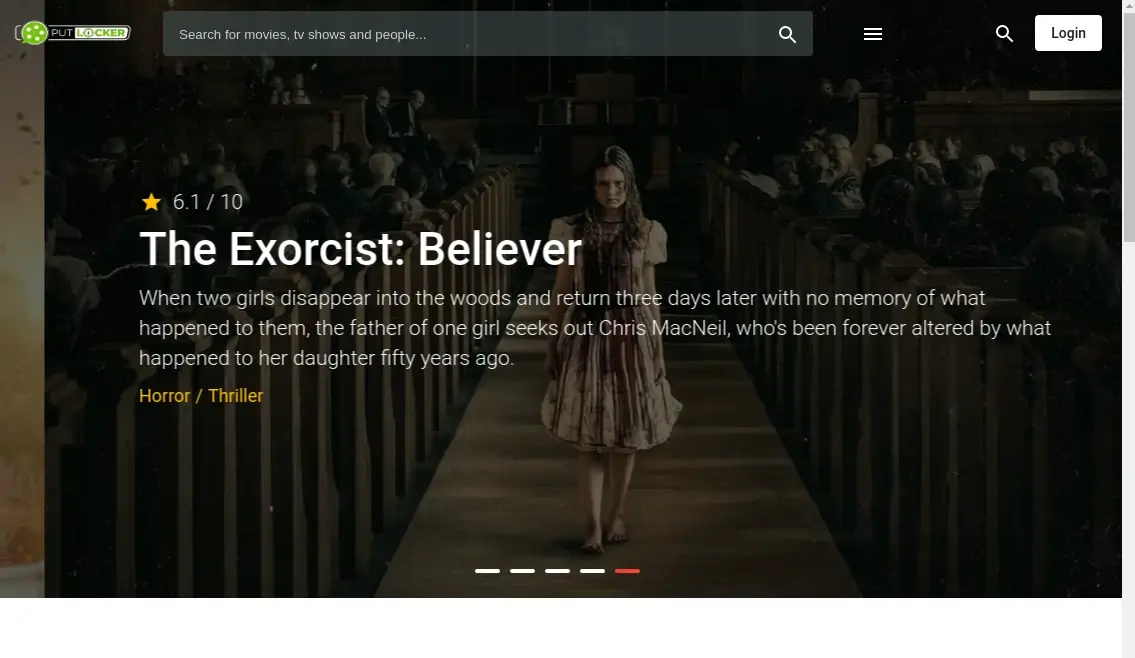 31. The Roku Channel
The Roku Channel is an ad-driven streaming platform that lets you watch Roku originals, movies, and TV shows for free. The user interface of the site is elegant.
It also allows users to access live programming, bridging the gap between traditional cable TV and streaming services. Another good thing about The Roku Channel is that it streams live sports from channels like ESPN, FOX Sports, CBS Sports, and many more.
If we speak of the cons of this site, it would be the limited library that doesn't have the latest releases. They have divided content into just two categories: Roku Originals and Free TV & Movies. This makes it difficult to discover content on the site.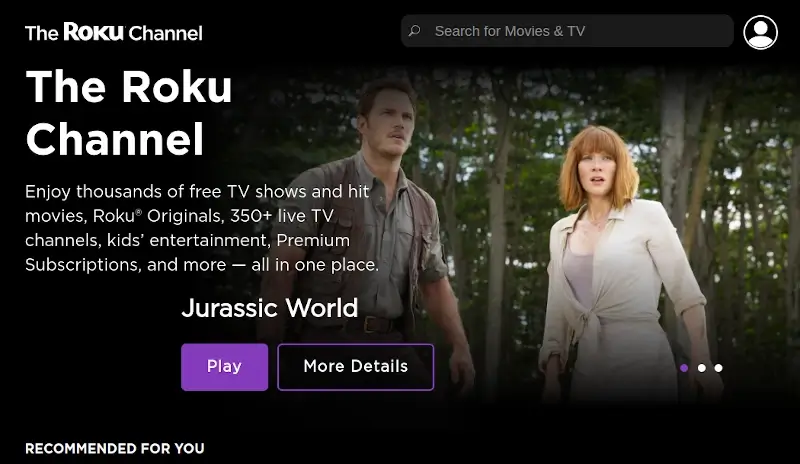 32. PrimeWire
If you are looking for a site that easily lets you find the new releases, PrimeWire is the one for you. It has a very simple UI experience that lets you easily navigate through the site with most films available in high definition. However, occasionally you may come across movies that are in theater print.
One notable drawback is its aggressive push for the premium subscription model which promises to allow you to stream movies without ads and it's fair to say that the site inundates users with ads, potentially leading to a frustrating experience.
PrimeWire often requires a captcha to verify yourself as a human making streaming content on this site somewhat cumbersome.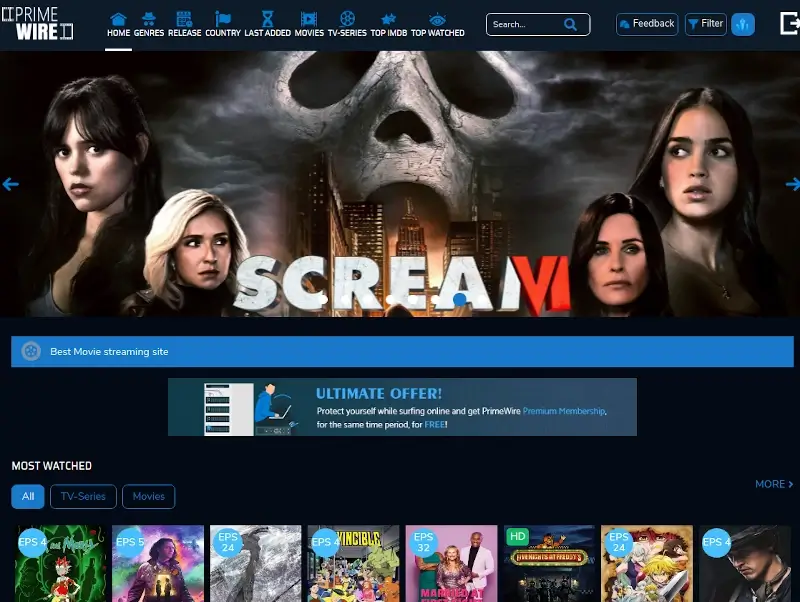 33. CONtv
CONtv is a unique choice for fans of sci-fi, horror, and fantasy movies. This niche service offers a curated selection of content, catering to the tastes of enthusiasts who appreciate the extraordinary and the otherworldly. The site also offers a wide range of documentaries that delve into the depths of these captivating genres.
Keep in mind that not all content on CONtv is freely accessible to watch, as a user you are required to log in to access the content. While using this site, ensure that you have enabled VPN with the location set to VPN.
To get rid of the ads and access the premium content, you can subscribe to one of their paid plans. The basic plan is priced at $5.83/month, and the most expensive plan is priced at $7.99/month.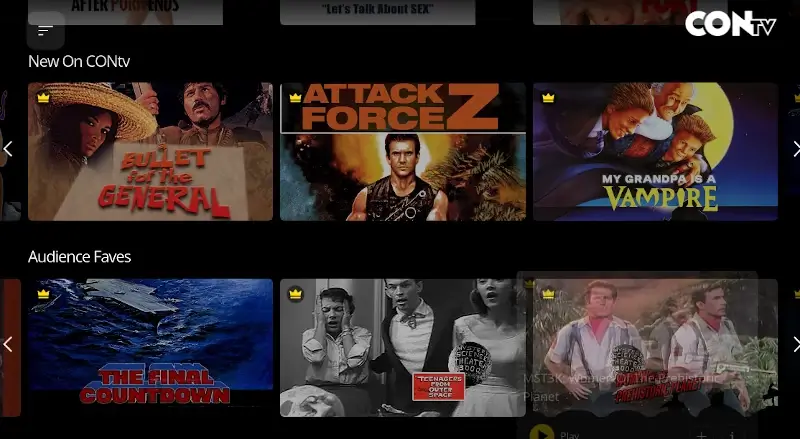 34. Crunchyroll
Are you an anime fan? If yes, then Crunchyroll is a paradise for you, it's similar to Netflix for anime. The site is home to all the latest released anime movies and series featuring a pretty extensive library.
You can also find anime-based games on the site, along with the latest news related to the anime industry. This means you will certainly find something on the site that will entertain you.
Crunchyroll is an ad-supported site. The site will push you to purchase a premium plan to get an ad-free experience. The paid plans range from $7.99/month to $14.99/month. The higher plans allow you to use more devices for your account.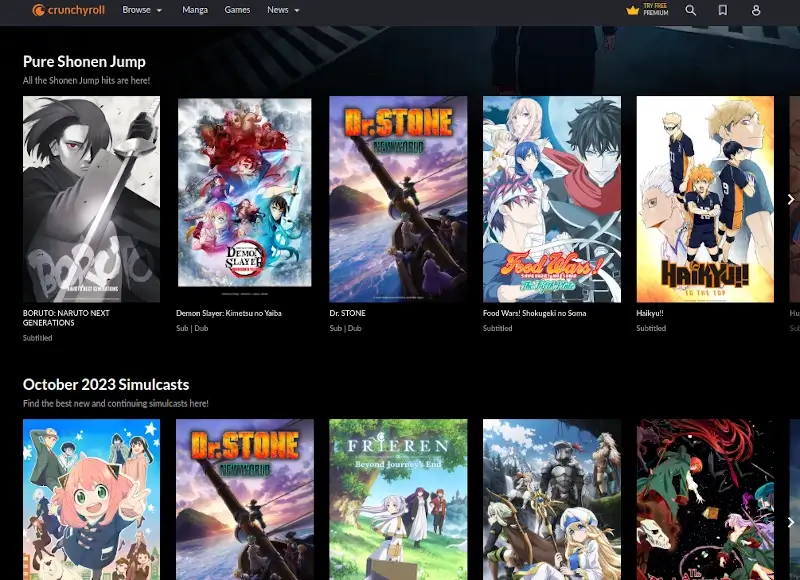 35. Vumoo
Vumoo is a straightforward platform with a decent collection of movies. It gives you options to choose from multiple resolutions to stream content. The site tries its best to offer an immersive watching experience, but it's negatively impacted by the pop-ups that force you to download software.
The site's free streaming model raises legal and ethical concerns as it often involves copyrighted content. We highly recommend you don't install anything from such a site because these links can be harmful to your device and can be a threat to your online privacy.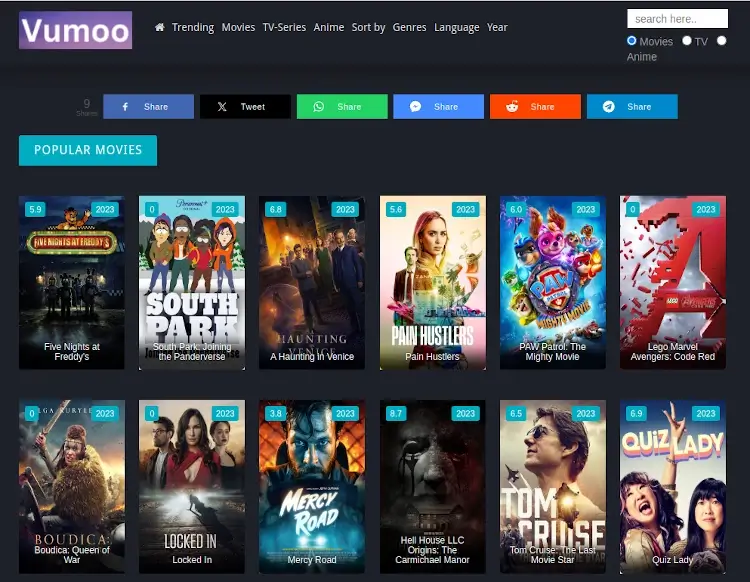 36. Plex
Plex comes with built-in media player features. The site is mobile-friendly and compatible with most devices. Its personalized curation based on the film you choose to watch is the best among all the free movie streaming sites.
Right from the get-go, you will notice that the platform has meticulously categorized its content as per its theme. Similar to The Roku Channel, you can watch live TV on Plex.
Although the collection of classic movies is decent, the site's only drawbacks lie in its limited library. Furthermore, Plex's ability to access content depends on your media servers. If your internet faces even the slightest fluctuation, you will be the victim of excessive buffering.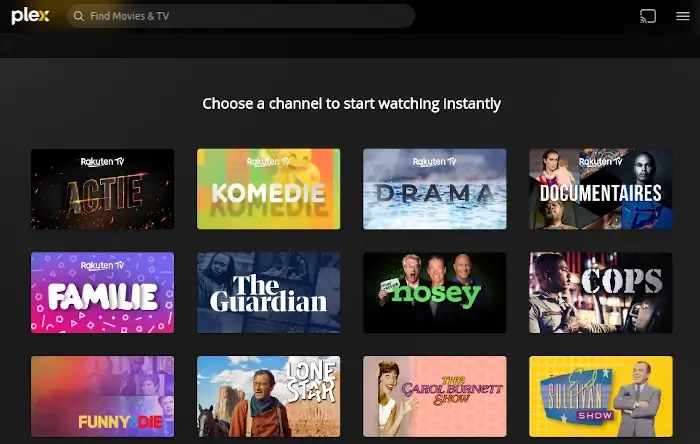 37. MyFlixer
Among the many options available, MyFlixer has emerged as a popular choice for cinephiles and binge-watchers alike. There are two main reasons behind it, first, the site has a diverse selection of movies and second, navigating through the site is a breeze. You can easily search for your favorite content without any hassle.
The site offers multiple server options to stream content. Expect some ads and pop-ups while enjoying your content on this site. But the quantity, as well as the quality of the stream, makes up for it. You should definitely check this out.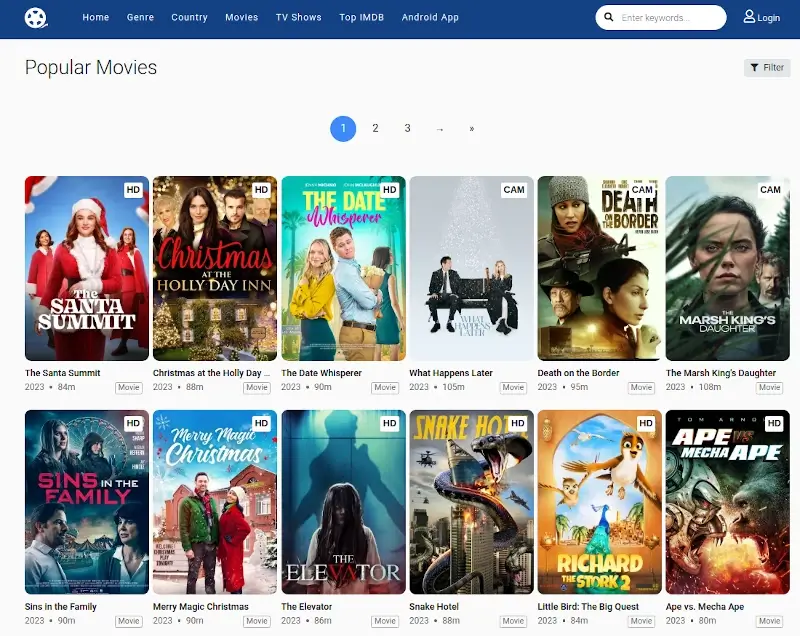 38. WatchFree
You can get a highly user-centric experience with WatchFree. As the name of the site suggests, all the content on the site is free to watch. If you like to search movies as per their genres, WatchFree excels in that area as well.
We don't have many complaints about the site. There are ads and pop-ups, which can sometimes get out of hand. But hey, WatchFree immediately adds the latest releases to its library, so it's okay.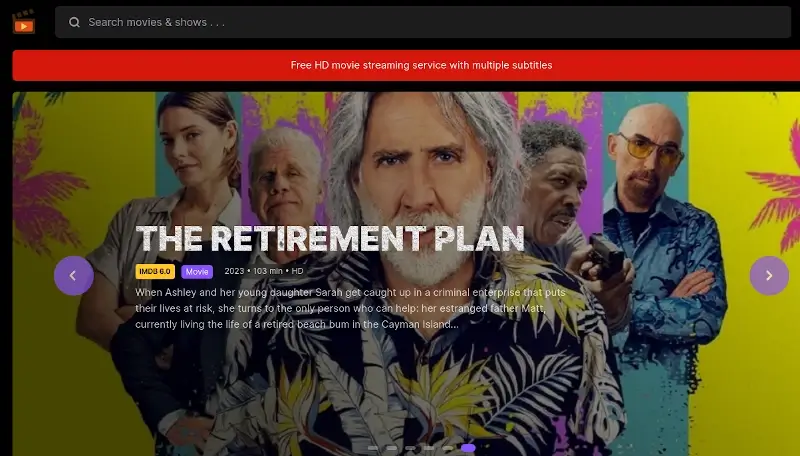 39. SFlix
SFlix is new to the movie streaming scene with an old vibe site interface. You can find the latest titles on SFlix, but the site has very serious issues curating its content as it lacks comprehensive filters and doesn't even filter by genre, so finding a movie can be difficult.
Let's keep these flaws aside for a minute. Now, if you already know what you want to watch, SFlix is a decent option. That's because of its vast library. However, keep yourself mentally prepared for pop-ups and ads firing.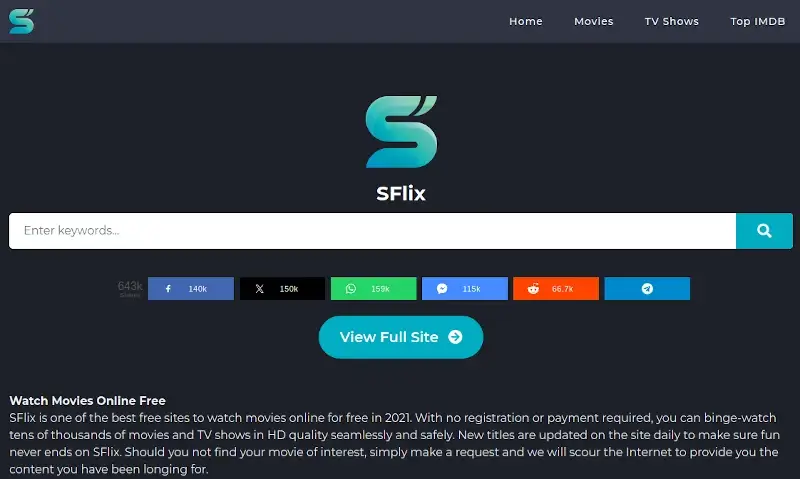 40. HiMovies
You can get a substantial movie library with HiMovies. The site also has an Android app that you can use to get a better mobile streaming experience. One more thing you will appreciate about the site is its Chromecast feature that allows you to display the desired content on your TV.
That being said, the site might sometimes take too long to load the content. Occasionally, you might find some broken links on the site. Maybe it's because HiMovies is a relatively newer site. So, we will have to wait and see if the issue disappears.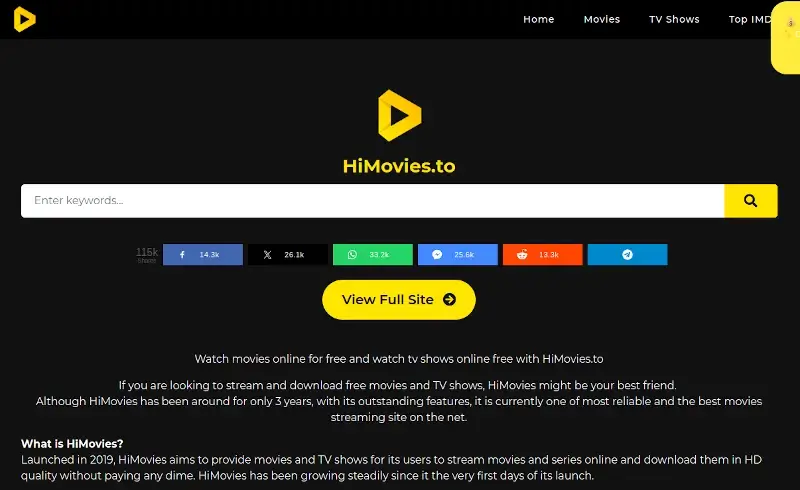 41. 5movies
5movies straight up discloses that ads on their website can be troublesome. While reviewing this site, our observation was that, actually, these ads are not as bad as we thought they would be.
In fact, 5movies stands out as one of the premier movie streaming sites, primarily because it lacks pop-up ads. The website's responsive design, including its search engine, enhances the user experience.
Overall, we feel it's a solid choice for free streaming due to its diverse library of movies, TV shows, and anime. The downside here is that some movies may have bad video and audio quality, and occasionally, subtitles may be out of sync.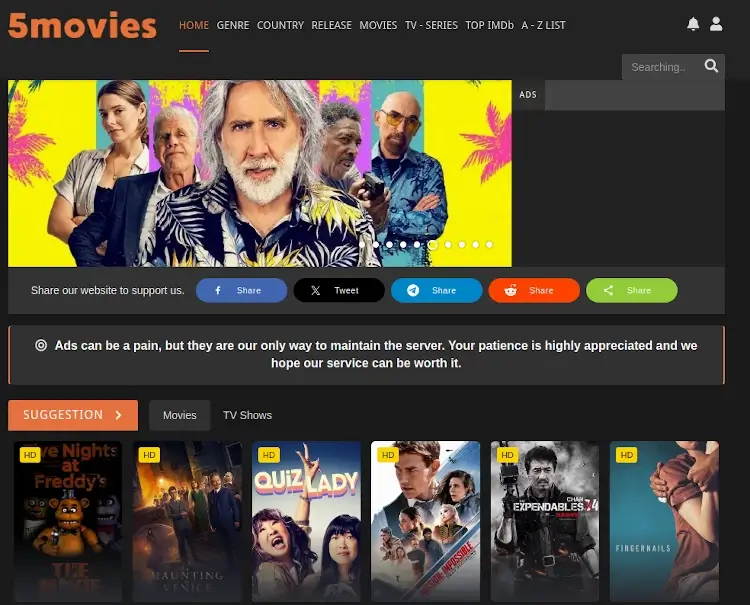 42. 1HD
1HD is a relatively lesser-known site, even though its library is up-to-date with the latest content in the market. What sets 1HD apart is its responsive design, probably the best among all the free movie streaming sites.
One can even say that it is on par with premium streaming platforms like Netflix and Amazon Prime. While not entirely ad or pop-up-free, it's worth exploring because of its extensive library, catering to a wide range of preferences from movies to anime.
We also saw some classic Hindi movies on this site. In our opinion, this site is a show-stopper; there are only a handful of streaming sites that can get better than this.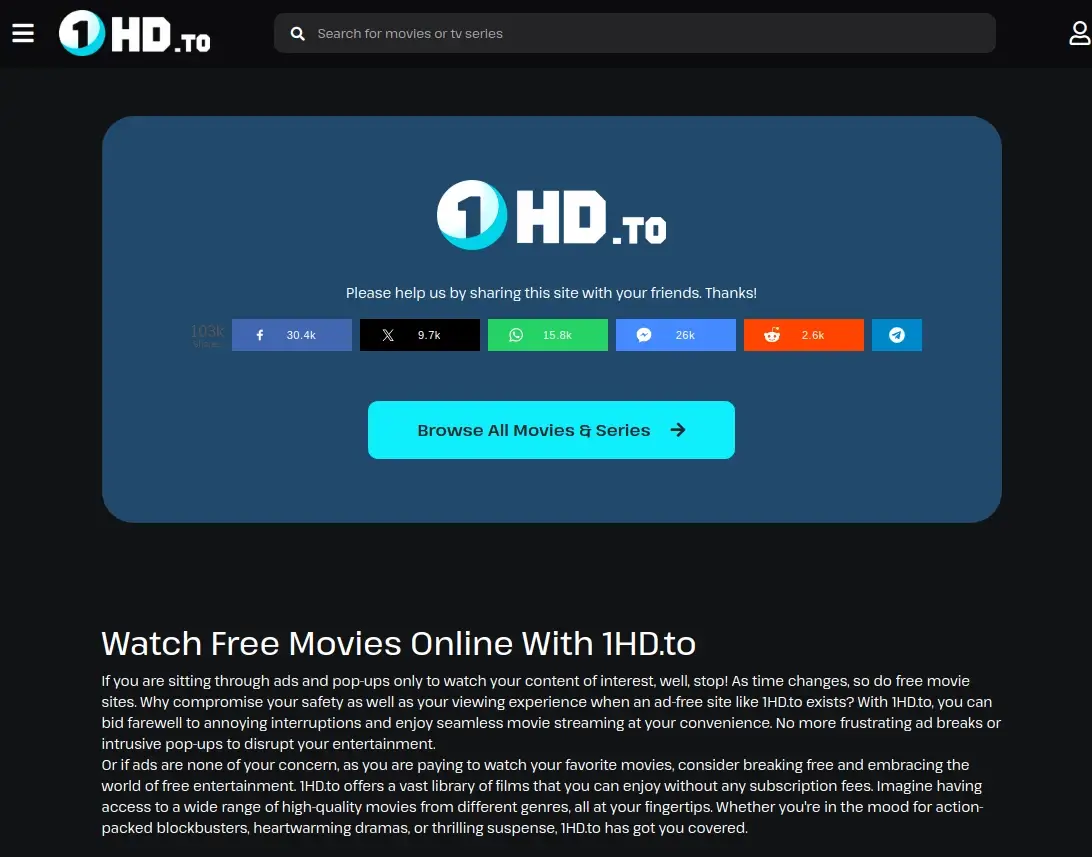 43. LosMovies
Easily find your all-time favorite films and TV shows on LosMovies. The site has an enormous and diverse collection of movies and TV shows, including many hard-to-find and niche titles. Their powerful filter allows you to search movies by genre, country, rating, and even quality.
For this blog, we streamed Mission Impossible: Dead Reckoning – Part 1, and the results were good. The site didn't bother us with pop-ups. However, we should point out that while streaming "Jawaan" the video was a theater-recorded video.
This means that not all the content available on this site is through legitimate means. Due to the illegal nature of its operations, LosMovies faced frequent domain changes and takedowns in the past.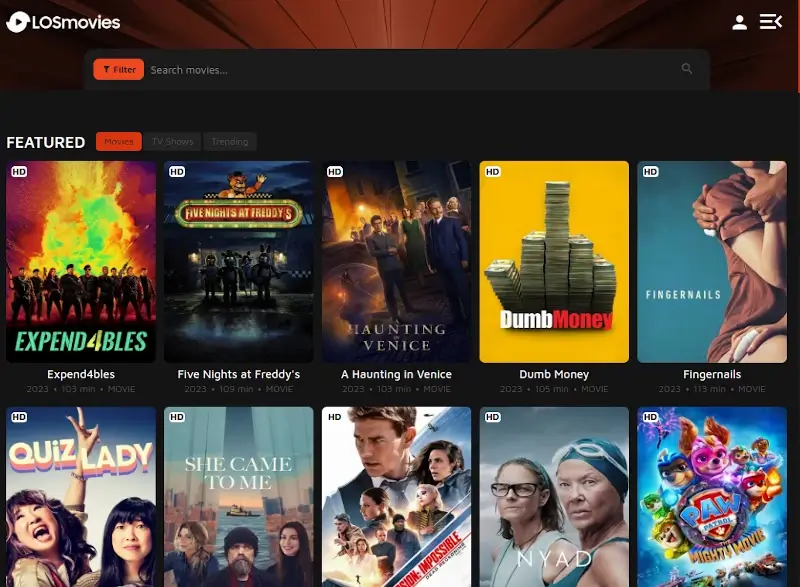 44. Freevee
Freevee belongs to Amazon which offers user user-friendly interface and seamless viewing experience without any pop-up ads. Freevee caters to a global audience by showcasing content in multiple languages and also offers convenient mobile app versions for both Android and iPhone devices.
As the name suggests, Freevee offers a significant portion of its content for free. However, there are many movies and shows that are not free to watch. The library also doesn't hold up when compared with other sites on the list.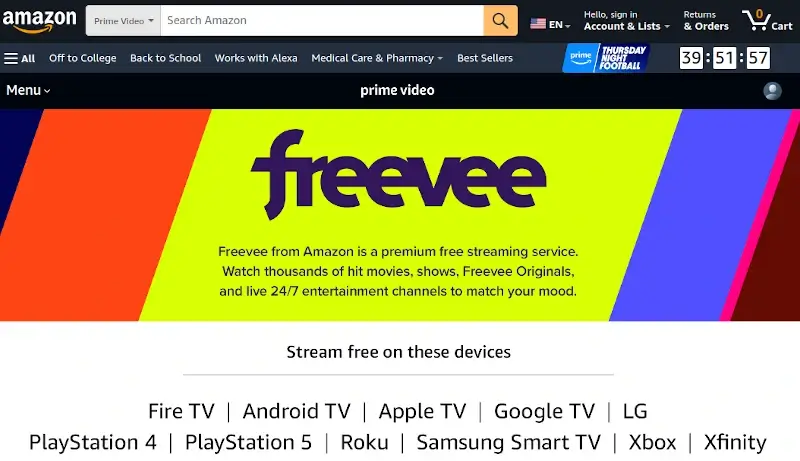 45. SBS On Demand
SBS On Demand is an excellent choice for streaming international and independent films. It's a treasure for those looking to explore the world of cinema. You can also get live TV, news, and sports with this site.
The site features expertly curated collections of content, making it easier for you to discover new shows and films based on your interests. It actively promotes content that represents different ethnicities, genders, and sexual orientations, making it a refreshing alternative to mainstream streaming services.
Unlike most sites on this list, SBS On Demand requires credentials for streaming and geo-tags its content to Australia, necessitating the use of a VPN like Express VPN set to an Australian location.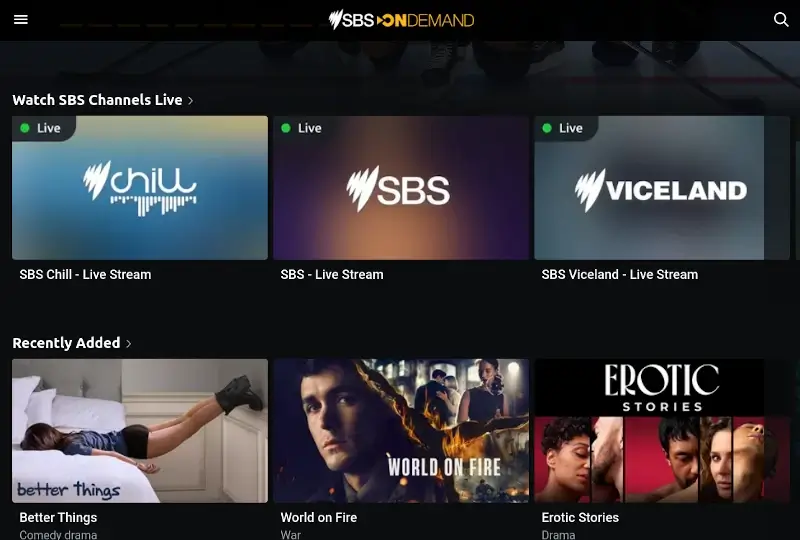 46. FilmRise
If you are a fan of classic movies, you will love FilmRise. It is also a great place to discover unique and lesser-known films. You will find some ad banners present here and there on the site, but they are not disruptive.
FilmRise offers apps for various platforms, including web browsers, iOS, Android, Apple TV, and more. This accessibility makes it easy for viewers to enjoy their favorite content on their preferred devices.
While the site excels in offering a diverse catalog, it may not be the best choice for those looking to watch the latest blockbuster releases. You can find several movies from the 1960s, 70s, and 80s.
As an ad-supported service, FilmRise does display advertisements during content playback. For some viewers, these ads can be disruptive to the viewing experience. However, it's a trade-off for accessing free content.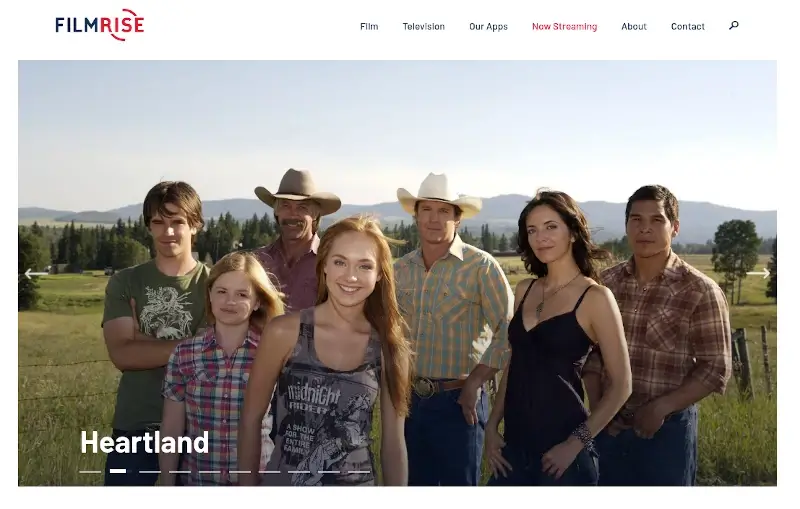 47. Filmzie
Filmzie offers you options like an Android or iOS app to stream content on your mobile. On this site, you can find films that are hardly available on their platforms.
They are known to support lesser-known filmmakers offering mixed content but may lack quality with relatively unobtrusive ads, it predominantly features erotic material while lacking the latest releases from popular studios, which might disappoint those seeking up-to-date content.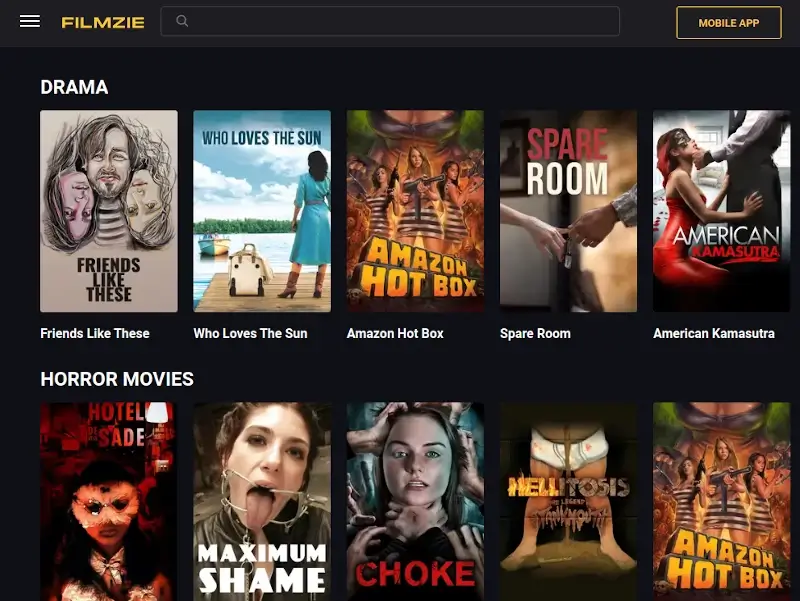 48. Rakuten Viki
Rakuten Viki is a paradise for fans of Asian dramas and TV shows. The site is ad-driven without intrusive pop-ups and follows a freemium model, which means some content is protected with a paywall and You will have to look for content marked "Watch Free".
If you want to unlock shows marked Standard on the site, you will have to purchase the Standard Pass plan at $5.99/month, while the Plus plan at $9.99/month unlocks Standard as well as Plus shows.
The platform is well-known for its unique community-driven subtitling system. Viewers can contribute by subtitling content in multiple languages, making the platform accessible to a broad audience. This not only aids non-English speakers but also fosters a sense of community and collaboration among viewers.
Of course, if you want to watch Western content, you will have to look at some other platform, other than that there is nothing major to complain about the site. The only minor issue we would like to highlight with the site is that due to licensing agreements, some content on Rakuten Viki may have delayed releases.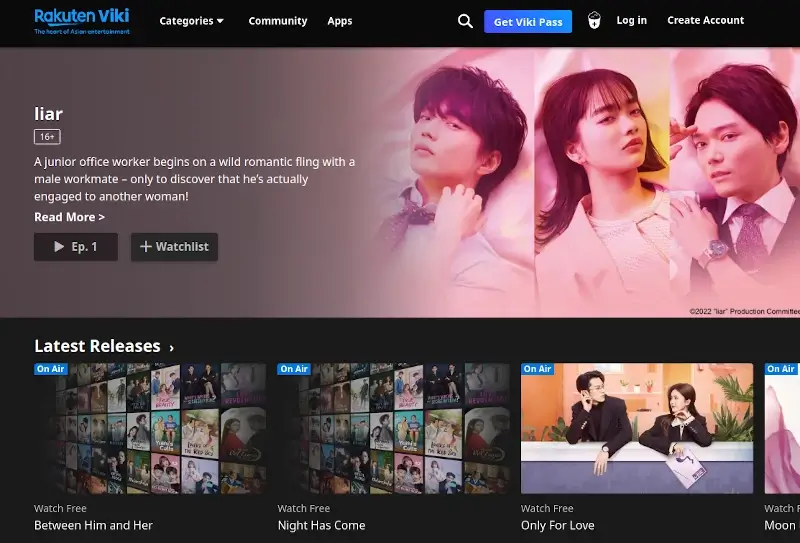 49. 123Movies
123Movies allows you to stream and download movies in HD offering free access to a multitude of movies and TV series. However, discovering what you like in this sea of content can be a challenge because the search engine feature is a bit buggy. We recommend you use the Genre page on the site to find the content you want to watch.
Be ready for some heavy pop-up advertisements while streaming the content. However, perhaps the most significant drawback of 123Movies is its questionable legality. Due to the legal battles and takedowns it faces, 123Movies has experienced periods of downtime and server changes which can be frustrating for users seeking a reliable streaming experience.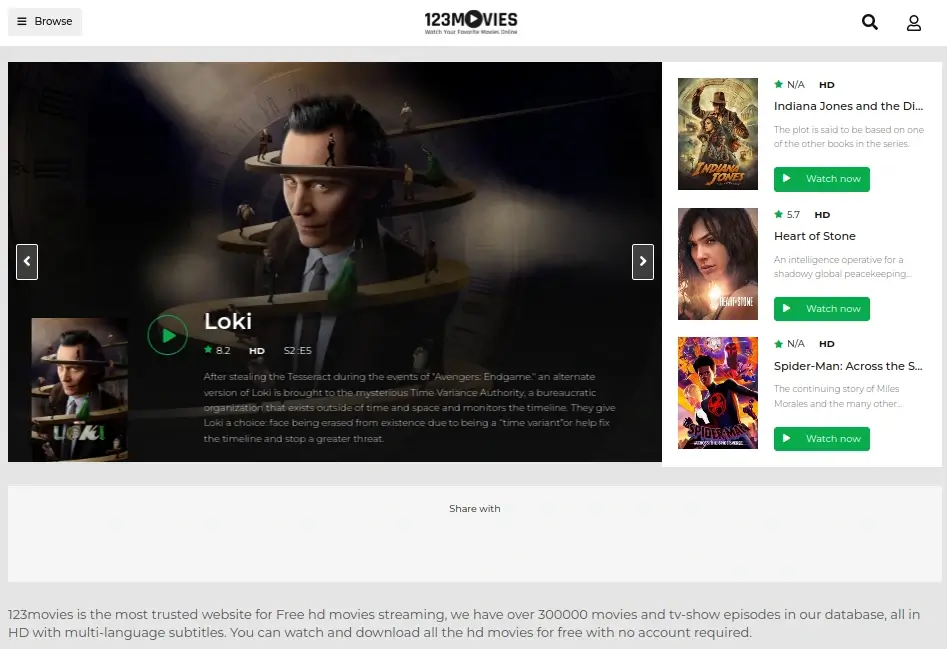 50. Soap2Day
Soap2Day is a go-to option for free streaming which offers three server options to stream the content seamlessly. From the latest blockbusters to classic films, Soap2Day offers a diverse selection to cater to different tastes.
This platform offers high-quality content on the site, but you will have to keep an eye on the pop-ups. Some of the pop-ups can contain malicious software or redirect to untrustworthy websites.
You might even have to change your security settings to access the blocked content, contributing to the site's critique regarding potential legal and security issues.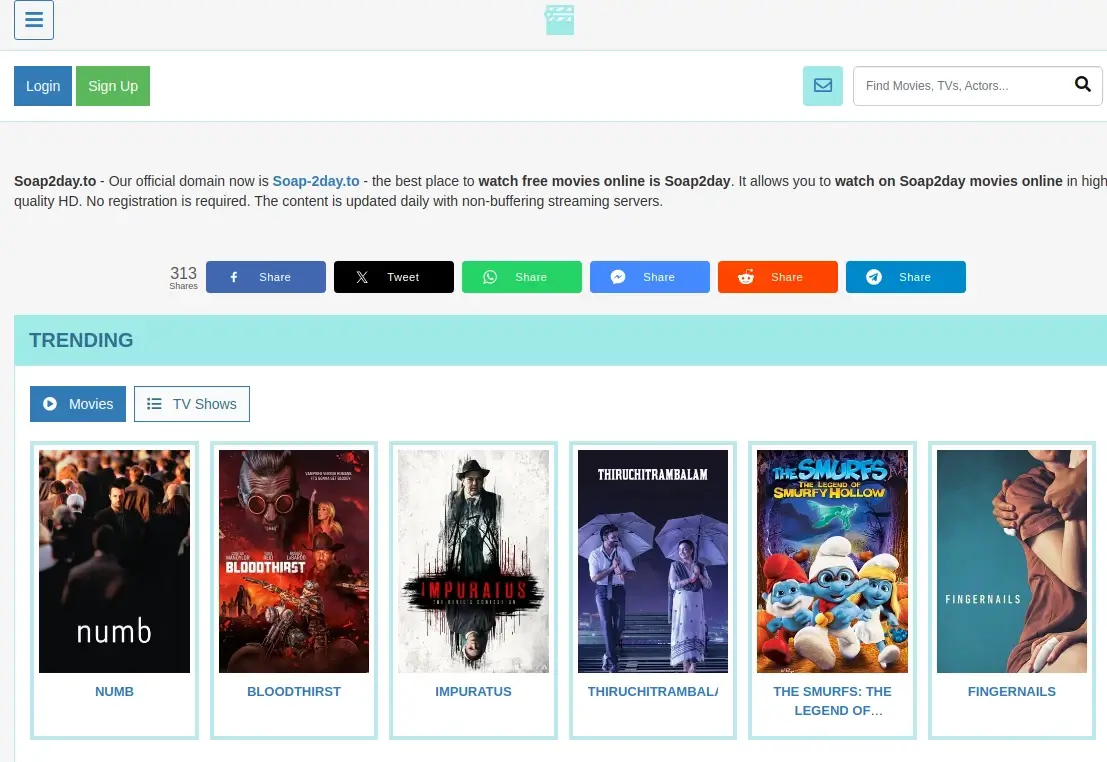 51. TV Guide
TV Guide is a recommendation-based platform, that provides reviews and suggestions to people who have not decided what to watch. The site doesn't stream or host any content but tells you where you can watch a particular movie, therefore, similar to MyBundle.TV, can sometimes direct you to paid platforms.
The site often features banner ads and promotions on the site, which can be distracting and may compromise the user experience. Furthermore, TV Guides may not always provide accurate listings for viewers in different geographic regions which can lead to confusion and missed opportunities to watch specific shows or events.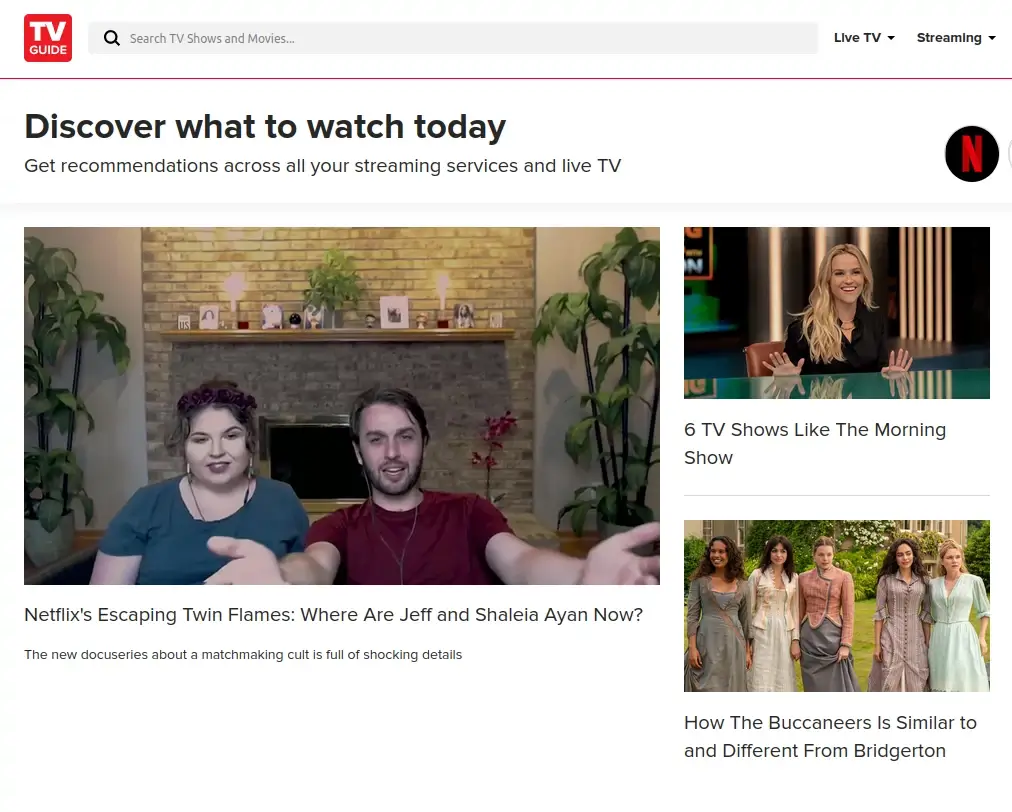 52. SolarMovie.one
Solarmovie.one is a little slow when it comes to updating the site with new releases, but everything on this site is free to stream, so the wait is tolerable. The real challenge, comes in the form of pop-ups that will for sure annoy you, though they may be worth enduring for those who appreciate streaming in HD quality.
The site has a fantastic library, where you will find content from different countries like America, the UK, India, Thailand, France, Hong Kong, and several others. However, the site's tendency to change domain names due to legal battles can lead to occasional encounters with dead links, presenting a notable inconvenience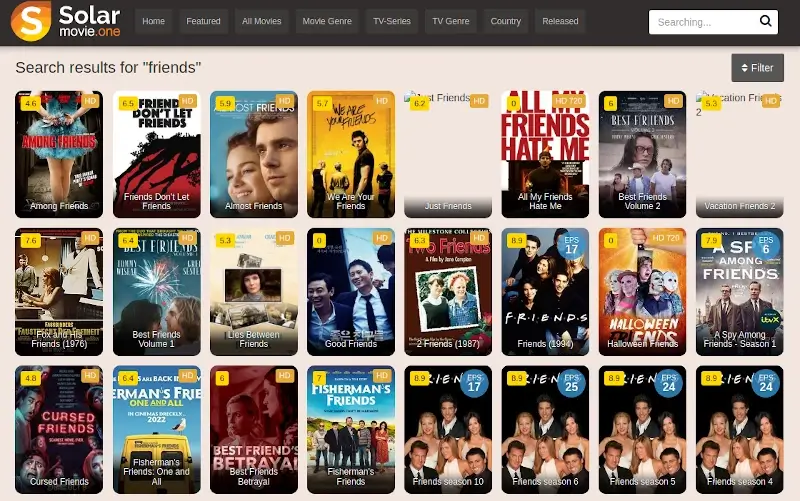 53. Ymovies
Ymovies has a vast collection of movies as well as series, covering all genres, from horror to comedies to anime. The site also supports Chromecast so that you can comfortably enjoy your favorite shows and movies on TV. Android users can also download apps and stream movies on their mobile devices.
It excels in keeping its library up-to-date with the latest releases, making Ymovies an attractive choice for users who want access to new content as soon as possible.
However, a caveat is in order: a high-speed internet connection is essential for smooth playback, as even the slightest disconnect can result in pop-ups on the site causing disruptions to your device.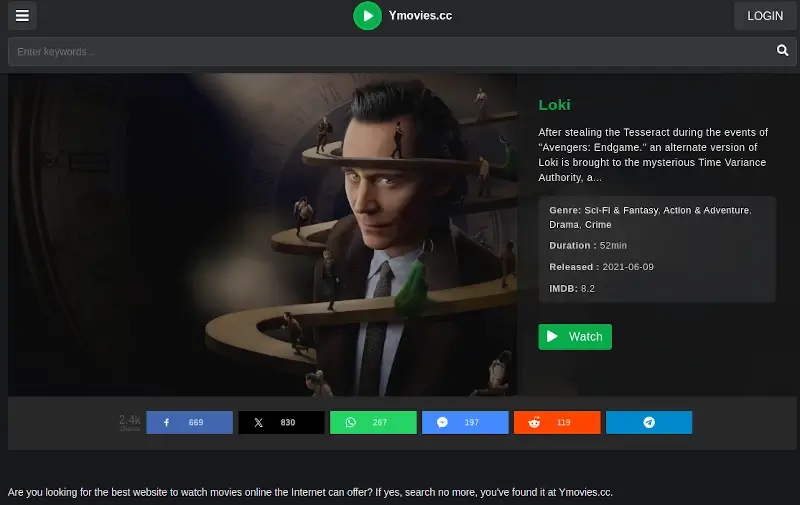 54. LookMovie
LookMovie has a good collection, however, you have to be prepared to endure lengthy ads before diving into your movie. The site's minimalist vintage design initially promised a satisfying user experience, but the presence of these extended ads can be a bit of a drawback.
On the bright side, the platform offers all its content for free, and it actively maintains an up-to-date library. Despite the ad inconvenience, it's worth considering for the diverse and current content it provides. Give it a shot and see if it aligns with your streaming preferences.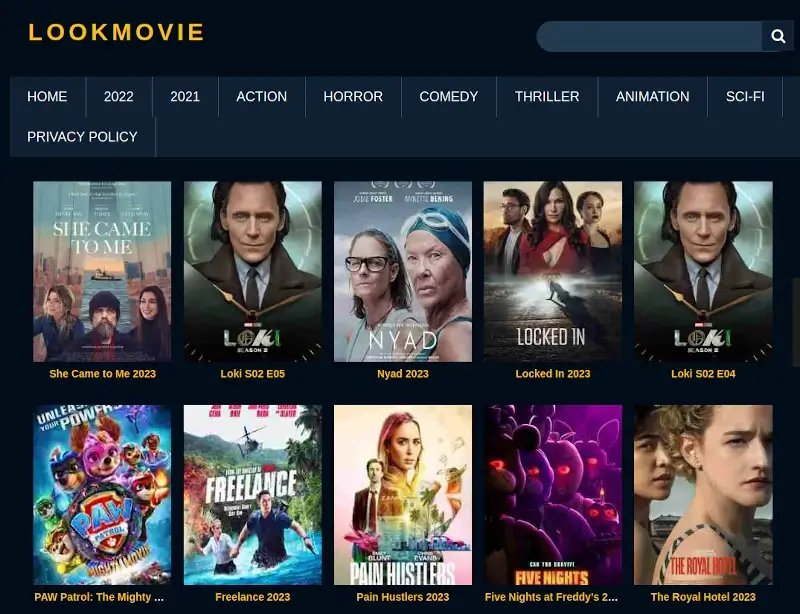 55. MovieTube Online
Right when you open MovieTube, you can see that it gives more preference to ads than movies. Even with ads and pop-ups, MovieTube somehow succeeds in offering a decent user experience to its visitors.
The site has a good collection of movies with hits from the 1950s to the latest released films of 2023. However, the same cannot be said regarding TV series collections.
The content available on MovieTube Online varies in terms of video and audio quality. Since the source of the content is not always clear, viewers may encounter inconsistent quality.
This leads to another issue of potential copyright violations. Many of the movies and TV shows available on the site may not have proper licensing. Be cautious while streaming movies on the site.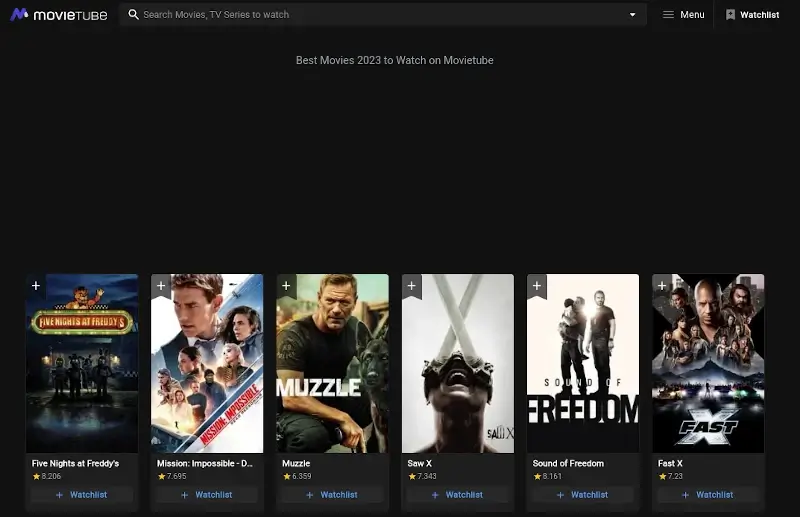 56. YoMovies
YoMovies is a platform specialized in Indian cinema, including Bollywood and regional films, however, it also throws some of the latest Hollywood movies in the mix. The platform allows user to filter the content according to their views, genre, and language.
There are no server options, and the site is very pop-up-heavy. As with many unofficial streaming sites, YoMovies may pose a risk of malware or adware being downloaded to users' devices. To safeguard your online privacy, it's advisable to enable your VPN while using the platform.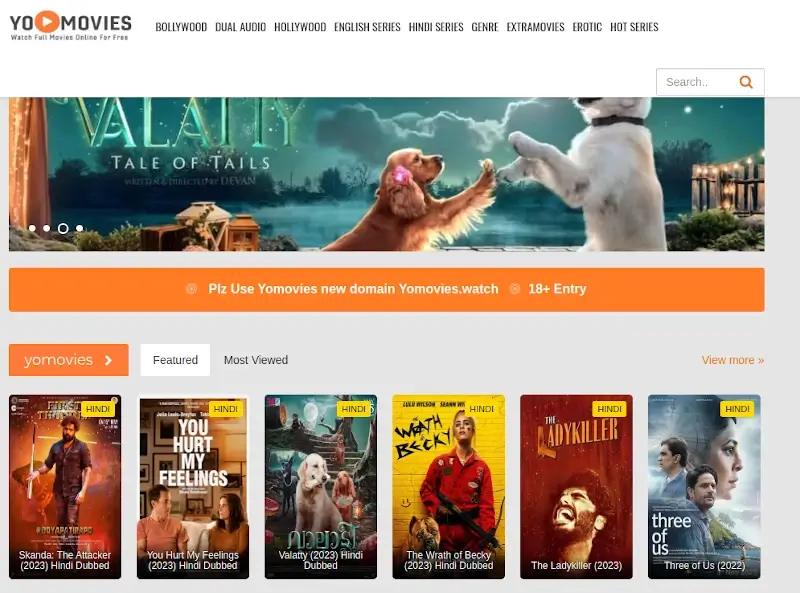 57. Public Domain Torrents
Public Domain Torrents is similar to an Internet Archives site that offers classic and public domain movies for free. This makes it an excellent resource for cinephiles who appreciate a wide range of cinematic styles and genres.
As the name suggests, Public Domain Torrents primarily provide movies in torrent format, allowing you to download entire films with ease, you don't have to log in or worry about pop-ups.
Public Domain Torrents exclusively offers movies that are in the public domain; its collection cannot compare to the extensive libraries of mainstream streaming platforms like Netflix or Amazon Prime Video.
The site's web design, reminiscent of early 2000s HTML aesthetics, could benefit from an upgrade, potentially causing confusion for first-time users navigating the platform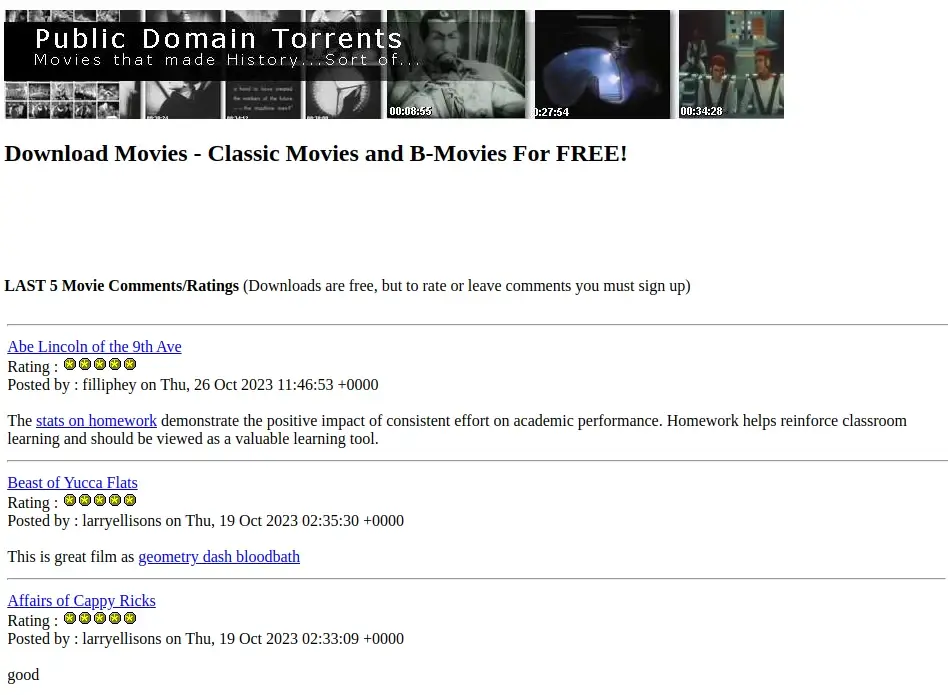 58. TorHD
TorHD is a torrent website that has gained some recognition in the world of online content sharing.
The site focuses on indie movies, but it has popular movies like MI: Dead Reckoning, The Nun II, and several others on its list. They offer you the option to download the content in multiple resolutions, including 4K.
Streaming content on this platform is not available, but users can download the content provided they are connected to a high-speed internet connection. Due to the website's slow loading speed, a stable connection is crucial, as an unstable one may lead to prolonged waiting times, potentially stretching into hours.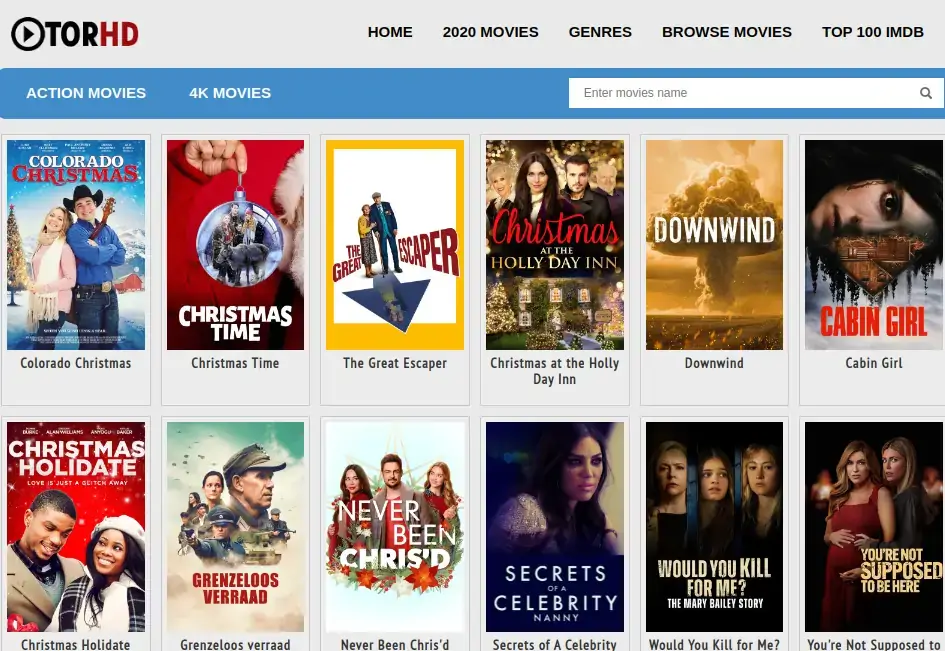 59. 123Chill
123Chill provides access to a wide variety of movies and TV shows, excelling in suggesting content based on the number of views or popularity, making it easy for users to discover trending titles.
Even with pop-up presence, the website's intuitive design allows you to quickly find the desired content. For those keen on staying updated with the latest additions, signing in with your email ID not only facilitates notifications but also unlocks features like creating watchlists and saving your viewing history on the platform.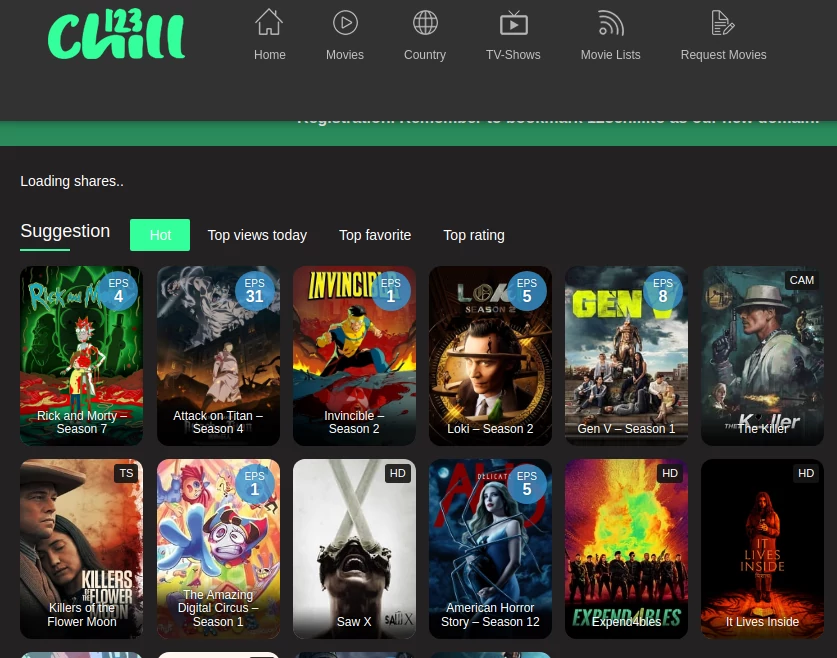 60. JustWatch
JustWatch is not a streaming platform but rather a search engine that lets you discover sites to watch your favorite movies and TV shows. The platform offers a powerful discovery feature allowing you to filter content by genre year of release, see what's trending in real-time, and get links to legal streaming sources.
It does not host free content directly. More than often, you may be directed toward paid streaming sources. Furthermore, the availability of content can vary by region. JustWatch's content listings are typically accurate, but users in different locations may have different streaming options.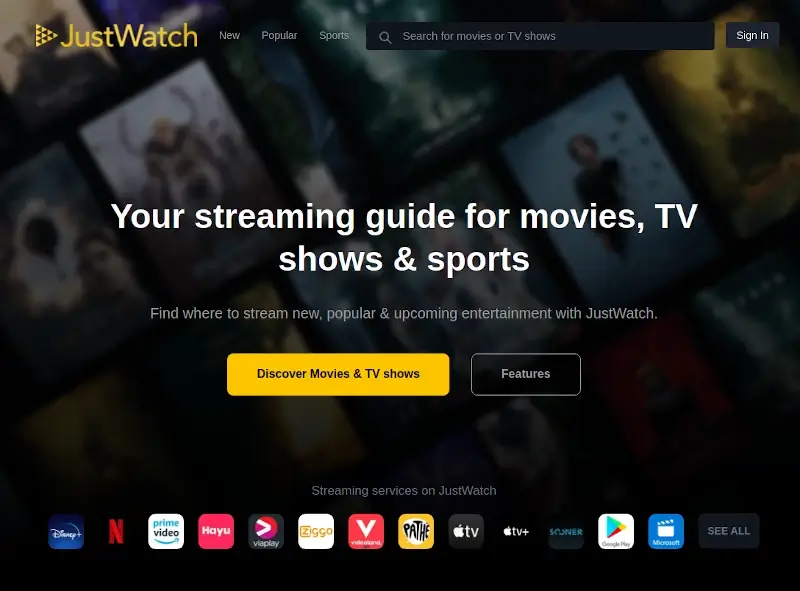 Conclusion
These are the best free movie streaming sites in 2023. They offer a range of movies, from classics and hidden gems to the latest releases. While each has its pros and cons, the best one for you will depend on your preferences and tolerance for ads.
But make sure to stay safe from spies, malware, and hackers by using a trustworthy ExpressVPN before you start streaming content online.