Markdown, a plain text formatting syntax has made writing way too easy. It is easy to use and one can get a hang of it in no time. Markdown is used all across the internet but often goes unnoticed due to being converted to HTML.
Markdown can be written using any text editor, markdown editors are powered by features like exporting, creating table, view and extended plug-ins which extend Markdown using rich and interesting features.
Read Also: 10 Best HTML Text Editors for Your Mac
This markup language makes use of simple formatting syntaxes such as known punctuation marks and regular characters which makes writing content way simpler and quick without any need to imbibe complex shortcuts and codes.
If your preferred choice for writing in Markdown and you are looking forward to some great and reliable Markdown editor then this post is just for you as through this article we have shortlisted some of the best Markdown editors for macOS that you cannot miss considering and checking out!
1. MacDown
MacDown an impressive and free of cost tool is gathered with features like live preview, syntax highlighting and minimalistic appearance for easy Markdown formatting. This fully-featured and easily customizable editor has a simple design and umpteen number of great features including auto compilation and language rendering.
Besides, it also supports exporting to PDF and HTML with incredible results.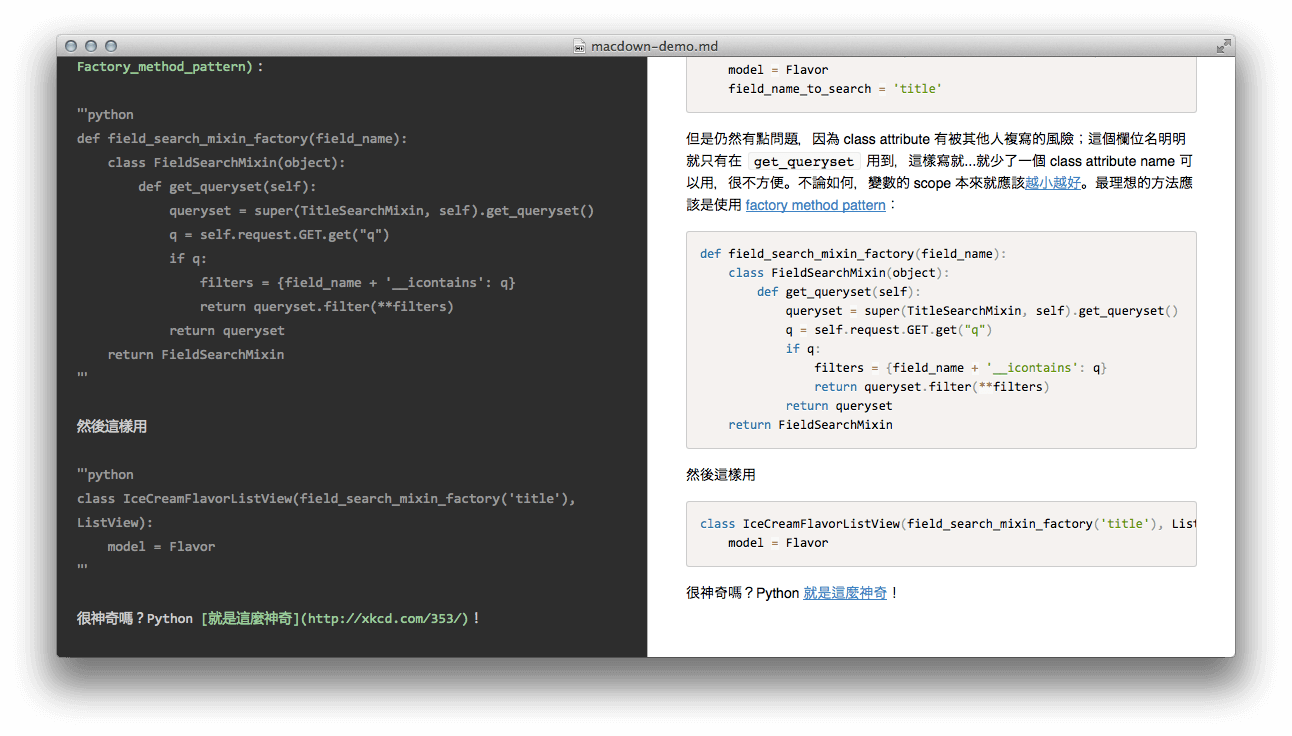 2. Typora
Typora is counted as one of the most versatile and quickest Markdown editors. It doesn't have any feature to show the rendered syntax and plain text. Rather, it allows you to start typing directly and perform formatting with the help of a built-in menu bar. This editor is equipped with capabilities far beyond just writing web content.
It offers an easy way to write research papers with the support of tables, graphs, and mathematical formats. Typora also supports importing of documents from default Markdown format to several different formats like OPL, PDF, HTML, DOCX and many more.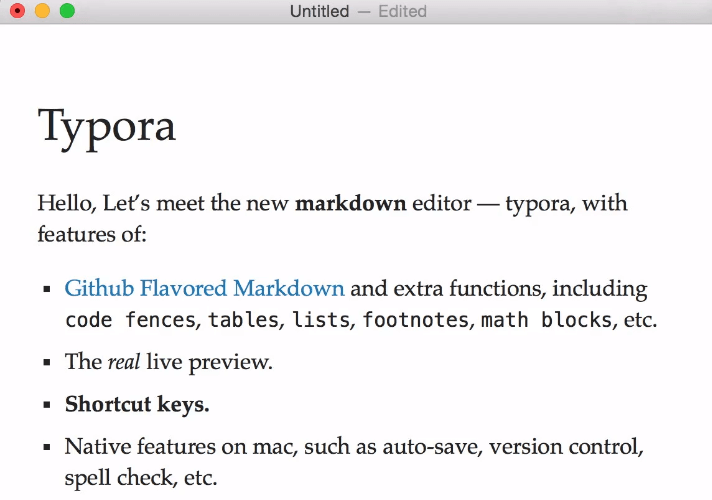 3. Haroopad
Haroopad is free of cost and open source editor lets you create web-oriented text. Use this tool for composing different kinds of content such as slides, reports, blogs, and presentations, etc. It is flooded with impressive features like CSS based styling, viewer, editor font size control, code syntax highlighting, and flow charts, etc.
Additionally, its latest function is capable of displaying the number of tasks remaining in the app badge. Haroopad allows you to import files from various sources like Twitter and YouTube and even lets you export them to PDF and HTML format.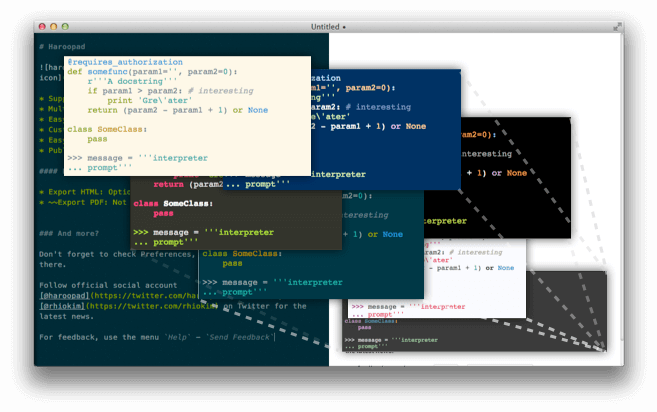 4. Atom
Atom a plain text editor from GitHub lets you perform coding, scripting, and writing GitHub Markdown. This simple application has a regular two-pane preview including the Markdown Preview option below the Packages menu.
Atom houses plenty of tools for image formatting and conversion to HTML or PDF formats. Besides, it offers support to other flavors other than GitHub Flavoured Markdown like tools for improved tables, toolbar plugin-ins, and table of contents generator, etc.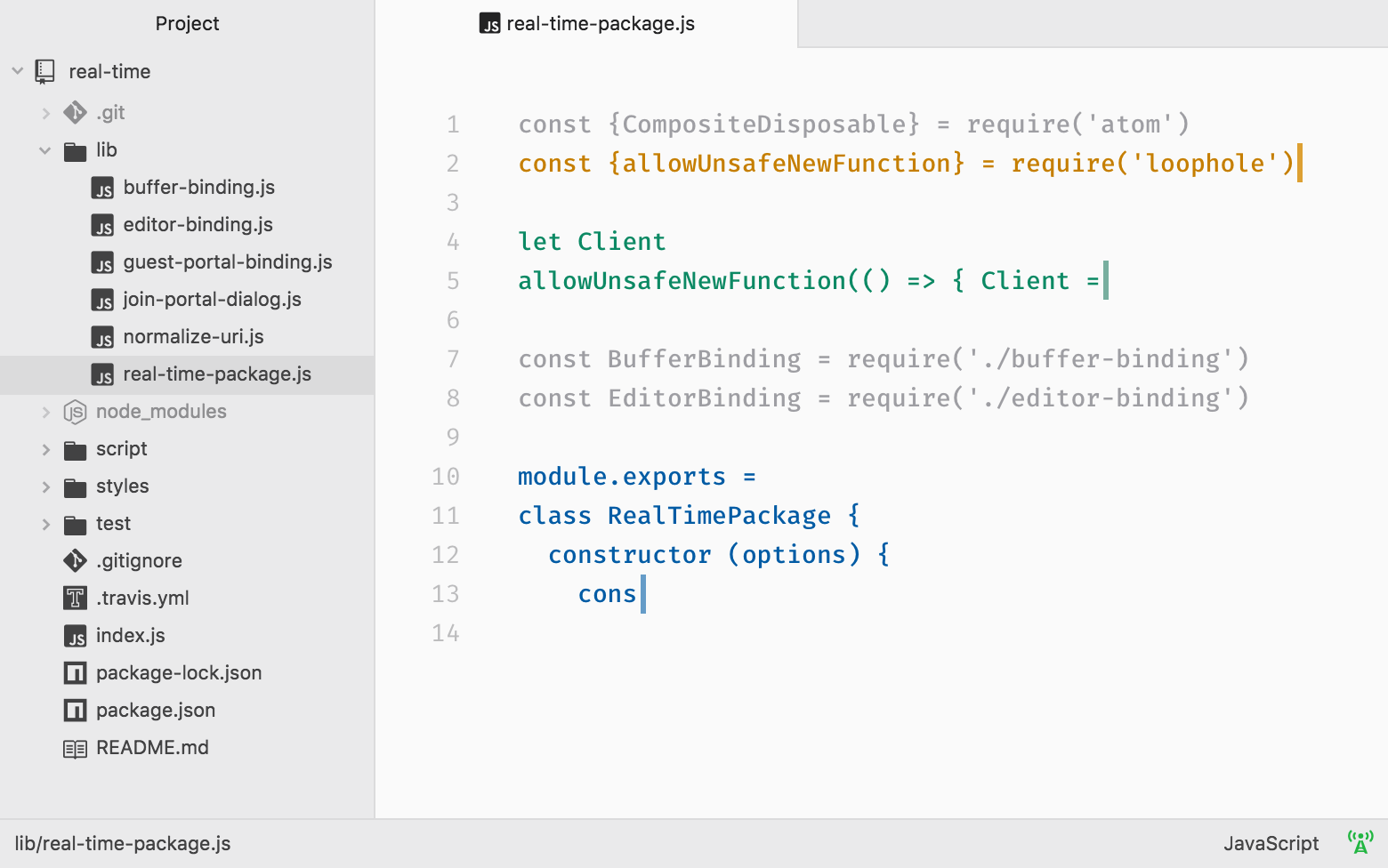 5. Ulysses III
Ulysses is equipped with powerful features to make writing experience full. Its "Plain Text Enhanced" feature allows you to add images, links, and footnotes, additionally, you can mark important comments and headlines with jew a couple of characters.
That's not it, it houses many other interesting features like "Typewriter Mode" which helps maintain the focus on the sentence and the small icon on the taskbar allows us to count the words and characters.
Create your goals and set their deadlines with Ulysses. Its power-packed publishing feature is pretty simple to use, it lets you smoothly publish your work on sites like WordPress or Medium. What's more? Export all your final documents to other formats like Rich Text, HTML, DOCX, and ePub, etc.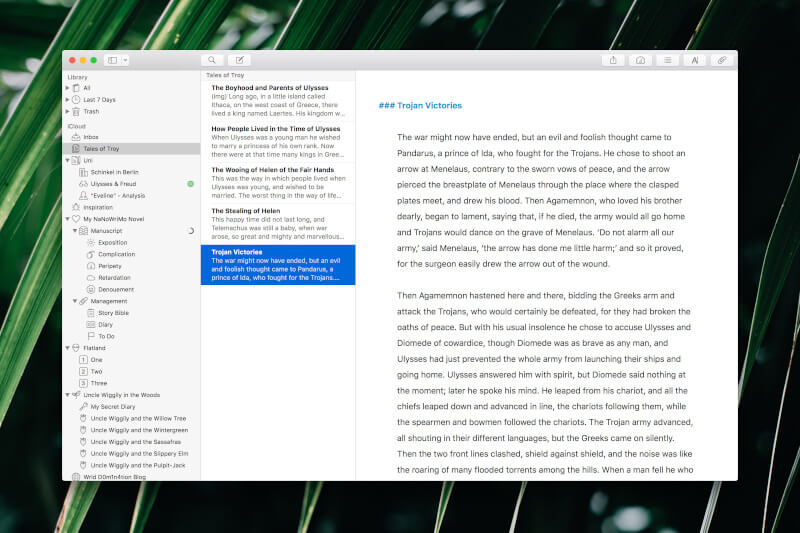 6. Byword
Byword a minimal text editor comes with syntax highlighter, Markdown support, tables, footnotes, keyboard shortcuts and much more.
The Format menu of Byword features quote level, list, and indent so that you don't have to retain syntax for these styles at all. Its Typewriter mode offers a distraction-free platform by keeping the line you are composing at the center of your system's display.
Coming over to its publishing ability, you can seamlessly post your content on social platforms like Medium, WordPress, and Blogger, etc. And export your work to different formats like PDF, Word and Rich Text, etc.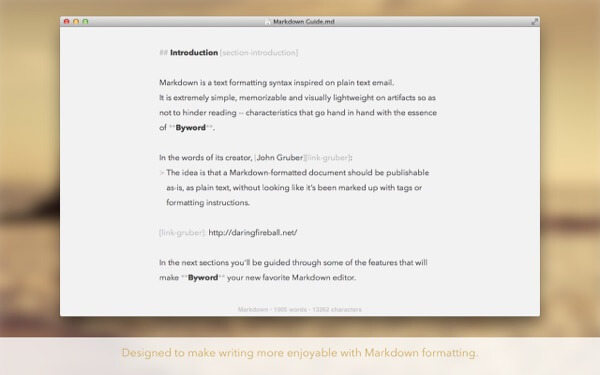 7. IA Writer
IA Writer comes under the category of distraction-free Markdown editors which emphasize more on your content. This editor works more or less like Byword but with some additional features. T
his application has a blue cursor, grey background, and monospaced font. When in focus mode, the lines around the text get faded to put more focus on what you are typing.
Some of its features include live syncing, file export to various formats like HTML and PDF, custom templates, document library, and preview option, etc.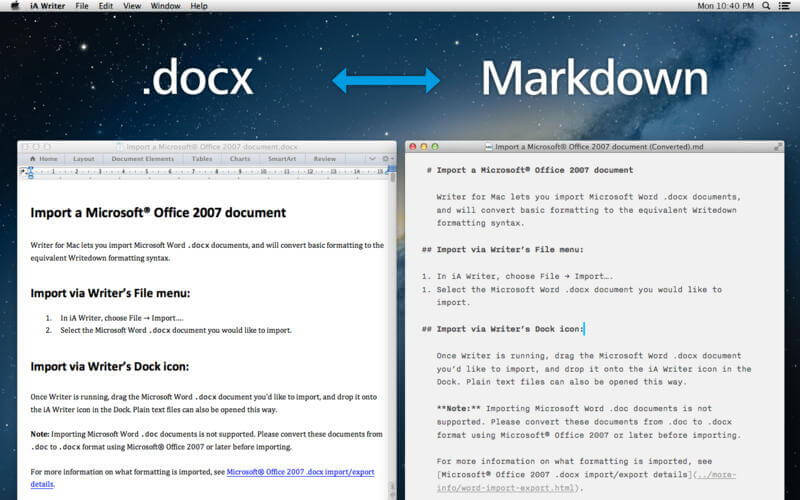 8. Mou
Mou a light and highly responsive Markdown editor has a tagline "The missing Markdown editor for web developers". Without Mou 1,0 unit, the app only supports mac OS up to version 10.11, it will not provide any support to Sierra or High Sierra.
Some of its features are autosave, custom themes, preview, sync, and incremental search. It allows supporting content to PDF, HTML, and CSS formats.
Additionally, lets you publish your content to Tumbler or Scriptogr.am using a single command.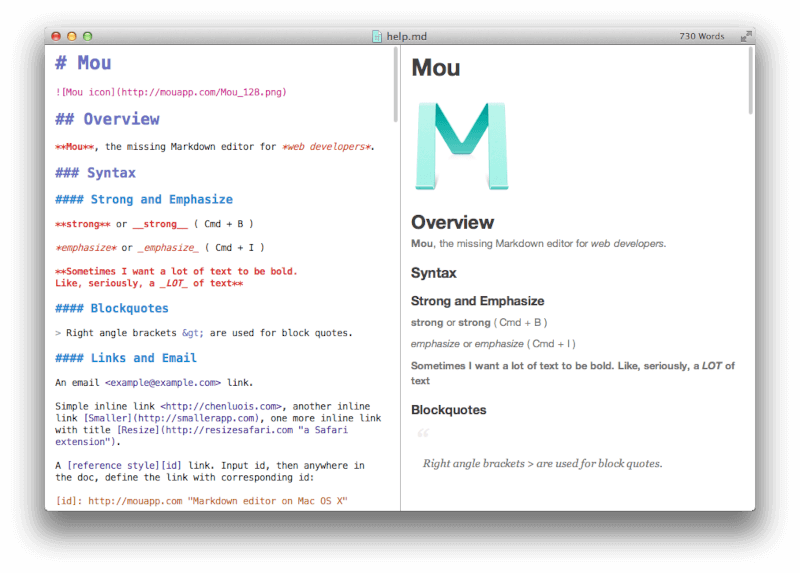 9. StackEdit
StackEdit an open-source Markdown editor is flooded with vast features. It allows you to edit multi-Markdown documents in offline and online modes, lets you store documents in HTML and PDF formats, collaboration with other users through cloud services like Google Drive and Dropbox.
With StackEdit you can also post your content on various blogging platforms like Tumbler and WordPress with just a single push.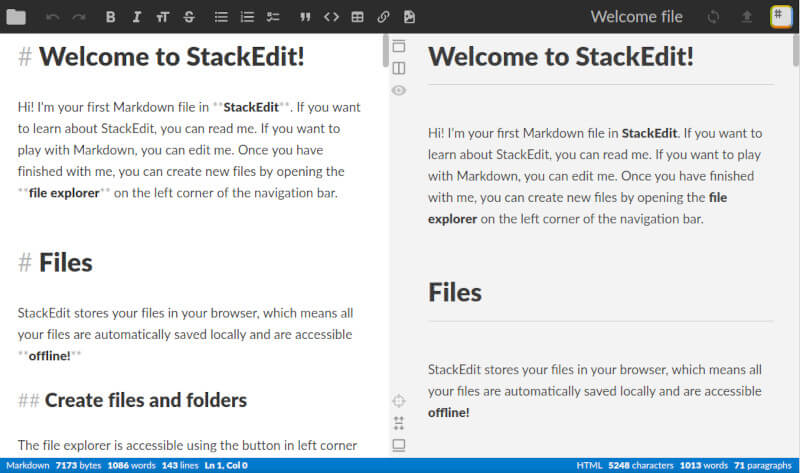 10. MultiMarkdown Composer
MultiMarkdown Composer was the first text editor designed especially for writing regular Markdown. It is now embellished with so many new features which also boosts its performance. It lets you focus more on writing than focusing on writing styles and formats.
Its intelligent tools offer help in organizing your documents using a table of contents, provide auto support when you write, lets you quickly insert links and images, etc. using the sidebar and CriticMarkup edits.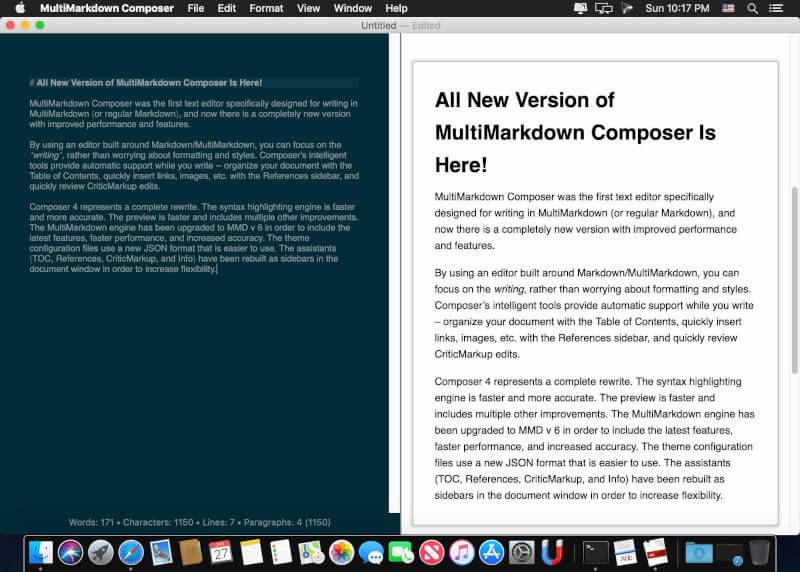 11. Visual Studio Code
Visual Studio Code a lightweight code editor is especially for web developers and it's not exactly a Markdown tool. It focuses primarily on frameworks used by the code developers but still offers support for Markdown using HTML preview of code and syntax highlighting as a side requirement to the developers.
Overall it's a great tool but it has a limitation that it cannot render Markdown to PDF or HTML from Visual Studio Code.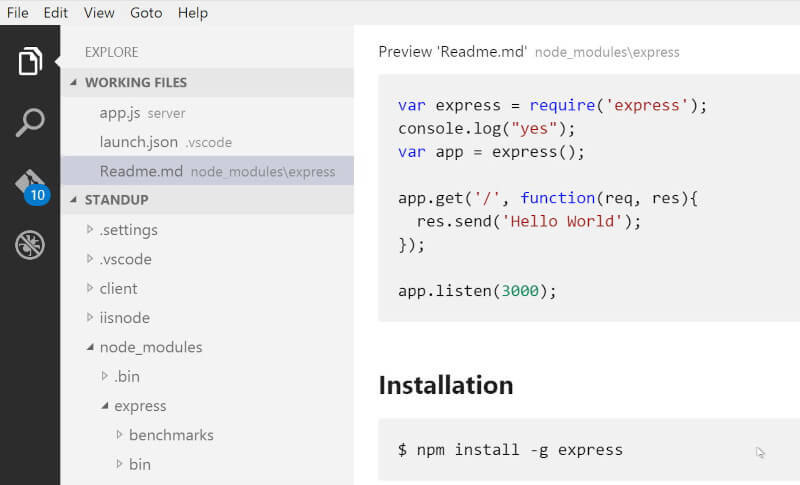 12. Vim
Vim Markdown editor provides a great way to make Markdown files with syntax highlighting. It is equipped with many strong and powerful features that include support for GitHub Markdown flavor and complete syntax implementation which allows complete nesting of all elements of the item list.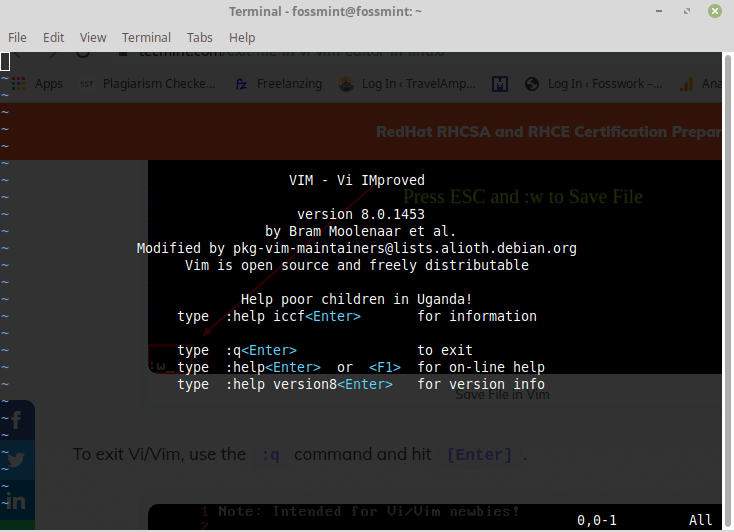 Summary:
For writers, it's very important to make use of trusted and powerful editing tools that allow them to perform various functions to improve and provide quality to their writing style and content. To solve this purpose, various Markdown editing tools are in place which will help you reach your goals without missing any deadlines.
Based on our research, we have curated this list of best Markdown editors for macOS which will help you decide the best kind of tool for you and give you writing an edge.