Talk about Google Drive and you won't find anything easier, simplified, and convenient for storing your data. Whether it's about your documents, spreadsheets, and more, Google Drive supports it all.
Undoubtedly, Google Drive is one of the leading and accessible cloud tools that meet your several needs, however, when it comes to privacy, it might not be considered by many.
That's true, Google lately saw a huge transition when most of its users adapted to other service providers and that's for obvious reasons.
Yet another reason the users got to move on is the current limitation on the data storage capabilities of Google Drive, which was implemented on June 1st, 2021.
So, if you are someone looking for an easy and convenient-to-use drive tool just like Google while keeping security a topmost priority, we have some incredible options out there, that you must explore!
1. Tresorit
Tresorit is our foremost choice due to its compatibility with a wide range of OS like Windows, Mac, iOS, Android, and Linux.
This safe and private cloud tool offers military-level protection to your data using public-key cryptography.
This implies that all your data is encrypted in advance so that none can access it. With its impressive data security system, Tresorit even offers attractive monetary rewards to anyone who can break through its security.
It works similarly to Google Drive but with the limitation to make it crucially hard for a person to transfer the data's ownership. This drive system works by generating a security key while letting you know who can access the shared files and revoke access instantly in case of something is not right.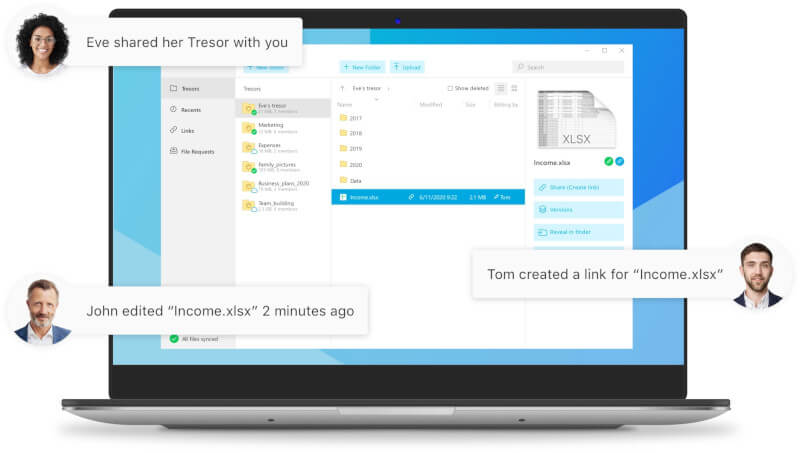 2. Sync.com
Sync is cloud software that lets you share data without any limitations. The main feature of this cloud software is that it lets you access files from any device while maintaining proper and timely data backups so that you can seamlessly retrieve anything whenever you want. Suitable for sharing large files in a single go, this cloud software ensures top quality.
However, it becomes a bit of a challenge to find any file if you have not followed proper organization prospects. Nevertheless, this Google Drive alternative is useful for basic storage needs due to its simple features and capabilities.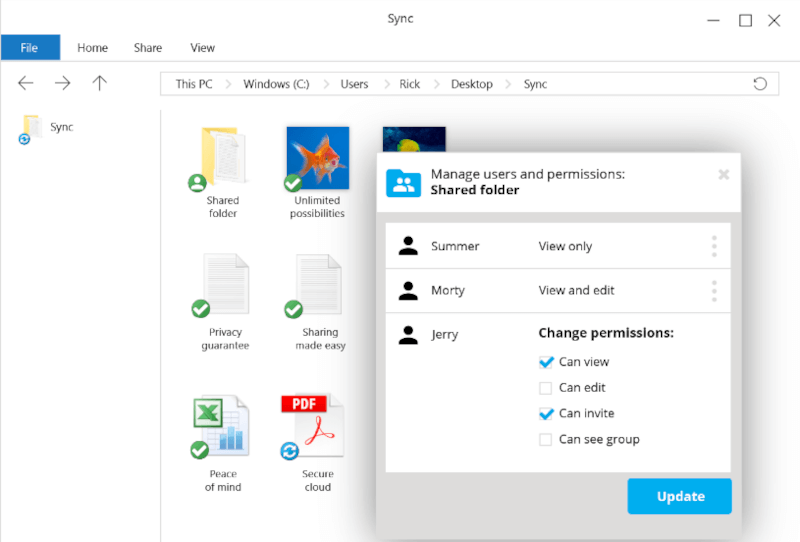 3. NordLocker
Nordlocker promises all that a user needs! This Google Drive alternative follows strict guidelines when it comes to unauthorized access, hacking, and snooping. It uses an encryption system to encrypt locally stored data in the cloud to maintain optimum security and privacy.
Suitable for all sorts of users, it works by simply dragging and dropping the files while allowing you to sync these encrypted files to any other device with complete access.
Besides, this software uses no password protection while file sharing to keep things simple yet protected. All you need to do is to share a link with those with whom you want to share the file with the provision to revoke the access whenever you want.
Also, the NordLocker is compatible with both Mac OS and Windows.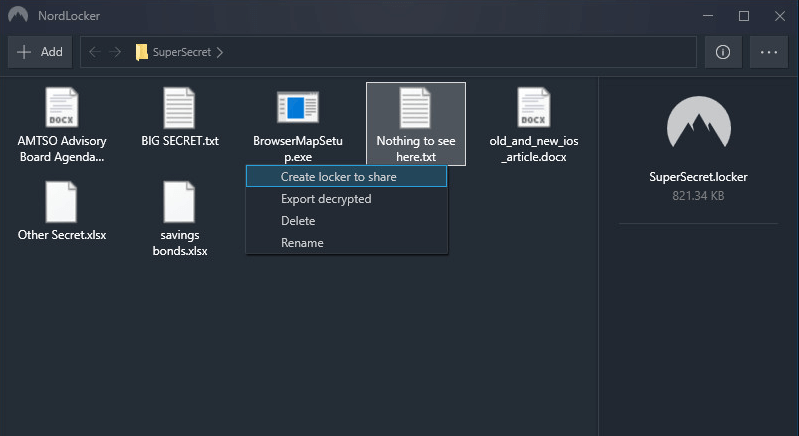 4. NextCloud
NextCloud is an open-source and self-hosted alternative to Google Drive that strives to deliver distinctive pro-compliance features to maintain user management, encryption, enforcement, auditing, and lots more.
It encrypts all the data to be transferred while integrating it with authentication mechanisms such as single-sign-on, two-factor authentication, and device management.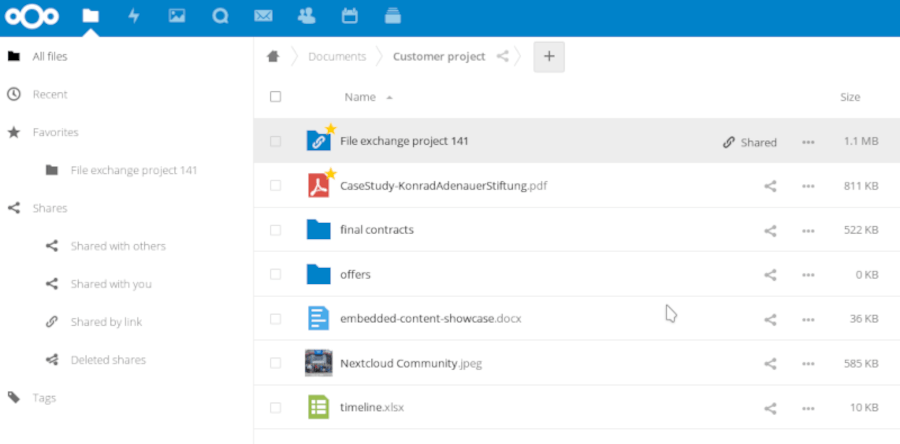 5. MEGA
If you require Apple storage with full-fledged security, Mega is what you need! This cloud storage software works by encrypting your precious data while in transit and provides certain collaboration tools to let you share your files with anyone you want.
Compatible with Windows, Linux, macOS, and iOS, it comes with 50GB of free storage space. It additionally gives the option to extend the space if you install their app or invite friends to join this platform.
Mega lets you edit in real-time and share files using a shareable link. However, this feature lacks adequate security. Furthermore, it refreshes every half an hour due to its limited bandwidth which can be extremely frustrating for those dealing with heavy data.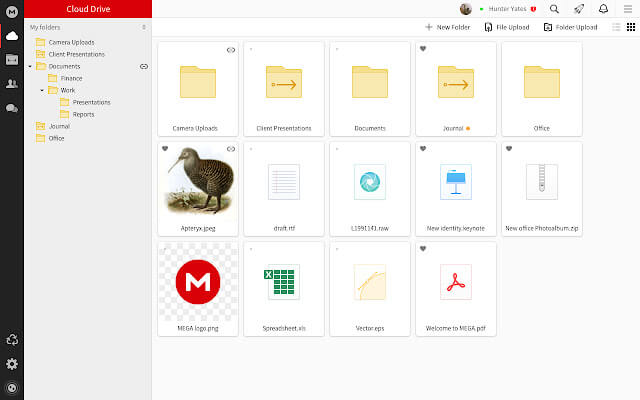 6. Dropbox
DropBox comes with compatibility with several operating systems like Mac, Windows, iOS, etc. This software makes an exceptional alternative for those who need to store massive files.
This cloud software has recently seen changes in the way its security used to be to provide a flawless user experience with certain technological advancements.
However, it somehow still needs optimum upgrades to ensure a hacker's free environment. Nevertheless, Dropbox still makes it to the list of powerful cloud storage systems.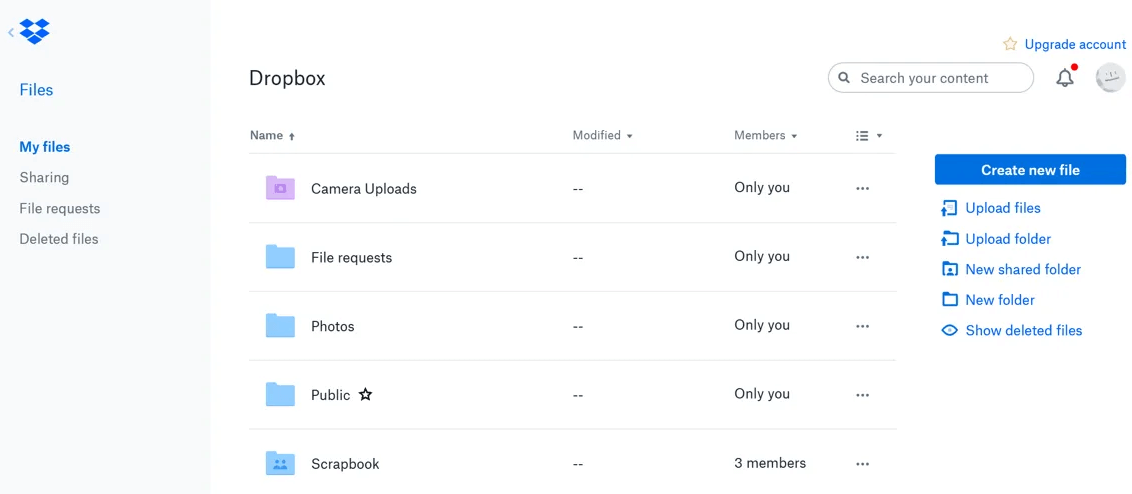 [ You might also like: The 9 Best Free Dropbox Alternatives for Linux ]
7. pcloud
pcloud is a new bee in the market! This secure yet easy-to-use Google Drive alternative lets you store up to 10GB of free folders and files. To access more space, a maximum of up to 2TB, you can opt for its lifetime plan which lets you go carefree when it comes to storage needs.
This software equips using in-built media players and document viewers to let you view, open, and stream data files straight from the cloud service.
Also, you need to compromise your security as this software keeps your data confidential using pcloud Crypto encryption.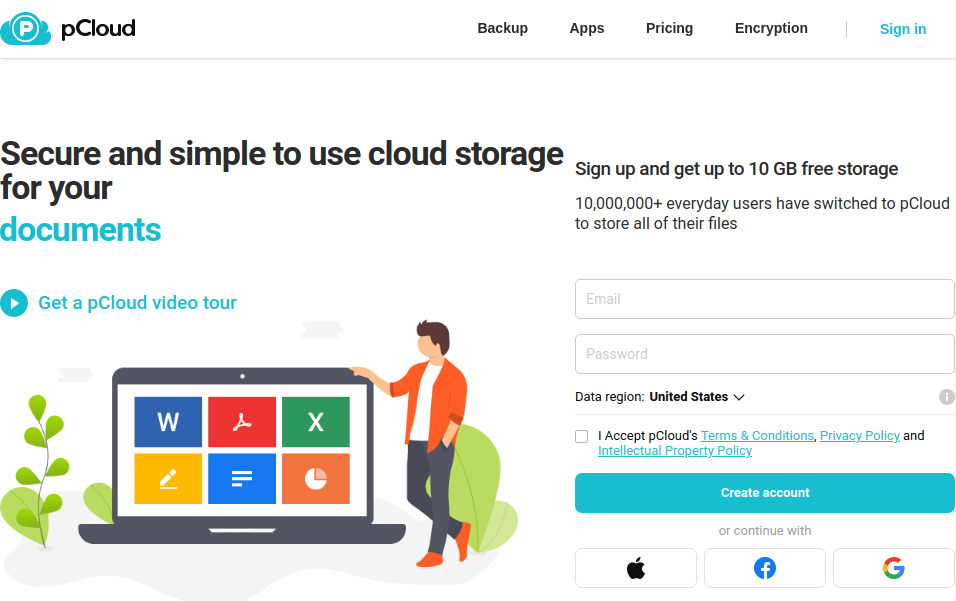 8. Proton Drive
Proton Drive is a secure cloud storage and file-sharing platform that was launched not so long ago. Developed by the team behind the Proton Mail project, probably the most popular encrypted email service, Proton Drive claims to provide the highest level of security and data privacy.
Unlike other cloud storage services, Proton Drive provides secure and reliable encryption at rest and in transit. It offers end-to-end encryption for everything you upload to your storage, including documents, file names, folders, extensions, etc.
Another advantage is end-to-end encrypted file sharing, which implies that only those who you share something with can access your files.
Proton Drive also offers cryptographic digital signatures on all files. This is important to prevent them from being manipulated or modified. It also has cryptographic verification. This feature is designed to verify which account uploaded this or that file.
All in all, if you are looking for a secure cloud storage service, Proton Drive is a good option. It offers privacy guaranteed by Swiss laws.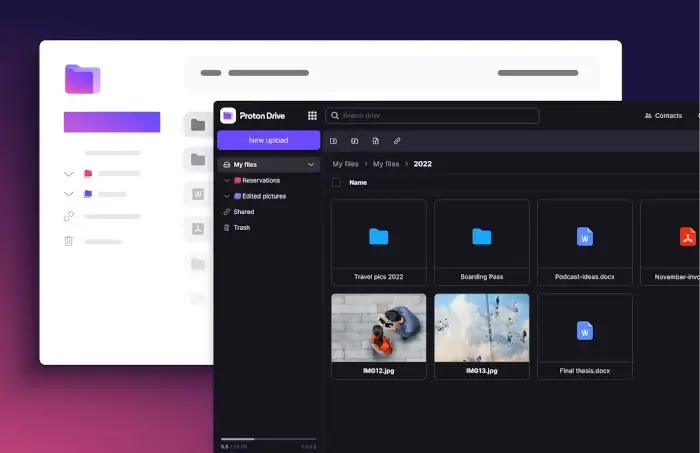 9. Icedrive
Icedrive is a decentralized storage cloud that was launched in 2019 and has zero-knowledge encryption. According to its developers, it's the only encrypted cloud storage platform with the bulletproof twofish algorithm which is considered more reliable than AES/Rijndael.
As with any other cloud storage, Icedrive has some advantages in comparison with other Google Driver alternatives. First of all, this service is available for free.
Icedrive comes with client-side zero-knowledge encryption, file version control, and lifetime plans which can save you a lot of money. What's more, Icedrive is easily accessible from any device because it comes with apps for web, desktop, and mobile platforms.
In general, Icedrive is a good option for those looking for secure and affordable cloud storage. However, this is probably not the best choice for those users who need sophisticated sharing options or integration with third-party apps and services.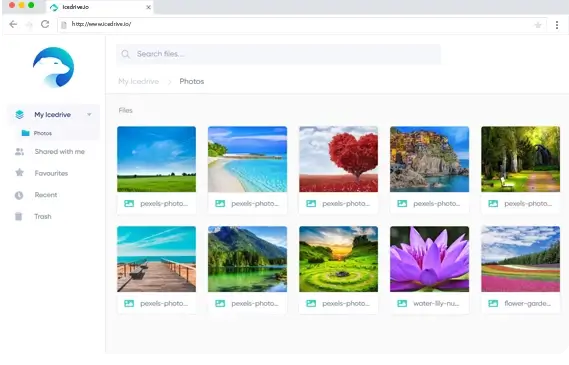 10. ONLYOFFICE DocSpace
ONLYOFFICE DocSpace is more than just a cloud storage service. It's an open-source collaboration platform with data storage capabilities that allows you to share, edit, and co-author documents, spreadsheets, presentations, and electronic forms.
Thanks to the built-in file management system with flexible access permissions, you can also store and manage multimedia files, PDFs, and e-books, all in one place.
In ONLYOFFICE DocSpace, all content is stored in rooms where you are allowed to configure unique access permissions for everyone.
For example, you can invite other users to your rooms as viewers, commentators, reviewers, form fillers, editors, power users, and room admins. This feature makes it easier to share content because you don't have to share each file independently.
ONLYOFFICE DocSpace seems to be quite secure as it meets the GDPR and HIPAA data privacy standards and provides a data encryption mechanism, combined with other security features, such as activity tracking, two-factor authentication, trusted email domains, and data backup.
Another advantage is that ONLYOFFICE DocSpace comes with an integrated office suite so you can easily open and edit office files, such as Word documents, Excel spreadsheets, and PowerPoint slides, right in your web browser.
Real-time collaboration with other users is also possible meaning that you can work with documents the way you do in Google Drive. The ChatGPT integration brings new capabilities allowing you to use the chatbot to analyze and summarize texts, translate words and sentences, generate images, find synonyms, and more, which takes document editing to the next level.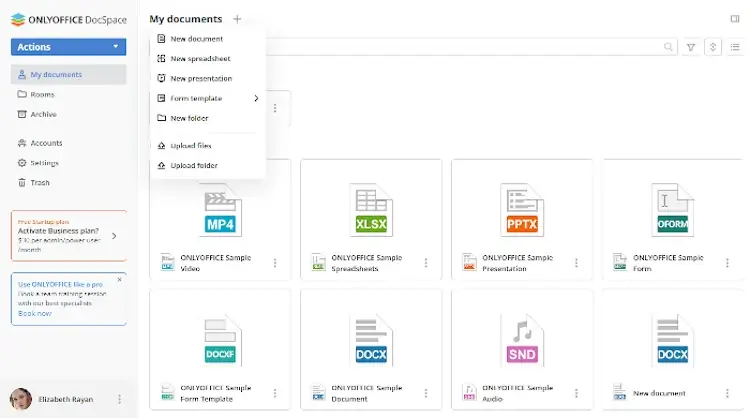 Conclusion
Google Drive is indeed liked by many but due to security concerns and forecasted limitations, switching to a better yet friendly alternative is recommended.
Through our extensive research, we have shortlisted a few Google Drive alternatives that will provide your data with optimum security and decent storage space.