The online space has morphed over the years from a source of information and entertainment to a workplace where millions of people work and earn a decent income.
Remote work is the thing now, and millions of freelancers from around the world now make a living purely from online work. Online work takes different forms, including content writing, coding, graphic design, and content creation, just to mention a few.
Popular applications such as YouTube have given rise to content creators and influencers who make a living from the viewership of their video content.
If done right, YouTube content creation can be a profitable venture, and thousands have made a tidy sum through paid promotions and viewership. With the help of ai youtube video generator, you can quickly and easily create engaging and professional videos.
So, maybe you are mulling over starting a YouTube channel but have yet to wrap your head around the ins and outs of YouTube monetization. In this guide, we will discuss how much YouTube pays per view.
YouTube Statistics of 2023
Here are some YouTube statistics for 2023 (via viralyft).
YouTube boasts an extensive user base of over 2.7 billion individuals worldwide as of September 2023.
522.5 million users, representing approximately 20.7% of the total audience, fall within the 25 to 34 age range.
India boasts the most significant number of active YouTube users, reaching an impressive count of 467 million individuals.
YouTube has the most impressive number of unique users exclusive to its platform, reaching 1.2%.
Mobile devices contribute to 88.9% of the total visitor base.
91% of respondents want to encounter more online videos created by brands in 2023.
YouTube is the dominant video marketing platform, with 90% of video marketers trusting it.
The Simplified Math: How YouTube Pays Per View
To start making money on YouTube, your channel must first be enrolled in the YouTube Partner Program (YPP).
Content creators will find it simpler to commercialize their work thanks to the YPP. You must also ensure that you reside in a country that is covered by the partnership program and fully adhere to the YouTube channel monetization regulations.
At the time of writing this guide, you must have at least 1,000 subscribers and 4,000 view hours in the last 12 months to be considered for the YouTube partnership program or start earning from your channel views.
In addition, keep in mind that YouTubers do not receive a fixed income since each YouTube channel earns a varied amount.
According to the announcement made by YouTube, which started in February 2023, YouTube channels can monetize their short-form video content (Shorts) through the YPP.
Therefore, the Channels must meet the following requirements in order to qualify:
10 million short views in the last 90 days.
1,000 subscribers.
The channel must not go against community guidelines.
There should be no phony views from bots, and everything in the content should be original.
The following variables affect how YouTubers pull in their income per view.
1. Cost Per Mile (CPM)
Abbreviated as CPM, Cost Per Mile is a metric that represents how much advertisers pay for every 1000 views that their ads receive on YouTube. The more the Ad views, the more you get paid. YouTube takes a whopping 45% of this amount and gives 55% to content creators.
It's important to note that CPM rates vary according to Geographical location.
Here is the list of the top 10 countries with the highest CPM:
| | | |
| --- | --- | --- |
| Sr No. | Country | CPM Rate |
| 1. | Norway | $43.15 |
| 2. | Germany | $38.85 |
| 3. | Moldova | $29.50 |
| 4. | Algeria | $24.50 |
| 5. | South Korea | $17.00 |
| 6. | Sweden | $18.18 |
| 7. | Finland | $14.90 |
| 8. | United Kingdom | $13.75 |
| 9. | Canada | $13.50 |
| 10. | United States | $13.00 |
2. Revenue Per Mile ( RPM)
Revenue Per Mile denotes the amount you make for every 1,000 video views. This is the most crucial metric that you should be concerned about more than any other. This is your share from YouTube for every 1000 views you get on your videos.
Apart from ads, RPM has other revenue sources, such as Channel membership, Super chats, Super stickers, and YouTube premium revenue.
3. Cost Per Click (CPM)
The cost per click is the sum of money an advertiser pays you each time one of your visitors clicks one of their ads.
How can you calculate the amount you generate on your YouTube channel? A YouTube calculator comes in handy. With a YouTube Calculator, You can project the amount of cash you can make from your YouTube channel.
Let's see how it works!
Move the YouTube View Count slider down or up depending on your daily video views.
Configure your estimated advertising CTR depending on the previous performance of your channel.
It's that easy; you can know the target amount of money you might be generating from your YouTube channel on a daily, weekly, or monthly basis.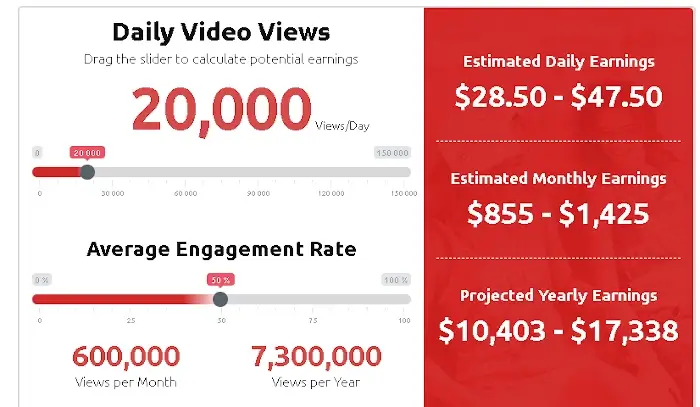 YouTubers are paid between $0.10 and $0.30 per view, according to the Influencer Marketing Hub. This range usually averages out to $0.018 per ad view.
So, if you receive 1,000 ad views, you will be paid $18 on average.
Forbes analysis also shows that YouTubers earn an estimated $5 for every 1000 video views they get on their channel (for top talent). Being a modern-day social media influencer is a fairly profitable career path, as a YouTube video with 1 million views can earn up to $5,000.
Bear in mind that these are only estimates, and certain YouTubers may earn less or more depending on the following factors listed below:
The number of ads received and clicks.
Ad Quality
Video Length
Ad blockers
The number of video views
Every YouTube content creator wants to possess a monetized YouTube channel and make money from it.
Well, you can start making extra cash from your YouTube content by incorporating the following into your channel:
4. Youtube Ads
You can earn extra cash from ads that run on your videos during or before the video. All you need to do is create a Google Adsense account and link it to your channel to generate revenue from ads placed on your videos.
In addition, you can also activate ad monetization for one or more videos on your channel if you are a member of the YPP. To start running ads, your videos must adhere to the YouTube Adviser-friendly content guides.
On an average basis, YouTube costs contractors $0.18 per video view, and it pays YouTubers 68% of this rate through Google Adsense. This is a splendid rate because, theoretically, you would receive $122 for every 1,000 views and $0.12 for each view.
5. Paid Sponsorships
Paid sponsorships are businesses and brands that pay a content creator to promote or advertise their product in a video. You can present past work, engagement rates, and YouTube analytics to brands in order to secure a sponsorship.
YouTube provides multiple streams for boosting your income, these are just a few ways that you can leverage to get some revenue from your YouTube channel.
Some of the most lucrative and rewarding niches include:
Educational Content
Fashion and Lifestyle
Investment and personal finance
Digital Marketing
Technology, cars, and gadgets
Health content
Conclusion
That said, having a YouTube channel is one of the ways you can generate an income stream that can turn into a lucrative hustle if done with the right strategies and proper guidelines.
We believe you learned something from this article. Your suggestions are appreciated.