Are you a sports enthusiast looking to watch your favorite games for free? If yes, you have come to the right post! In today's age of digital streaming, major sports content is available online, and the best part is that a significant amount of it is free.
More specifically, from exciting football matches to thrilling cricket shows and everything in between, free sports streaming sites offer an amazing experience for you.
So, give a read to the listed best free sports streaming sites that provide access to a world of sports!
1. ESPN
ESPN stands for Entertainment and Sports Programming Network. It is a globally recognized sports streaming platform. Additionally, for sports lovers that are around worldwide, this site publishes different sporting events like American basketball, football, tennis, and golf.
ESPN offers both free and premium content. While some content like match highlights, analysis, and selective live events are available for free, access to premium games, exclusive documentaries, and improved features needs a subscription to ESPN+.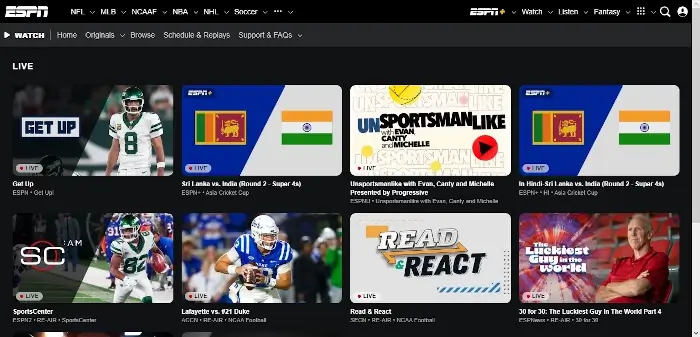 2. SonyLiv
SonyLiv is a versatile streaming service that is popular for its extensive sports content. Its aim is specifically on cricket, football, and other popular sports.
Moreover, SonyLiv supports live sports events, both domestic and international. It also features exclusive coverage of cricket tournaments.
SonyLiv offers some free content, including highlights and certain live events, however, to access premium sports content, such as live matches and exclusive analysis, you may require a subscription.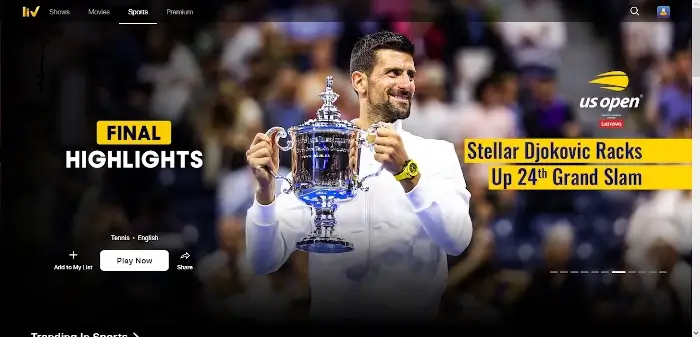 3. Stream2Watch
Stream2Watch has gained popularity as a reliable free sports streaming platform. It supports a huge collection of live sports events from worldwide.
So, whether you are a fan of football, basketball, or niche sports, you can utilize Stream2Watch as your go-to sports streaming site for those watching free sports content.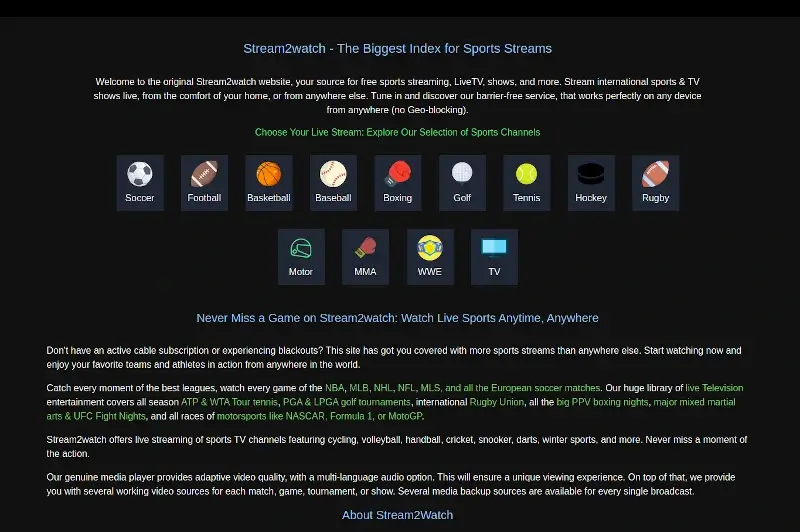 4. FITE
FITE is a dedicated platform for sports lovers. This site provides live streaming of events like boxing, wrestling, MMA (Mixed Martial Arts), and more. Additionally, FITE's library includes both free and premium content.
Note you may find some free content on this website, however, high-profile and pay-per-view events often come with a purchase or rental fee, which enables you to access exclusive fights and events.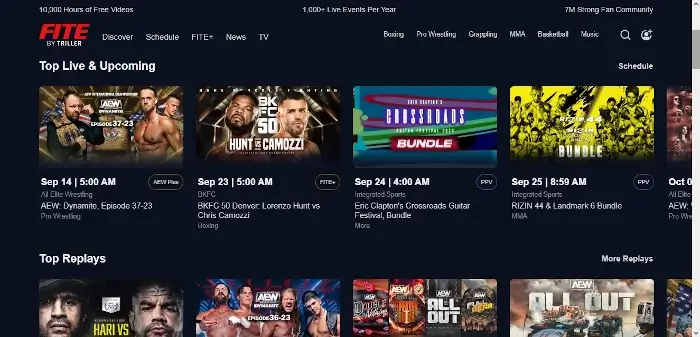 5. Facebook Watch
Facebook Watch is Facebook's video-on-demand platform, which supports user-generated and professionally produced sports content.
On Facebook Watch, many live sports broadcasts, highlights, and behind-the-scenes clips are available for free. This feature makes Facebook Watch an ideal option for you if you want to stay updated on your favorite sports natch while remaining on the same Facebook platform.
However, some exclusive content, such as live games from top leagues, require a subscription or purchase.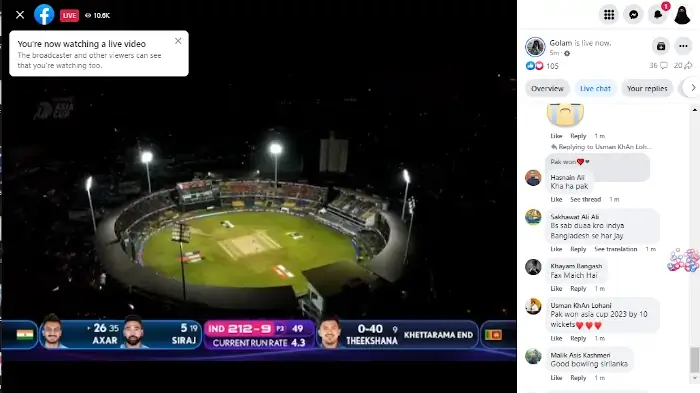 6. Live Soccer TV
Live Soccer TV is a platform specifically designed for football (soccer) lovers. It provides comprehensive schedules, live scores, and links to live streaming options for football matches from around the world.
Live Soccer TV website offers free access to live football matches, which makes it a valuable streaming site for hard-core football fans. However, premium features, such as ad-free viewing and additional statistics, are available through a subscription, which you can buy easily.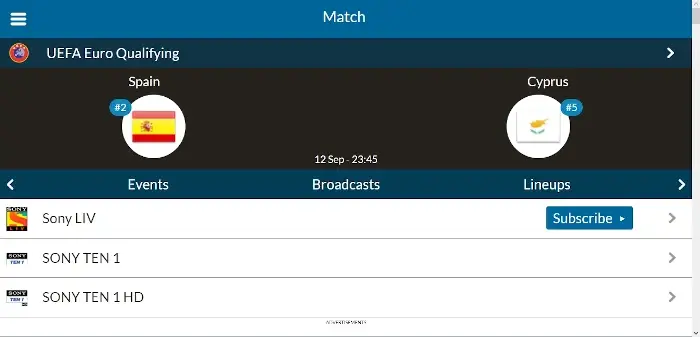 7. VIPRow Sports
VIPRow Sports is a completely free sports streaming website. It provides links to different live sports events. Note that this website is considered a cost-effective and convenient option for you to access different sports-related content without forcing you to pay any subscription fees.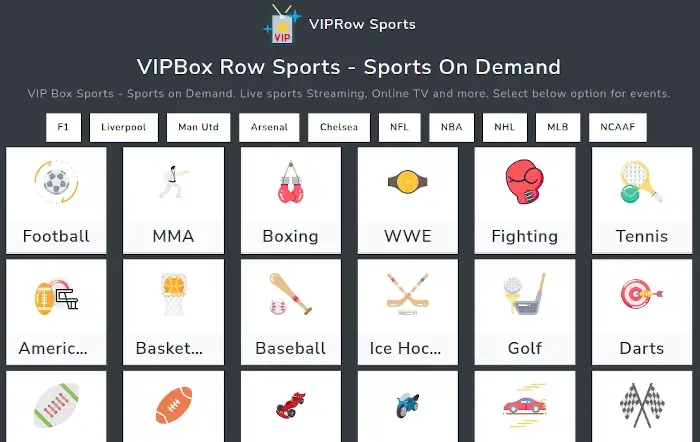 8. Cricfree
Cricfree is considered a go-to destination for cricket streaming but it also extends its coverage to other sports. This streaming site is known for providing free access to live sports broadcasts, which makes it an excellent choice among cricket and sports lovers.
Additionally, as a cricket lover, you can watch live matches, including international fixtures and domestic tournaments, without paying any cost to the Cricfree site.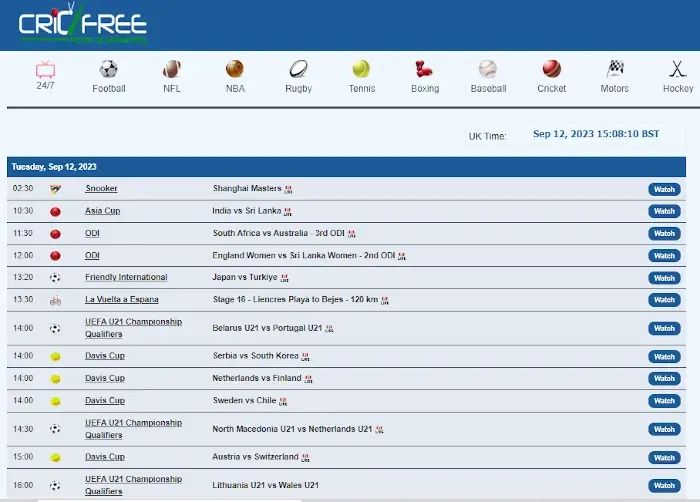 9. SportSurge
SportSurge is another renowned free sports streaming platform that is popular because of its reliability. It provides links to live sports events from multiple sources, which makes sure that you enjoy a consistent and cost-free option for watching your favorite games.
More specifically, from mainstream events to niche competitions, SportSurge covers a broad spectrum of sports.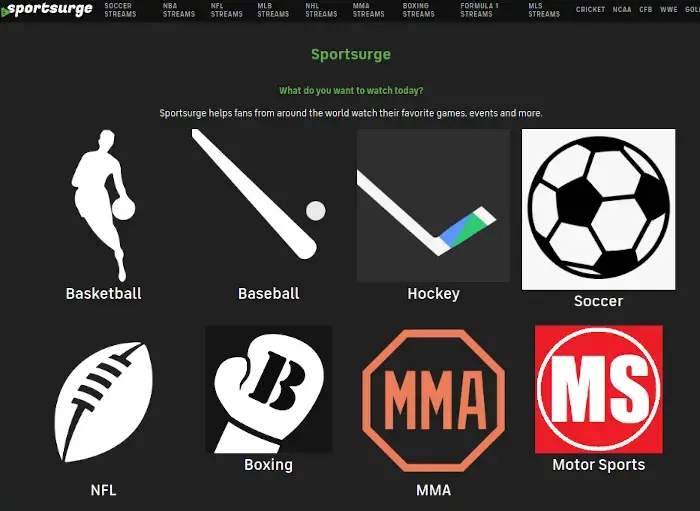 10. Fox Sports Go
Fox Sports Go is the official streaming platform for Fox Sports. This streaming site enables you to access different live sports events and on-demand content.
To do so, you need to authenticate your subscription through a cable or streaming service provider.
Note that the Fox Sports Go site provides in-depth coverage of major sports, including MLB, NFL, NBA, and more. This makes it a go-to choice for sports fans.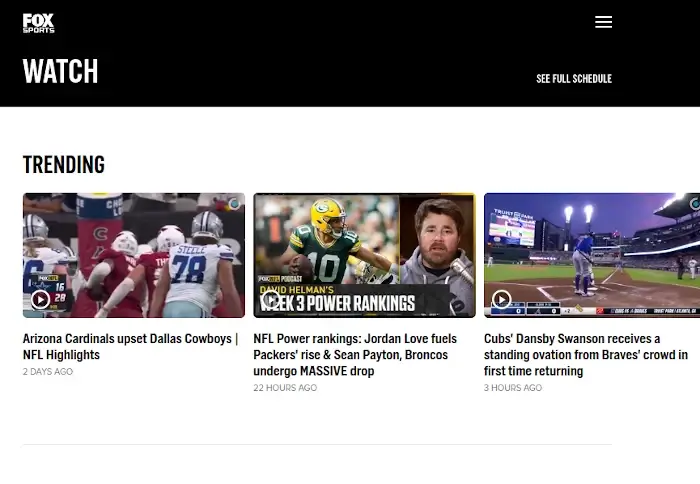 11. CrackStreams
CrackStreams is a well-known and user-friendly free sports streaming website. It provides you the links to live sports events across various sports genres, which comprises basketball, football, hockey, and more.
Note that the CrackStreams site is preferred for its ease of use and extensive coverage of live games and matches.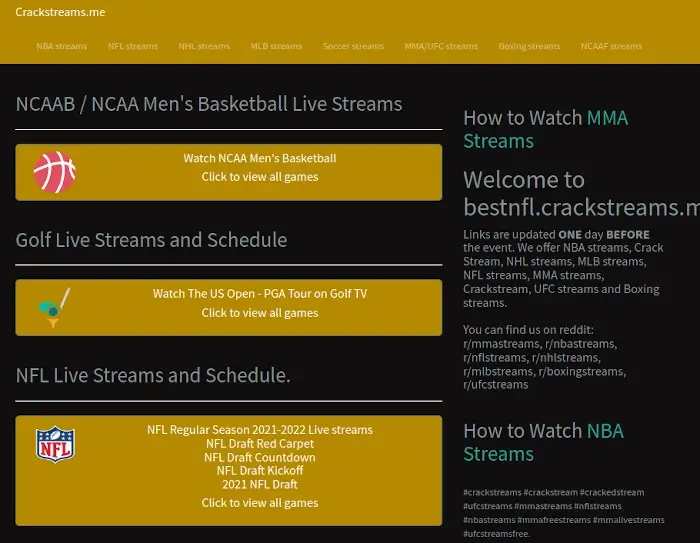 12. Batsmanstream
The Batsmanstream website is specifically for cricket lovers or enthusiasts. It is a dedicated platform for live cricket matches and events and is considered a valuable sports streaming resource for cricket fans who want free content and up-to-date coverage of cricket action.
Batsmanstream focuses on the gentleman's game and also provides live streams of international and domestic cricket matches. However, it also provides content related to other sports such as Darts, Volleyball, Tennis, Table tennis, Football, and others.
That brought us to the end of our guide regarding the best free sports streaming sites.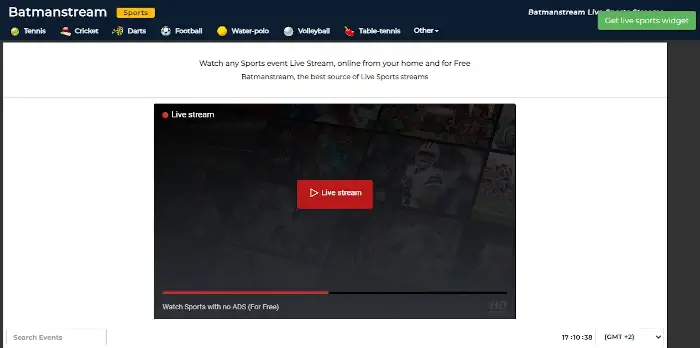 Conclusion
In the world of sports, the excitement never stops until the math ends. Thanks to these best free sports streaming sites that allow you to stay in the game without spending money on the tickets.
Whether you are a football enthusiast or a cricket fan, the discussed sports streaming platforms have got you covered.
So, take a chill pill, grab your popcorn, settle into your favorite corner with your crime partner, and let the games begin!