Suppose that you have decided that you want to give the new Fedora release a try. You download the ISO and then you have to pick a method of putting that ISO on a thumb drive.
You could choose to use the dd command or you could pick from a series of applications. However, with Fedora, you have only one option: Fedora Media Writer.
Fedora Media Writer is the default program offered by Fedora for creating live images. Unlike most image writers, Fedora Media Writer can download images, but it limited to Fedora. You can also write ISO for any distro.
Fedora Media Writer gives you access to both Fedora Workstation and Fedora Server. You choose to download the 64-bit version or the ARM version of each option.
You can also choose from the different desktop environments (KDE, Xfce, LXDE, MATE, Cinnamon, and SoaS) and the Fedora Labs (Astronomy, Design Suite, Games, Robotic Suite, Scientific, and Security Lab).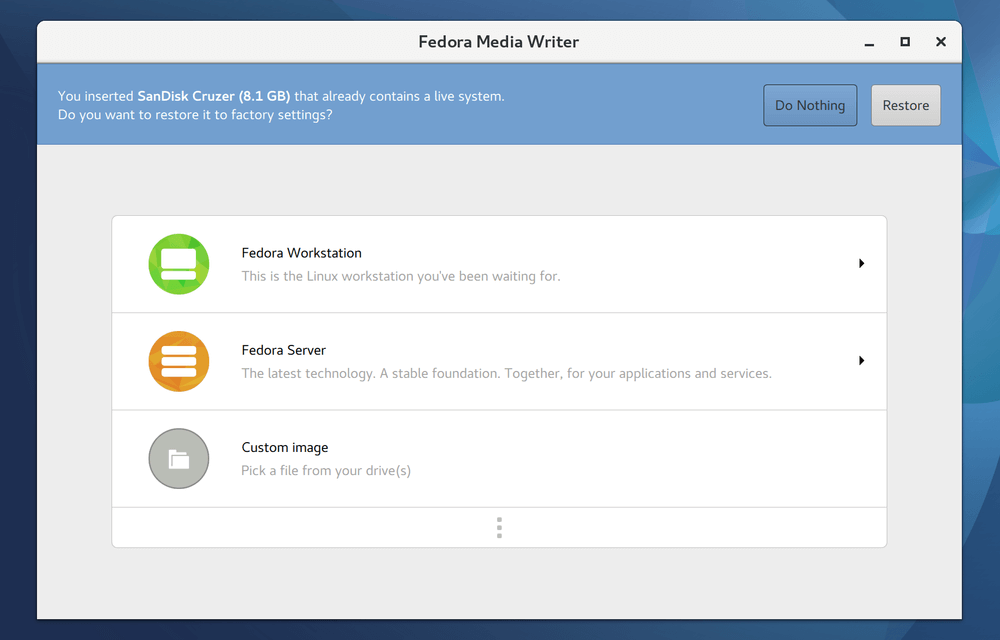 Features of Fedora Media Writer
Cross-platform (Linux, Mac, and Windows)
Open-source (GPL v2)
Download last three releases
Gives you access to all Fedora builds, including spins and labs
Automatically detects all removable devices
SHA-1 checksum verification to ensure there is no corruption when downloading
Reformat thumb drive when finished
Not Perfect
One problem I have with Fedora Media Writer is the lack of options to install it on Linux. You are limited to flatpak, which is understandable because Fedora is a big supporter of flatpak. However, not all distros offer flatpak support. I would have liked to see a shell option at the very least.
Overall, Martin Brizadid a great job creating a great program.
If you like this tool but have a suggestion, Fedora Media Writer is currently on Github. Your addition is only a pull request away.
What's your favorite method of making a bootable thumb drive? Let us know in the comments.