Strimio stands as a free media player compatible with macOS, Windows, and Linux, transforming your ability to create and manage live streams.
Thanks to its radio-browser integration, it provides access to tens of thousands of live radio streams from all over the world filtered by countries, languages, and tags.
Launched in 2020, Strimio is the brainchild of Spiral2k, which consists of its design, development, and ongoing maintenance.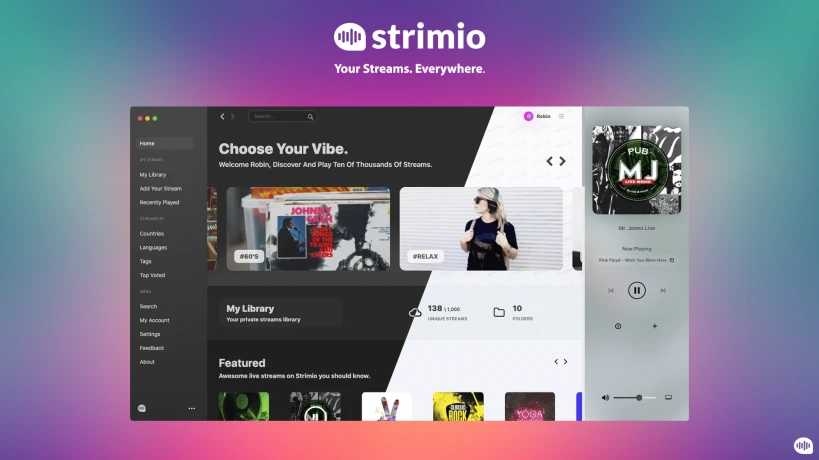 With the free account, you can play/browse thousands of global live streams. You also get a private library for up to 10 stations with streams automatically synced across your favorite devices.
The main app window is the Home tab which lists radio station suggestions as "Featured". You can filter the listed radio stations by Top Click and Highest Voted.
Features in Strimio
Listen or watch effortlessly with Strimio, where you can enjoy both audio and video streams seamlessly!
Explore a vast catalog featuring over 30,000 streams, providing a diverse range of options for your entertainment.
Efficiently manage your streams with the Library feature, allowing you to add, organize into folders, and easily edit stream information.
Experience convenience with the Import/Export library function, enabling you to swiftly share or restore your personalized library.
Utilize Strimio Connect to play your favorite streams on external devices such as Sonos, Chromecast, and any Android TV (requires Cast support) with just a simple click.
Stay informed with Now Playing information, as Strimio automatically fetches metadata about the current broadcasts in your streams.
Customize your experience with different themes, choosing between Light and Dark themes, with more options on the way to suit your preferences.
Enhance your control with Shortcuts, allowing you to efficiently navigate and manage Strimio using your keyboard.
Enjoy hassle-free updates, as each new version of the Strimio desktop comes with improvements, and bug fixes, and often introduces new features—all handled seamlessly by the app, requiring no manual intervention on your part!
How to Install Strimio Media Player
To install Strimio, visit the Strimio website, there, you'll find icons for installing the software on three distinct platforms: Windows, Mac, and Linux.
For Linux, you need to use snapd to install Strimio on Linux as shown.
sudo snap install strimio-desktop

Which app do you use to stream live radio channels? And how does it compare to Strimio? Take the app for a test drive and tell us what you think about it in the comments section below.