As you know, we are living in an age, where the demand for high-quality written content is greater than ever. Moreover, artificial intelligence has emerged as a game-changer for content creators, marketers, and writers across the globe.
So, in today's guide, we will discuss the best writing tools that can be utilized to optimize SEO-driven content. Additionally, these AI tools can assist in creating SEO-based optimized content and engaging stories.
1. AISEO
AISEO, as its name suggests, combines the functionalities of AI and SEO. As a content creator or marketer, you can use this tool to generate high-quality and search engine-friendly content.
This tool works in such a way that the embedded algorithms analyze the provided content and offer you real-time SEO suggestions, such as including keyword recommendations and optimization tips.
More specifically AISEO makes sure that your content ranks well on search engines and reaches out to a wider audience.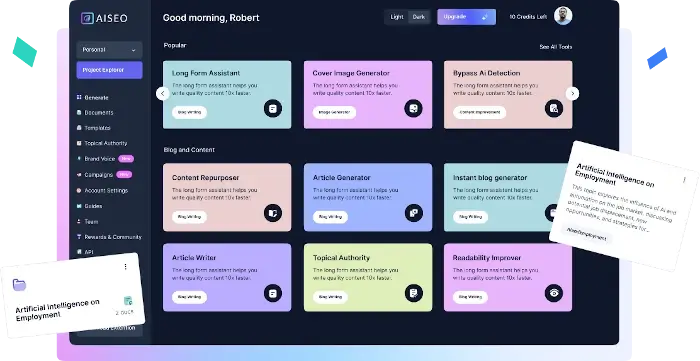 2. QuillBot
QuillBot is a writing tool that is well-known for its paraphrasing functionalities. Its user-friendly interface enables you to add text and receive instant contextual results or suggestions.
Whether you are a student, professional writer, or business communicator, you can utilize this tool to improve your writing style and generate engaging information.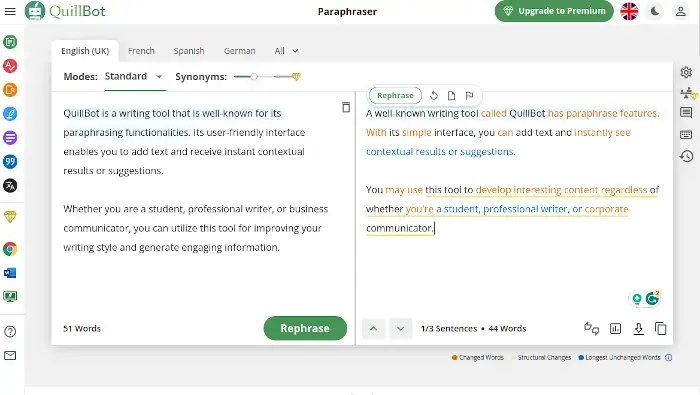 3. Writesonic
With the help of the Writesonic tool, you can generate content of different types, such as blog posts, articles, marketing copy, and more. This tool operates according to the user prompts and provides content suggestions that enable you to refine and customize generated content as required.
So, if you need to maximize your productivity and creativity while controlling the content quality, go for the Writesonic tool!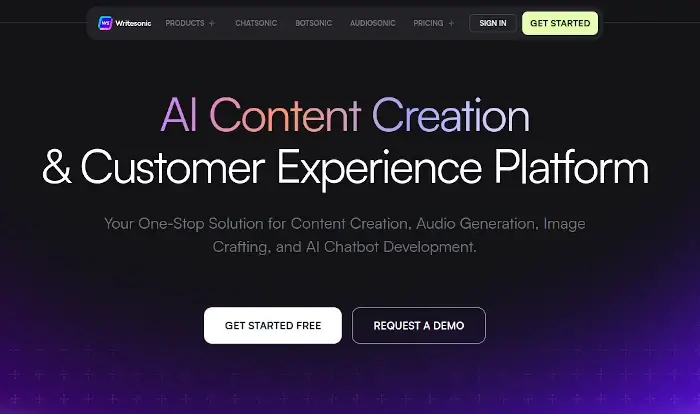 4. Bertha AI
Bertha AI tool specializes in transforming complex data into compelling narratives. It provides different powerful data visualization tools that can be utilized for creating engaging data-driven content.
More specifically, this tool smooths out the process of turning specified data into insightful articles and reports. Bertha AI is an ideal tool for those looking to create creative content and share data-driven insights with their audience.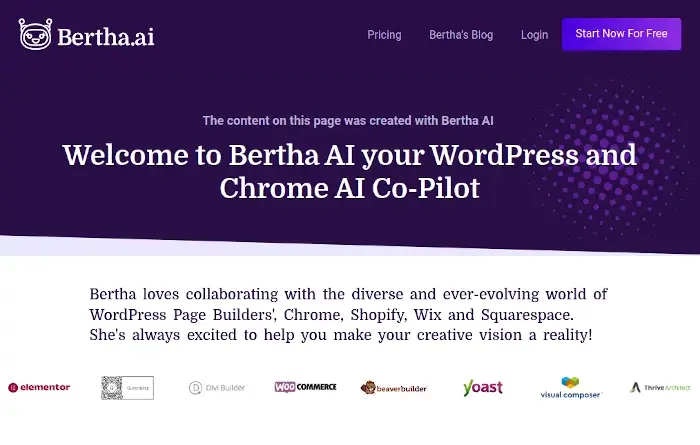 5. Simplified
Simplified AI tool, as its name suggests, simplifies complex content. It provides an AI-based summarization tool that shortens lengthy documents and articles into concise and easy-to-understand summaries.
It also enhances the readability of the text by conveying the information clearly and efficiently. Whether you are a content creator, a student preparing for exams, or want to save your time on research, utilize the Simplified tool to simplify the information you need.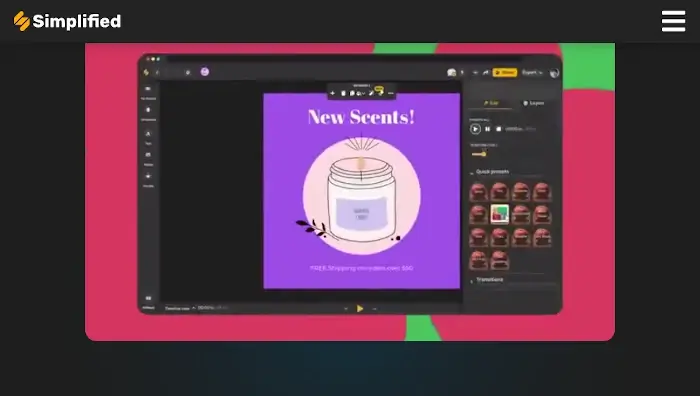 6. Rytr
You can also utilize Rytr as your AI writing assistant for creating content related to different writing tasks. It offers several amazing content templates and generates well-structured blog posts, articles, marketing material, and more.
The embedded algorithms in the Rytr tool make sure that the generated content is coherent, engaging, and customized according to your requirements.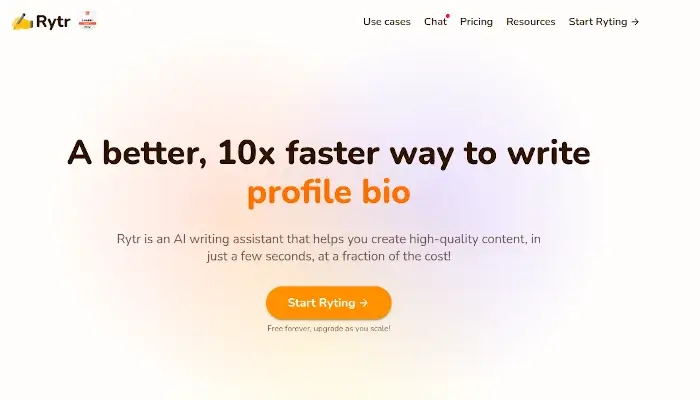 7. Frase
Frase is an AI-based content optimization platform that focuses on SEO and content strategy. It provides different features such as optimization recommendations, content research, and topic clustering that ultimately help you to drive organic traffic.
This AI tool analyzes the top-ranking content and generates data-driven suggestions for improving the quality of the content and relevant SEO performance.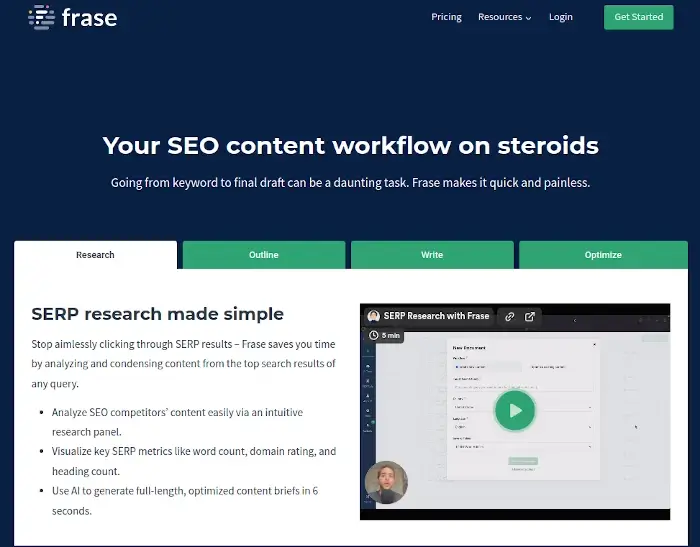 8. Narrato
Whether you are working on a screenplay, novel, or any form of creative writing, use Narrato to improve your storytelling abilities and create memorable narratives.
This AI writing tool offers several features such as automated story generation, character development, and plot generation, which makes it an ideal choice for storytellers, screenwriters, and fiction writers.
More specifically, with the help of this tool, you can create captivating narratives that capture the reader's attention and also evoke their emotions.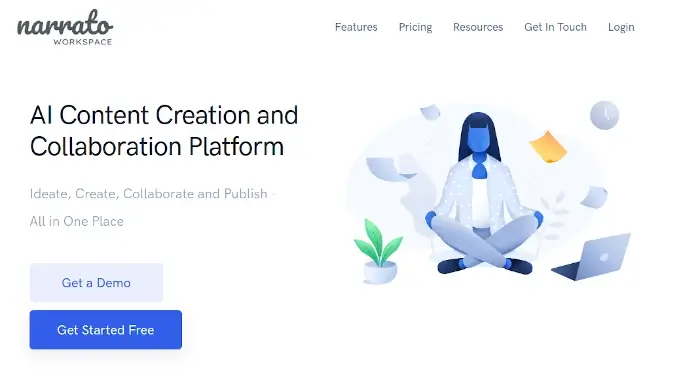 9. WordAI
WordAI is an advanced AI writing tool that can be utilized for generating human-like text with natural language understanding. This tool specializes in article spinning, content creation, and text generation.
WordAI generates coherent and contextually relevant content, which makes it suitable for several applications, including SEO, content marketing, and automated content generation.
Its versatility and quality make it a preferred choice for businesses and content creators who want to maintain high standards in their written content.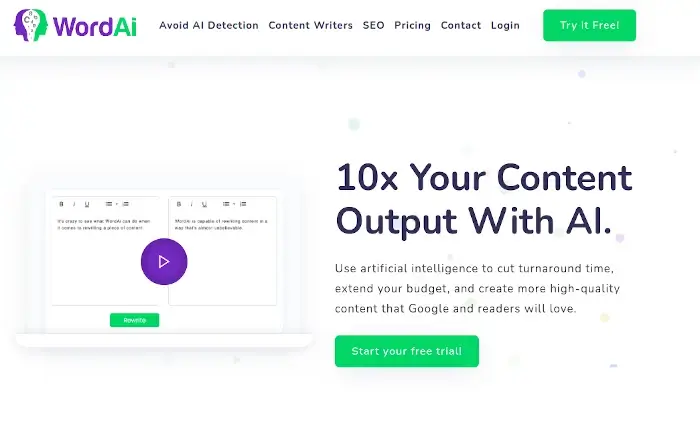 10. Copy.ai
Copy.ai can be your next AI-based copywriting assistant that provides a collection of content templates and AI-generated copy for several purposes.
From creating attention-grabbing headlines to generating marketing copy and social media content, Copy.ai smooths out the copywriting process.
Additionally, it provides content suggestions, which saves your time and effort in creating engaging text. So, whether you are an entrepreneur, marketer, or content creator, utilize Copy.ai to improve your skills to create compelling and conversion-focused copies.
11. Writerly
Writerly is an AI-based writing tool that can be utilized for improving grammar, style, and overall writing quality. It offers amazing proofreading and editing features, which makes it an essential companion for you if you are seeking to improve your content's clarity and coherence.
Writerly's AI algorithms provide detailed suggestions for improving vocabulary, sentence structure, and readability. So, whether you are working on reports, essays, or professional documents, use Writerly to help you refine your writing.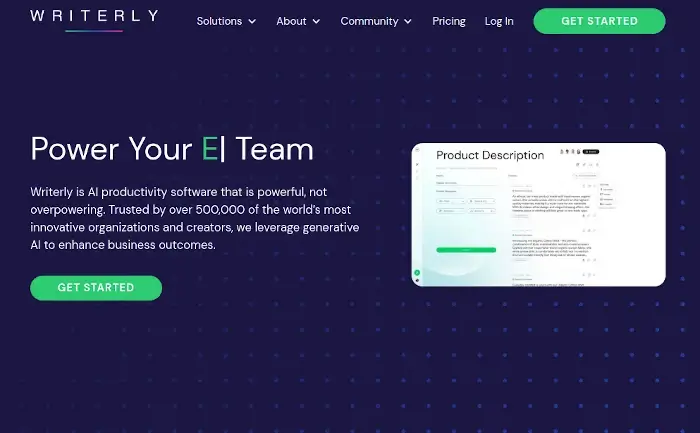 12. Copymatic
Copymatic is an AI writing tool that has automated content generation and rewriting features. It can be utilized for creating engaging and unique content for blogs, websites, and marketing campaigns.
Additionally, Copymatic offers content templates and customizable options that enable you to generate content that aligns with your brand requirements. With this tool, content creators can save time while maintaining high-quality content across various digital platforms.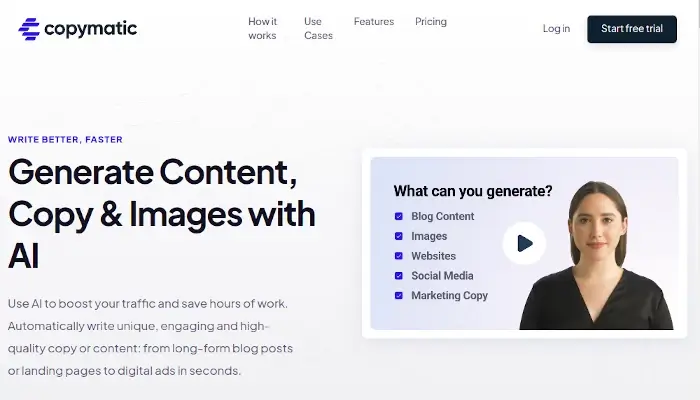 13. Jasper
Jasper is an AI-based writing assistant designed to assist you in producing engaging content. It offers tools for creating outlines, brainstorming ideas, and generating text for various content types.
Jasper's AI algorithms help in overcoming writer's block and creating fresh, original ideas. So, whether you are writing blog posts, marketing copy, or creative content, utilize Jasper to create compelling and imaginative pieces.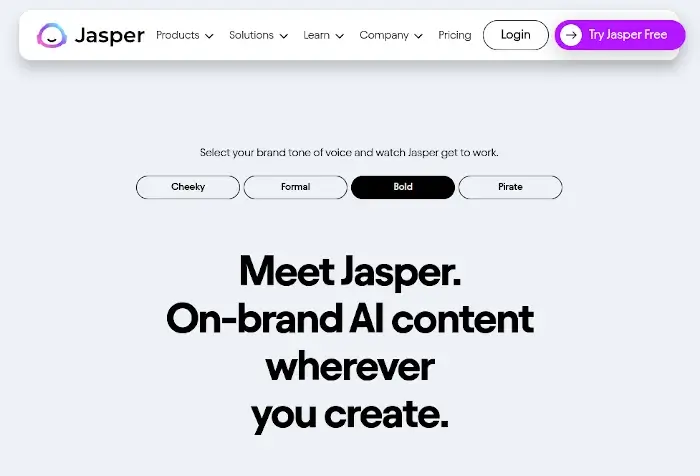 14. Surfer
Surfer is an AI-driven SEO writing tool that specializes in optimizing content for search engines. It provides features like keyword research, content analysis, and on-page optimization recommendations to help you improve your content's search engine ranking.
Surfer's AI algorithms analyze top-ranking pages and provide data-driven suggestions to enhance your content's SEO performance. More specifically, you can create SEO-friendly content that attracts organic traffic and maximizes your online visibility.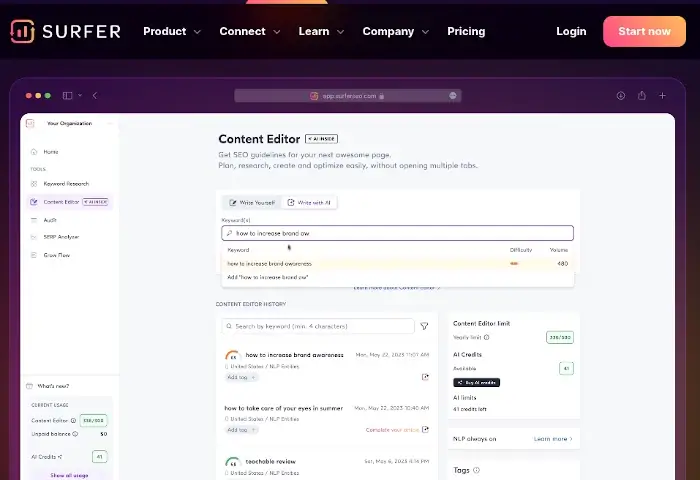 15. GrowthBar
GrowthBar is an AI-based SEO tool that provides features like competitor analysis, keyword research, and backlink tracking to improve content strategy and website performance.
Moreover, GrowthBar's AI-driven insights provide valuable data to make informed content decisions.
So, whether you are a marketer, business owner, or content creator, utilize GrowthBar to drive organic traffic, maximize your website's visibility, and attain better search engine rankings.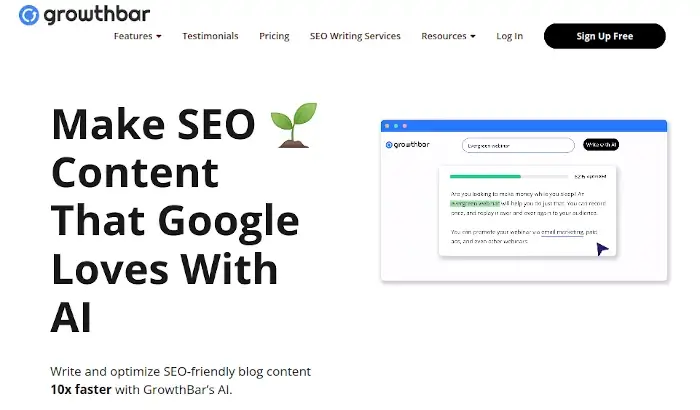 Conclusion
The future of writing is here, and it is augmented by AI. From AISEO's SEO optimization to Writerly's grammar and style refinement capabilities, and from Jasper's creative content generation to Surfer and GrowthBar's SEO-focused insights, each tool serves as a testament to the limitless potential of AI in writing.
So, avail yourself the opportunity, to explore these best writing tools, and let your creativity flourish in the world of AI-assisted writing.