Gone are the days when teachers used to correct our spelling mistakes and ill-formed statements in a notebook. With most of the studies gone online and with applications such as Grammarly, every student has now become a perfect writer. However, with most of you relying on the free version of Grammarly, I would here want to highlight the biggest challenge with it.
The free version of Grammarly does correct your spelling mistakes and checks for plagiarism, but it does not help you correct poorly constructed sentences. You would often notice several suggestions appearing to the right of your screen, but they are hidden and can only be accessed by a premium member.
So, to be a pro, should you buy the premium version? Well, No! You can save that money and use the below 5 alternatives of Grammarly that have been listed out especially for you (in no specific order). So here we go!
1. Hemingway App
If you are focused on improving your writing skills, Hemingway should be your first choice. Like an English teacher, Hemingway points out all your mistakes and poorly constructed sentences and highlights them in different color categories.
It helps you get clarity on adverbs, active and passive voice, and lengthy sentences. You can either paste your content on the website or can choose to write directly on the Hemingway editor. Whatever suits you best.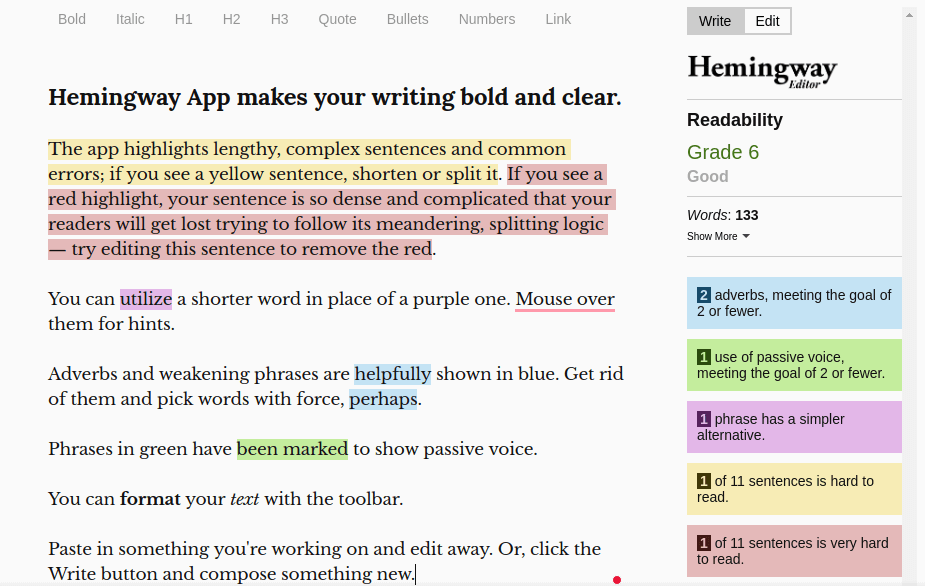 2. Slick Write
This is one website that has no pricing plans as it is completely free! With Slick Write, you can get quick suggestions on voice usage, sentence length, readability, and vocabulary.
Additionally, it also provides you with customizable feedback to suit your writing style, and with statistical reports to track your writing trends and errors.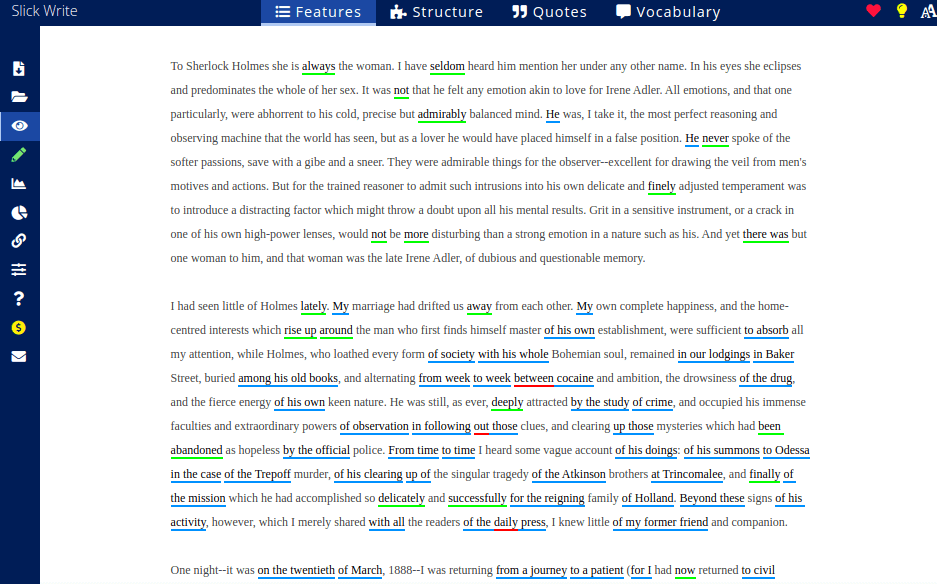 3. Language Tool
My personal favorite, Language Tool does full justice to its name. It helps you with quick suggestions and categorizes all your writing mistakes with different color coding. You can simply paste your content on their homepage and start editing as per the suggestions.
Like Grammarly, you can also add its extension on your chrome browser and get set writing.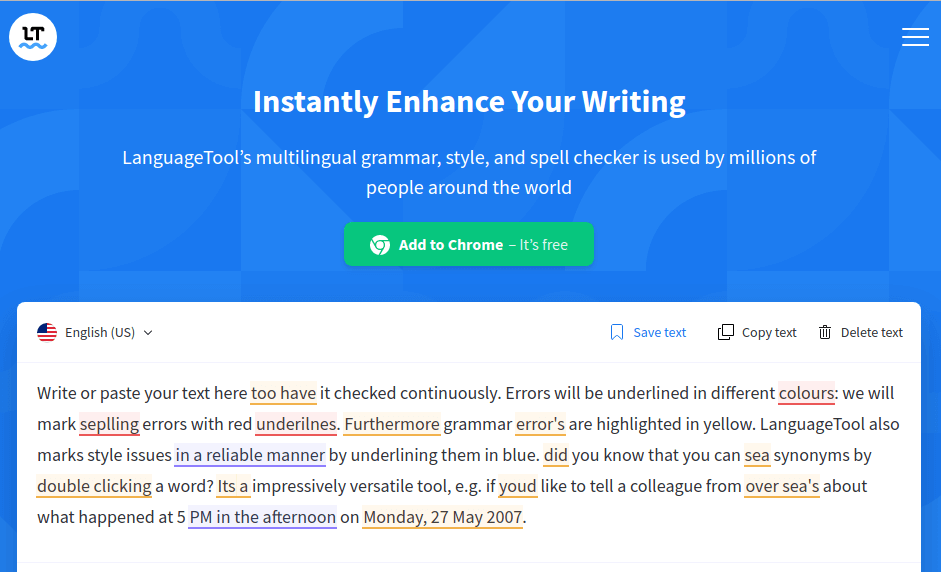 4. Typely
Typely introduces itself as a "Free online proofreading and essay editor" and I completely agree with it. Just like other alternatives, you can use typely simply by visiting the website. You do not need to install any application or pay a fee.
One special feature of Typely is the Articles section where articles on different writing challenges are published for users to access and learn from.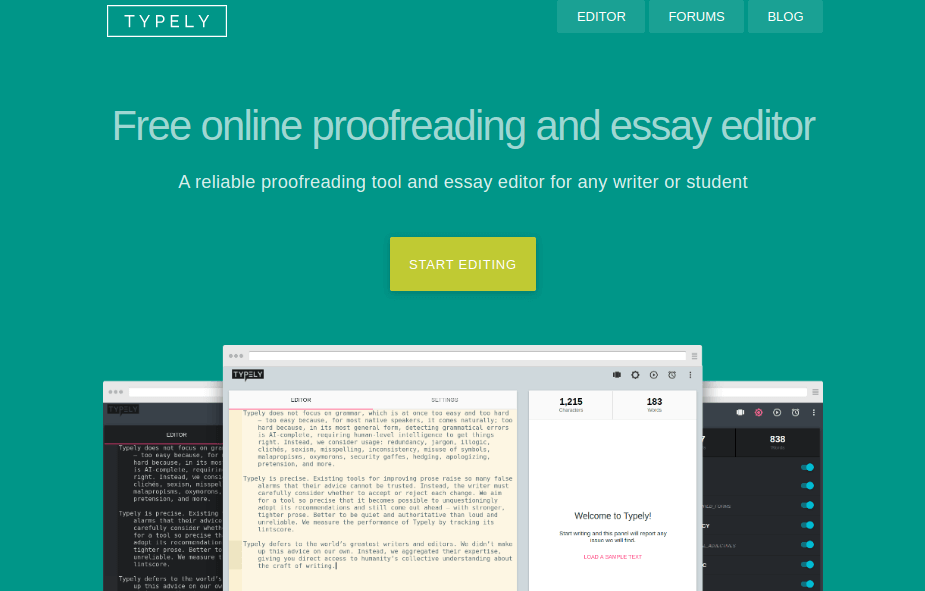 5. Virtual Writing Tour
Preparing a speech for a presentation? Writing an essay? Or Want to put your thoughts in words – Correct words? With Virtual Writing Tour, you need not type it all. In addition to all the functions of Grammarly, this website even offers you an option to speak and get yourself rectified.
You need not write your articles, all you need to do is open the website, click on the mic button, and start talking. You can check your grammar, paraphrasing, and vocabulary instantly.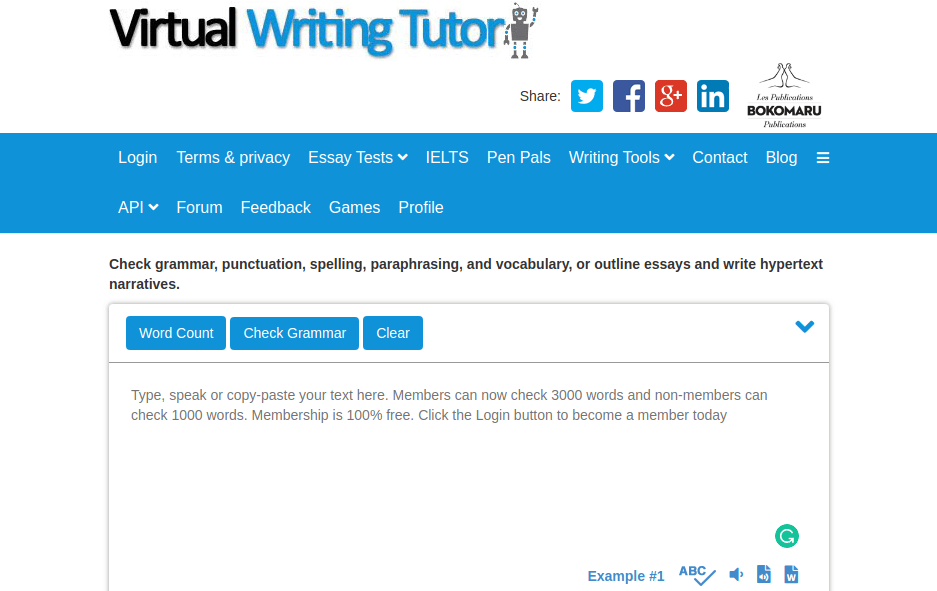 So, before you start your assignment and rush to your favorite pick from the list above, let me give you a small tip. If you are one of those students who already have great writing skills, my suggestion would be to use Hemingway App or Slick Write to enhance your skills further.
If you are somebody who always craves perfection, my pick for you would be the Language Tool or Typely. And, if you are somebody like me who is always talking and writes what she says, choose the Virtual Writing Tutor and write it out!
That brings you to the end of the article, and as always, I request you to please drop your suggestions and feedback in the comment below. Do let us know your favorite so that we can share it with the world and help each other.