Pensela is an open-source tool for creating and annotating screenshots. With it, you can draw directly on the screen. Its UI is mostly a toolbar that houses all the tools for annotating images in a minimalist layout. The tools are accessible with a single click which promotes its design initiative to be light, versatile, dynamic, and elegant.
Nick-named the Swiss Army knife of Screen Annotation tools, Pensela has features that make it easy to draw shapes and add pre-added shapes in the form of stickers to images. It also features a highlighter, text support, custom color picker, background pages, a screenshot tool, and a laser pointer.
[ You might also like: Flameshot – The Easiest Way to Take and Annotate Screenshots ]
Pensela was first released in May 2021, so there are features listed to be added in a later stage of development. The features expected to come in later versions include a better UX, automatic updates, improved text support, a better laser pointer, separate colors for Stroke and Fill, and a full-fledged built-in Screen recording Tool.
Of course, contributions in different forms are welcome e.g. forking the project, installing the dependencies with npm, opening a pull request, or even creating your feature branch.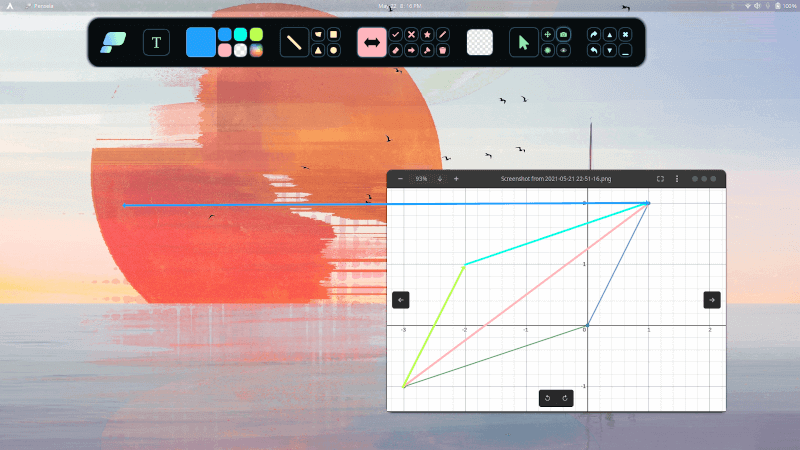 Features in Pensela
Free and open-source. It is distributed under the ISC License.
Available on GNU/Linux, macOS, and Windows.
Create basic shapes e.g. rectangles, circles, polygons, lines, and triangles.
Add stickers e.g. stars, crosses, single and double-sided arrows.
Text support.
Background pages.
Custom color picker.
Screenshot tool.
Highlighter.
Laser pointer.
Install Pensela in Linux Desktop
For Ubuntu and other Debian-based distros, Pensela can be easily installed using the provided .deb archive.
Arch users can install it from the AUR and other Linux users can install it via AppImage. For Windows, there is a setup available in the releases section on GitHub. And Mac users can either install it using the dmg provided or the following Homebrew command:
brew install --cask pensela

So, what do you think about Pensela? Would you be contributing to this project? Remember to tell us about your experience with it after you check it out. And feel free to share any issues you experience as well as any feature ideas you might have with the developers.