I assume many of our readers are familiar with a number of online study education centers. Some of them focus on programming and computer science related topics alone while others have a wider topic range. Some websites are completely free or paid, and other offer both paid and free courses.
Just like Khan Academy and Code Academy, Udemy is no newcomer to this domain. It's a website where you can learn a variety of courses online at your own pace with some of them being available for free.
The problem, though, is that users are sometimes forced to follow the videos only when they are connected to the internet since there isn't a native option to download course videos to refer to later especially when they're offline.
The good news is that this doesn't have to be the case anymore, because Udeler's usage is straightforward you might not need to go searching for any other downloaders that require tweaking.
Udeler is an Open-Source and cross-platform downloader app with which you can download your Udemy course video playlists to your PC free of charge. It was written in Electron to have a minimalist, intuitive, and uniform User Interface across Linux, Mac, and Windows OSes.
As soon as you open the app you are welcomed with a login screen for you to enter your Udemy account credentials. Once that is done you can get right on to downloading your course videos.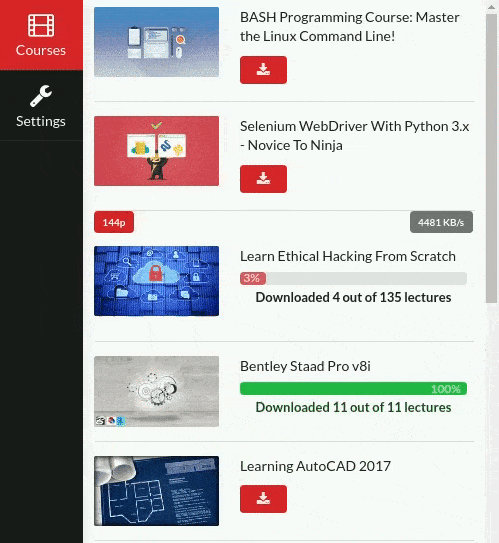 With Udeler, you can see a list of all your subscribed courses..
Features in Udeler
Freeware: Udeler is free for everyone to download and use.
Open Source: Udeler is released under the MIT license and you can contribute to its source code on GitHub.
Cross-Platform: All Windows, Linux, and Mac users can enjoy the coolness of Udeler.
A minimalist and intuitive UI.
[mks_button size="medium" title="Download Udeler for Linux" style="squared" url="https://github.com/FaisalUmair/udemy-downloader-gui" target="_blank" rel="nofollow" bg_color="#46698E" txt_color="#fff" icon="fa-download" icon_type="fa" nofollow="1″]
Are you familiar with Udemy? How often did you need to download their videos and what do you think of Udeler? Share your thoughts with us in the comments section below and don't forget to add your app suggestions if there are any.