With the world moving around the web, and the dynamics of marketing changing every hour, it is essential now to keep the website customer-ready. Push notifications are one way to keep your audience tied to your website, even when they are not visiting your website. You can send Push notifications to both desktop and mobile from the WordPress site.
But, first of all, let's see what WordPress Push notifications are. All clickable messages that you receive in the notification area of your mobile device or the messages that you see on the desktop of your computer are WordPress Push Notifications.
These messages on the desktop can be seen even when the browser is not open, and these push notifications work well even on mobile phones. This helps the users to know the latest updates on the website and also know about the latest offers.
To turn visitors into customers and loyal clients, WordPress Push notifications are a must. All this is possible only if the viewers accept the notifications. Only then the website can "Push" notifications to the viewer's browser or device (computer, phone, etc.) for site updates, special offers products, new articles, and more.

Here is the list of some of the Best WordPress Push Notifications Plugins.
1. One Signal
Let us first discuss using a plugin from OneSignal. It is a completely free solution for WordPress push notifications. Currently, it has around 50,000+ active installs and has a user rating of 4.7 out of 5 stars.
According to the statistics given by the site owners, there are about 100,000 developers around the world using their service, and it includes big names such as Adobe, Uber, and Tom's Hardware.
Feature Highlights
100% free to use
Localization
A/B Testing
Delivery scheduling
Unlimited segments
Delivery automation
Ability to import and export your data
Unlimited WordPress push notifications
Full API
Unlimited devices
The main advantage OneSignal gives its users is that it allows them to set up as many WordPress sites (apps) as they wish for.
So the user can log-in into OneSignal's dashboard and have 10+ different WordPress sites, and all the sites will have separate push notifications apps and data. Moreover, it is free of cost, which makes it a go-to app.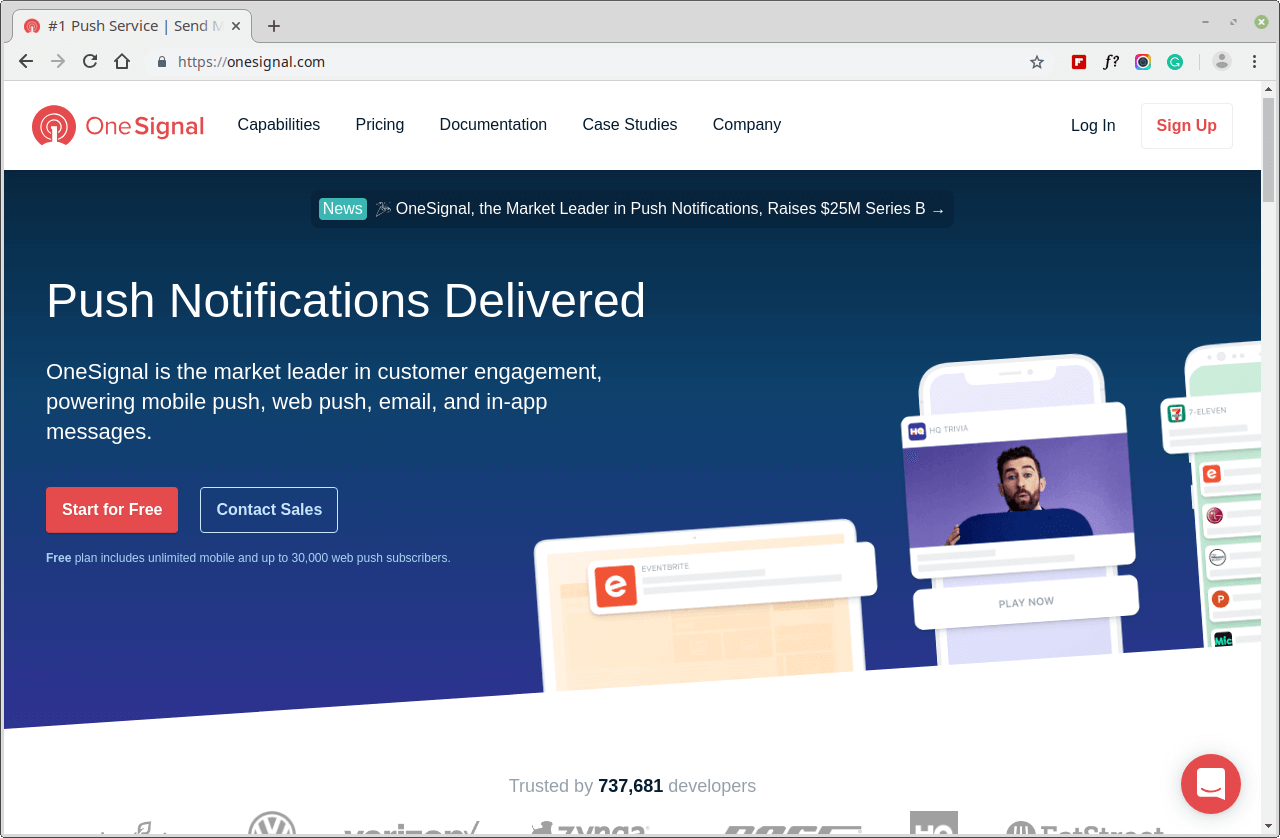 2. PushEngage
PushEngage is technically termed as a standalone service when it comes to push-notifications on mobile and web. However, it also has a dedicated WordPress plugin, which makes adding push notification real easy on WordPress.
PushEngage enables you to send push notifications for both desktop and mobile versions of web browsers, beyond that, it has several features to help you send push-notifications the smart way.
Feature Highlights
Call to action buttons
Automation
RSS to notification
Automatic responders
Personalized cart abandonment notifications
Easy segmentation
Geo-targeting
PushEngage comes free for up to 2,500 subscribers and 120 notifications per month. But, to send anything more than this one has to pay an excess of $29 per month.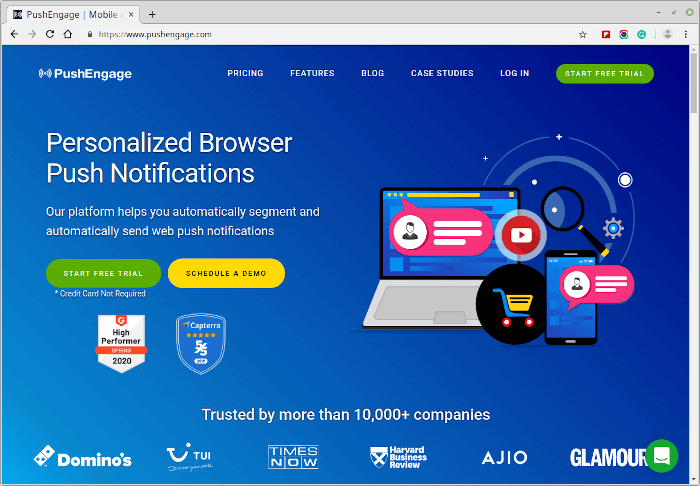 3. VWO Engage
VWO Engage is a part of the VWO platform designed to enable users to discover conversion leaks, conduct surveys, run experiments,  and keep clients engaged via web push notifications.
Feature highlights
Integration with Facebook messenger
Re-engage lost users
Promot time-sensitive deals
Run A/B tests
VWO Engage is a premium service without a free plan. You can try it for 30 days free after which you'll need to purchase a subscription starting from $199 per month.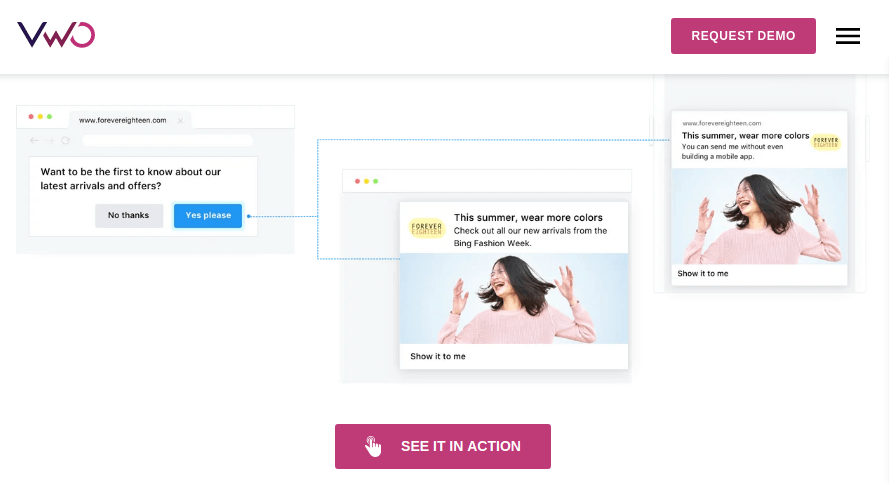 4. Gravitec
Gravitec allows users to send quick and efficient web push notifications and it works as well on mobile phones as it does on desktops. It has been recommended by many for its cost-effectiveness, speedy notification delivery, and ease of integration.
Feature highlights
Subscription prompt
Push digest
Drip feed
RSS automation
Support for all modern browsers
Gravitec's free plan allows up to an astonishing limit of 30,000 subscribers with unlimited notifications. The advanced plan which includes unlimited subscribers, priority support, a RESTful API, and white labelling starts at $4.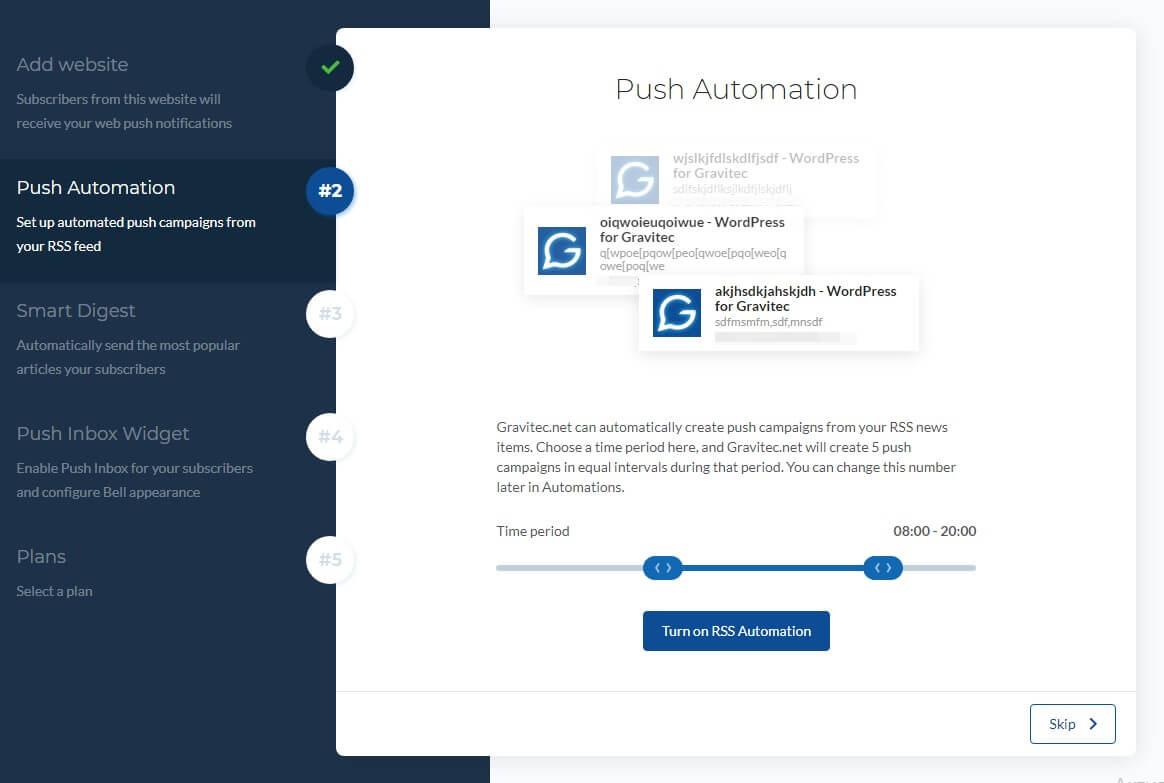 5. WonderPush
WonderPush enables users to send instant web push notifications using nicely styled messages that call users to subscribe. It features automated web push notifications which are based on user behavior e.g. reminding customers that their cart isn't empty and a modern dashboard from which owners can monitor the progress of their business.
Feature highlights
AMP support
Advanced dashboard
Real-time analytic
Subscription prompt customization
WooCommerce support
Targeting segments
WonderPush is a premium service and thus, does not have a free plan. You can try it for 14 days free of charge after which you will need to pay 1€ per month.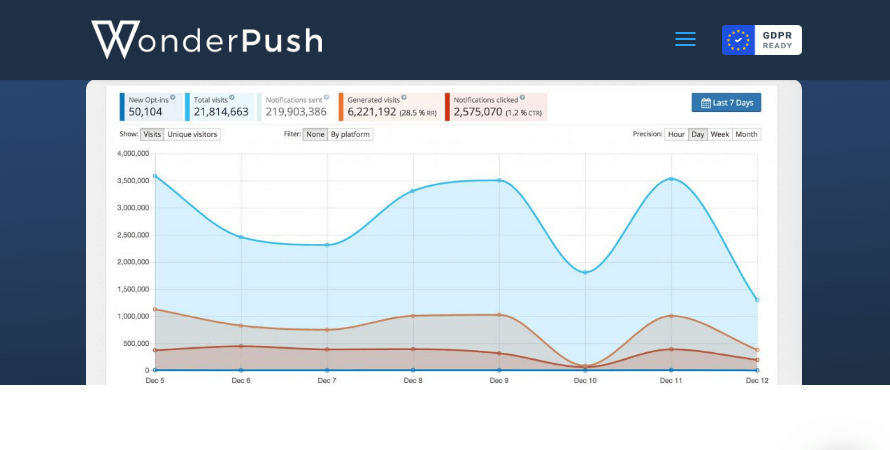 6. SendPulse
SendPulse is a multi-channel marketing platform for sending various types of messages to clients. Its channels include email campaigns, web push, SMS, messengers, and transactional emails.
Feature highlights
A/B testing
Segmentation
Trigger emails
Drag and Drop editor
Integrations with over 40 CRM, CMS, and eCommerce systems
SendPulse's free version allows up to 10,000 subscribers with branded notifications. The pro plan starts at $15.88 per month.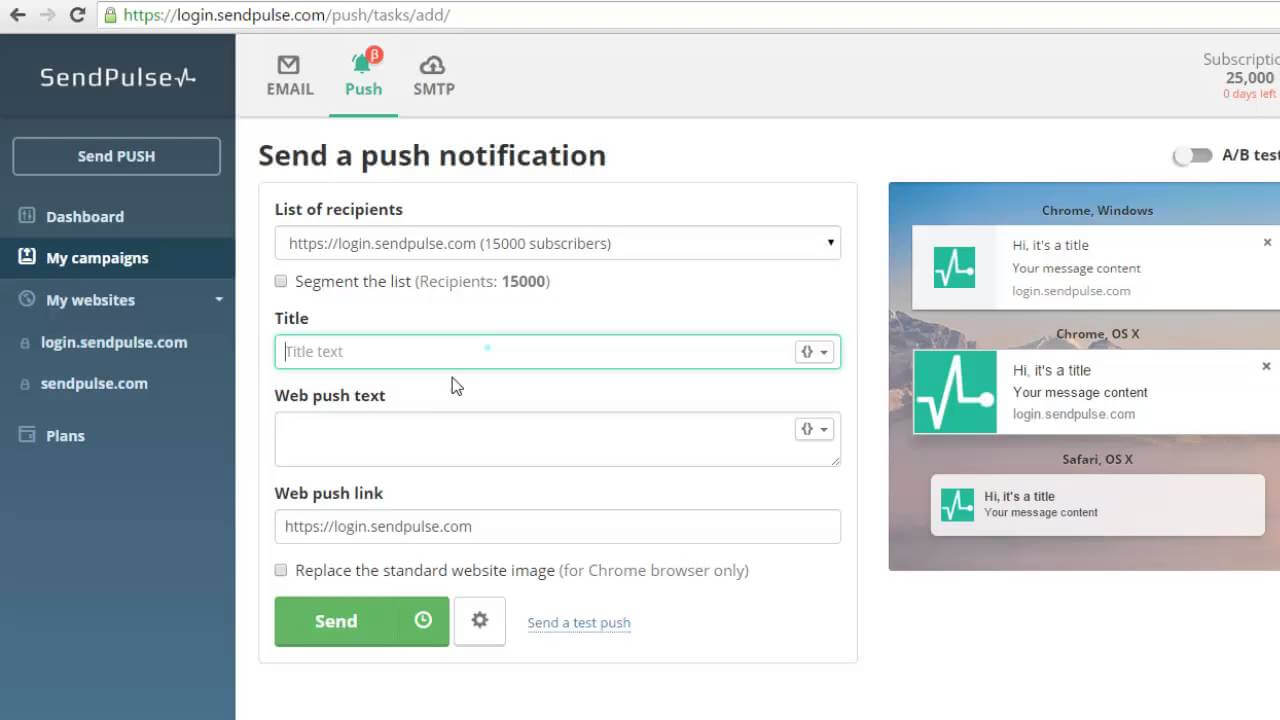 7. Push Assist
Close in action to the previous plugins, Pushassist is also a standalone service. It provides a dedicated WordPress plugin because of which the setup becomes easy.
PushAssist supports the following list of devices:-
Safari (Mac OS X)
Firefox (desktop and Android)
Chrome (desktop and Android)
There are certain features it is proud to present which stands out in comparison to the previous plugins:
Segmentation: It Segments subscribers based on their location, interests, and other related information.
Scheduling: It allows you to send push notification for a scheduled time and place.
Personalization: Intricate a bit in terms of setup – but allows users to deliver personalized messages.
PushAssist is free of cost and allows around 3,000 subscribers with unlimited notifications. But, beyond this, Paid plans start at about $9 per month.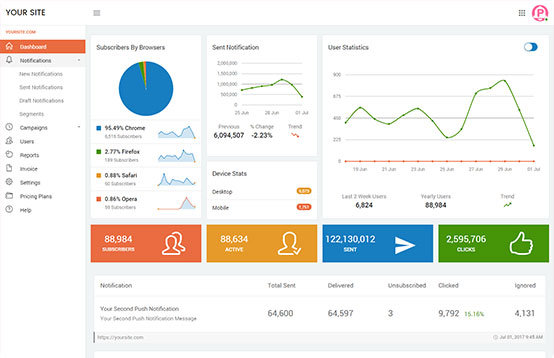 Well, these are some of the WordPress Push Notification Plugins and a glimpse of their uses. Depending on the visitor base, the budget one can spend, and also the specific features they are looking up to one can choose any of these plugins. All of them are at their best individually.
8. Beamer
Beamer features the ability to create push notifications and a notification center that appears as a sidebar. It also offers users Call To Action links, incorporation with GIFs, videos, and images in the notification center, and instant user feedback via comments and ratings.
Feature highlights
Call To Action links
Customize notification center's design
Support for working with images, videos, and GIFs
Feedback via comments and ratings
Beamer is free to use at first but its extra features are in the pro plan which starts at $99 per month for up to 10,000 subscribers.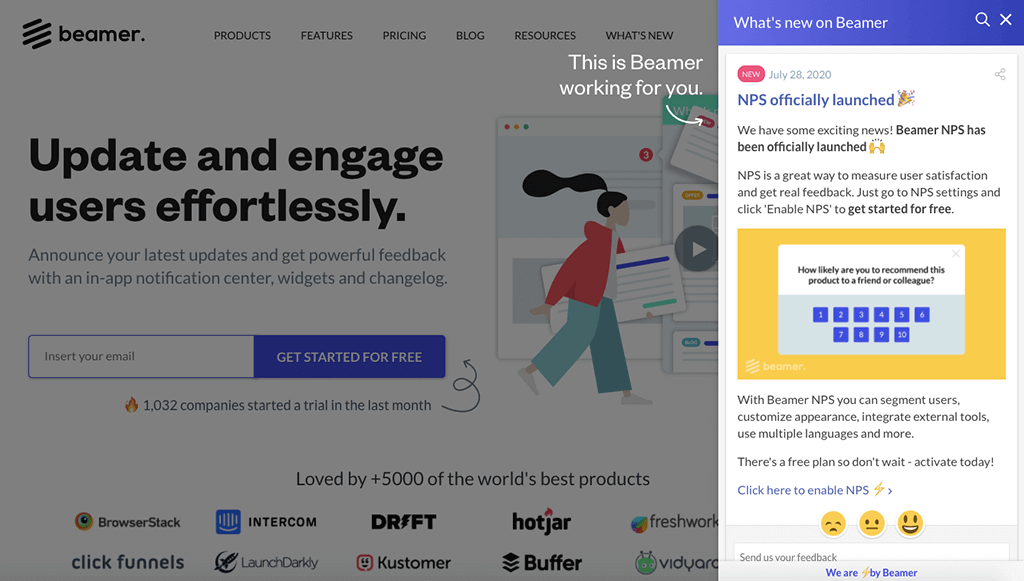 9. iZooto
iZooto is designed to enable publishers who run blogs and news sites to re-engage their audiences by creating and scheduling notifications using a post editor. Its strong suit includes targeted notifications and real-time notifications.
Feature highlights
Geo-targeting
Support for team collaboration is a while
Local time zone delivery
iZooto has a free plan with branded ads and up to 2,500 subscribers. For more features such as white labeling costs at least $25 per month.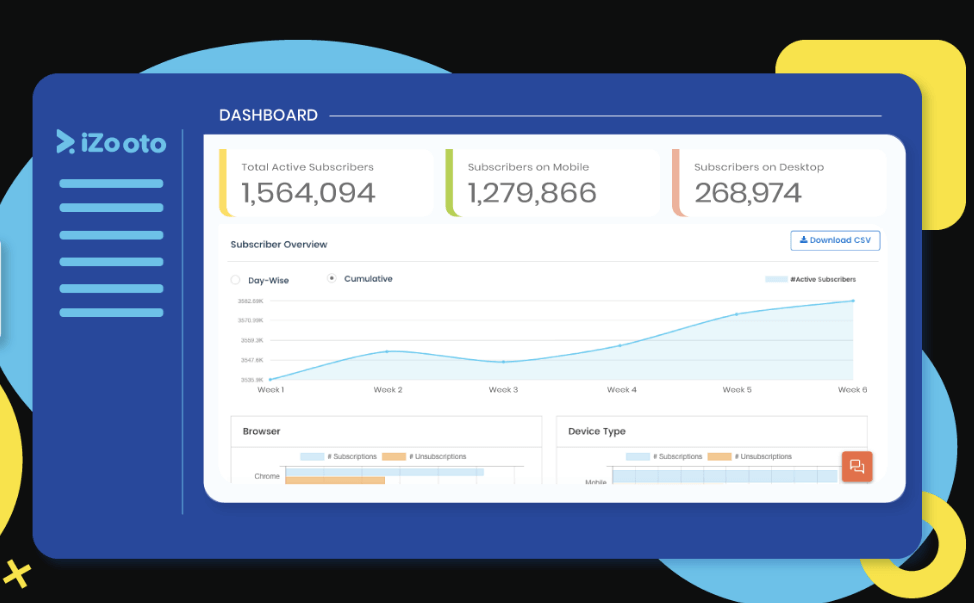 10. PushAlert
PushAlert is a personalized notifications plugin that enables users to target clients based on their behavior, location, and Return on Investment, among other factors. With it, users can quickly create and send push notifications from the WordPress dashboard and enjoy detailed analytics with multilingual support.
Feature highlights
Built-in scheduling of notifications
Support for different languages
Detailed analytics
PushAlert's free plan allows users up to 3,000 subscribers with no limit on notifications. The higher plans are basic and white labels which cost $12 per month and $39 per month, respectively.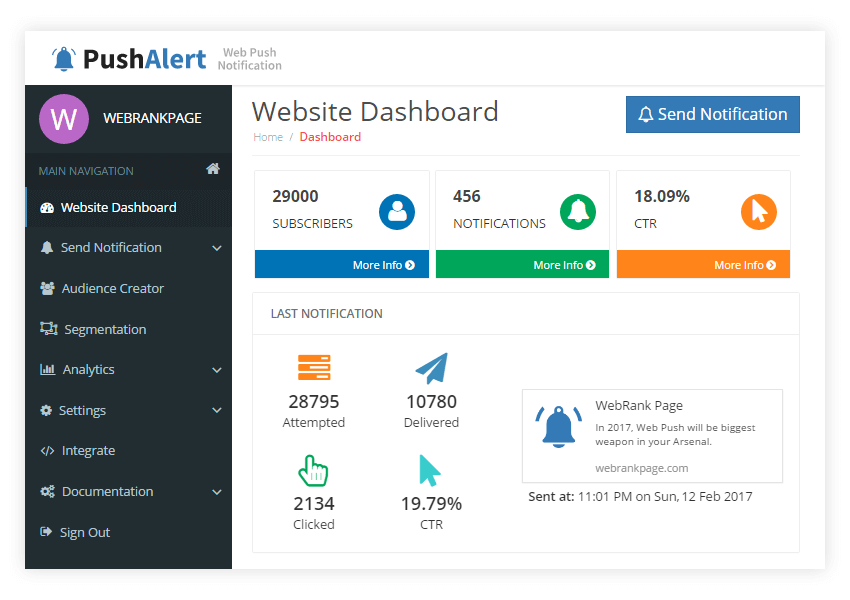 Please do comment below with your favorite and fill-up the feedback form if you could not find it on our list!