Zathura is a plugin-based customizable and functional document viewer. It features a minimalistic user interface and is built to be light on resources. The feature that makes Zathura stand out is its flexibility as it can be customized all the way from its UI to its functionality.
Zathura got its name from the 2002 book Zathura which had a film adaptation, Zathura: A Space Adventure, released in 2005. A lot of its usage focuses on keyboard interactions due to its Vi-type key bindings – a feature that has made it popular among veteran Linux users.
You can begin to appreciate Zathura from the first document you open. It automatically refreshes the output of compiled files (e.g. LaTeX) and has the option for inverse search using synctex.
Zathura also supports bookmarks and has the ability to open encrypted files. It can rotate pages and display them side by side. It can also recolour the pages to have a black background and white foreground.
And if you aren't satisfied with any aspect of the app's appearance or its feature list, you can always tweak the configuration file yourself and connect plugins to extend its functionality.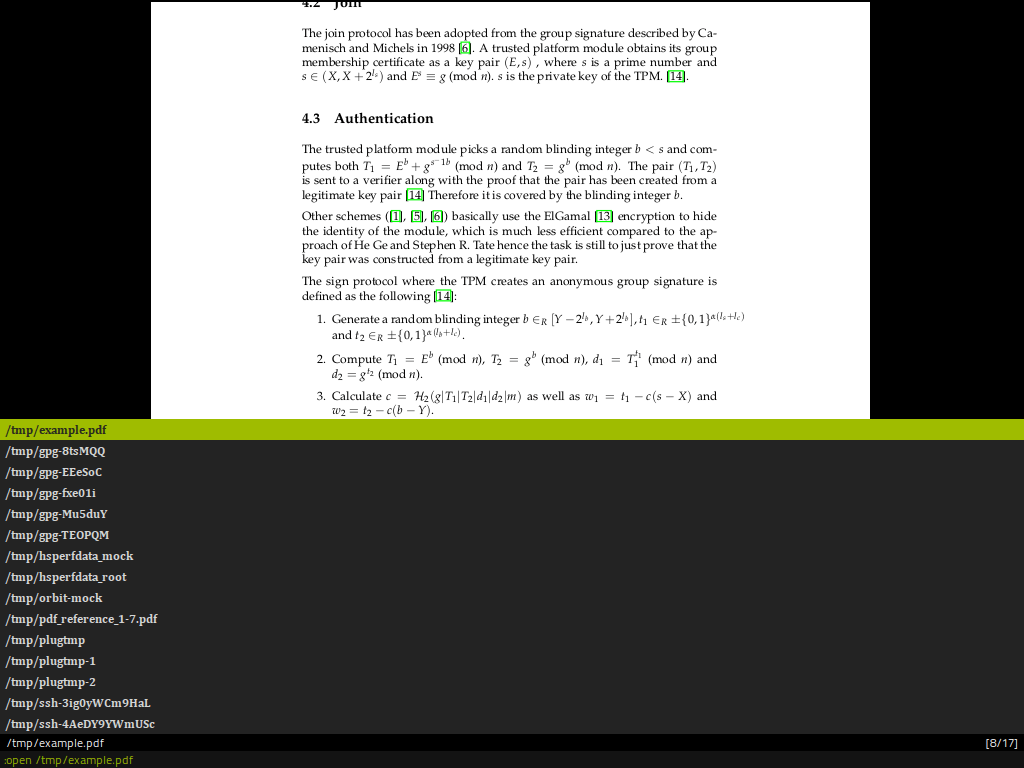 Features in Zathura
Free to install on Linux desktops.
Open-source with source code available on GitLab.
Mouse-free navigation.
Synctex support for synchronizing between input and output.
Quickmarks and bookmarks.
Automatic document loading.
Image exports.
Opening and printing encrypted documents.
An optional sqlite database backend.
More customization options in a configuration file.
Install Zathura on Linux
The latest stable version of Zathura is available to install using your preferred package manager as shown.
$ sudo apt-get install zathura     [On Debian, Ubuntu and Mint]
$ sudo yum install zathura         [On RHEL/CentOS/Fedora and Rocky Linux/AlmaLinux]
$ sudo emerge -a sys-apps/zathura  [On Gentoo Linux]
$ sudo pacman -S zathura           [On Arch Linux]
$ sudo zypper install zathura      [On OpenSUSE]    

Otherwise, you can download the latest version of the Zathura source code from the website and build it by hand using installation guide:
There is even an unofficial macOS package for curious Mac users. While it is possible to install an older version, you're better off using the latest so that you benefit from the latest security updates.
Zathura has been around since as early as 2009 but I imagine a lot of young Linux users are just discovering it. What's your take on this program? And which Linux document viewer do you use if you're not running Zathura? Share your experience with us in the discussion box.