Netflix is one of the most popular online TV show streaming services, enjoying a subscription base of over 232.5 million users worldwide in the first quarter of 2023.
It's an affordable source of entertainment that lets you enjoy movies and TV shows from virtually any genre: comedy, horror, animation, sci-fi, thriller, drama, and documentaries to mention a few. The list is endless.
Depending on the subscription plan, Netflix allows users to share an account and watch TV Shows or movies simultaneously. The Standard plan allows a maximum of 2 logged-in users, while the Premium plan allows a maximum of 4.
Sometimes, you might want to have a glance at users logged in to your account and limit access in case the limit has been exceeded, and are restricted from watching.
In this guide, we will explore how you can track users who are using your Netflix account.
How to See Who Is Using Your Netflix Account
Usually, Netflix will inform you when there are too many people (usually the maximum limit according to your subscription plan) using your account. When this happens, it prevents you from watching anything, unless one of them signs out.
To keep track of users logged into your account, follow these steps.
1. Head over to Netflix.com and sign in to your user account. Next, click on your avatar at the top right corner, and select 'Account' as shown below.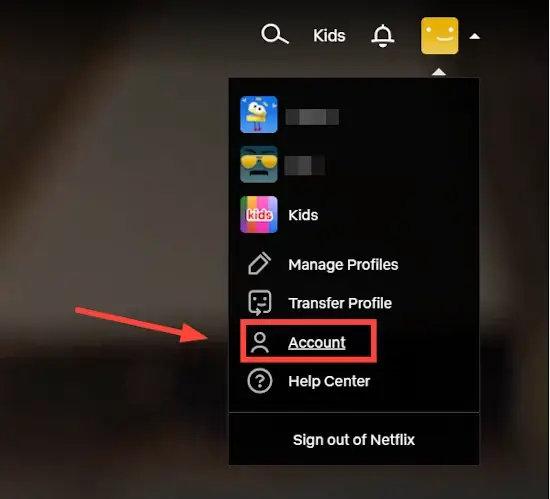 2. Next, scroll down to 'SECURITY & PRIVACY' and click 'Manage access and devices'.

3. This ushers you to the 'Manage access and devices' page. This provides an overview of all the devices and profiles that have been using your account.
The information shown includes the type of device used to access your account, the profiles with the most recent viewing activity, and the date and time the device accessed the account.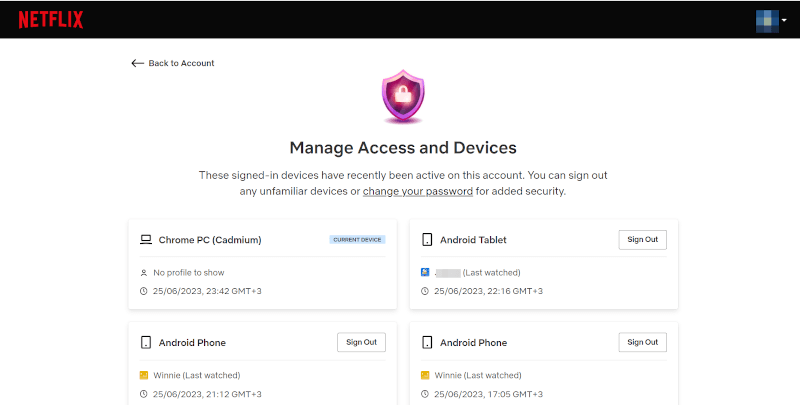 How to Remove User or Device from Your Netflix Account
In case you have determined that some suspicious devices have been accessing your account, here are a few things you can do.
To start off, you can sign out the device by clicking the 'Sign Out' button adjacent to the device name. Once you've signed out the device(s), be sure to change your Netflix password. Be sure to enable the option: "Require all devices to sign in again with a new password".
This option ensures that any user who tried to log back into your account will be prompted to provide a new password. Any users who were illegally accessing your account will now be denied access to your account.
Final Words
Netflix is an affordable and cool entertainment platform to watch your favorite TV shows and movies online. It's crucial to ensure that only authorized devices and users have access to your account.
In case of any suspicious devices, we have elaborated on how you can restrict access to your account so that only trusted users can enjoy the streaming service.
Hopefully, you can now track down the viewing activity on your account and block unwanted devices.