Remote Access/Control software is important for convenience and/or emergency purposes because it enables users to control their computer systems from the convenience of their couch, for example.
Earlier this year, I covered the 10 best TeamViewer alternatives for Linux so today, let's turn our attention to smartphones as I introduce you to the best remote control Android apps for Linux.
1. TeamViewer for Android
TeamViewer is a giant in the remote desktop control community and this list will not be complete without it not just because of its popularity but also its efficiency.
It gives you the ability to remotely access and control Linux, Mac, and Windows desktops for basic tasks like app management as well as techy ones like server support.
TeamViewer's feature highlights include screen sharing, touch and control gestures, file transfer to and from connected devices, real-time audio and HD video transmission, and top-notch encryption.
2. VNC Viewer for Android
VNC Viewer for Android is a free and open source remote desktop app that enables users to connect to popular VNC servers including RealVNC, TightVNC on Linux, Windows, and Mac platforms. It requires users to set up a VNC server on the destination desktop after which they can carry out basic tasks like browsing files and controlling downloads.
My favorite feature in VNC Viewer is the option to import/export settings to/from SD cards and URLs – a useful feature for setting up multiple devices using the same profile configurations.
3. KDE Connect
KDE Connect is a free and open source end-to-end TLS encrypted utility for remotely controlling Linux desktops, sharing files and controlling media players over a Wi-Fi connection. With it, you can share files, URLs, and clipboard content between your computer and any app, read SMS notifications and get call alerts.
KDE Connect requires you to install its server version on your desktop and keep both apps up to date at all times.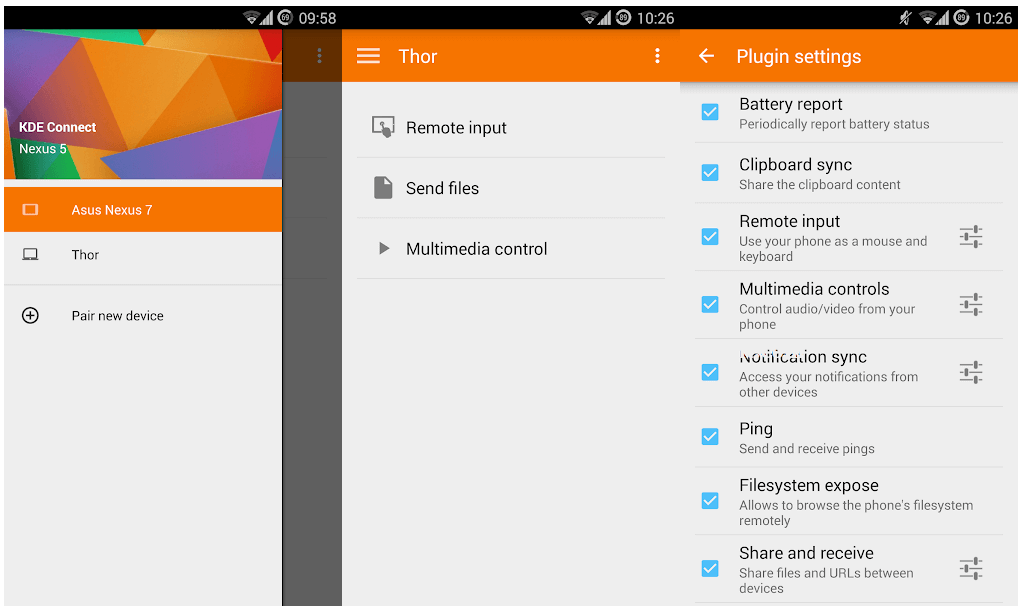 4. DroidMote Client
DroidMote Client enables you to control not only your Linux computer from the comfort of your seated position, but also your Windows, and Chrome OS devices for free.
Its features include a simple, clutter-free UI and emulation controls that enable you to use it as a mouse, air mouse, Dpad, wireless keyboard, multi-touch trackpad, game controller, etc.
DroidMote Client requires that you install its server app on any device that you want to control or establish a point to point connection using network Tethering or a portable hotspot.
5. Remote Mouse
Remote Mouse is a free Android app that turns your smartphone or tablet into an intuitive remote control for your computer by working as a wireless mouse, touchpad, and keyboard as well as an application switcher and remote for browsing online. It works over a Wi-Fi or 3G/4G network.
As a touchpad, Remote Mouse simulates Apple's magic trackpad with support for multi-touch gestures, it fully simulates a mouse with a gyro mouse sensor and left-handed mode. As a keyboard, it has different keypads depending on whether you're using it on a Mac or PC, it supports voice recognition typing, and can integrate with 3rd-party keyboards to support typing in several languages.
6. AIO Remote
AIO (All In One) Remote is a feature-rich utility that enables you to control applications on your Linux, Windows, and Mac via a Wi-Fi, 3G/4G network, or Bluetooth using custom remote controls.
It has a feature-rich list that includes advanced mouse control, a plugin for Tasker, voice writing, powerpoint/slide show app control, remote file browsing, media player control, etc. My favorite feature is that it enables you to connect up to 4 Android devices to use as game controllers.
Just like many other apps on this list, AIO Remote requires that install you install its desktop app version on your computer to use it.
7. Home Remote Control
Home Remote Control enables you to use your Android phone/tablet to hop onto your Linux machine via SSH in order to access and transfer files between connected devices. Its features include mouse and keyboard control, a CPU and RAM usage monitor, a battery monitor, and support for working in the terminal.
You need to install Home Remote Control's desktop app if you don't already have SSH enabled on your system and there is a nifty widget you can set on your screen.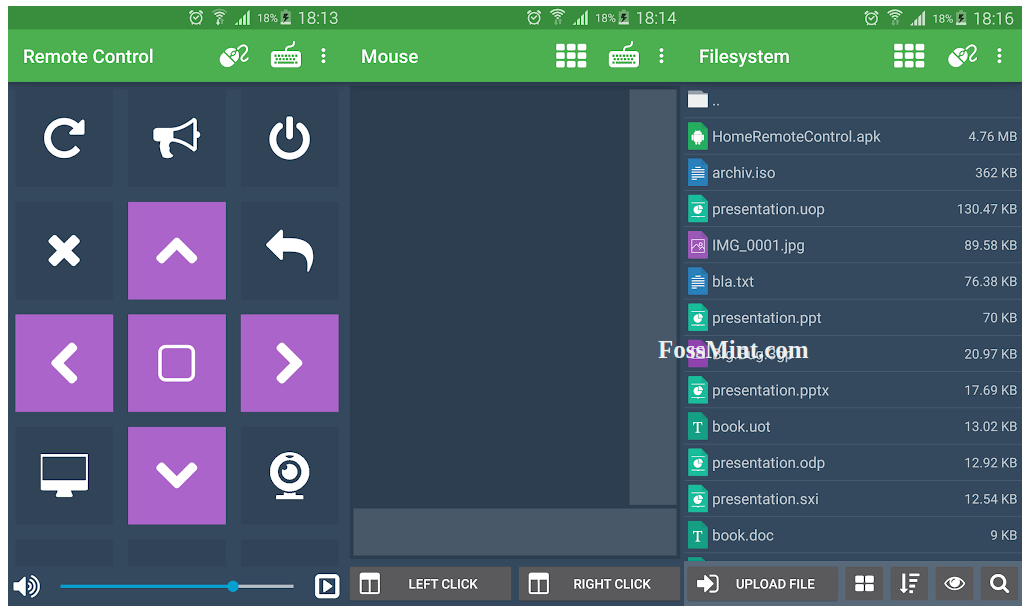 I'm ending my list here but I look forward to you telling us about your favorite Android apps for remotely controlling Linux possibly alongside some user cases. Also, remember to share and to subscribe to our newsletter for more productivity topics.