Fiverr is an online marketing platform that provides a wide range of services, mini-jobs, and tasks. This platform allows freelancers to showcase their available digital services wherein, you will find several gigs for various skill types like music, designer, developer, etc. to name.
These offered services are called gigs, which start from USD 5, which is the basic amount and it can go up to hundreds and even thousands of dollars.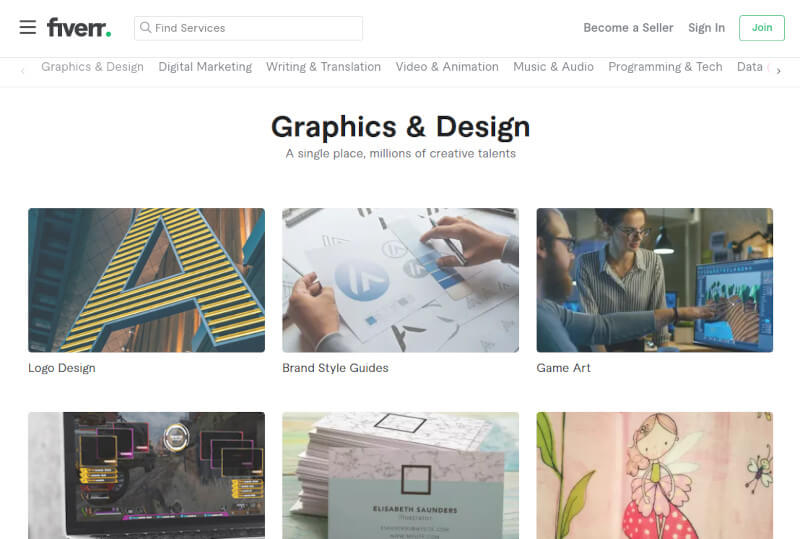 How Does Fiverr Work?
Fiverr offers a platform to showcase your talent and skills with the online world in return to which you get money. It includes a simple and straight task of getting jobs involving two different parties in the transactions.
Sellers: If you are a freelancer looking for a job then you will be called a seller. A seller is allowed to list any sort of service along with the amount they would want to be paid. The chances of getting hired are based on your industry and Fiverr experience.
Buyers: Buyers are those who purchase the services offered by the sellers. They can be individuals, businesses, and companies looking to get the job done.
This two-way communication platform lets the buyers browse various profiles of sellers to fulfill their needs. Likewise, sellers can also look for buyers who are looking for sellers with similar needs. Once they both find a suitable match, they agree on setting goals, price, and timeframe for the job to be done.
How to Get Started on Fiverr
Making money on Fiverr is a simple task, you can follow the below steps to be up and running for big earnings!
Create a New Account
You should be a registered user for making money on Fiverr. Therefore, you need to sign up for a new account at the onset by entering your details followed by which you will receive a confirmation link. After approving the confirmation, you can start looking for work.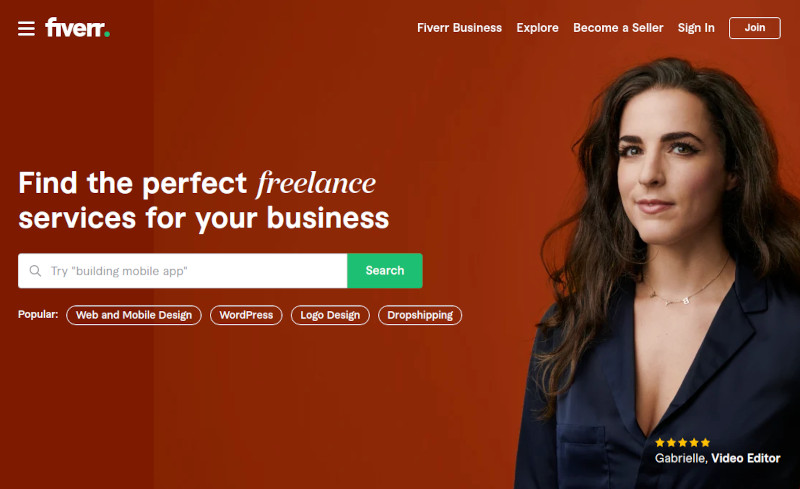 Create a Seller Profile
Your profile works as the key to get a suitable job. Therefore unleash your skills and experiences to showcase to buyers. You will need to sell yourself to a buyer with your profile as your profile is the first thing that the buyer sees.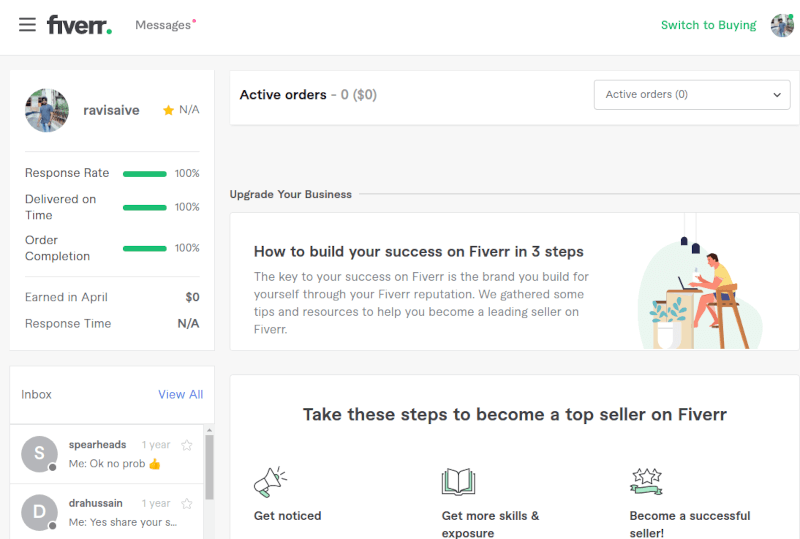 Create a Gig
After making an attractive profile, create a gig to be shared with the potential buyers. Here, you need to give information on requirements and services including the charges. The Fiverr gig works as your job description. On reading your profile, the buyer will have a look at your gig to see whether you are a good fit for them or not.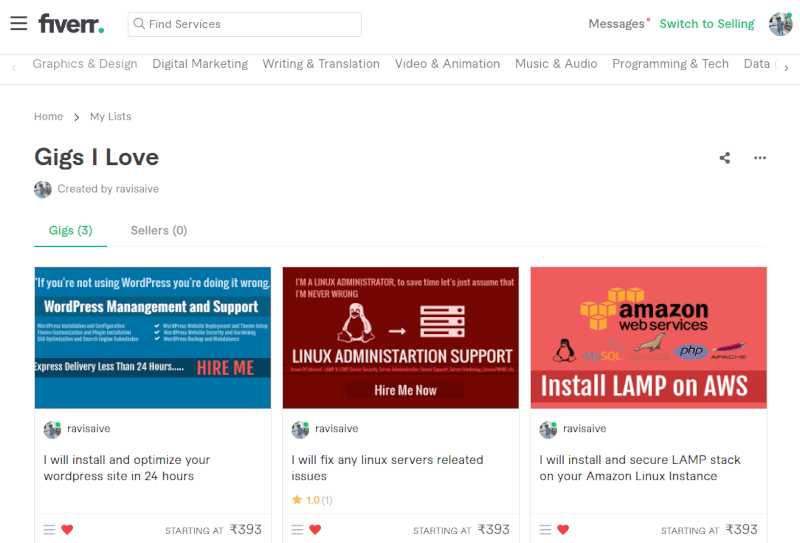 Send Offers to Buyers
To get more gigs, you need to work proactively. Some buyers request a service with their requirements along with the deadlines and payscale. Being a seller, you can scan these requests and send offers to the buyers directly.

How Much Does Fiverr Cost?
You can create an account on Fiverr for free. This amazing feature of this portal won't charge you anything to look for gigs. The buyer pays Fiverr the cost of the gig with the administration fees.
This fee depends on how much a buyer is paying for the gig. For the gigs under $40, the fee is under $2 or 5% on the gigs over USD 40. Now, if you are going to pay $10 for an article, you will have to pay $2 to Fiverr before hiring a seller for the same.
As a seller, you will get paid on the successful completion of the gig. Also, note that you will be paid 80% of the entire value of the order as the remaining 20% is the commission fee.
Top 10 Job Categories on Fiverr to Make Money
There are jobs for almost every kind of category. In fact, there are over 200 different job categories on the Fiverr site! Here are the top 10 best categories to make money on Fiverr.
1. Website Development $100 to $2000 Per Gig
Website designing is the highest-paying job on Fiverr. There exist multiple individuals offer for website designing, coding, and designing. But if you choose to select all the, you will be able to make an impressive amount of money.
2. Graphic Designing $10 to $1,000 Per Gig
There is a wide array of offers for graphic designing jobs on Fiverr. This popular job profile houses over 11000 available gigs. It doesn't matter whether you are a pro in business card designing or logo designing, there is no dearth of options. However, for those with expertise in e-commerce designing, there are ample opportunities on Shopify, WordPress, and Squarespace.
3. Copywriting $50 to $2,000 Per Gig
If you know how to play with words, you have lots more out there on Fiverr! There are numerous writing gigs options, especially for copywriting. For example, there exist listings for paid bloggers, authors, and review writers.
4. Video Marketing $100 to $10,000 Per Gig
For all those directors in making, Fiverr offers an ocean of opportunities with high pay channels for all sorts of gigs. This high-demand gig service has attractive offers for video makers such as short animations, advertisements, and training videos. There is also a massive business market trying to get over social media platforms. Here, you can find gigs for Instagram, Facebook, and YouTube video services.
5. Translation Services $100 to $1,000 Per Gig
If you are multilingual, you can make big money by translating documents. There is a wide base of options for multi-linguistic sellers who can translate various articles and documents for others. On a similar note, you can connect with buyers on the lookout for a new language on Fiverr. If you have teaching experience, you can make good use of those languages as many students are searching for language tutors.
6. Social Media Marketing $50 to $2,000 Per Gig
Social media marketing is in demand! Based on your experience and expertise, you can share your knowledge base with various businesses to make a good amount of money. Buyers are in dire need of ad campaign creation and optimization for strategic and audience research. Therefore, they need someone who can maintain their social media profiles.
7. Influencer Marketing $10 to $1,000 Per Gig
You can make a huge amount of cash if you have a dominating social media following. There are a number of individuals and businesses who are ready to pay you to promote their brand via social media. The price is purely based on your followers' count and the number of times you post or shout out for the brand.
8. Voice Overs $10 to $500 Per Gig
Voice over is a popular profile even if you don't acquire much experience. All you need to do is to be a clear speaker to find a large variety of gigs. There are endless opportunities on Fiverr for every voice type related to the male voice, female voice, American accent, British accent, etc.
9. Illustration $10 to $300 Per Gig
Find different illustration gigs if you know how to draw comics or caricatures. These customized gigs look for unique and catchy cartoons, characters, portraits based on businesses.
10. Virtual Assistant $5 to $100 Per Gig
Being a virtual assistant, you can work from anywhere you like! If you can stay organized and maintain multiple schedules then a virtual assistant is a great option. On Fiverr, there is a pool of options for virtual assistant jobs like cold calling, data entry, appointment setting, etc.
Conclusion
Fiverr is a brilliant platform to earn big amounts of money while exploring your passion and potential. Listed above are some great job options to browse on Fiverr based on your experience and skillsets!