devRantron is a free, open-source, and cross-platform (unofficial) desktop client for the famous Dev Rant Android and iOS social media application for programmers, developers, and designers.
Before now, devRant was only accessible on the mobile phones, but now users can post complaints and follow up on rants by developers from all around the globe even while working on their desktops and it's thanks to a group of friends who concluded that devRant was taking too long to deliver a desktop client.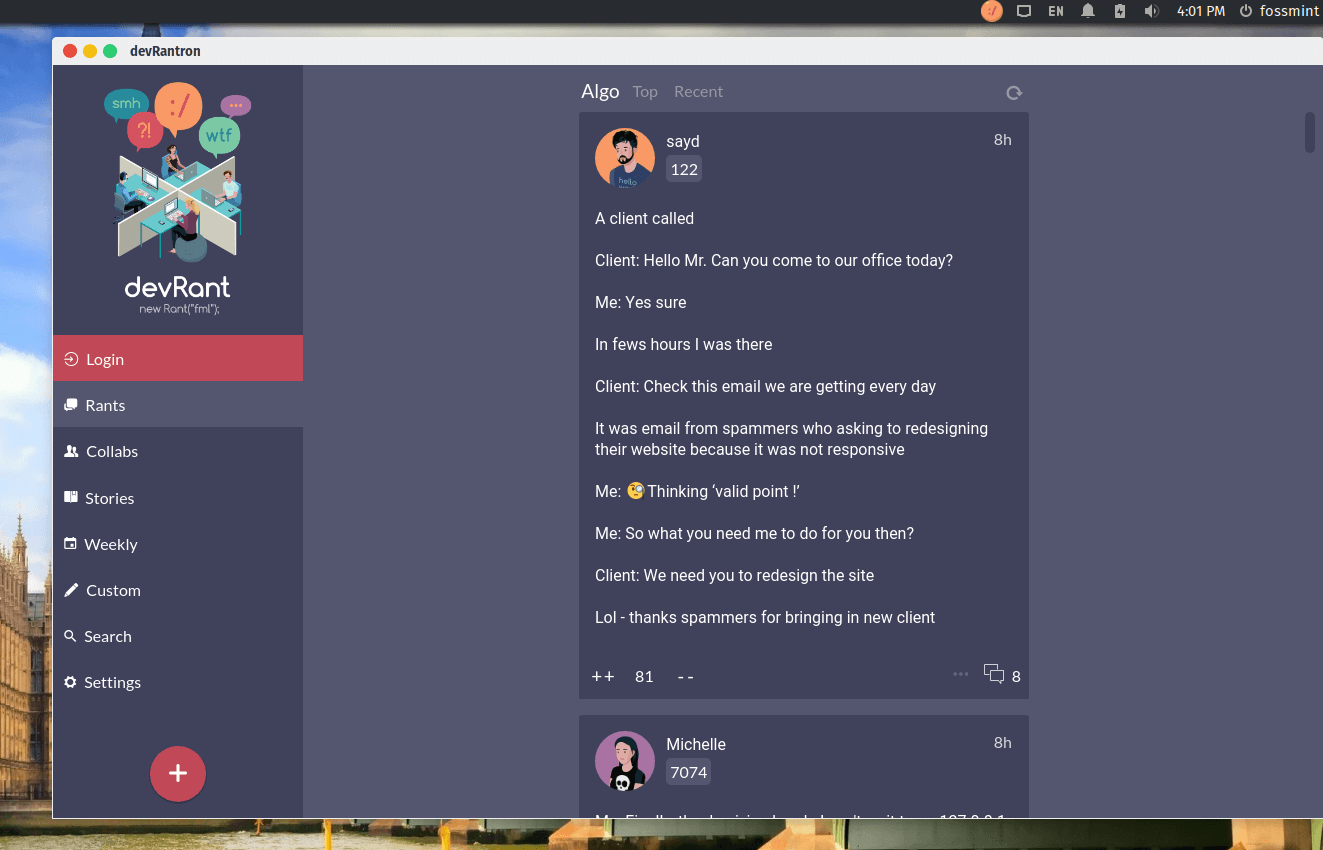 As at the time of writing devRantron has been launched a total of 11324 times: 1200 so far this month and 1 time today. 30% use Linux, 59.4% use Windows and 10.6% use macOS.
The project is being developed and maintained by 4 people who will be delighted to have you work with them on improving the application for the whole devRant community.
Features in devRantron
Freeware: devRantron is free for everyone to download and use.
Open Source: devRantron was made for the community by the community. So feel free to contribute to its source code on GitHub.
Cross-Platform: All Windows, Linux, and Mac users can enjoy the coolness of devRantron.
Mention and reply to user comments.
Receive real-time notifications.
Edit profile settings.
Like (upvote) comments and rants.
Read rants in the stories section.
View user profiles.
Make your custom view using the customize settings.
Support for emojis to use in chats and comments.
Remember that for you to be able to use devRantron you need to have already registered an account with devRant.
[mks_button size="medium" title="Download devRantron for Linux" style="squared" url="https://devrantron.firebaseapp.com" target="_blank" rel="nofollow" bg_color="#46698E" txt_color="#fff" icon="fa-download" icon_type="fa" nofollow="1″]
Are you a devRant user? Feel free to comment your username in the comments section below and tell us what you think about the devRantron project.