The Red Hat sponsored community Fedora Project just dropped their latest version, Fedora 25, containing the latest GNOME desktop environment, version 3.22, and a new media writer which makes installing the OS via USB quicker. MP3 playback and an improved Flatpak support have been included in the repository.
This new Fedora 25 release comes with a plugin for MP3 decoding such as playing music. If you play an MP3, GNOME Software discovers it and helps you to install the required plugin.
For developers, Fedora 25 Workstation brings enhanced Flatpak support, which makes easier to install, update and remove Flatpak software. The refinements make this application packaging standard better user-friendly", announces the Fedora development team.
What's New in Fedora 25 ?
Tagged "the Linux workstation you've been waiting for", Fedora workstation has defended its reputation as a reliable, user-friendly, and powerful Operating System.
The New Media Writer
This feature is indeed a wonderful addition because it speeds up the process that involves users finding the latest Fedora release and even helps them to write it to removable media, like a USB stick.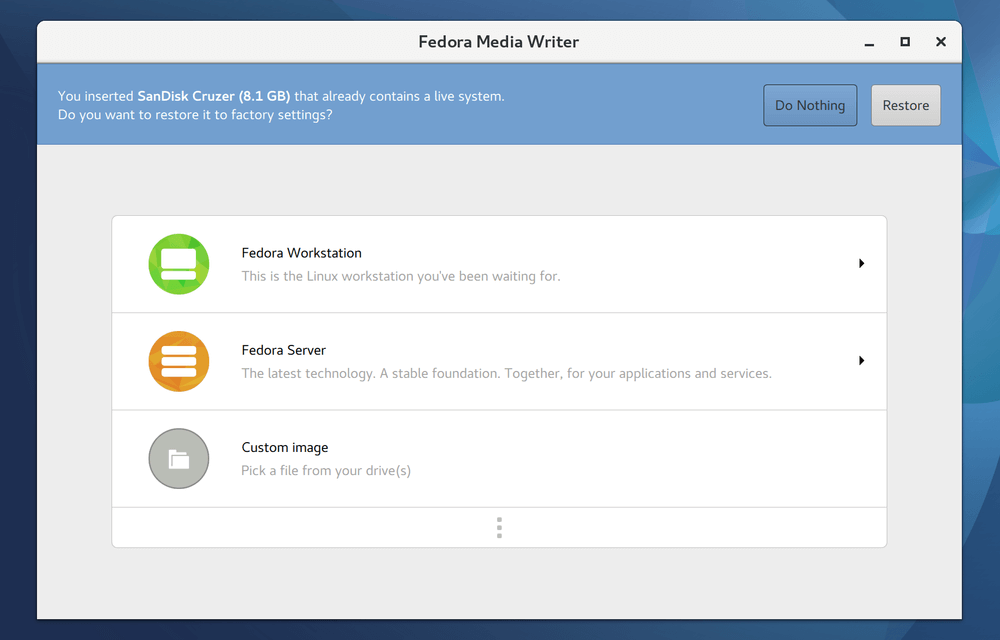 Quicker Upgrade Fedora 24 to Fedora 25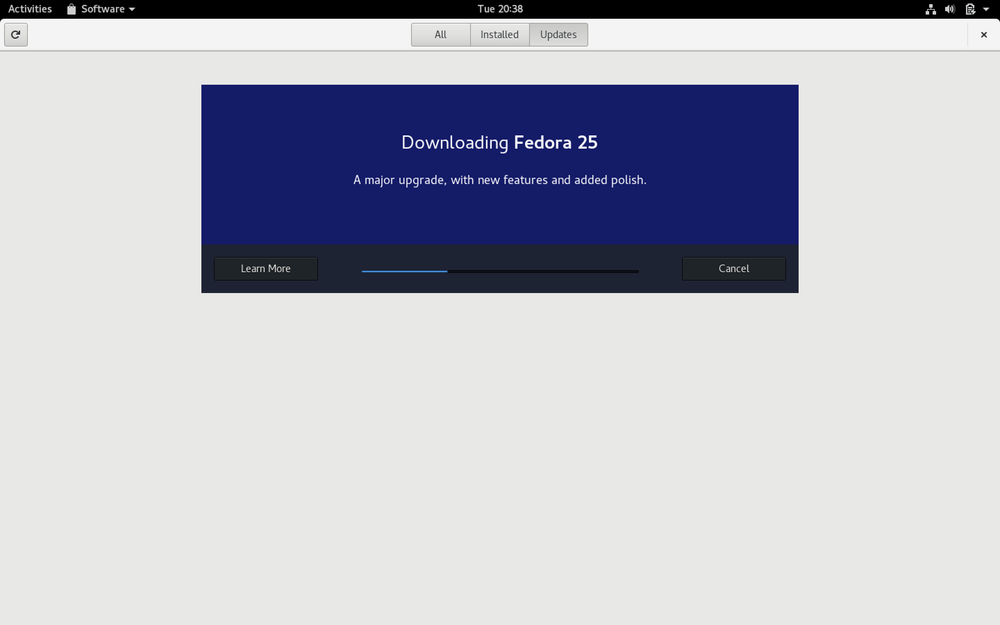 Flatpak Support
Installing, updating and removing Flatpak software is more user-friendly thanks to the new support for Flatpak.
GNOME Shell Extensions
Since we are no longer in the early days of GNOME 3, interfaces have stabilized leaving no need for GNOME Shell extensions to be checked for compatibility with the current version of the Shell as was done before.
With the exception of the many minor changes shipped in this release, Fedora 25 is pretty much the same as far as looks are concerned. Sure, there have been UX improvements and better compatibility support under the hood, the desktop, and apps all look the same on the whole.
Browse the gallery below to view Fedora 25 screenshots.
Important Changes
Better MP3 format decoding support
Docker 1.12 for building and running containerized applications
GNOME 3.22; with a redesigned keyboard settings tool, multiple file renaming feature, and more UI improvements
Multiple Python versions — 2.6, 2.7, 3.3, 3.4 and 3.5 — to help run test suites across several Python configurations, as well as PyPy, PyPy3, and Jython
Node.js 6.9.1, the latest version of the popular server-side JavaScript engine
Support for Rust, a faster and more stable system programming language
Wayland display server has replaced legacy X11 system; with hopes to provide a richer graphics hardware experience
Download Fedora 25 – Workstation, Server, Cloud
If you are confused about the fedora distros, here's an explanation for you:
The Fedora Workstation is a polished, easy to use OS, with a complete set of tools for developers and makers of all kinds.
The Fedora Server is a powerful, flexible OS that includes the latest data center technologies, thereby giving you control over all your infrastructure and services.
The Atomic Host provides a minimal image of Fedora for users in both public and private cloud environments and it includes just the essentials tools – thus, it is light weight with just enough to run your cloud application.
Fedora 25 is available for both 32-bit and 64-bit architecture. Download the Workstation, Server, and/or the Atomic Host, and for an installation guide, follow this page to install.
Upgrade from Fedora 24 to Fedora 25
Upgrading your Fedora 24 to 25 is quite straightforward. You will receive a notification from the Software Center informing you of the major update.
Head over to Upgrading Fedora 24 to Fedora 25 section to follow the instructions.
Fedora 25 and changes it brings along are worth the upgrade. How soon do you plan on upgrading your system? Or are you up and running with version 25 already? Share your experience with the OS in the comments section.