Ubuntu 17.04, code named Zesty Zapus, is the future release that will succeed Ubuntu 16.10 and even though it's End of life date has been scheduled for January 2018, the development team aims to bring a lot of upgrades, fixes, and additions in this release.
Its final release has been scheduled for the 13th of April 2017.
Its codename, Zesty, is an adjective for 'great enthusiasm and energy', while Zapus, is the genus name of a North-American mouse that is said to be the only mammal on Earth that has up to 18 teeth in total.
Explaining how the team came up with the codename, Mark wrote on his blog that:
Ubuntu is moving even faster to the center of the cloud and edge operations. From AWS to the zaniest new devices, Ubuntu helps people get things done faster, cleaner, and more efficiently, thanks to you. We love the pace of change and we change the face of love
Ubuntu Version Release Dates
While you are free to check out Ubuntu's Release Schedule, you can take a quick preview of its version timeline below to see for how long the versions will be supported.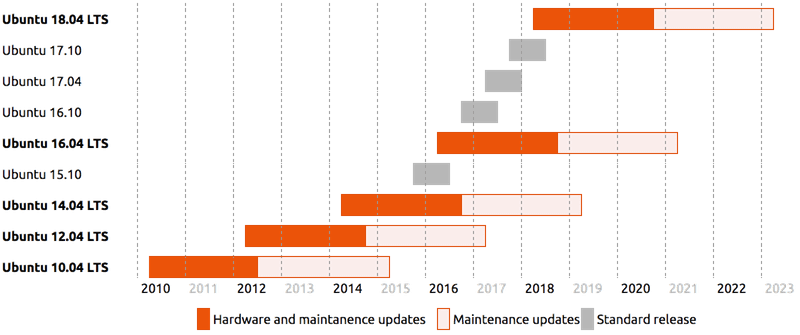 Ubuntu users will be forced to upgrade to 18.04 LTS irrespective of which Ubuntu version they are running if they want to continue receiving optimum support. Bear in mind that the assigned release dates are subject to change so don't hold your breath in anticipation of any.
What's New in Ubuntu 17.04 (Zesty Zapus)
Updated Kernel
Ubuntu 17.04 Alpha 2 was released on the 26th of January and all the opt-in flavors are powered by an updated kernel, version 4.9.5.
The flavors are Ubuntu Kylin 17.04 Alpha 2 which comes with a ton of bug fixes, Ubuntu GNOME 17.04 Alpha 2 which now uses Flatpak 0.8 applications, a chrome-gnome-shell system helper, and a sandboxing framework, all after having migrated to GNOME 3.22 stack.
They recently added Ubuntu Budgie 17.04 Alpha 2  (its first release as a flavor), which ships with the Budgie 10.2.9 desktop environment, Terminix (its terminal) among other apps, and App Indicator support.
In accordance with Canonical's convention, Ubuntu will not be taken part in the alpha releases. Nevertheless, hopes are that the final Zesty Zapus release will be powered by the latest Linux kernel version, 4.10.
Unity 8 and Convergence
There are ways of test-running Unity 8 on your workstation right now but we advice that you use them only if you are Linux-savvy and be patient enough for the final release of the Zesty Zepus.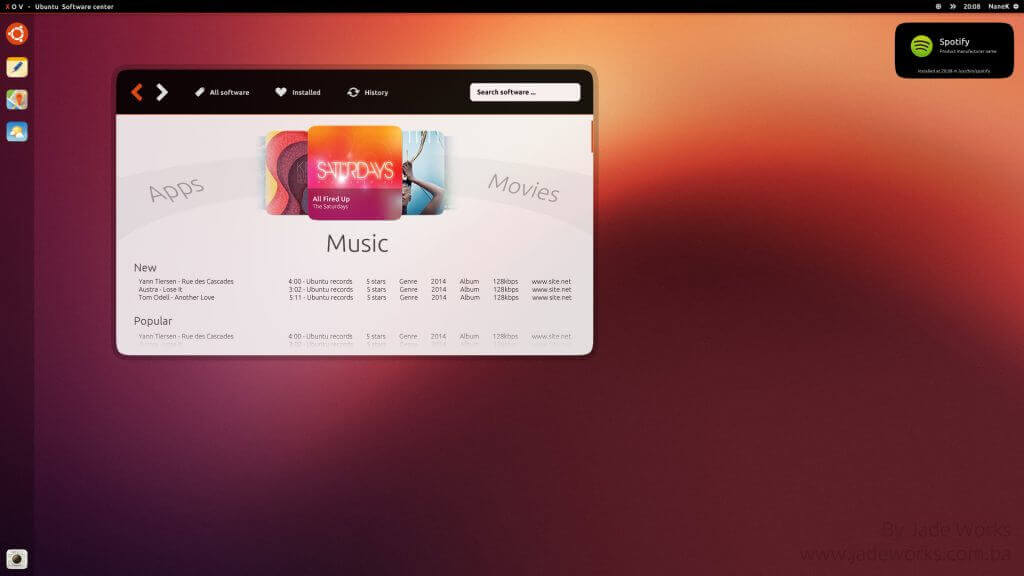 We expect the release to couple the Unity 8 (which will bring an Ubuntu-touch experience to the workstation) with Ubuntu's Mir display server as the next milestone in bringing reliable convergence to Ubuntu.
The End of Support for 32-Bit PowerPCs
This might be sad news for users with 32-bit architecture but Ubuntu has made up its mind. Steve Langasek, a Debian and Ubuntu developer, wrote on his blog, on behalf of the technical board,
"that the powerpc architecture would be dropped from the upcoming Debian release" and that "the powerpc port should not be included in the Ubuntu 17.04 (zesty) release".
Driverless Printing
We know Ubuntu is interested in testing the brand-new printing system implemented recently in the GNU/Linux distribution; the ability to print to network printers without special drivers together with Apple AirPrint support.
In the mail Till Kampetter released to the developer community title, "Call for testing: Driverless printing on Zesty", he narrates the way driverless printing can be used.
So, you will be able to print to networked and USB printers without using vendor-specific software, that's a big plus to Ubuntu!
Welcome the Snaps
Canonical's Will Cooke said that "by 18.04 everything will be Snaps and Unity 8 all the way down" and Engineering director Kevin Gunn, added that, Canonical has "an aggressive internal goal to try to get a usable all-snaps based image for Unity 8 out by 17.04". So, although Snaps wouldn't be replacing apt anytime soon, be prepared to see a lot of Snap packages in the Ubuntu 17.04 release.
Upgrade to Ubuntu 17.04 (Zesty Zapus)
With Ubuntu, you can trust that upgrading to later distro releases is easy.
All you need to do is enter:

$ sudo do-release-upgrade

to upgrade to a newer release or to upgrade to a development version of Ubuntu (like in this case of 17.04).

$ sudo do-release-upgrade -d


You can also check the article on upgrading to 17.04 from 16.10.
Download and Install Ubuntu 17.04 (Zesty Zapus)
To avoid potential bugs and data loss I advise that you perform a clean installation on a virtual machine since this release is not official yet.
You can download the disk image for either 32-bit or 64-bit architecture:
Ubuntu 17.04 (Zesty Zapus) Alpha Releases
Try out any the newly released Ubuntu 17.04 Alpha official flavors to get a feel of how far Canonical has come with them but don't forget to do your testing on a virtual workstation because they are not bug free.
Do you plan on trying out Ubuntu 17.04 or are you already a steady user? Share your thoughts in the comments section.