You might not be tired of seeing still wallpapers on your desktop just yet but maybe it's time to move on to backgrounds with cooler features anyway – parallax wallpapers.
Parallax effects are typically achieved by merging two layers of images with one staying still while the other moves to give an impression of an animated wallpaper.
Today, I introduce to you a wallpaper manager that can set that up for you – Komorebi.
Komorebi is a beautiful and customizable wallpaper manager for all Linux distros. It ships with its own set of completely customizable background images ranging from parallax backgrounds to gradient wallpapers and you can tweak them at any time!
Komorebi also lets you make and customize your own wallpapers, so if you are interested in doing that you can use the tutorial the Komorebi team has provided here.
Check out a demo of the wallpaper manager in the video below:
Features in Komorebi
FOSS – Free and open-source
Beautiful themeable GUI
Animate wallpapers at time intervals
Display still wallpaper background
Display time and date
Display basic system information (e.g. RAM and CPU statistics)
Respond to mouse movement
Support for custom wallpapers
Customization of font size, spacing, etc
You can configure/customize Komorebi by right-clicking anywhere on the wallpaper to access its GUI settings menu.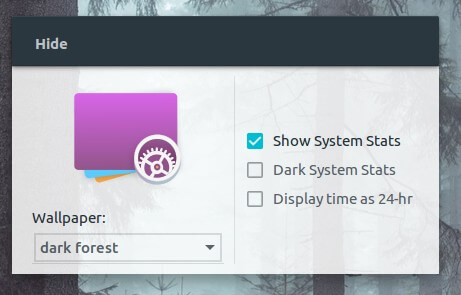 Alternatively, you can edit the file located in your home directory ~/.Komorebi.prop.
Change your background/wallpaper by changing WallpaperName's value to the name of the wallpaper you want (wallpapers are located in /System/Resources/Komorebi/).
Show system stats on the top by changing ShowInfoBox's value to true (false if otherwise).
Make system stats dark by changing DarkInfoBox's value to true (false if otherwise).
Komorebi is available to install as a .deb and soon probably as a Snap or Flatpak package.
[mks_button size="medium" title="Download Komorebi .deb Package" style="squared" url="https://github.com/iabem97/komorebi/releases" target="_blank" rel="nofollow" bg_color="#e74c3c" txt_color="#fff" icon="fa-download" icon_type="fa" nofollow="1″]
Run the .deb with a package installer of your choice (GDebi, for example) and launch it using your preferred app launcher.
Have you been looking for an ideal wallpaper manager? Or are you already familiar with Komorebi? Drop your comments in the section below.