Lollypop is a lightweight modern and material design-inspired music player designed to work excellently on the GNOME desktop environment.
It has a focus on an intuitive minimal design which makes it easy to pick it up and begin using right away. It features all the functions you would expect from a music player like browsing and searching through your collection of music files, fetching lyrics and artist biography from the internet, as well as automatically fetching cover arts for music files.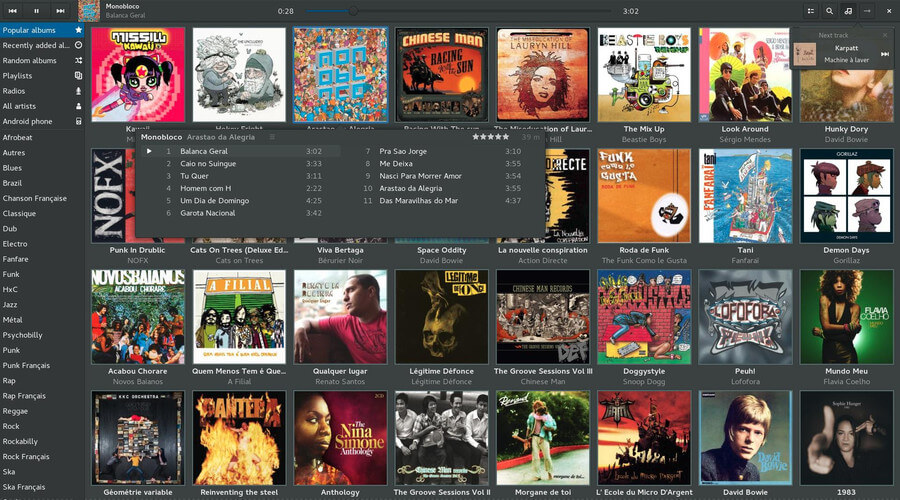 Features in Lollypop
FOSS – Lollypop is free to use and it is open-source.
Multiple Audio Formats – play mp3/4, ogg and flac files.
Navigation – Browse for tracks by Genre/Artist/Cover.
Metadata – fetch lyrics, artist bio, and automatically download cover arts.
Synchronization – Sync Lollypop with your Android device via MTP.
Radios Support – listen to Last.fm and TuneIn.
Audio Scrobbling – you can scrob songs to Last.fm and Libre.fm.
Music Streaming – listen to music from online web services like Spotify.
Lollypop also features a party mode which will automatically select party-related playlists to play; a full-screen view which lets you visually access the player from your couch thanks to its HiDPI support; and native support for replay gain.
Install Lollypop Music Player in Linux
On Debian/Ubuntu, you can install Lollypop via the PPA by entering the following in your terminal.
$ sudo add-apt-repository ppa:gnumdk/lollypop
$ sudo apt update
$ sudo apt install lollypop

On Fedora 26-24, you can install Lollypop from the default repository.
# dnf install lollypop

For other Linux distributions, you can follow download instructions at:
[mks_button size="medium" title="Download Lollypop Music Player for Linux" style="squared" url="https://gnumdk.github.io/lollypop-web/" target="_blank" bg_color="#529b30″ txt_color="#FFFFFF" icon="fa-download" icon_type="fa" nofollow="1″]
Remember that this new music player is open-source so you can grab its code from GitHub in case you want to contribute to the project.
What do you think about Lollypop Music Player? Share your thoughts and music player app suggestions in the comments section.