Gmail is globally used when it comes to email services due to its simple and friendly user interface including straightforward features. Narrowing down its integrations, Google Workspace offers options like Calendar, Meet, Drive, Docs, and Sheets to put a full stop to all your needs.
[ You might also like: 14 Best Privacy-Focused Email Services ]
But, when it comes to privacy and security of data, Gmail lacks to perform. So, for any reason, if you are on the lookout for some other email service provider, we got you covered with the below given best Gmail alternatives which won't ditch you in terms of privacy.
1. ProtonMail
ProtonMail is an end-to-end encrypted and friendly alternative to Gmail. It doesn't ask for any private information on a creation of an account and uses open-source encryption libraries with safe implementations of AES (military-grade encryption), OpenPGP, and RSA to keep your data protected.
It features a paid and free version. The free version of this email client provides 500MB of storage with a limit of 150 messages in a day. Whereas, its paid version costs $4 per month and offers access to using your domain, custom filters, and priority customer support.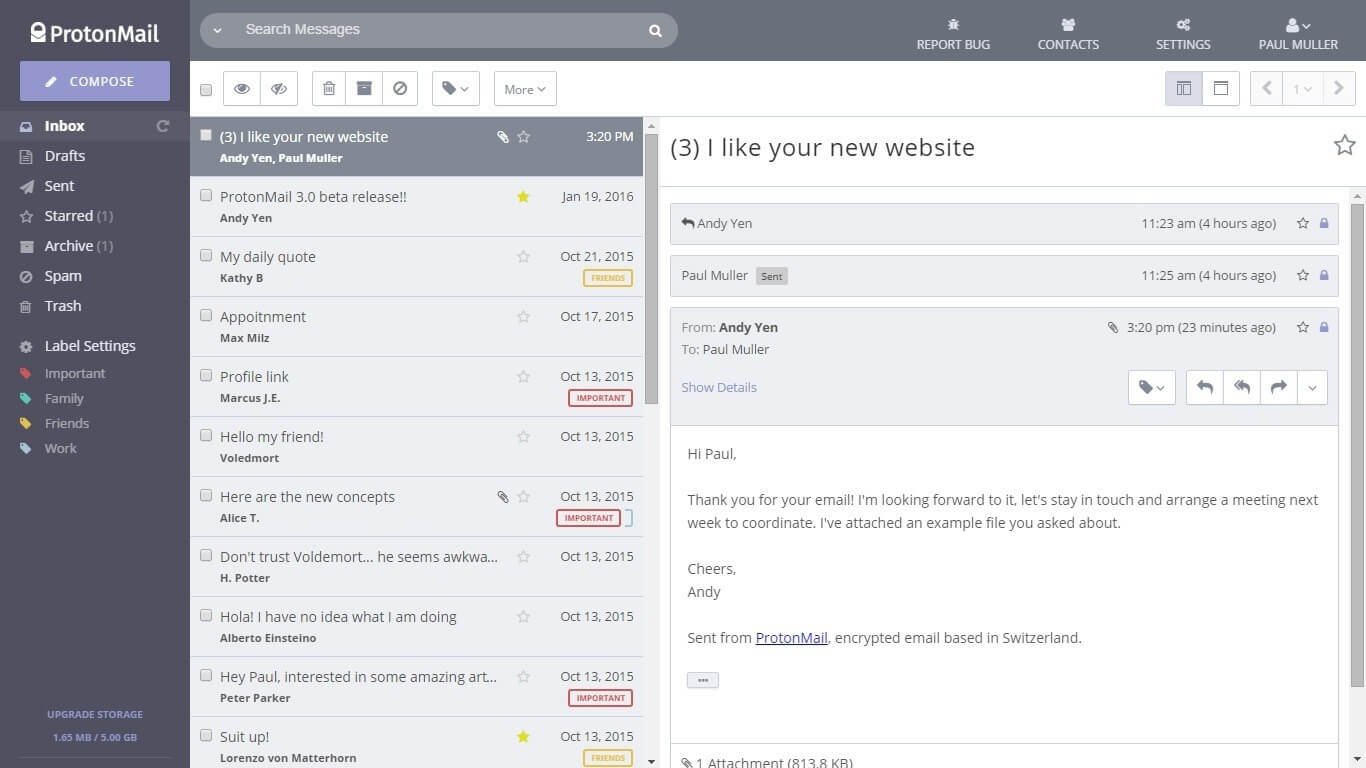 [ You might also like: Best G Suite Alternatives ]
2. Mailfence
Mailfence is an encrypted email service provider that keeps your data protected and safe. You can log in to Mailfence with an active email address due to verification purposes and start using this mail service including documents and calendar and docs as integrated tools.
It thrives to keep your data safe from third parties while preventing advertising and tracking. Its free version offers 500MB of space whereas the paid version costs about 2.4 to 25 euros on a monthly basis.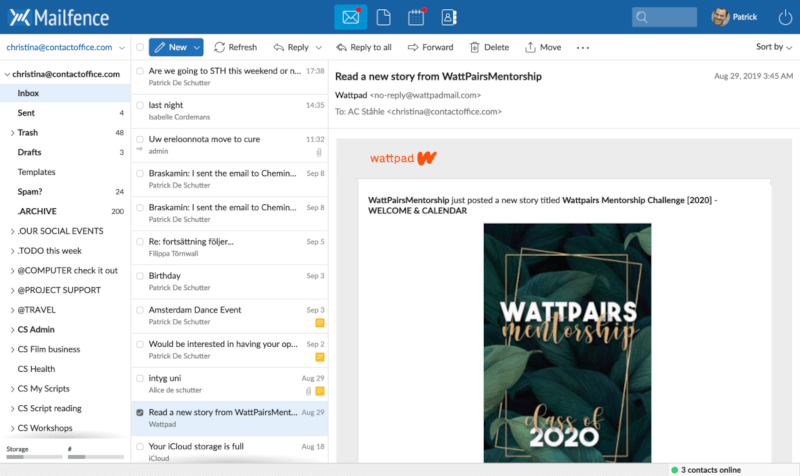 3. Tutanota
Tutanota is an open-source, encrypted email service that uses E2E encryption to maintain the privacy of data. This ads-free service provider complies with GDPR such as Zoho and has an encrypted calendar for security purposes.
With its free version, get 1 GB of storage with fewer search options and one calendar. While its paid version provides 10 GB of data storage and additional space can be purchased with other subscription plans.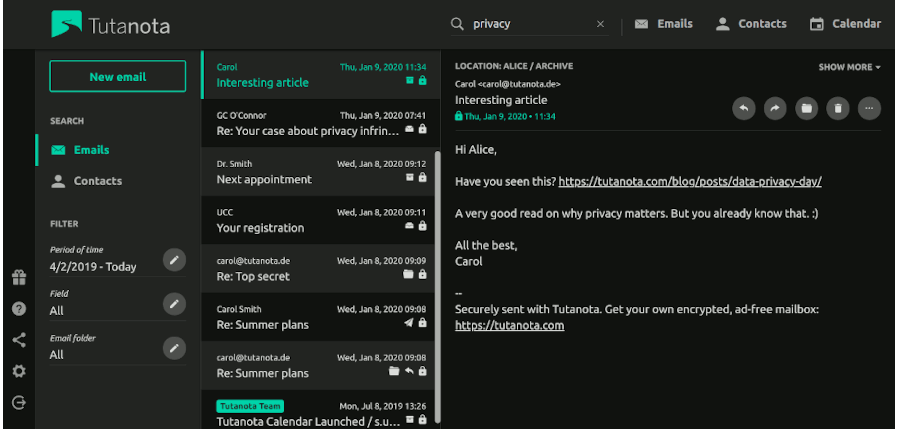 4. Mailbox.org
mailbox.Org is another German email service provider that is fully loaded with features and caters to privacy the utmost. This email service provider has long been in the market and delivers services at a consistent rate. It lets you sign in without filling the personal information such as number and address. The company also allows you to log in using Bitcoins.
This service provider does not reveal information about the location, user's devices, and recipients. It is compatible with OpenPGP and lets the users send encrypted mail to even non-mailbox.org users while allowing them to respond via disposable links. This encrypted and no ads email service provider costs start from euro 1 and go up to euro 9 per month.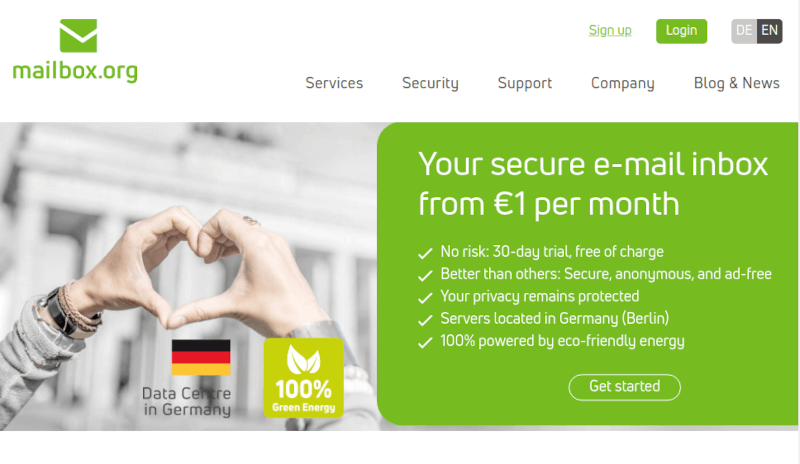 5. Posteo
Posteo is a German email service provider that allows you to log in without giving you personal data like number and address. This ad-free email provider claims not to track customers and makes into the list of Gmail alternatives that are committed in terms of security.
Its free version comes with some restrictions and offers just 200MB of storage space including some other features like email support with some providers, forwarding failure, address book, calendar encryption, etc. But with its paid version, which is available at an affordable price of 1 euro per month, you get access to all the features.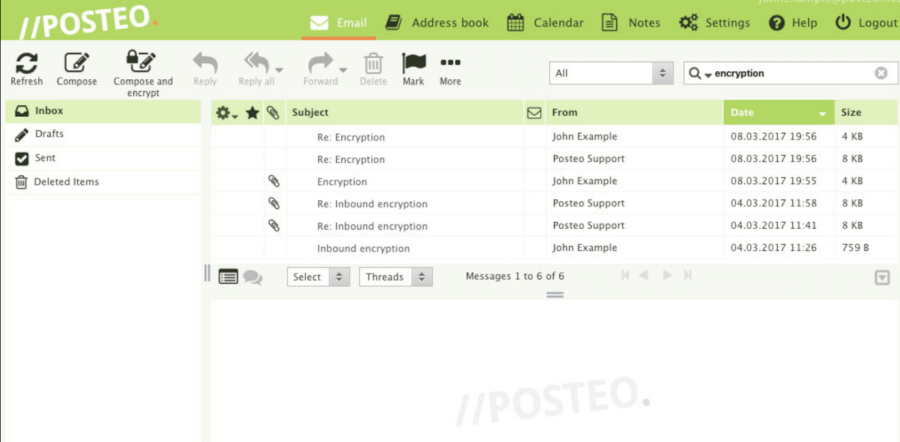 6. Runbox
Runbox is a custom webmail interface that is supported by strong antivirus filters to keep the sensitive data of yours protected. It has a neat and clean interface with access to various modules using the menu bar at the top of the screen. It is completely ads-free and prevents data tracking.
Besides, it works with compatibility with email clients like Apple Mail, Microsoft outlook. It offers four different yearly plans i.e., micro, mini, medium, and max which costs $19.95, $34.95, $49.95, $79.95.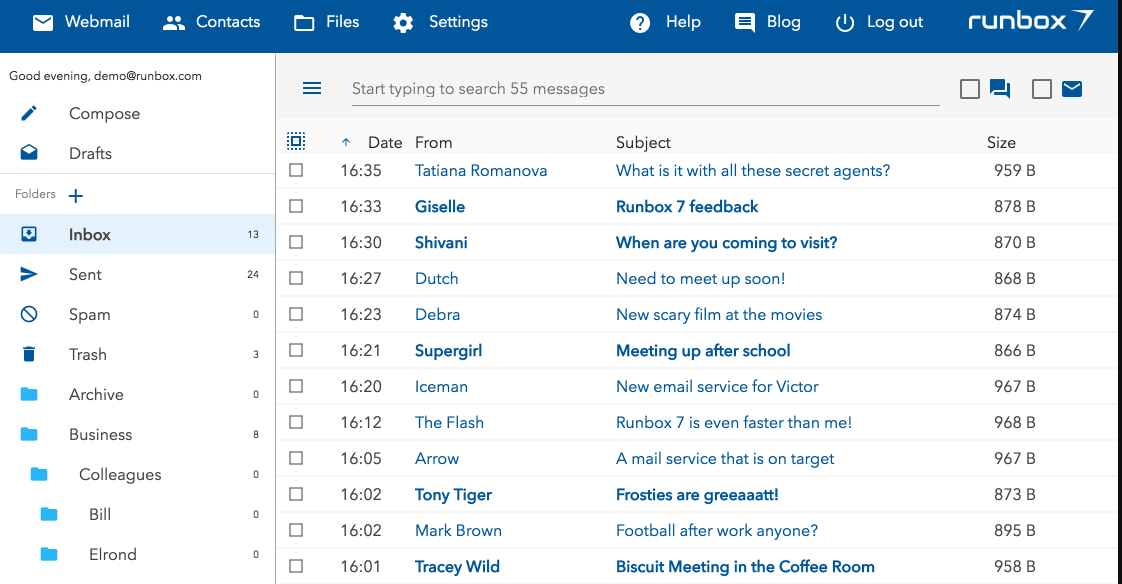 7. CounterMail
If you want an email service provider that is a step ahead in terms of privacy then look out for CounterMail! This secure email service uses OpenPGP encryption along with 4096 encryption keys to keep your data safe and protected.
Safe from hacking, this service provider does no tacking and keeps no log of the user data. It encrypts all that is possible to encrypt to add additional layers of security.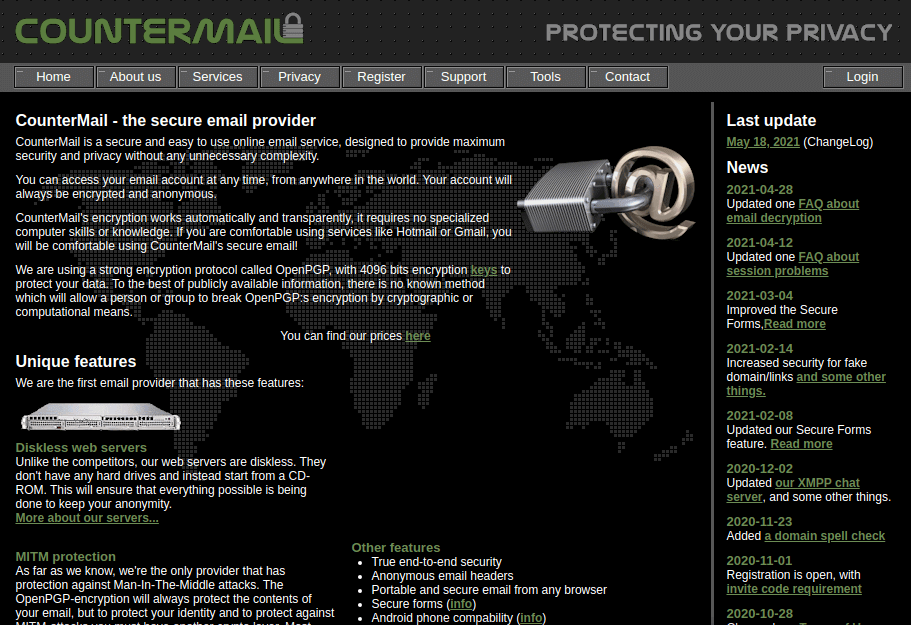 8. CTemplar
Be rest assured of your data security with CTemplar! This email service provider safeguards the data using 4096-bit end-to-end encryption while being pretty easy to use.
The Seychelles-based company keeps encrypted data on privacy-oriented Icelandic servers that use zero access password technology so that no third party can access it. Its free plan offers 1GB of storage space and the champion plant which comes at $50 per month offers 50GB of space.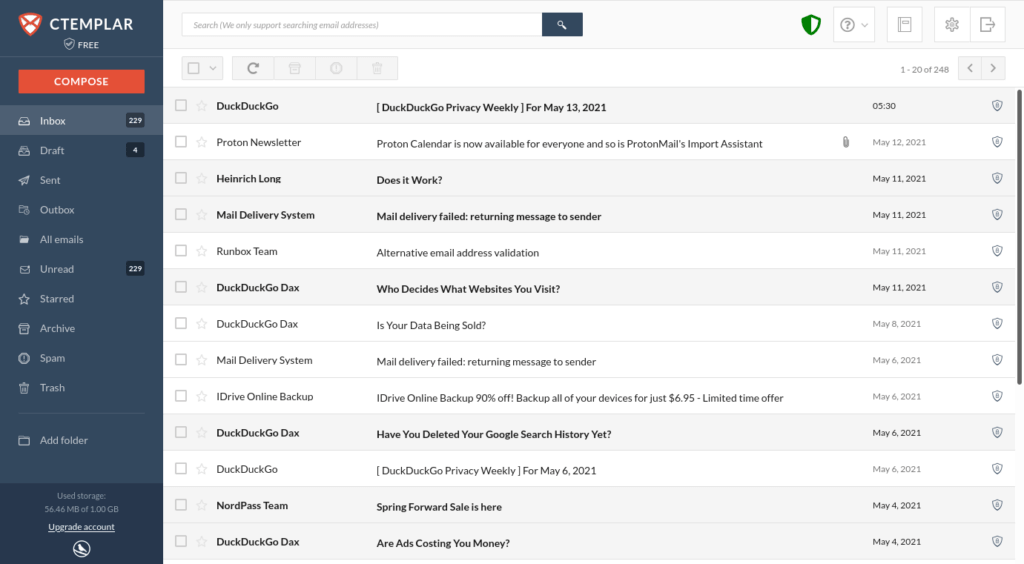 9. Kolab Now
Kolab Now is the closest Google competitor when it comes to the services like mail, calendar, contacts, scheduling, etc. like a complete suite. This open-source and advanced security features equipped email service provider uses PFS or perfect forward security to provide data security.
This technology makes the content unusable if it goes into the wrong hands, which won't be usable with any key besides the one used during the session. You can opt for its email-only plan at $5 per month while the fully loaded plan is available at $9.90.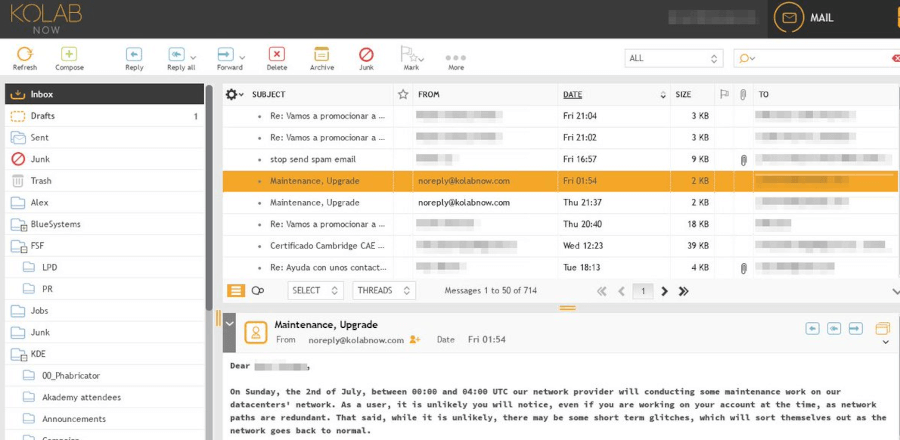 [ You might also like: How to Get a Email Domain for Your Website ]
10. StartMail
Based out of the Netherlands, Startmail is a secure email service provider that follows strong data privacy procedures. Its system does not keep the log of user's activity and automatically strips IP addresses and headers from all the emails to secure the location and devices.
Its personal plan offers 10GB of data storage and costs $5 per month, billed annually. Whereas the business plan also costs the same all includes all that comes in the personal plan including custom domain support and customized billing.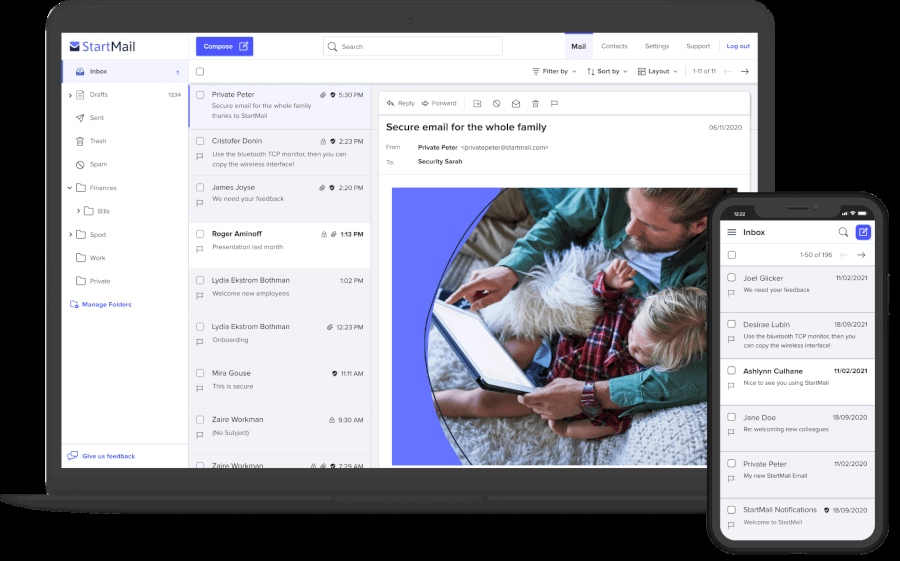 11. Thexyz
Thexyz is not just a feature-centered email service provider but also delivers the best in terms of data security. This highly secured email service provider is based in Canada and offers secure email, encrypted cloud storage including access to tools like team emails and calendars. It uses the AES 256 bit protocol of industry standards that cannot be cracked so easily.
With a seamless interface and range of apps, it is one of the best Gmail alternatives which provides access to advanced spam filters, autoresponder, custom domains, and more at an affordable rate of only $2.95 per month.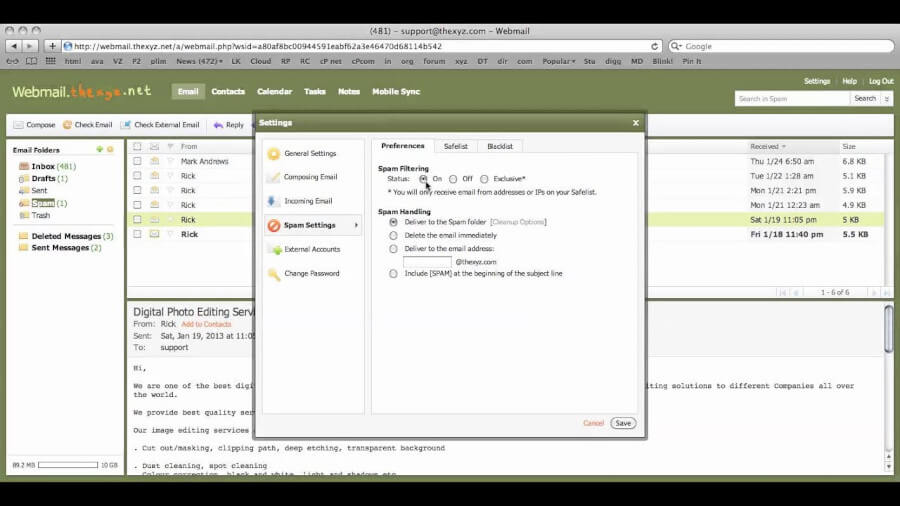 Conclusion
If you are looking for a secure Gmail alternative then end your search with these 11 best Gmail alternatives given above that promise to keep your data safe and sound while providing a simple interface to check your emails.