Mailspring is a fork of the now-discontinued Nylas Mail client. It does, however, offer much better performance, and is built with a native C++ sync engine instead of JavaScript. According to the development team, the company is sunsetting further development of Mailspring.
Mailspring offers virtually all the best features housed in Nylas Mail, and thanks to its native C++ sync engine it uses fewer dependencies which results in less lag and a reduction in RAM usage by 50% compared to Nylas Mail.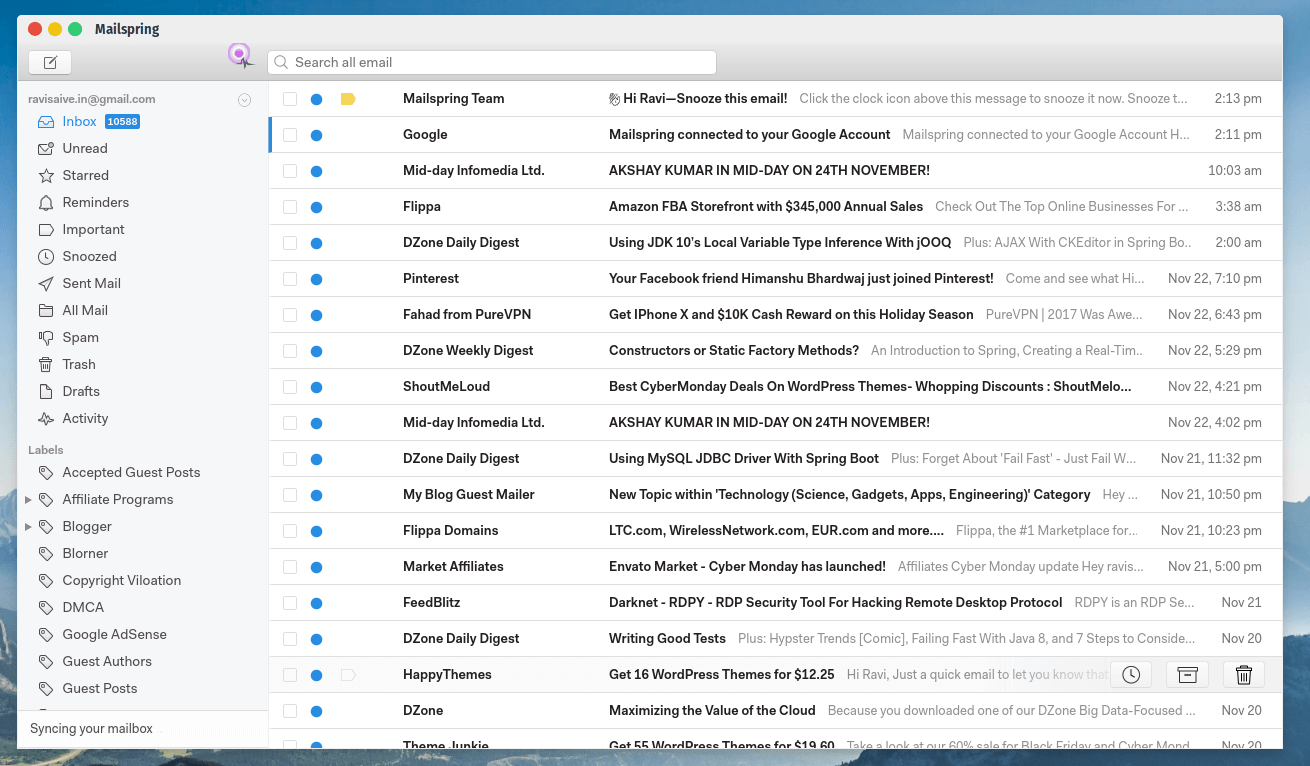 Features in Mailspring
If you used Nylas Mail then you already know the main features Mailspring offers. They include:
Freemium service – Free for all to use along with a paid subscription service as Mailspring Pro.
Partially open source with source code available on GitHub.
Minimalist UI with toggable panels.
Customizable UI.
Multiple account setup not excluding IMAP and Office 365/Outlook accounts.
Unified inbox with built-in search.
Quick reply templates.
Link tracking.
Mailspring contains many other features including advanced shortcuts, themes and layouts, signatures, spell check, touch & gesture support, and message language translation.
If you like a few of the apps we have reviewed on FossMint, Mailspring's Mailsync engine is not open source. Users will also have to register for a Mailspring ID to use many of its features even on free versions of the app. If the two aforementioned features haven't put you off then Mailspring is a perfect alternative to your Nylas.
[mks_button size="medium" title="Download Mailspring Email Client" style="squared" url="https://getMailspring.com/download" target="_blank" rel="nofollow" bg_color="#46698E" txt_color="#fff" icon="fa-download" icon_type="fa" nofollow="1″]
Mailspring Pro
Mailspring pro costs $8/month and its features include send later, snooze messages, link tracking, read receipts, and rich contact profiles, among others.
If you are interested in the pro version see more details of its features here.
If you already run Mailspring then head over to Preferences > Subscription to start a Pro subscription.
Are you already a Mailspring user? Or did you switch to a different email client immediately you heard Nylas Mail was discontinued? Perhaps Mailspring will be able to win your heart away from your current email client – give it a try and tell us about your experience in the comments section below.