Video conferencing apps are becoming increasingly popular as an avenue for communication as more people take up remote jobs or opt to work away from the office.
Video communication is considered more effective than voice calls and is the go-to channel of communication for remote teams.
Most companies have adopted a number of video conferencing apps to enhance communication with co-workers working away from the office and often in different parts of the world.
The applications feature cutting-edge features such as screen-sharing and team collaboration tools which facilitate online meetings, staff training sessions, and other events.
This guide explores some of the best video conferencing apps for making video calls or group conference calls.
1. Whereby
Whereby is a platform rich with customizations, including video calls, video meetings, and video conferencing APIs. It offers a seamless avenue for incorporating video calls right into your platform.
This application is tailored for telemedicine, eLearning, digital mental health, and other applications.
This app's free version comes with capabilities such as screen sharing, a maximum number of participants 100, no time limit for one-to-one meetings, and a restriction of 45 minutes for group meetings.
Besides that, it has a chat function that allows users to eject others, mute, and create breakout groups.
To start a video meeting with Whereby, head over to its official website or app and sign up. Next, create a chatroom with any of the URLs and send the links to your colleagues, and they will instantly join you in the club. When it comes down to making group calls, a room can only hold four people at most.
If you are the owner, you can 'lock' the room so that visitors must 'knock' to access the connection. You can use this to observe who is attempting to join the chat and decide whether to approve or reject them accordingly.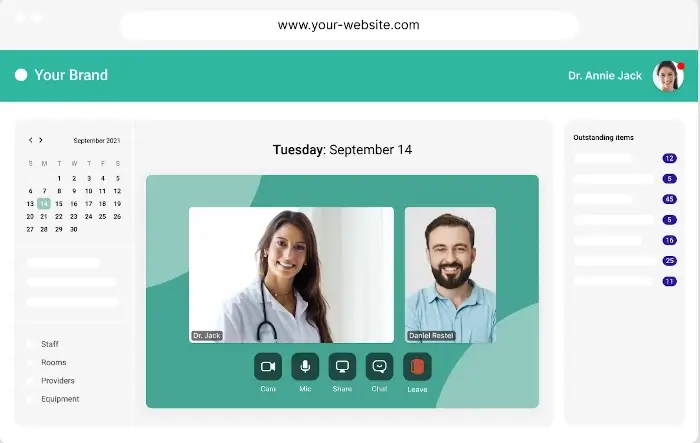 2. WhatsApp
WhatsApp is undoubtedly one of the most popular chat applications with an estimated 2.7 billion users around the world. Although it started out as a chat application, it has evolved over time to include other features such as video calls which now allows you to make video calls.
The latest version of WhatsApp allows you to initiate a group call of up to 15 people at once. However, the total group limit remains at 32. If the number exceeds 15 users, you'll need to add the users manually to the group call.
To make a conference call, simply initiate a video call with only one person to get started. Then you can extend the call to further parties. Only mobile apps can make use of this functionality. You cannot place calls on the WhatsApp Web.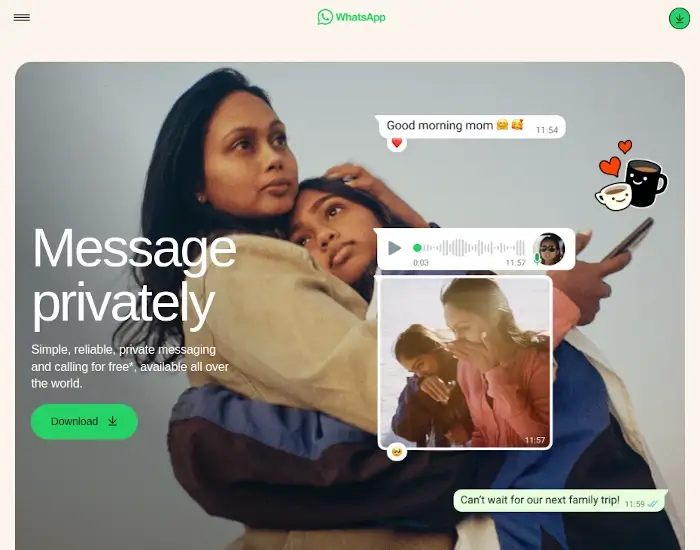 3. FaceTime
FaceTime is a proprietary audio and video calling application developed by Apple Inc. It is compatible with Apple products like the iPhone, iPad, and Mac. However, FaceTime is not available on Android or Desktop devices and is only accessible on Apple devices.
Besides that, FaceTime allows you to communicate with loved ones who also own Apple products, and offers a straightforward method for making simultaneous video call conferences with multiple participants.
Additionally, the sound quality is really good. However, you must utilize iMessage if you want to talk.
On iOS, switching between apps disables your video and prevents you from sharing your screen. When it comes to fast and clear video conversations, FaceTime is the go-to app.
iOS users can download FaceTime here.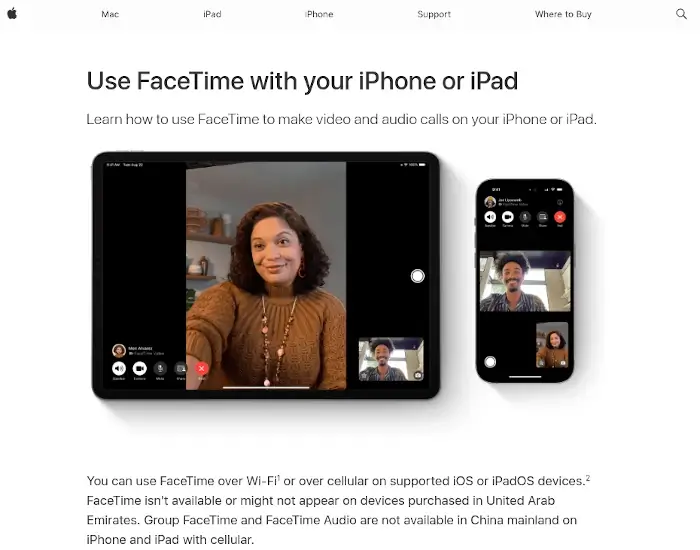 4. Talky
Talky is a remarkably straightforward video chat app that enables you to communicate with loved ones. Through live video calls, meet new people from all over the world. Choose your gender, then begin initiating fresh dialogue.
With just one click, start a live video chat or video call. Click on the screen to call friends as you share your minutes or moments.
The good thing about Talky is that no downloads, registrations, or payments are needed to get started. Additionally, this tool is customized to provide easy communication between you and your loved ones and employs one-of-a-kind URLs that you can share with the people you're meeting with instead of utilizing a personal account.
Simply establish a room and provide your conversation partners with the URL. All they have to do to begin the chat is use a compatible browser to navigate to your link.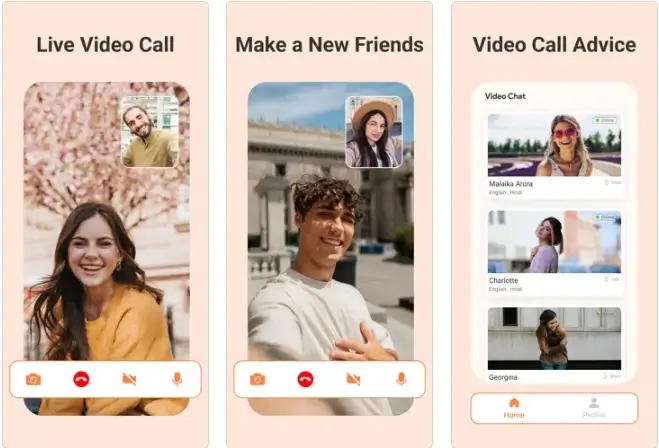 5. Jitsi Meet
You can use Jitsi Meet, a fully open-source, fully secured video conferencing system. You can reserve a meeting URL in advance where you are the only moderator and start and join meetings for free. Throughout the conference, you can also share your desktop, presentations, and more.
You can get Jitsi Meet on the App Store and Google Play Store. You can also visit Jitsi Meet's official website to start or attend a meeting. Enjoy your video conferences!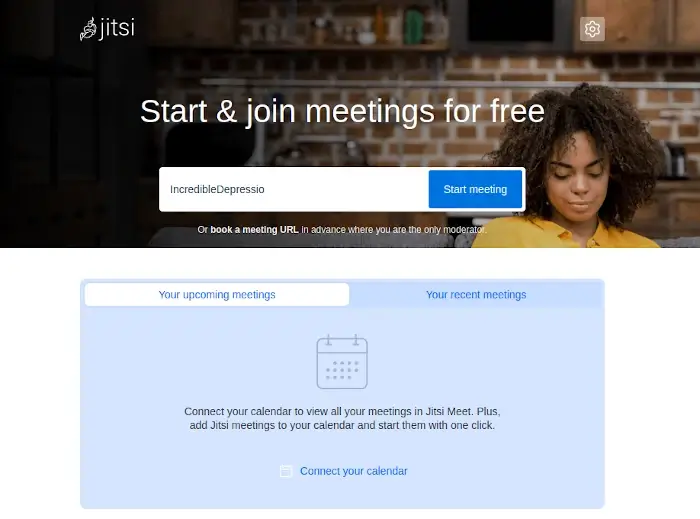 6. UberConference
UberConference is a Dialpad collaboration tool that seeks to make group meetings easier for businesses of all sizes. It offers both a commercial edition and a free version, giving users a method to access conferencing features on the web without having to download anything.
There is no conference PIN system in this app. You will understand how convenient this function is when you attempt to join a conference call and you're not prompted to enter a PIN. You are given a conference phone number when you create an account, and it never changes.
Additionally, this app does not support video conferencing. However, due to its user-friendly layout, UberConference is a fantastic free resource for small enterprises. The app is accessible as a Chrome extension in addition to being available on Windows, Android, and iOS.
You can also check out Uberconference subscription plans in order to unlock unlimited capabilities.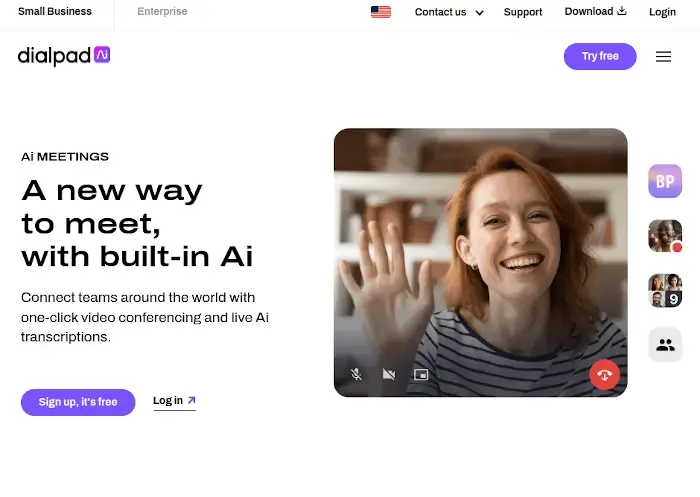 7. Join Me (GoToMeeting)
If you ever want a conference call app with excellent calendar integration, Join Me (GoToMeeting), the top conference call service, is the ideal choice. You have two weeks to leverage their Pro version's free trial.
Additionally, you are permitted to use the incredibly useful screen-sharing feature. What's next? Through the integration of Google Calendar and Outlook, users can quickly schedule meetings with ease.
Besides that, you are only allowed a maximum of three users after your trial period has ended. However, there's a catch to that, to transfer files during any conference meeting or call, have a chat session, and share your screen, you will need to pay $10 a month for each meeting organizer if you want to have more than three people.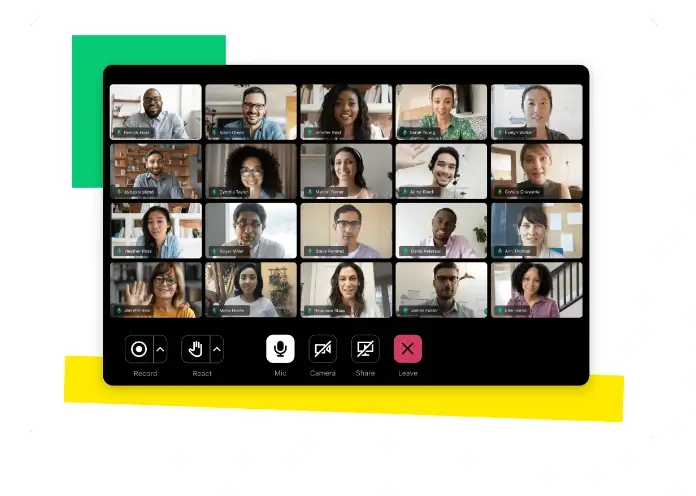 8. Gruveo
Do you desire to have a personal video call number that anyone can use to initiate a chat with you at any time? Basically, this is what Gruveo offers. Holding a conference call on Android, iOS, or the web is just as easy as using any other platform.
Straight codes are this app's best feature. To allow your loved ones or colleagues to call you, you can register under your own name and provide them with the link.
Your phone number does not need to be posted on the website. You can receive video calls whenever someone tries to connect by simply turning on the browser call notifications offered by Gruveeo's browser.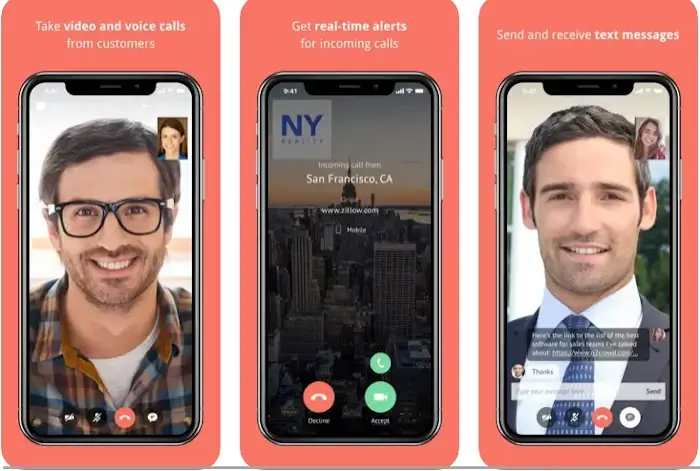 9. Slack
Slack is a well-liked application for teamwork and has many rich features for organizing and facilitating communication. You may use text messaging, voice conversations, and video calls to interact while also setting up channels for certain subjects, tasks, or teams.
To simplify workflows and boost productivity, Slack also offers connectors with other programs and services. Making a quick voice call to discuss something urgent is obviously faster than chatting and can be done by clicking the video icon to turn it on.
In a video call conference, a maximum of 15 people are allowed. Additionally, only the desktop is capable of supporting video calls.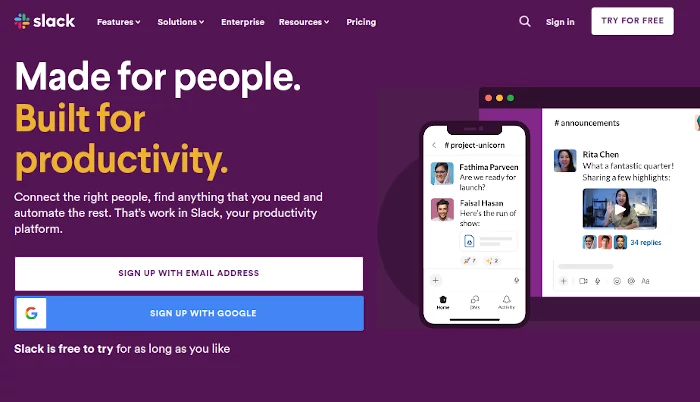 10. Amazon Chime
Amazon Chime is a platform as well as an application that is modernly polished for engaging in conversations with your team wherever and whenever necessary. This startup is renowned for its incredibly low latency and high-quality video.
With this app, video calls can be made with ease because It offers users built-in chatting and screen-sharing facilities. To guarantee there is no distraction while you are presenting, you have the option to limit the number of participants in the video calls.
To stay in a conversation and keep it continuing, you can construct and maintain regular text chat rooms.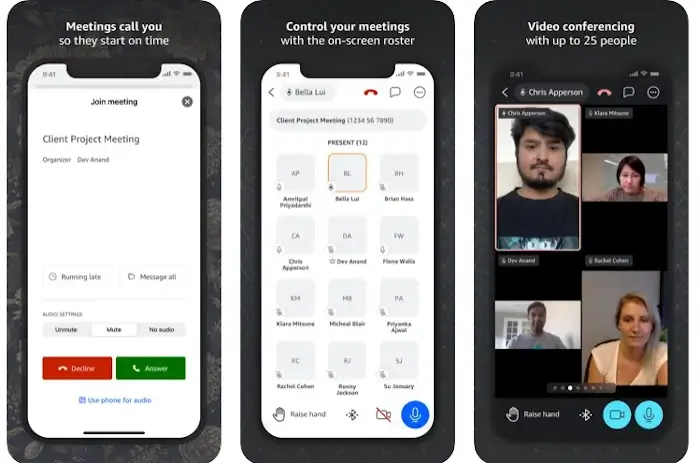 11. BlueJeans
A variety of capabilities are available for online meetings, webinars, and video conversations using the cloud-based video conferencing service known as BlueJeans.
This app offers a complete set of capabilities for text chat, screen sharing, and voice and video conferencing. BlueJeans offers a subscription plan that offers unlimited capabilities.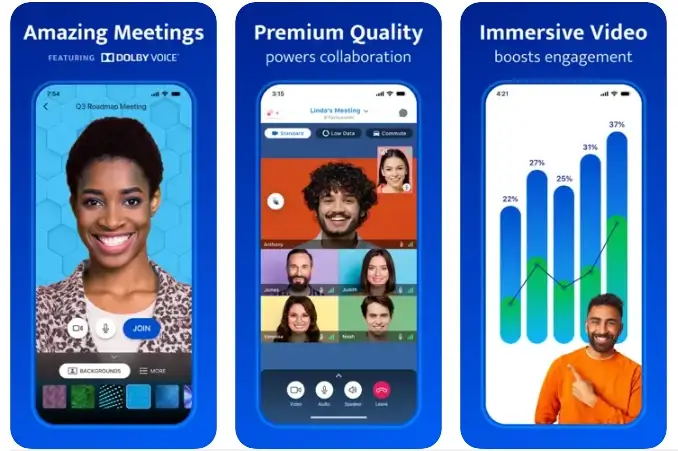 12. Pexip
A collaboration tool from Dialpad called Pexip seeks to make group meetings easier for businesses of all sizes. This startup provides a download-free way to access conferencing tools on the web and has both a commercial edition with unlimited functions and a free version available.
Besides that, video calls can be started via the official website or the app. You can see each person on your call, regardless of where they logged in from.
You can upload a PDF file from the platform or app and see it as a presentation. While still being able to see every caller, you can flip through every page just like you would with slides.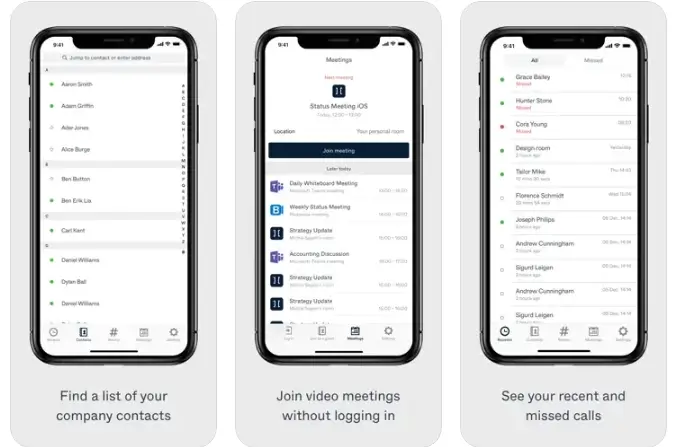 13. Kast
For pals who want to watch live streaming together, Kast is a great option. In your own viewing party, you can invite friends over to share videos, movies, live stuff, and games. group of 100 people can watch, while up to 20 people can share their screen or camera.
When the call begins, you can see a little video icon of every participant, including yourself, at the bottom of the screen and an embedded browser at the top.
To display a movie or any other website that you want others to see, just type whatever you want into the search box. As an alternative, you can just click the remote symbol to give control to someone else.
Additionally, screen capture is a feature of the real-time video-sharing application. With text and video chat capabilities, Kast makes it simple to communicate with loved ones, friends, and coworkers from any location.
Available On: iOS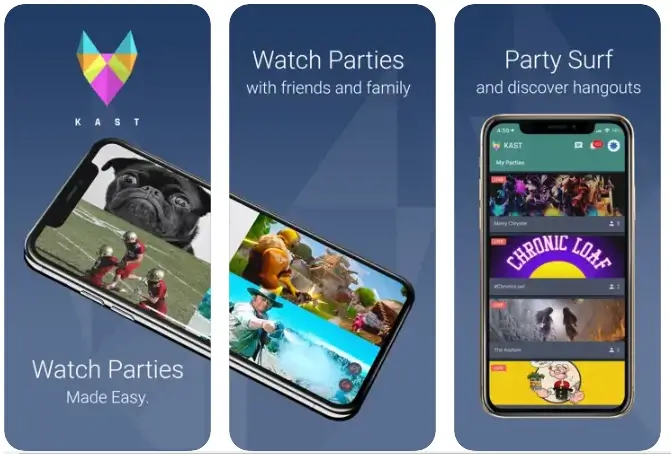 14. Cisco WebEx
Cisco WebEx is a well-established popular enterprise web app for screen sharing, webinars, and video conferencing. It provides a variety of tools for online conferences and teamwork, such as audio and video conferencing, webinars, and cloud calling.
When you place a call, you'll notice that the app's main display is a virtual whiteboard with side-by-side discussions and video feeds. While on a call, each participant has access to the ability to type, add shapes, and draw on the screen. Because of this, it's a great option for idea generation.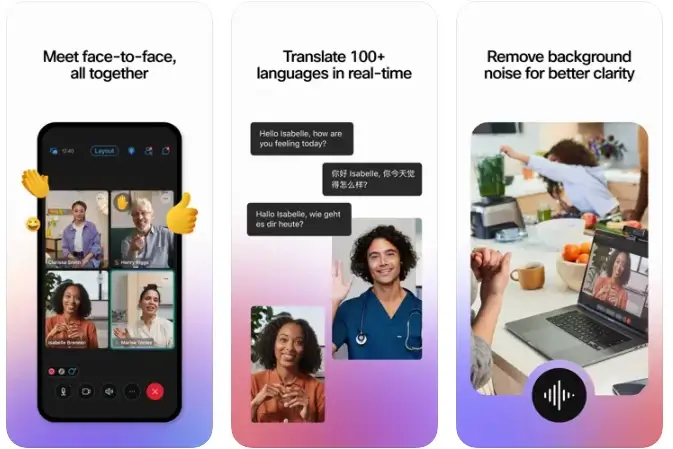 15. Microsoft Teams
Microsoft Teams is an all-encompassing collaboration solution with a variety of features to boost productivity and improve communication within businesses. Among the essential characteristics are instant chats, conversion channels, video and file sharing, real-time collaboration, and video conferencing.
With Microsoft Teams adaptable video calling capability, you can communicate and work together with coworkers, friends, and family. Here are some crucial features of Teams' video calling, by choosing the Camera icon, you can enable your video prior to joining a meeting.
You can turn on and off your video during a meeting by selecting the Camera option in the meeting controls, and the team supports a maximum of 20 participants.
Conclusion
That said, the aforementioned top free conference call applications on our list offer a unique feature set for a range of user requirements. Based on your decision to hold a team meeting to discuss a serious agenda or conduct a straightforward family conference call, you'll need to pick your preferred app to use.