With its ever-growing popularity, Instagram has firmly established itself as one of the most prominent social media platforms, boasting an astonishing user base of over a billion monthly active users.
Each passing day, countless individuals eagerly log in to immerse themselves in the captivating imagery and engaging videos shared by friends, family, or their beloved celebrities.
While there is a vast community of Instagram users who actively post their content, there exists a more enigmatic group that chooses to lurk discreetly, rarely sharing anything of their own but instead utilizing Instagram as a hidden means to follow and observe others without leaving a trace.
For those who proudly embrace a public profile and find themselves deeply involved in the alluring world of Instagram, a recurring thought often lingers in their minds like a persistent whisper: "Can I see who views my Instagram profile?"
Regrettably, there exists no method to ascertain the identities of individuals who have viewed your Instagram profile or page. This holds true even if you possess a business account; in such cases, you can only access the number of people who have viewed your profile, but their names remain veiled in secrecy.
As a subsidiary of Facebook, Instagram has access to all the data necessary to reveal the identities of profile viewers, but it conscientiously withholds this information from users to protect their privacy and maintain a positive user experience.
Why does Instagram abstain from implementing such a feature? A significant portion of Instagram users spends more time browsing other profiles than posting on their own.
If Instagram were to release data regarding such activities, it could potentially lead to a substantial decline in user engagement which could be detrimental to the platform's success and overall business.
There are some third-party apps that claim to be able to show you who has viewed your profile, but these apps are not reliable. They often use misleading or deceptive advertising, and they may not actually work.
If you're curious about who has viewed your profile, you can check who has viewed your Stories or Highlights. This is not a perfect solution, as it only shows the users who have viewed your Stories or Highlights and not all of the users who have viewed your profile.
Below we've highlighted the best tech tips to keep informed about the current trends.
1. Using Third-Party Apps
Numerous applications out there boldly claim to provide you with the ability to unveil the identity of those who have viewed your Instagram profile and identify potential stalkers lurking within your account. However, the reality is far from their promises.
The fundamental reason behind the failure of these apps is Instagram's data policy, which restricts sharing of crucial user information with unauthorized third-party applications.
As per Instagram's official policy, only specific basic details such as the username, bio, profile picture, and Email Address are permitted to be shared with third-party apps.
For Example, let's consider an app like "Influxy", which markets itself as a tool for discovering profile viewers. In truth, this app, like others of its kind, does not possess the capability to reveal such sensitive information.
Instead, it may offer superficial data, such as social network statistics, top-ranking visits, or even lists of users who have recently unfollowed your account.
2. Using Instagram Business Account
Using a business account on Instagram provides valuable metrics regarding how people engage with your profile, but it does not disclose the identities of individual visitors.
With a business account, users gain access to informative insights about those who interact with their profile pages, such as demographic data like gender, age, and audience range.
To Use a business account, follow the below-mentioned steps.
Log in to your Instagram Account
Navigate to settings
Click on the "Switch to Business Account" option.
Next, link your Instagram account to your Facebook page to access any additional contact information.
Once your business account is set up, it will start collecting data on users who visit your page. However, it's essential to note that these insights do not include historical data, but they will continually accumulate and provide valuable information going forward.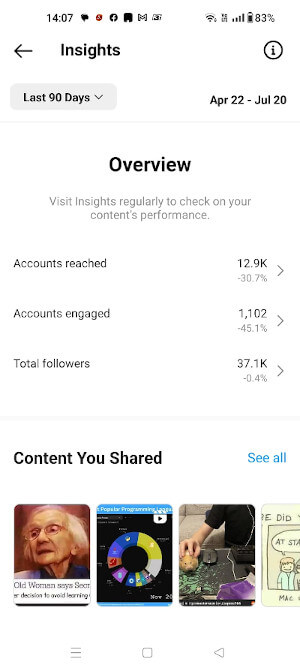 3. Using Instagram Highlights/Stories
As Instagram does not provide a built-in feature to reveal the identities of profile viewers, there are alternative methods you can use, such as leveraging post stories and highlights to gain insights into people who have visited your page.
To track those who have viewed your content, follow the steps below.
Tap the icon located at the top left corner of your Instagram account to access your profile.
Adding stories from there enables you to observe a list of followers and non-followers who viewed your stories.
Utilizing stories and highlights provides a way to get a glimpse of the users who are interacting with your content, even though Instagram itself does not offer a direct feature to display this information.
It is a helpful approach to assess the level of engagement and interest your posts generate among your audience.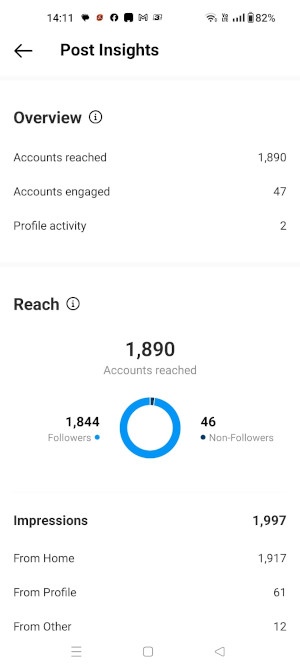 Conclusion
Absolutely, there are currently no indications or signals to suggest that Instagram would ever consider implementing a feature allowing users to see who views their profile.
For now, Instagram remains focused on providing a user-friendly and privacy-conscious experience for its vast user base, without granting access to information about profile viewers.