I was sipping some coffee this morning and it hit me – I have written about managers for downloading wallpapers, fonts, notes, etc. but never about download manager apps. Today, let me introduce you to a relatively recent download manager application to end your management worries.
Persepolis is a free, open-source download manager currently developed for multiple desktop OS platforms. It is named after Persepolis, former ceremonial capital of the Achaemenid Empire in the years 550 – 330 BCE and it is known for its unique architecture.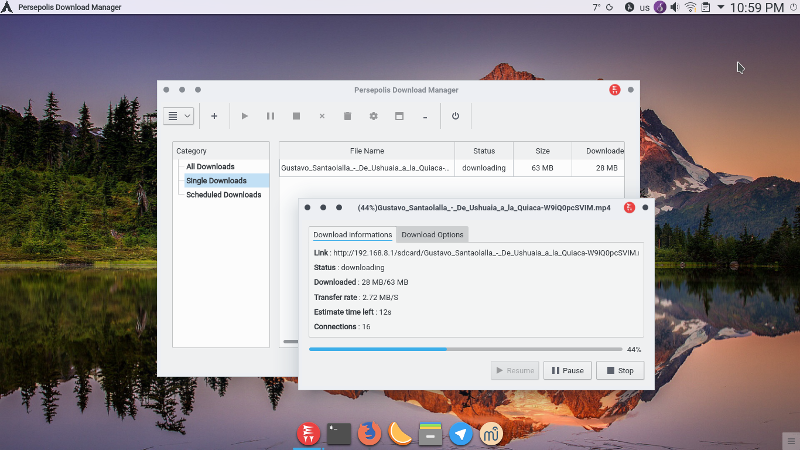 Persepolis was written in Python with a GUI for aria2. It boasts a beautiful User Interface compliant with your system theme and offers users a smooth downloading experience.
Features in Persepolis Download Manager
A simple and clean theme-compliant Graphical User Interface.
100% free to download and use.
Support for multi-segment downloading
Set downloads ahead of time using schedules.
Organize your downloads using queues.
Download videos from Vimeo, DailyMotion, YouTube, etc.
Support for integration with modern browsers including Chrome, Firefox, and Vivaldi.
Persepolis was first released in 2015 and it has come a long way since then. Especially given that it has had only 7 contributors since its inception. While it is updated as regularly as possible, feel free to give the dev team a helping hand in any way you can.
[mks_button size="medium" title="Download Persepolis for Linux" style="squared" url="https://persepolisdm.github.io/" target="_blank" bg_color="#529b30″ txt_color="#FFFFFF" icon="fa-download" icon_type="fa" nofollow="1″]
Install Persepolis Download Manager in Linux
If you would rather install via PPA on Ubuntu and other Debian distros just run the commands below in your terminal:
$ sudo add-apt-repository ppa:persepolis/ppa
$ sudo apt update
$ sudo apt install persepolis

On Arch and its derivatives:
$ yaourt -S persepolis
On Fedora:
$ sudo dnf install persepolis
Persopolis is also available for OpenSUSE, BSDs, macOS, and Microsoft Windows so no user-base is left out. And the FAQ section on Persopolis' website is there to help you with how to integrate it with your favourite web browser, among other tasks.
Which download manager(s) do you run on your machine(s)? Did you already know about Persepolis and how well do you think it does against your most-used alternative? The discussion section is below.