A  notification/floating bar is an effective way to alert users about important information such as sales, coupons, privacy policies, and these days, COVID-19 updates. The nicest ones are simple and non-intrusive as they take up just about 30px in height.
When it comes to notification bar plugins, however, the market is filled with a lot of them. Not all of them allow you to customize your message depending on the section they're displayed in or allow you to make use of dynamic elements such as call-to-action buttons, countdown timers, and animation effects.
Read Also: Best WordPress Plugins To Achieve Higher Ranking in SEO
Today's article is a list of the best notification bar plugins for WordPress that, on top of the above-mentioned features, integrates nicely with all popular email marketing service and offer reliable support for whenever you need customer care. These plugins will enable you to boost your website traffic, convert more subscribers, and increase sales.
1. OptinMonster
OptinMonster comes with a ton of market-centric options geared to boost user conversions (i.e. more subscribers and customers). It features a notification bar with beautiful templates and a drag and drop builder for either customizing the templates or creating custom ones.
OptinMonster also has the options to include a countdown timer, a free shipping floating bar, alert messages, different categories of popups (e.g spin to win gamified opt-in forms, slide-in or fullscreen dialogues), and to personalize messages based on your goals and users' past behavior.
To ice, the cake, OptinMonster has a personalization feature that allows you to directly target customers using a ton of options.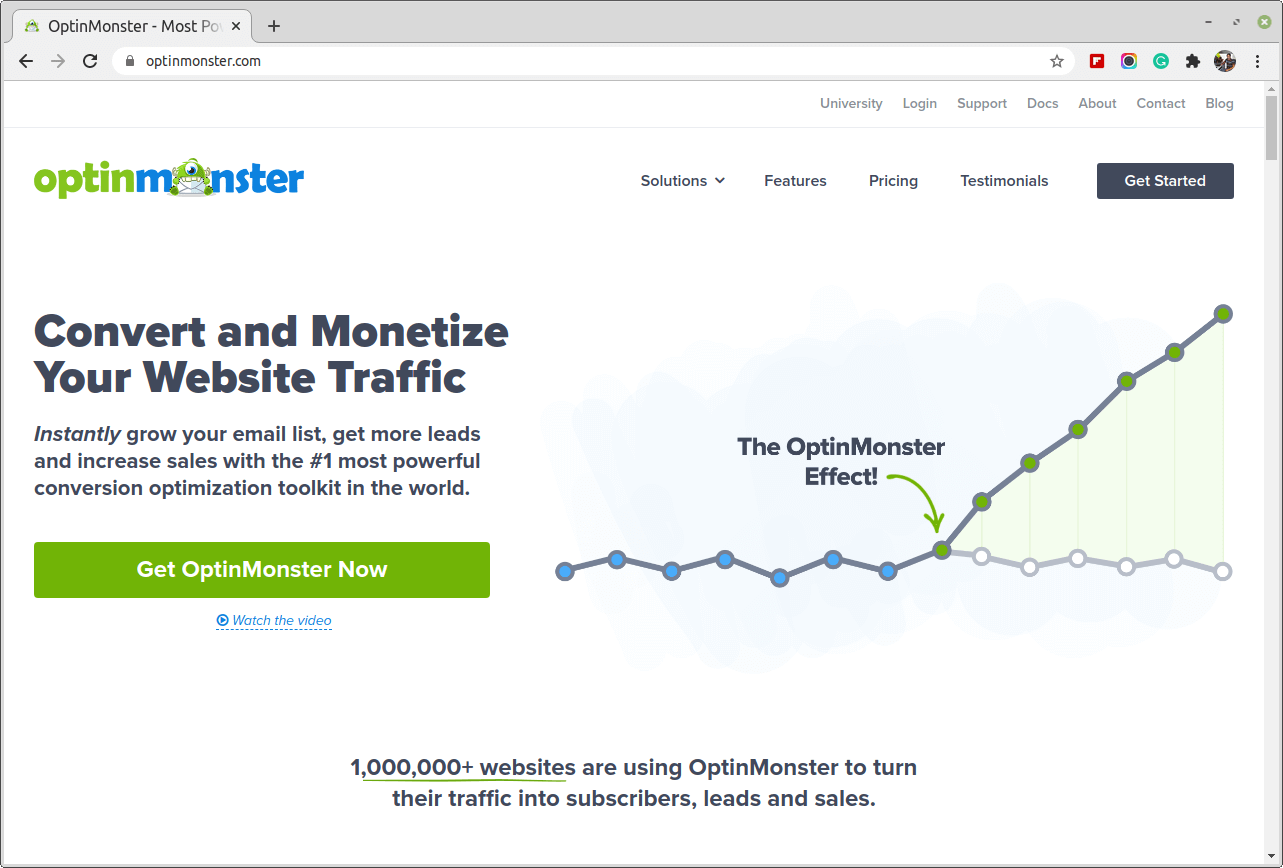 2. Hello Bar
Hello Bar is a straightforward notification bar plugin designed to convert visitors into customers using different types of popups (e.g. fullscreen, sliders, alert bells). It integrates well with all the popular email marketing services and ships with various customization options in the premium version.
The Hello Bar plugin offers a free version but boy, will you be limited as you wouldn't be able to do as much with customizing your floating bar popups or messages.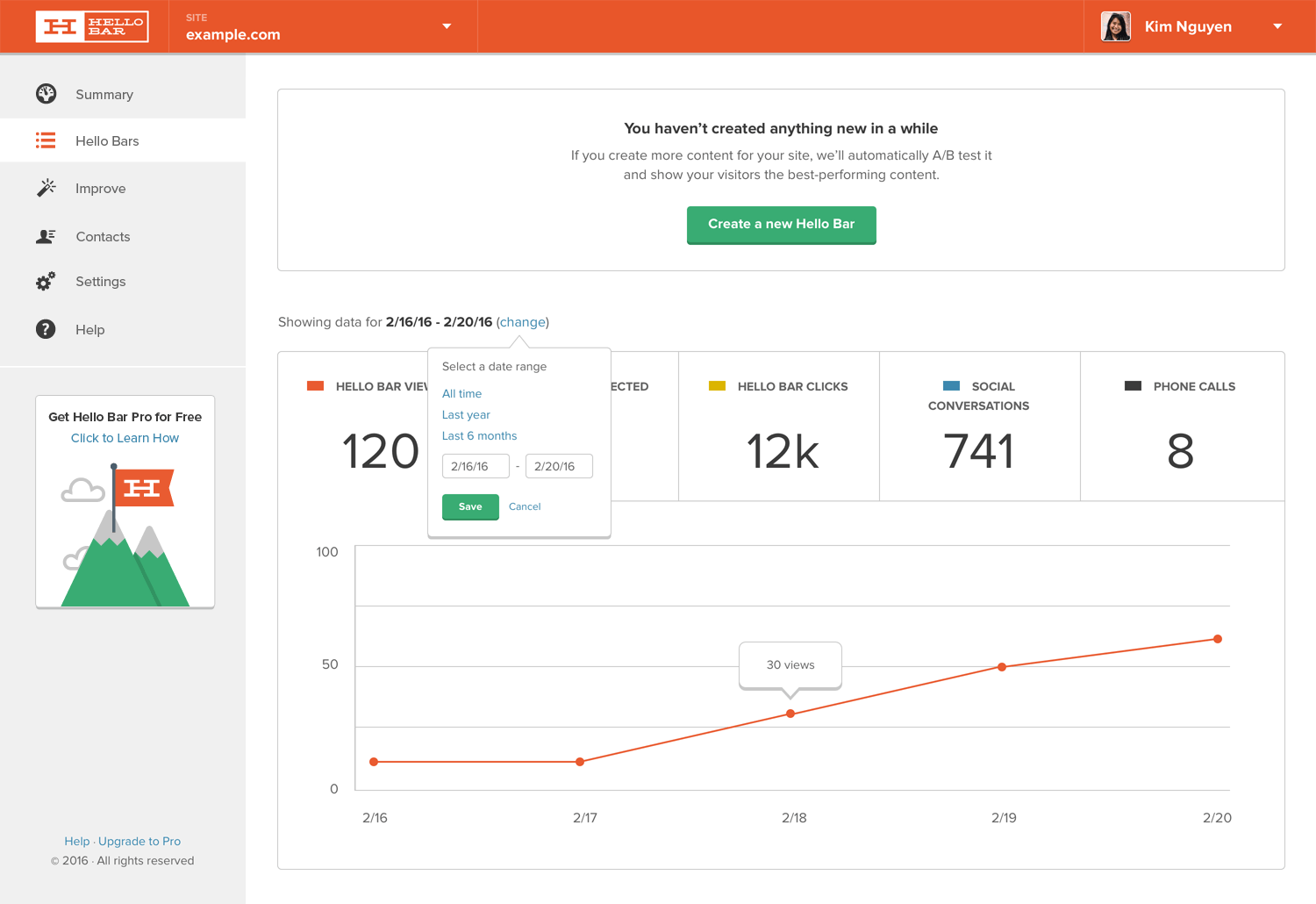 3. SeedProd's Notification Bar Pro
SeedProd's Notification Bar Pro enables you to create/design custom notification bars with live preview and CSS. It comes with the option to display the notification bar on selected pages (e.g. only the home page).
SeedProd's Notification Bar Pro is available as a bundle that comes with their popular 'Coming Soon' page plugin. If you would rather use a free version, then try out WordPress Notification Bar, but be warned that its features are nowhere as robust.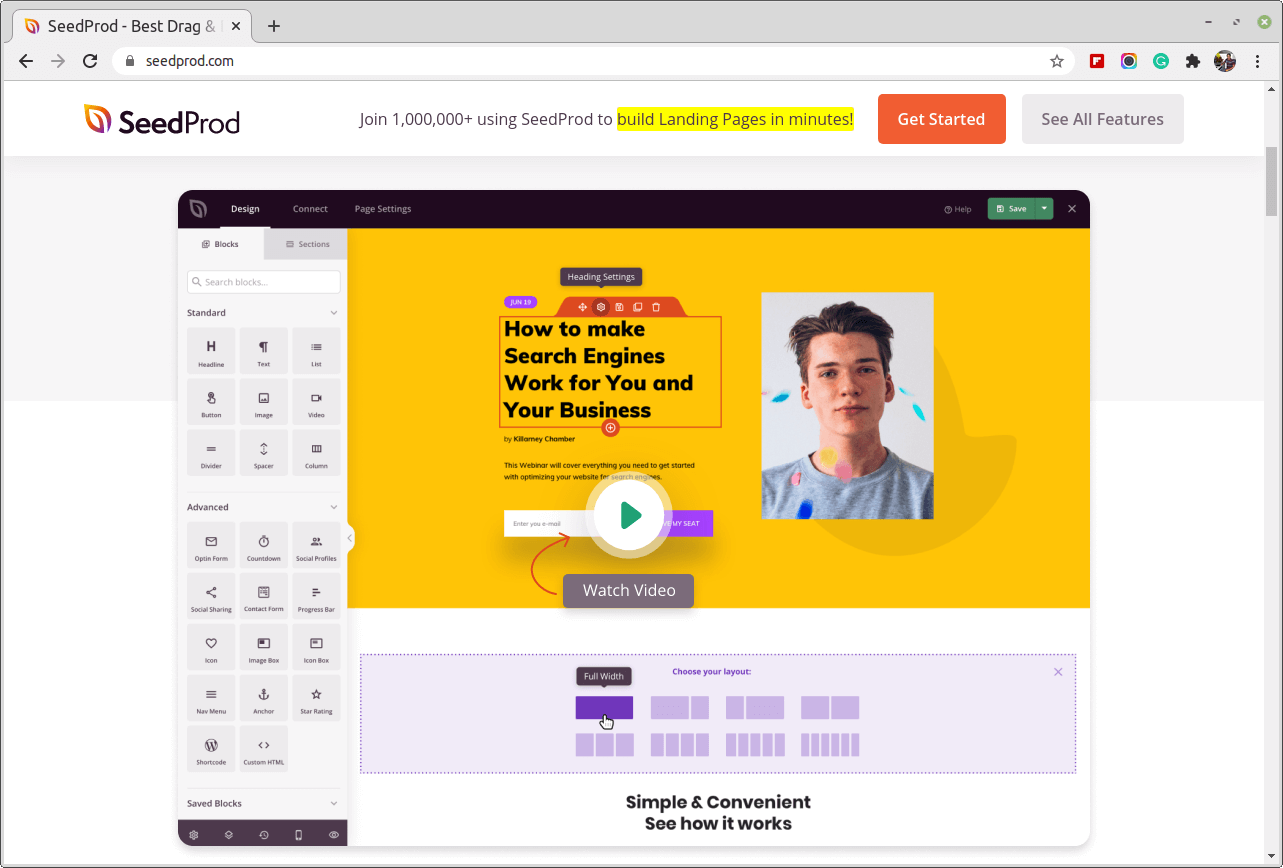 4. NotificationX
NotificationX is a freemium marketing plugin designed to display social proof and create an urgency that skyrockets conversion rates. It takes advantage of FOMO effects to grab the attention of your website visitors and gain their trust instantly by showing real-time sales popup and engagement notifications.
It features a modern design and convenient integrations for marketing and analysis.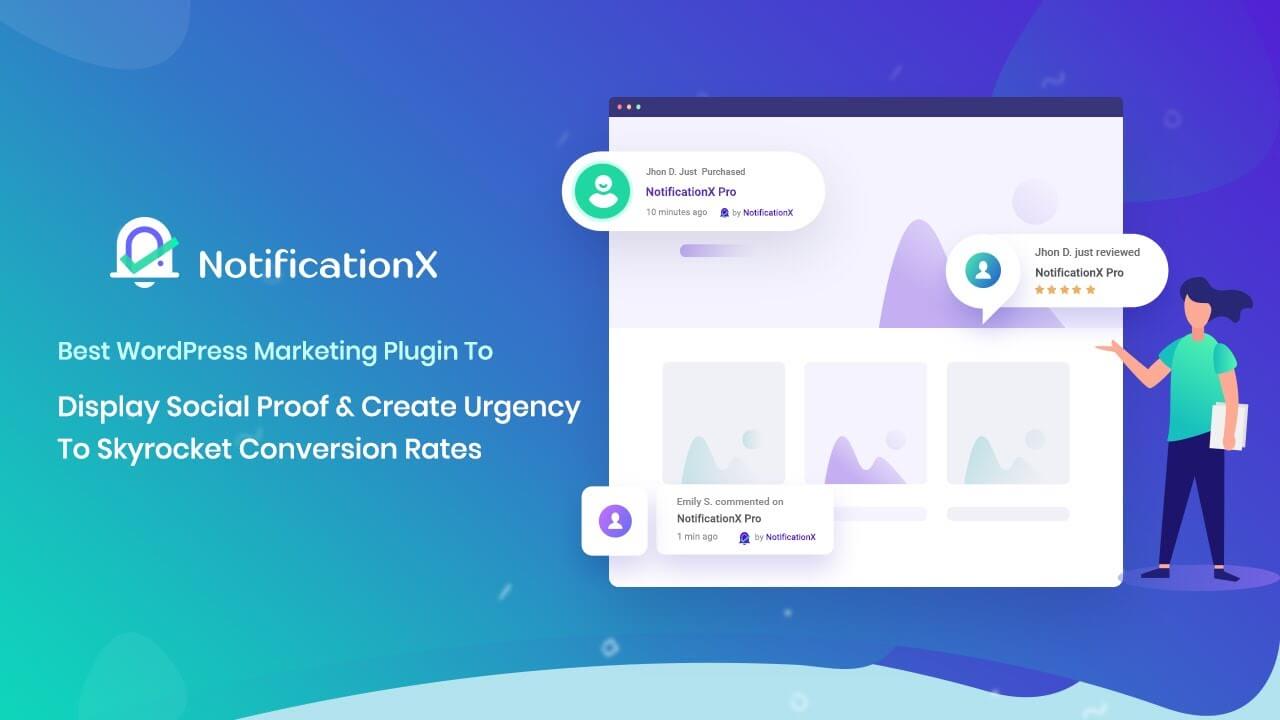 HashBar is a free and open-source WP notification/alert/offer bar plugin that allows users to create unlimited notification bars for customers. It has the option to display email subscription forms coupled with offer text and call-to-action buttons in order to boost your promotions.
It features support for all popular page builders and marketing services as well as a pro version with advanced options such as a shortcode generator button, sticky/transparent headers, scheduling notifications.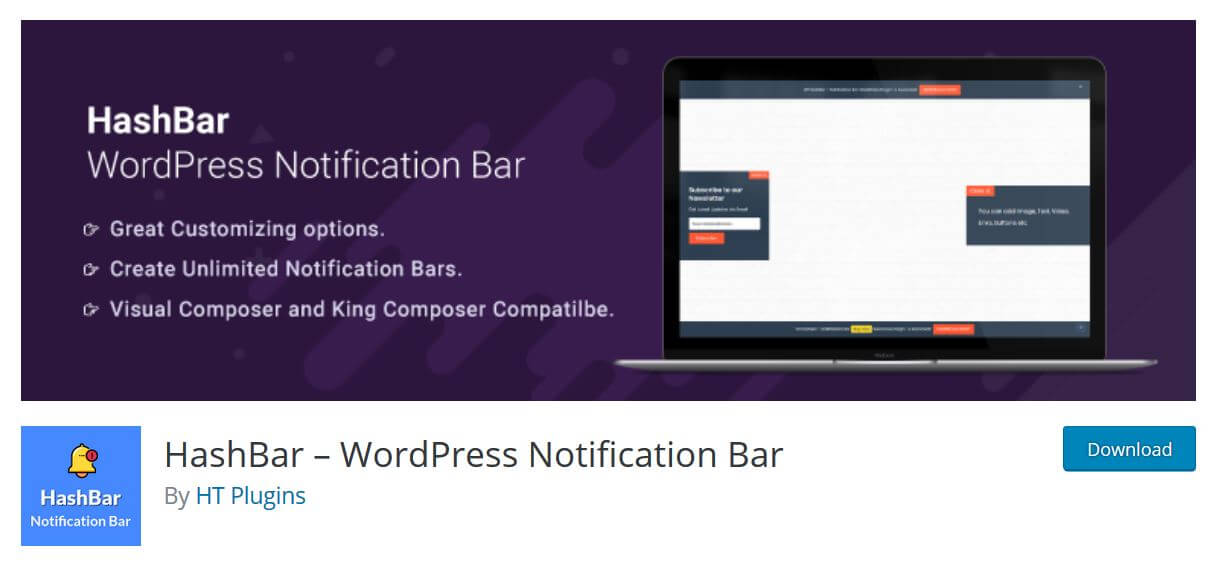 6. TrustPulse
TrustPulse is a unique customizable notification bar plugin built with the aim of converting website visitors. Its most notable feature is social proof which takes advantage of the FOMO effect by displaying real-time notifications of recent purchases, subscriptions, etc. in real-time.
It comes ready to use straight out of the box with the option to edit messages, images, and colours. It also bundles relevant analytics for conversion reviews and integrates nicely with all popular eCommerce plugins. If you don't need all the features in the pro plugin, there's a free version that you can test out for yourself.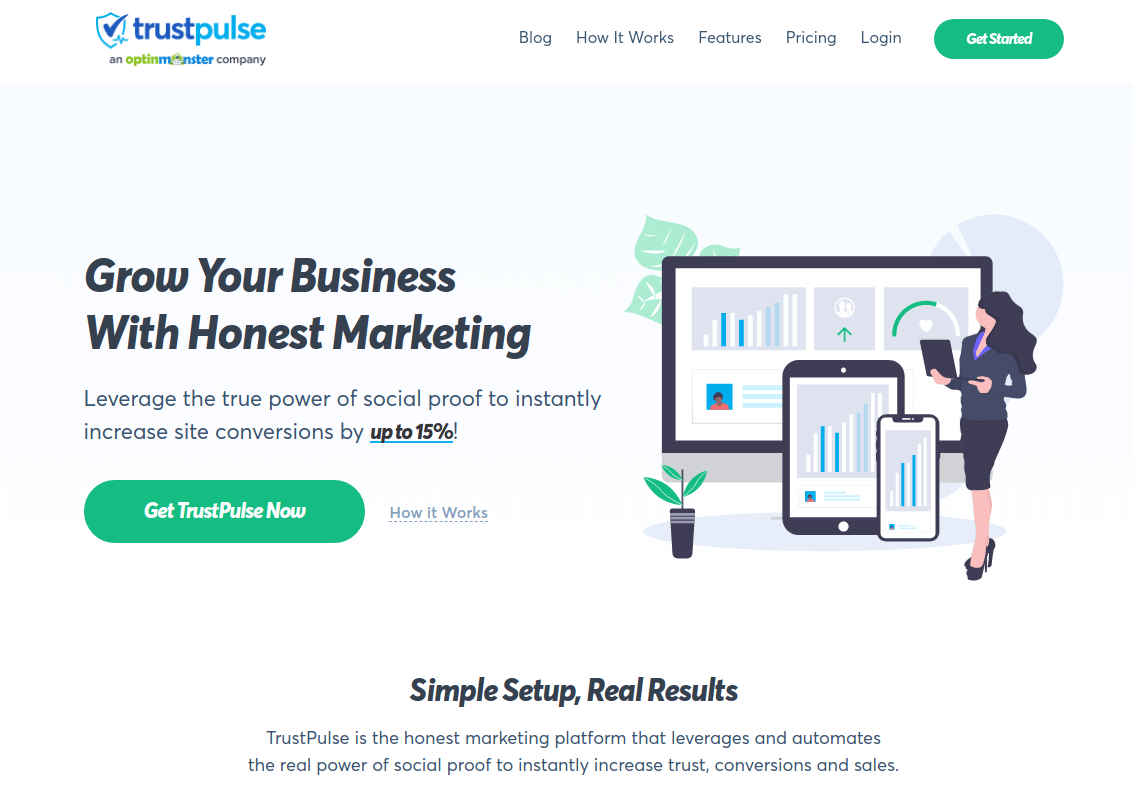 7. WP Notification Pro
WP Notification Pro is a premium quality WordPress plugin that offers several notification types tailored to grow your social media following, announce sales, and grow your email list. It gives users the ability to show tailored alerts. A good example is displaying the latest relevant posts to a user depending on the page is he is.
WP Notification Pro will also allow you to create multiple notification bars with different priority settings coupled with the option to select their display pages. You are free to display elements such as social media buttons and search bars in your floating bar and you can perform split tests to track which bars perform better using view and click analytics.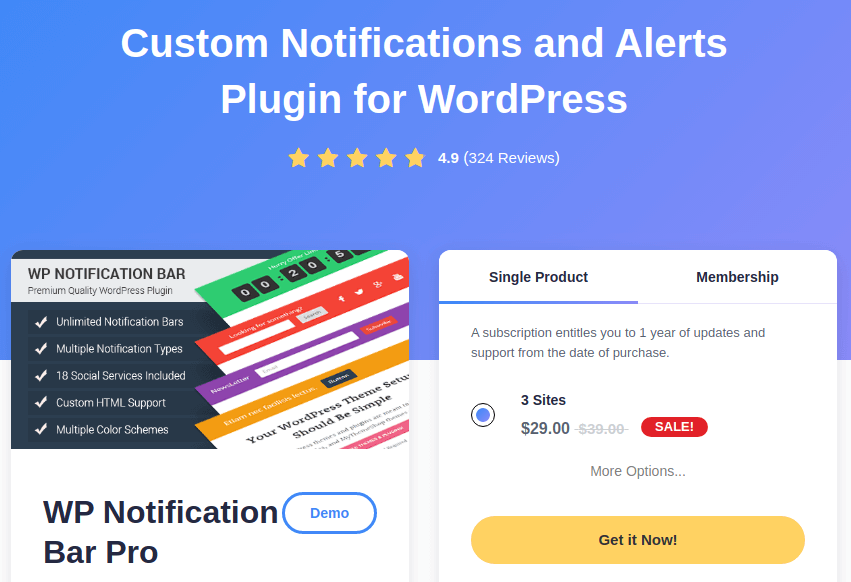 8. Easy Notification Bar
Easy Notification Bar is a simple, free notification plugin with basic features that include type-in text, custom links, font size setting, and custom colors. Unlike the others on this list, this plugin offers only a floating bar without analytics, eCommerce integration, or pop-ups.
Basically, if all you need is a simple notification bar for displaying messages to your visitors, Easy Notification Bar is completely free to use and easy to set up.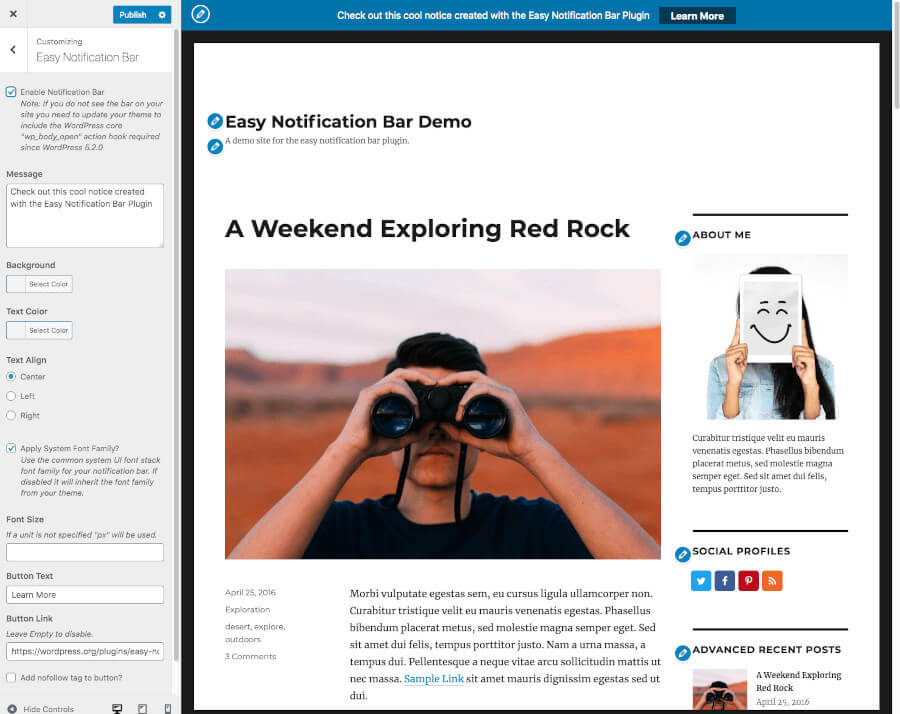 9. WPFront Notification Bar
WPFront Notification Bar is a free simple but yet configurable WP notification bar for displaying alert messages at the top or bottom of pages. Its settings allow you to make it close automatically or display a close button that visitors will use manually, and to set a time period during which the notification bar will be displayed. Unlike WP Notification Pro, you can create only one notification bar per time.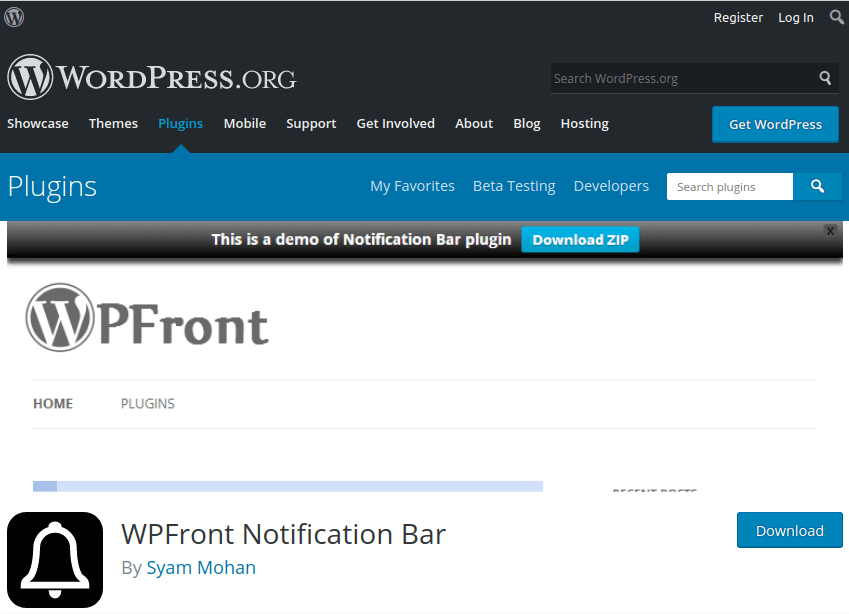 10. Divi Notification Bar
The Divi Notification Bar is a built-in option that comes bundled in the Divi theme. Developed by Elegant Themes, Divi is among the most popular visual page builders in the market today.
The theme will enable you to create professional-looking web pages using its flexible drag and drop page builder as well as to create and add alert messages in a floating notification bar. If you're considering purchasing a theme that bundles a floating bar then Divi is a good pick.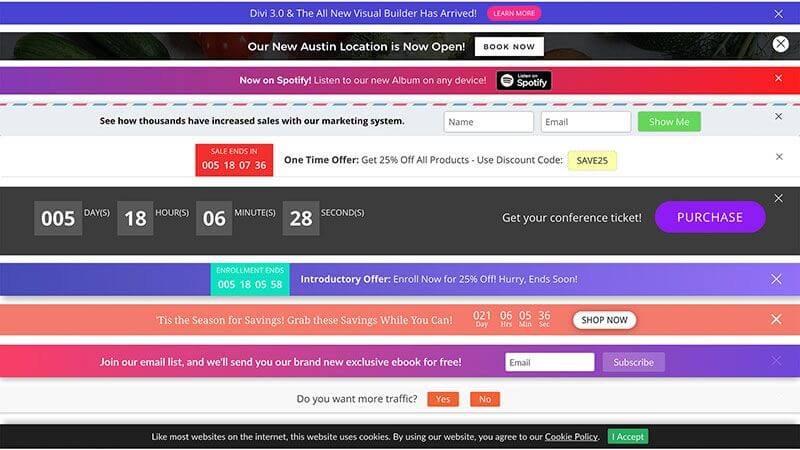 So there you have it. A list of the best notification bar plugins for your WordPress website. While they aren't necessarily listed in order of their superiority, OptinMonster takes the first spot because of its feature-to-price ratio. Compared to all others on the list, it offers the best feature list for the best price.
Got any suggestions from your experience that you will like to make? Feel free to join the discussion in the comments section below.