With so many To-Do list apps filling the market these days it is only fair that a non-GUI app is also created for CLI enthusiasts.
Today we bring you a lightweight application you can use right from your Terminal – it's Taskwarrior.
This open-source and cross-platform app will enable you to create and manage to-do lists from your Terminal with a list of custom commands.
It requires no PPAs that aren't already available on your system and so you need not worry about it breaking or update issues.
Features of TaskWarrior
Create to-do lists
Command Line Interface
Task priority with H for high, M for medium, and L for low
Column names: ID, Age, P (priority), and Urg (urgency)
Install Taskwarrior on Your Linux System
Remember Taskwarrior uses an already bundled system PPA so just run the install command straight:
On Ubuntu
-------- on Ubuntu 10.10 and later --------
$ sudo apt-get install task

On Debian
-------- on Debian Sid --------
$ sudo apt-get install taskwarrior

-------- on Debian --------
$ sudo apt-get install task/wheezy-backports

On Fedora
-------- on Fedora 18-21 --------
$ yum install task

-------- on Fedora 22 and later --------
$ dnf install task

For other Linux distributions, see the taskwarrior install documentation.
How to Use Taskwarrior in Linux
Workflow in Taskwarrior is a breeze thanks to its intuitive commands and the more exciting thing is you don't need to start the app before running your commands – task is all you need.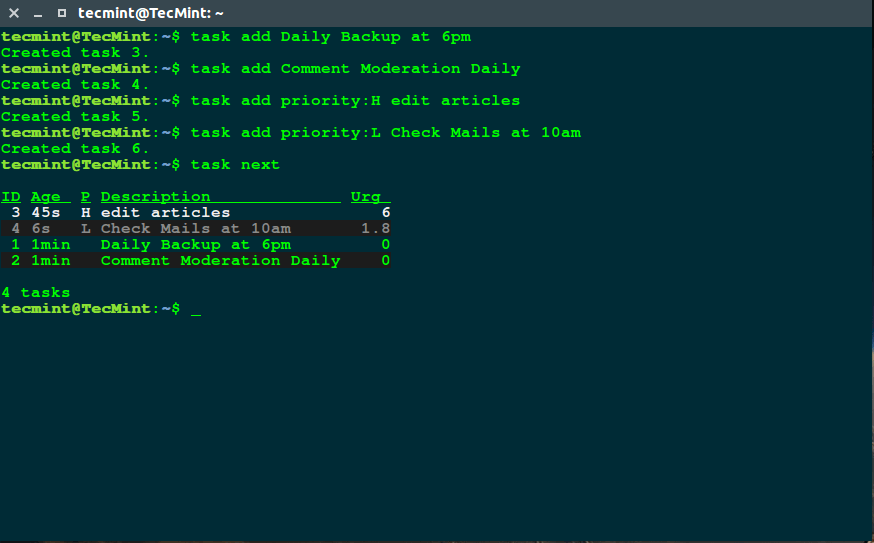 For example;
To add a new task enter:
$ task [insert task here]

To display your to-do list, enter:
$ 
task next

To dd a new task with a priority level, enter:
$ task add priority:H write Article
There are more things you can do with Taskwarrior so check its documentation for an exhaustive command list.
Clearing the list is also a breeze as all you need to know is the task number like so:
$ task 1 done

So, there you go guys; a Command Line-based to-do list app. Is this new to you or perhaps, you have a different CL-based app you can tell us about? Feel free to drop your feedback in the comments section.