Google Search by default has games hidden in it, which is a fact, not many Google users are aware of. Google has compiled some really authentic and entertaining games over a period of time, that can be played on the Google.com page itself without having to visit any other Web page.
Most of these games were made to appear as Google Doodle, in relation to certain anniversaries that have been a remarkable day in history. While some of these games are not available easily because Google Doodle keeps changing.
However, a few of them continue to be played even today. All you need is to search the game by its name in Google and hit "search" and Voila! The games will appear right in front of your eyes and you can play them right then and there.
Read on to know about the playable games still available, though hidden within Google Search.
1. The Spooky Cat Game
The substantial storehouse of doodles that Google is, has developed some really interesting and addictive doodles. Among them is the Halloween 2016 doodle, The Spooky cat game.
Unlike most games on Google Search, it can be best played on a mobile device. You have to type The Spooky Cat Game in the Google Search bar and select the first option from the results and play the game with great animations and sound effects.
You as a player, have to help Momo (the cat), to defend the magical secrets of her school from a number of ghosts. Each ghost arrives with a few shapes, which have to be drawn as quickly as possible so that they do not reach Momo.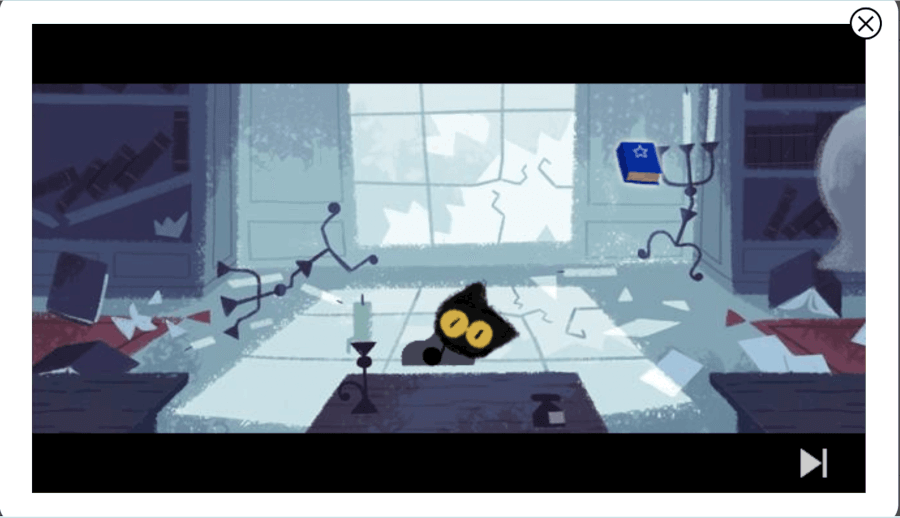 2. T-Rex Run
Another hidden game in Google is T-Rex Run, which is played in Google Chrome. This game was developed with the thought of occupying users when they are bored because they are unable to connect to the internet.
The game has a T-Rex Dinosaur on an endless journey where it has to jump over cacti while avoiding pterodactyls. Hit the "spacebar" key to activate the game whenever you are unable to connect to the internet or you can visit the chrome://dino in a new tab to play online.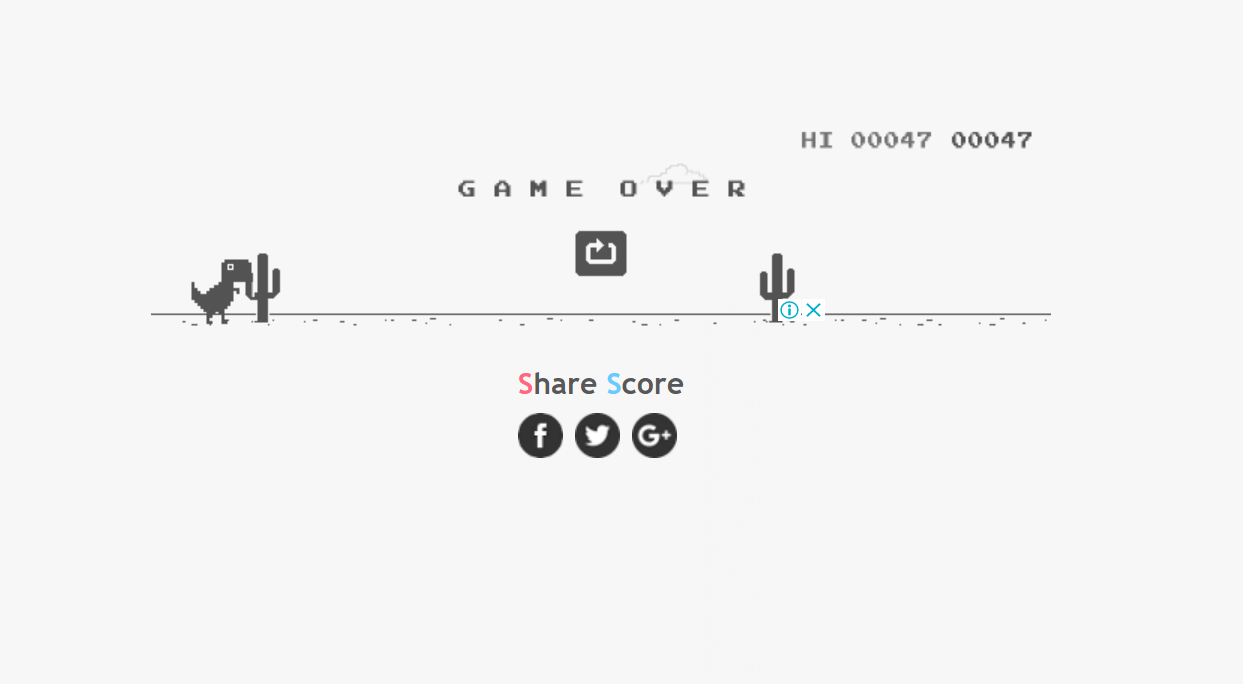 3. Zerg Rush
Zerg-Rush is a real-time strategy game consisting of a race of insect-like aliens. The game requires the player to assemble a large army with other units and then use it to defend the enemy. Just search Zerg Rush on Google and the Google OS will start entering and spreading throughout your computer screen.
The OS will eliminate all your search results in no time, but you can keep removing the OS by clicking on them with your mouse. Basically, this game is a race against time.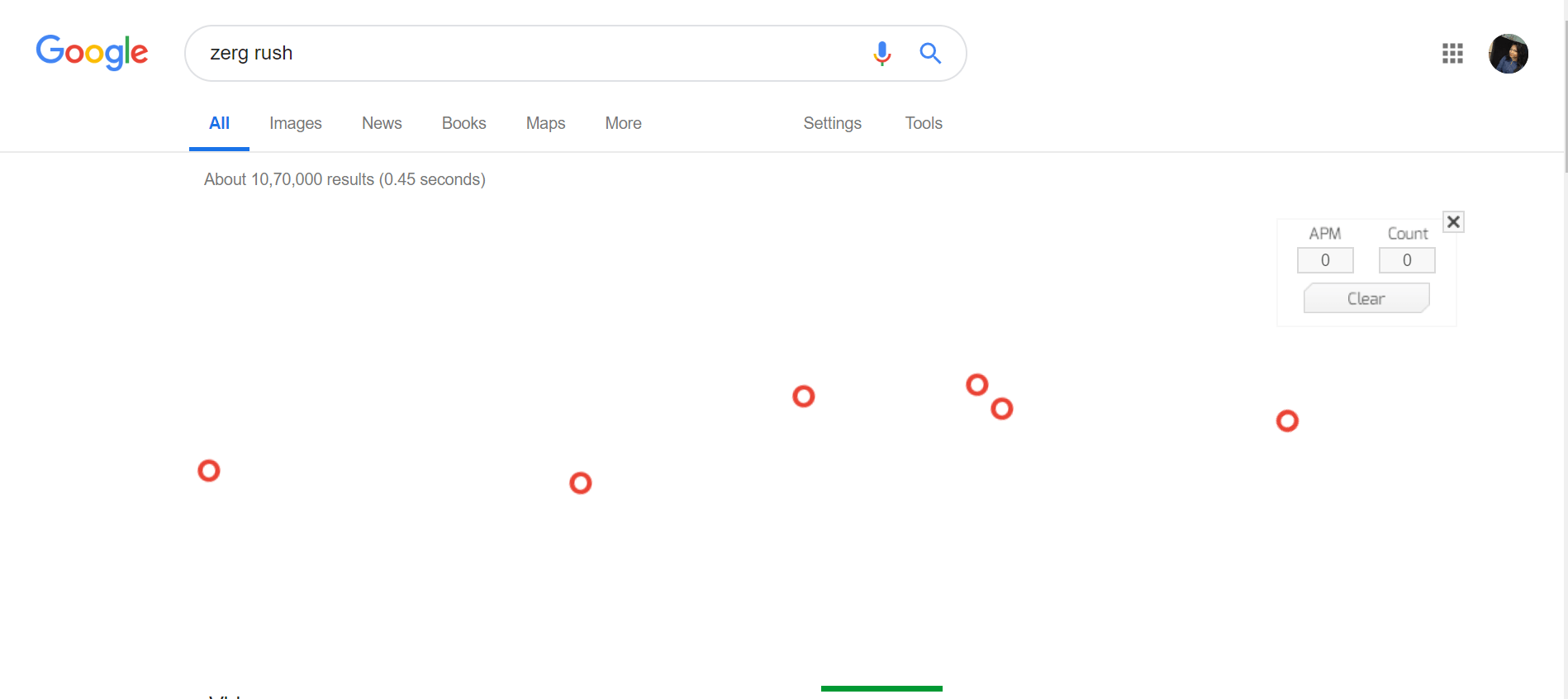 4. Solitaire
Remember the classic game of Solitaire, probably the first game that you ever played on the computer? Yes, the game of Solitaire is present right inside the Google browser. All you need is to type "Solitaire" and hit Search. Voila! The classic card game appears right in front of your eyes with a tinge of Google's swag.
If you remember the game, you can recollect that this single-player game is about stacking of cards in a deck, in descending order and alternating colors and the goal of the game is the separation of each suit.
The best feature of this game is it can be played even on your Mobile Screens, and that too without downloading or installing it as an App.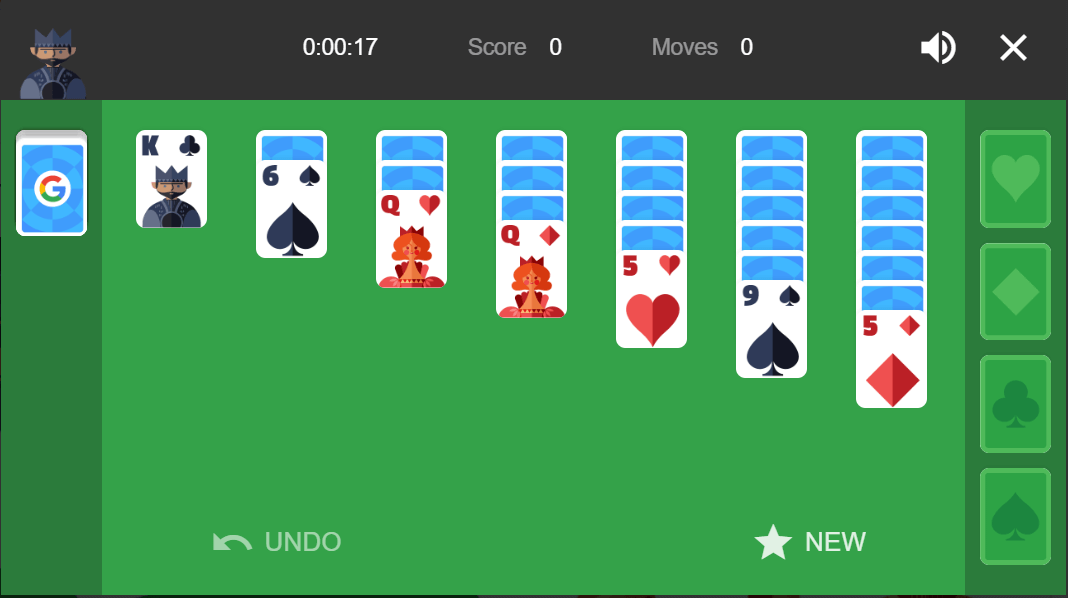 5. Minesweeper
When discussing the games that were most associated with Windows computers, you cannot miss discussing the game Minesweeper. It belongs to the same generation as the Solitaire. While the appearance and animation of the game on Google are different from the one present on Windows, the basics remain the same.
The touchpad of a laptop is not sufficient to play this game as the sensitivity of the left and right clicks ends up messing with the game. It needs a mouse for a power-pack play.
Like the earlier version, it has grids denoting the number of mines around them and you have to use your arithmetical and logical reasoning to click open the mines which you think are safe.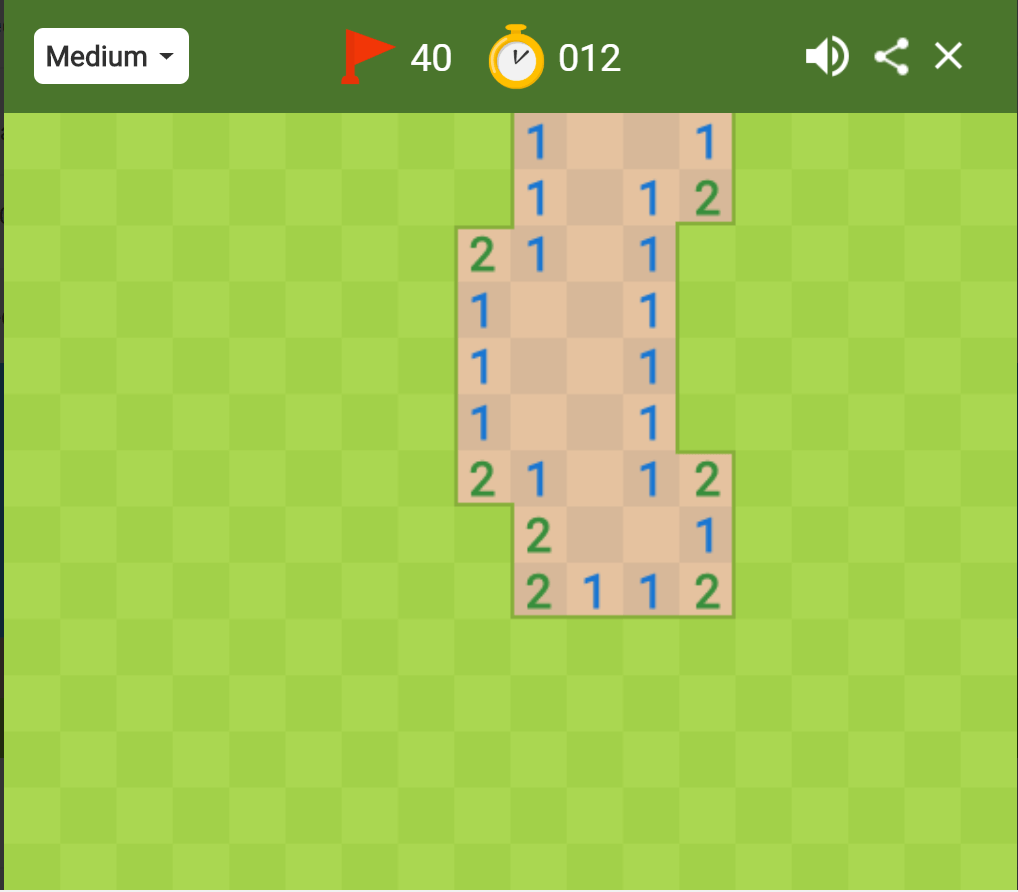 6. Tic-tac-toe
Tic-tac-toe is one classic game that we have been playing with pen and paper, since the days when we did not even know about the computer and its animated world of games. This game in Google can be played even on Mobile Screens.
As always, like the general rule of the game, the cross gets the first turn. You have to play as a cross or a circle and then make a straight or a diagonal line with the shape placed consecutively. You can play the game alone or with the Google AI, upgrading your skill levels from "easy" to "impossible".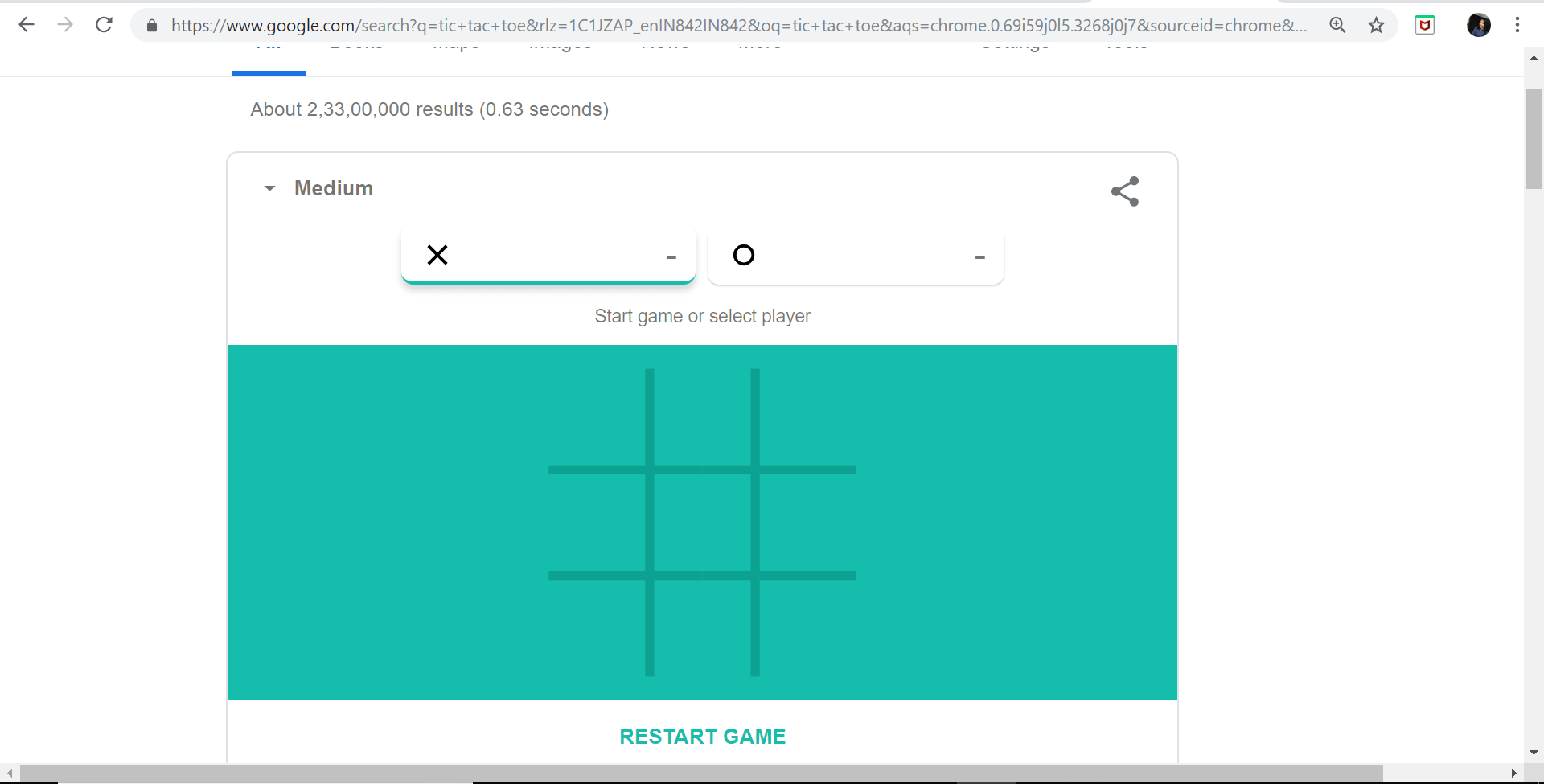 7. Pac-Man
Pac-man is a fun game where the Wakka-Wakka man has to avoid Inky, Pinky, Blinky, and Clyde while munching on Pac-dots appeared as Google Doodle on May 21, 2010.
Google developed this doodle to celebrate the 30th anniversary of this classic arcade game. The exceptional feature of this version developed by Google is that they made it more challenging by reinventing the maze as Google letters. This modification makes it difficult to be played on a mobile screen but can be best played using the left and right arrows on the keyboard.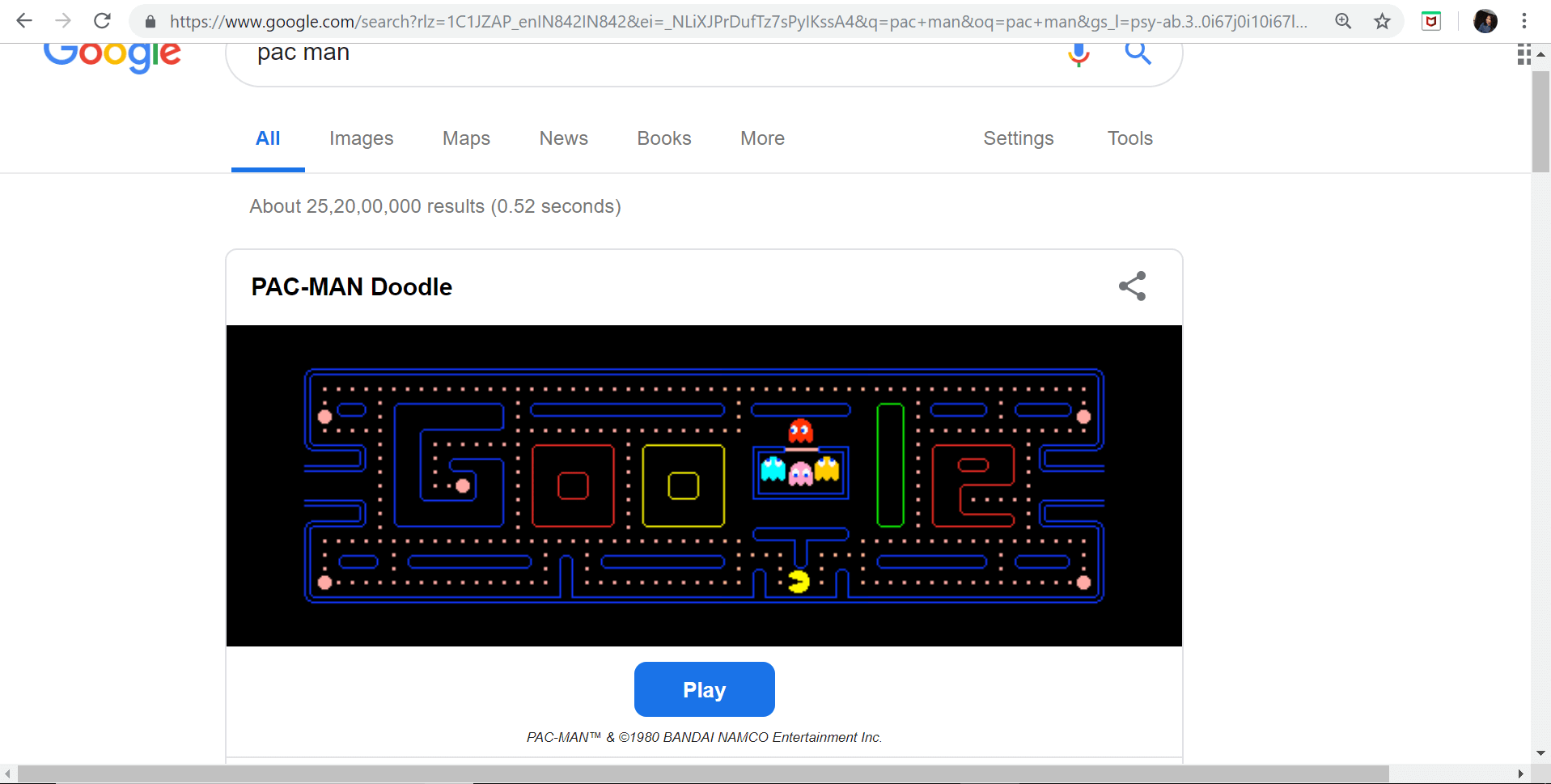 8. Snake
Google developed a playable doodle of the Snake Game to welcome the Chinese New Year in 2013, which was the year of the Snake. The doodle went off soon leaving the classic game behind. It is a game of speed, where in the snake has to keep moving and eating stuff in its way.
The food will keep making the snake longer but caution has to be taken to avoid the barriers or else the game gets over. It can be played on Mobile Screens as well but the limitation arises while changing the directions. Using the arrow keys of the keyboard will keep it more interesting.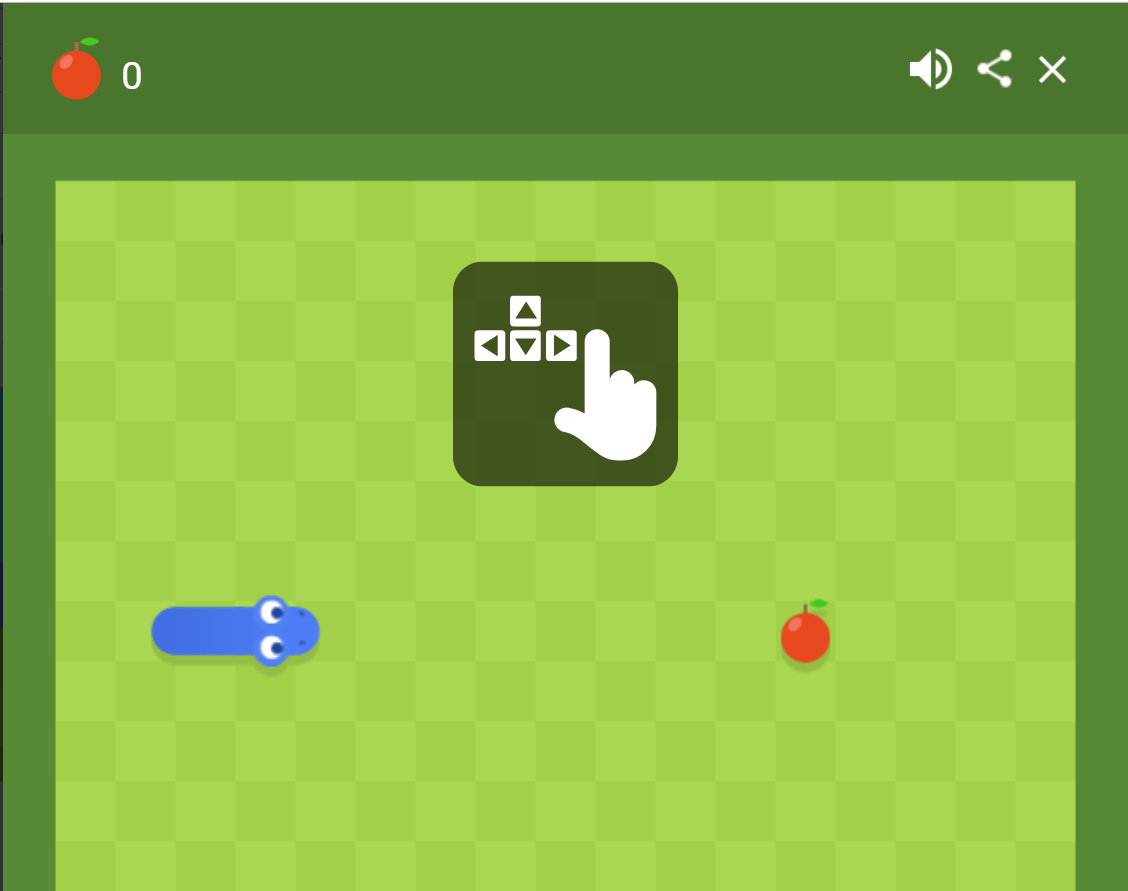 9. Text Adventure Game
Type "Text Adventure game" in the Google Search box and press CTRL+ Shift+ I simultaneously to access this adventurous game of commands. Select the "Console" tab and type and enter "Yes" for the adventurous game to begin.
It gives you the feel of the 70s era when there were no graphics and User Interfaces. The game involves typing Commands that keep taking you inside the action game.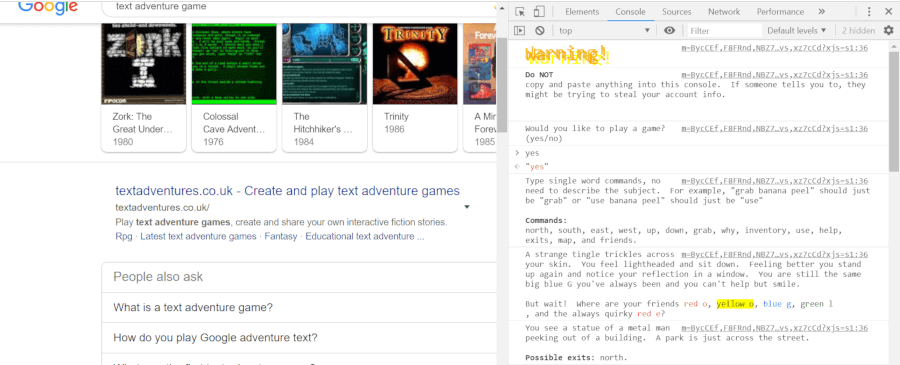 10. Garden Gnomes
Garden Gnomes is another game in Google Search that was developed as a doodle, the doodle does not exist anymore but you can still find the game in the doodle archives if you search "Garden Gnomes" in the Search bar.
The doodle was released on 10th June 2018, when Google celebrated Garden Day in Germany. This game works a lot like the "Angry Birds" game, wherein you are supposed to catapult the Gnomes as far as possible. All in all, it is a great game with addictive game-play.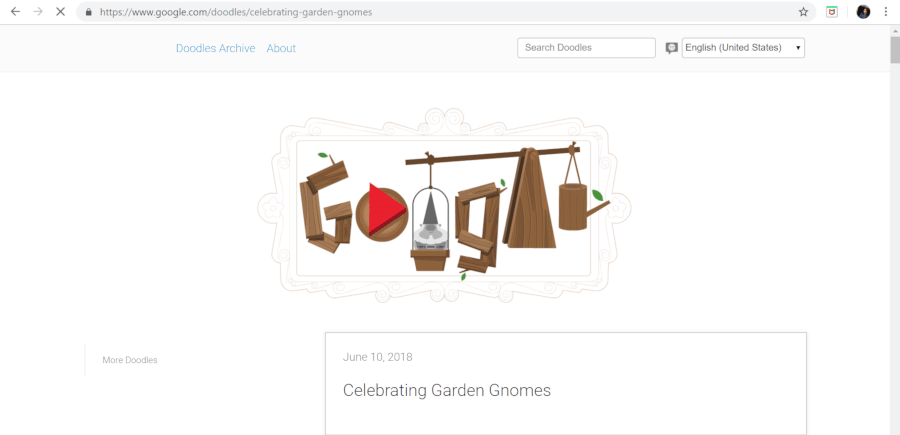 11. Cricket
Step up to the pitch and experience the excitement of the Gentleman's Game with Google's Cricket Doodle! Celebrating the sport's global popularity, this game lets you bat as a cricket player against a team of pesky snails.
As the bowler tosses the ball, time your swing and hit to score runs.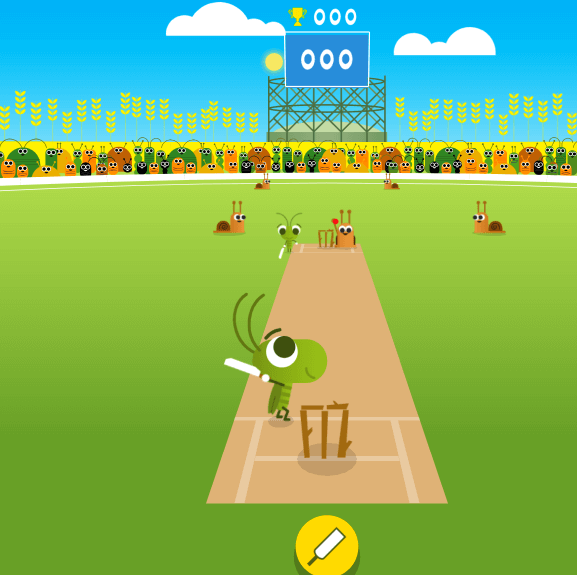 Each level brings new challenges and quirky animations, making it a delightful cricketing experience. Whether you're a die-hard cricket fan or just love fun games, Google's Cricket Doodle is sure to bowl you over with its charming graphics and engaging gameplay. So, grab your virtual bat and gear up for some virtual cricketing action!
12. Halloween Game
Get ready for some spooky fun with the Halloween Google Doodle! Join an adorable black cat on a thrilling Halloween adventure through a magical world filled with ghosts and ghouls.
In this game, you must help the cat defeat the ghostly enemies by drawing symbols with your mouse.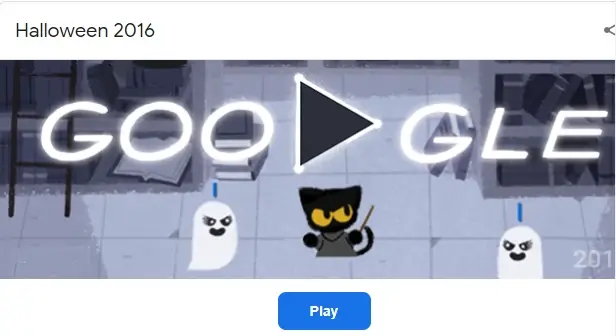 Each symbol represents a spell, and as you progress, the challenges get trickier. The delightful animations and eerie background music add to the festive Halloween atmosphere.
So, immerse yourself in the Halloween spirit and embark on this enchanting journey with the courageous cat to save Halloween night!
13. Doctor Who: Daleks
This Google Doodle brings the iconic sci-fi series to life in a thrilling game of strategy and wit. Assume the role of the time-traveling Doctor as you navigate a maze filled with pesky Daleks.
Your objective is to outsmart these relentless robots by outmaneuvering them or luring them into traps.

As you advance through levels, the challenges become more intricate, requiring careful planning and quick thinking.
With its nostalgic graphics and homage to the beloved TV show, Doctor Who: Daleks on Google Doodle is a fantastic tribute that will delight Whovians and gaming enthusiasts alike!
14. Basketball
Looking for a quick sports fix? Google's Basketball game is just a search away! This fun and addictive game lets you shoot hoops right from your browser.
When you search "Basketball" on Google, a hoop appears, and you become the player.

Use your mouse or touchpad to aim and shoot the basketball into the net. Each successful shot earns you points, and the challenge lies in beating your own high score.
It's a great way to take a break and test your shooting skills without leaving your desk. So, take a few shots, aim for a new high score, and feel the excitement of the court in this virtual basketball showdown!
15. Atari Breakout
Prepare to unleash your inner gaming nostalgia with Atari Breakout on Google Images! Inspired by the classic arcade game, this hidden gem turns your image search results into an action-packed brick-breaking adventure.
Use the paddle at the bottom to bounce the ball and break through colorful blocks overhead.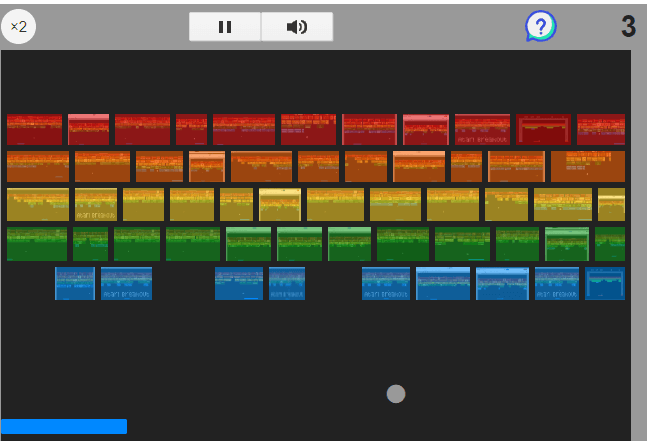 The goal is to clear all the blocks while preventing the ball from falling off the screen. The more blocks you demolish, the higher your score climbs! Atari Breakout offers a perfect blend of retro charm and modern fun, making it an entertaining and addictive pastime for gamers of all ages.
So, indulge in this pixelated joyride and relive the golden age of gaming!
16. Flip a Coin
Need to make a decision but can't choose? Google's "Flip a Coin" feature comes to the rescue!
A simple search can settle dilemmas by flipping a virtual coin, landing on either heads or tails. It is more than a game. Instead, it's a tool that can help you on various occasions.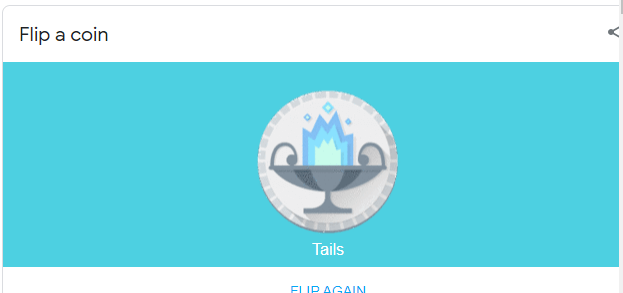 This tool is popular for its convenience and utility, providing a quick and unbiased way to make choices or settle disputes. Whether it's deciding where to go for lunch or who goes first in a game, this handy virtual coin toss saves time and keeps decision-making fair and impartial.
17. Roll a Die
Similar to "Flip a Coin", Google Search allows you to "Roll a Die" virtually. With a simple search, you can generate a random number from 1 to 6, simulating the roll of a six-sided dice.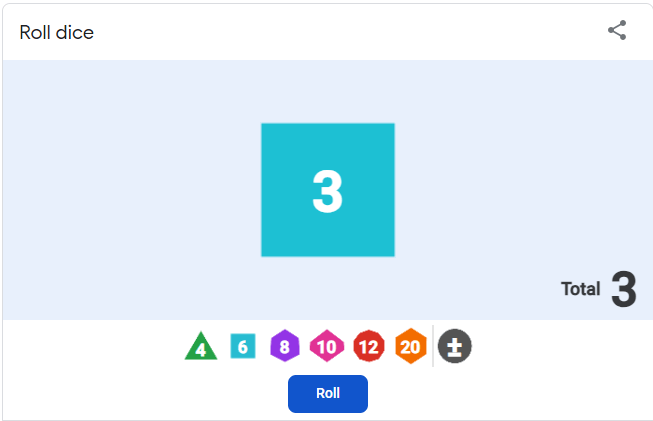 This tool is helpful in various situations, from tabletop gaming and board games to settling random choices. Like "Flip a Coin," "Roll a Die" is widely used for its simplicity and convenience, making it an essential resource for gamers and decision-makers alike.
18. Google Earth Flight Simulator
Google Earth offers an exciting hidden gem—the Flight Simulator! It allows users to take the pilot's seat and explore the world from the skies.
With various aircraft to choose from and realistic flight controls, this feature offers a unique experience to fly over famous landmarks, cities, and natural wonders.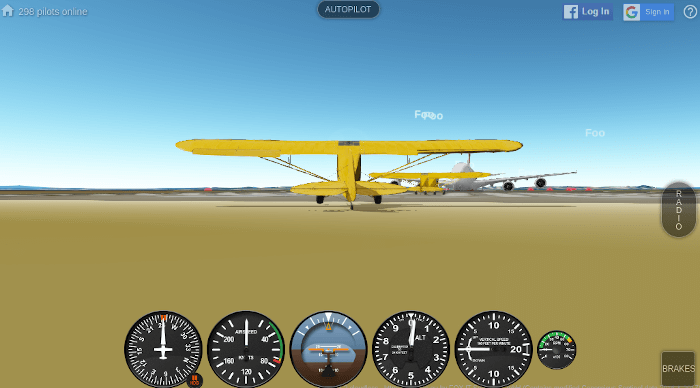 The Flight Simulator is popular among aviation enthusiasts, geography buffs, and anyone who dreams of soaring high above the Earth's surface. It's not only a fun game but also a helpful tool to learn about geography and get a bird's-eye view of different places around the world.
19. Google Guitar
Strumming its way into the hearts of music lovers, the Google Guitar is a delightful interactive feature that turns your search page into a virtual musical instrument.
By searching "Google Guitar" you'll find yourself facing a colorful guitar fretboard. Each key on your keyboard corresponds to a string, and you can play various notes and chords by pressing the keys.

It's a fun way to create melodies, experiment with different tunes, and even learn some basic music skills. The Google Guitar's popularity lies in its accessibility and creativity, allowing users of all ages to unleash their inner musicians and compose beautiful melodies with just a few keystrokes.
20. Space Invaders
Blast off on a nostalgic trip back to the arcade era with Google's Space Invaders game! By searching "Google Space Invaders" you'll be transported to an intergalactic battlefield, where you control a spaceship defending Earth from descending waves of alien invaders.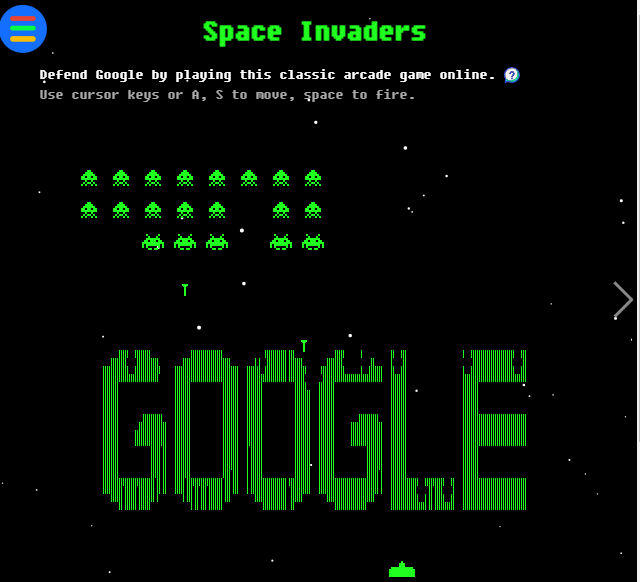 Move your ship left and right to dodge enemy fire while firing back to destroy the invaders. As the levels progress, the alien formations become more challenging, testing your reflexes and shooting accuracy.
Space Invaders' enduring appeal is rooted in its retro charm and captivating gameplay, making it a favorite among gamers seeking a taste of classic arcade action.
21. Fidget Spinner
In the whirlwind of fidgety fun, Google Search has a delightful Fidget Spinner for you to enjoy! Just type "Fidget Spinner" into the search bar, and a virtual spinner appears on your screen.
You can swipe or click to make it spin and watch the mesmerizing motion unfold. Originally designed as a toy to help relieve stress and anxiety, the virtual Fidget Spinner became a popular online fad due to its simplicity and calming effect.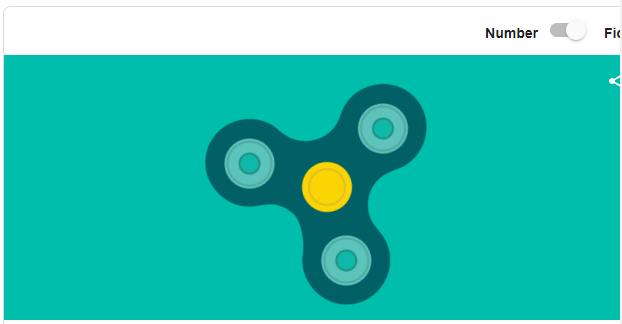 It's a handy tool for anyone seeking a moment of relaxation and a quick escape from the hustle and bustle of daily life. Whether you're a fidgeting enthusiast or simply seeking a soothing diversion, the virtual Fidget Spinner is a welcome breath of tranquility.
22. Smarty Pins
Smarty Pins is an innovative and educational game that brings geography to life through Google Maps. With this game, you can test your knowledge of world trivia while exploring different locations on the map.
Google asks a trivia question related to a specific place, and your task is to drop a pin on the map as close to the correct answer as possible.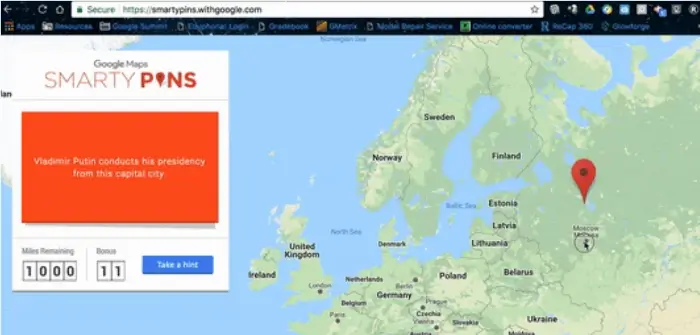 The game covers a wide range of topics, from historical events and famous landmarks to popular culture and more. Smarty Pins is popular for its engaging and informative gameplay, making geography fun and interactive.
It's a fantastic way to learn about the world while challenging yourself and your friends with intriguing trivia questions!
23. Cube Slam
Cube Slam is an exciting and immersive 3D game brought to you by Chrome Experiment. In this multiplayer game, you control a paddle within a cube and compete against a bear in a space helmet!
Your objective is to bounce a ball off the walls to hit the bear's cube and score points. The game features various power-ups and challenging levels, making it a dynamic and enjoyable experience.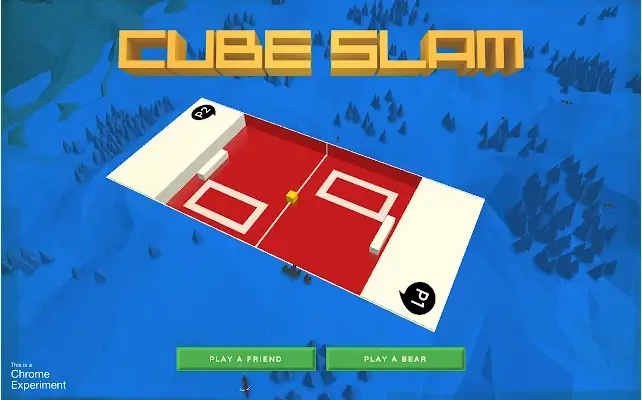 Cube Slam's popularity stems from its impressive graphics and smooth gameplay, all within your web browser. Plus, you can invite friends to join the fun and play together in real-time.
So, put on your game face and get ready for a thrilling cube-smashing showdown!
24. Pong (Google Images)
Experience the classic arcade game of Pong through Google Images! By searching "Google Pong" or "Pong Doodle" you'll be transported to a retro gaming paradise.
Pong, one of the earliest video games, simulates a table tennis match between two paddles. Your task is to control the paddle and hit the ball past your opponent's paddle.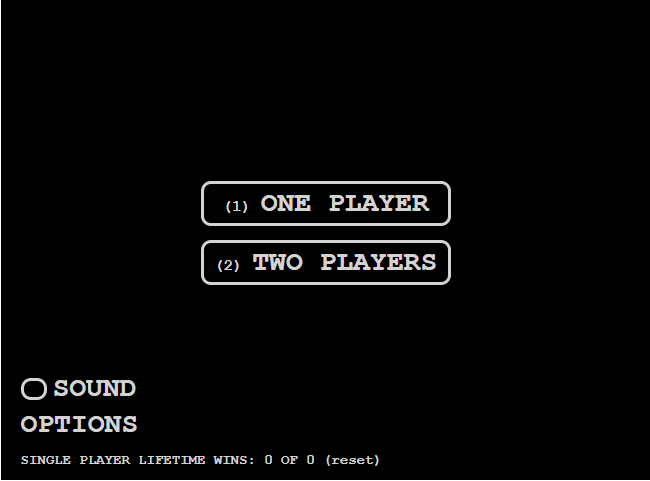 The game's simplicity and addictive nature have made it a timeless classic loved by gamers of all ages. The Google Images version adds a playful twist to the nostalgic game, offering players a chance to relive the fun of Pong right from their browsers.
Did you know, apart from searching and using Google to enter into the World Wide Web, you can also play such interesting games on Google Search? No need of installing any game Apps or visiting any insecure Webpage, just go to Google Search and you can while away your time, playing some seriously addictive and amazing games.