The productivity software market is estimated to have hit $96.36 billion by 2025 after having grown at a rate of 16.5% CAGR. This highlights the increasing demand for solutions that help manage and monitor work processes.
In a market flooded with solutions, there is still a lot of growth and opportunity for new tools, especially at a time when more and more people are working from home. Enter Zenkit To Do.
Zenkit To Do is a beautiful and feature-rich simple task management application for individuals, small businesses, and enterprise-class organizations. It enables users to focus on day-to-day tasks based on priority and using smart lists like "Assigned to me", "Favorites", "Week" and "Today".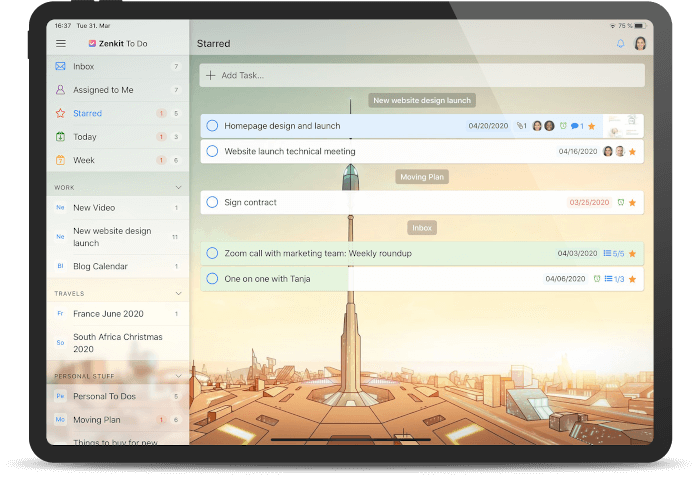 Users can also add due dates and reminders to any task as well as collaborate with colleagues, friends, and family. And because Zenkit To Do is part of the Zenkit family, users can enjoy all of the deeply integrated products from a single data platform.
Tasks from To Do are available in Zenkit Project Management (To Do's big brother) with extra views and functions like Kanban, mind maps, and Gantt. As if that's not all, the Zenkit platform is an Enterprise-ready infrastructure including Access-management (Roles, Groups), Provisioning (SCIM), Identity management (SAML, 2FA), Audits and more.
Microsoft will shut down Wunderlist on the 6th of May and this will leave many users worried about what to do with their data, especially since some of them are reportedly dissatisfied with the available alternatives. But don't be dismayed yet because on April 6th, 2020, in Karlsruhe, Germany, Zenkit To Do got its first release.
Not familiar with Zenkit? It is an all-in-one solution for collaboration and project management best known for its flexibility and ability to fit any workflow. The team reckons that the level of complexity in Zenkit is redundant for many users looking for a simple task management tool and this is why they have created Zenkit To Do to give Wunderlist users a new home.
As the Zenkit CEO, Martin Welker explained,
"We deliberately built Zenkit To Do to look and feel similar to Wunderlist… Wunderlist's departure is a huge loss for millions of users who've built their lives around it. Many have expressed disappointment at the current alternatives, none of which are quite the same. We want to fill that gap. We knew we had the infrastructure to handle such a quick turnaround and had already planned it for 2020, so we thought… Why not now?"
Features in Zenkit ToDo
Freemium app with 3 subscription plans for Plus, Business, and Enterprise users
Available on Linux, macOS, Windows, iOS, Android and on all modern browsers
Smart lists: Starred, Today, This week, Assigned to me
Inbox
Subtasks
List sharing
Comments
File attachments
Folders
Reminders
Dark mode
Offline support
User @mentions
Enterprise-ready: groups, roles, SAML, SCIM, auditing
Seamless integration with Zenkit Kanban and Gantt
Zenkit ToDo just got its first beta release and while a good number of the features in Wunderlist are yet to be available to its users, the team is focused on not only making those features available in the near future but to add a lot more features to it.
For starters, the app features a "one-click-import" function that enables users to their lists, along with due dates and starred tasks, directly into it with ease.
Pricing
Zenkit ToDo offers a version that is free forever and it allows up to 8 team members with access to 80 lists, 500MB storage for attachments, 2400 tasks, and 20 folders.
The paid plans are Plus ($4/month/user), Business ($19/month/user), and Enterprise (variable pricing). Mind you, Zenkit subscriptions for non-free plans recur automatically on a monthly or annual basis and users are charged per member per month.
As usual, additional tax may apply in some countries and you can learn more about Zenkit ToDo's pricing and pro features from the dedicated page here.
Install Zenkit ToDo
On Linux platforms, Zenkit ToDo is available to download as .deb, .rpm, .targ.gz, .AppImage, or Snap. You can register an account or log in using your email address, Google, Microsoft, or Apple account – or you can use the Single Sign-On (SSO) option.