You might be thinking, which is the best WordPress translation plugin for a Multilingual Website. If you research, you'll find a lot of options, circling on the internet.
But which is the best plugin, and how to use it? Google suggests many, but how many of them are reliable? How to use a particular plugin and why is it so popular? These are some of the things you might be contemplating as you begin your search for the best WordPress translation plugin for a Multilingual Website.
WordPress is the world-famous open-source platform giving options to create your website in your language. Millions around the world use WordPress to create their website but, the crux of the problem is WordPress doesn't have enough linguistic tools.
To counter your conjectures, here is a list of proven WordPress plugins that are certainly going to help you in creating a website in native languages. We are going to check some of the pros and cons of the plugins so, that you can decide the best plugin for you.
1. Google Website translator
Google Website translator app enables users to translate their website content using Google Translate API. The app makes use of the default Google translate button, which can be placed anywhere on the website.
The sidebar widget or an inline shortcode, allows the user to show the language they want to show in the language switcher. For specific pages the shortcode feature allows users to offer machine translations. Plugin through the user's website or their language selection will display the translated page. The Plugin is a free of cost.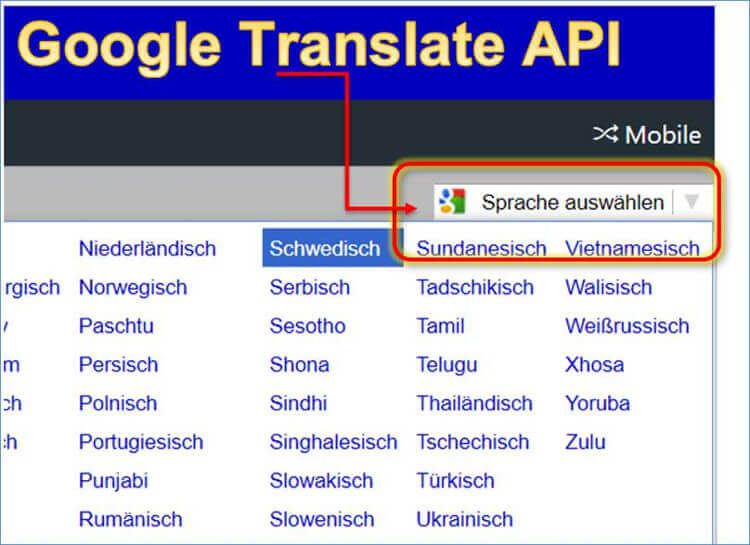 2. Loco translate
Loco Translate is one of the best translation plugins for WordPress. It has over 500,000 active installs worldwide. Loco Translate empowers users to translate their WordPress themes and plugins straight-away in their browser.
This plugin is very much recommended to those developers who wish to offer international versions of their WordPress plugins and themes. The pro version starts at $5.95/month.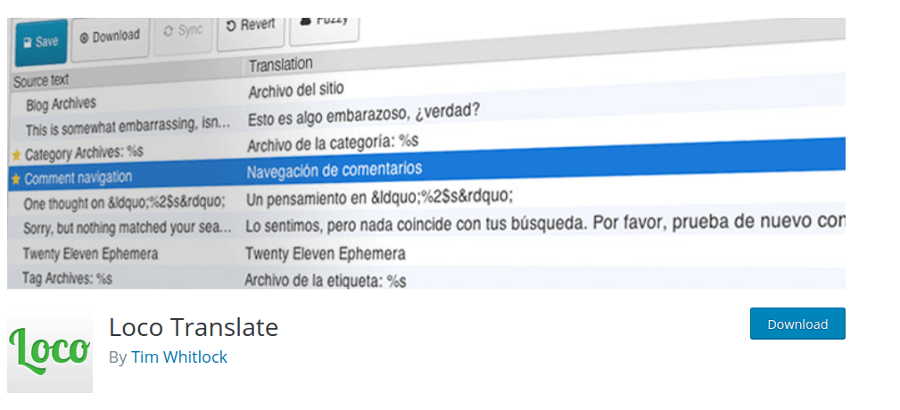 3. Polylang
The next best tool to create a multilingual or bilingual WordPress site, and Polylang is a powerful tool. It has a pretty simple interface, which empowers you to translate your custom post types, pages, widgets, posts and more.
It doesn't have enough plugins to support WordPress plugins and themes. It doesn't have eCommerce support and to have it one has to buy it for an extra cost. It empowers to create an SEO friendly URL for different languages.
Polylang also works well with famous WordPress SEO plugins. Adding a language switcher to the website as a sidebar widget helps the user to select a language. The most basic version of it is free of cost. But to get the Pro version of it one has to pay €99.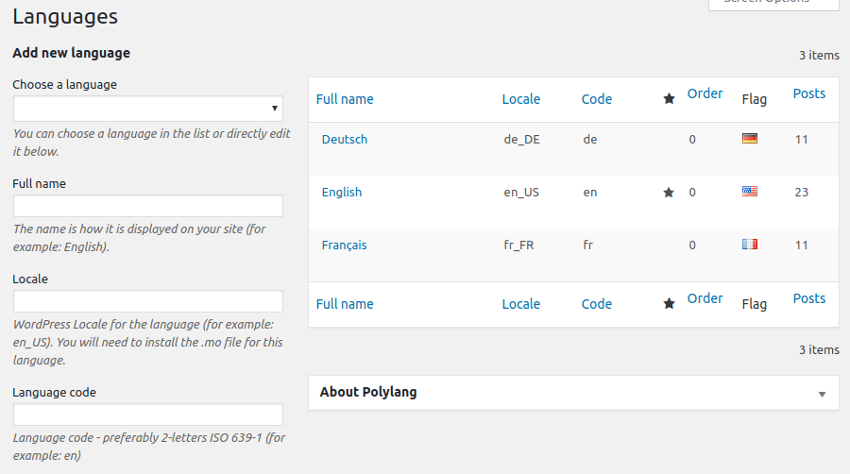 4. TranslatePress
TranslatePress is a powerful tool that allows you to translate the website from the front-end. Here the user can bring-in changes about any part of the website. Without changing the interface, you can also change content, theme, plugins, and even meta-data.
The plugin also helps to create public-friendly SEO URL's in desired languages. This prospect helps in improving the page rank on SEO search results. This Plugin is not a freeware and you need to purchase it and the pricing starts from €79 for a personal license.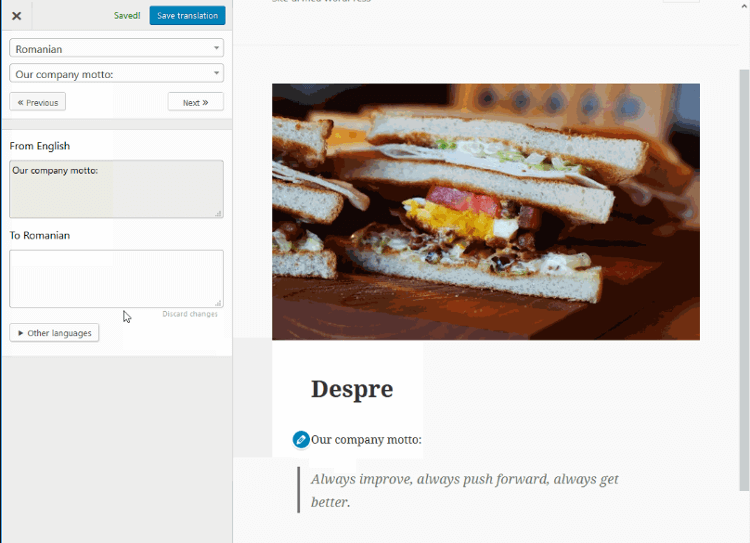 5. Weglot
Weglot is a cloud-based website translation platform. It is compatible with Shopify, BigCommerce, WordPress and more. Weglot API is needed while installing, as it helps to connect a WordPress site to Weglot.
Soon after this step, one can choose their preferred language, site language, and other languages, that are to be added. To make these changes, you can reach Weglot's website, and from there you can make the changes you wish to.
Subsequently, they can send it to the live website. Some of the other features include language switcher button, third-party translation services, WooCommerce support, URL support and more.
The monthly pricing policy makes Weglot a much costly affair to use. The pricing starts from €8.25 per month for a language and 10,000 Words.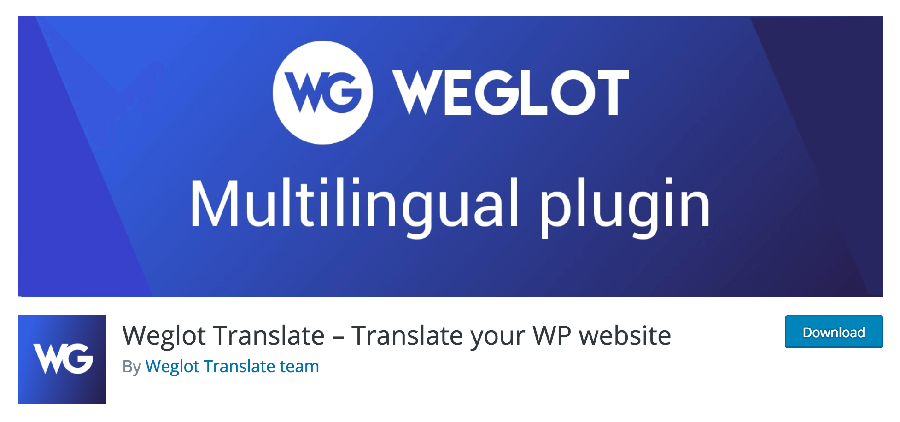 6. Translate WordPress with GTranslate
GTranslate is a Google translation plugin for WordPress, which allows users to translate WordPress. It directly connects to Google Translate API, and it can fetch translations for any supported languages.
GTranslate empowers users to add a language switcher to easily translate their webpages. Alternatively, based on the user's browser language, it can automatically translate.
The plugin also comes in a paid version (starting at $5.99/month), and it allows users to choose SEO friendly URL's and let search engines index their translated content.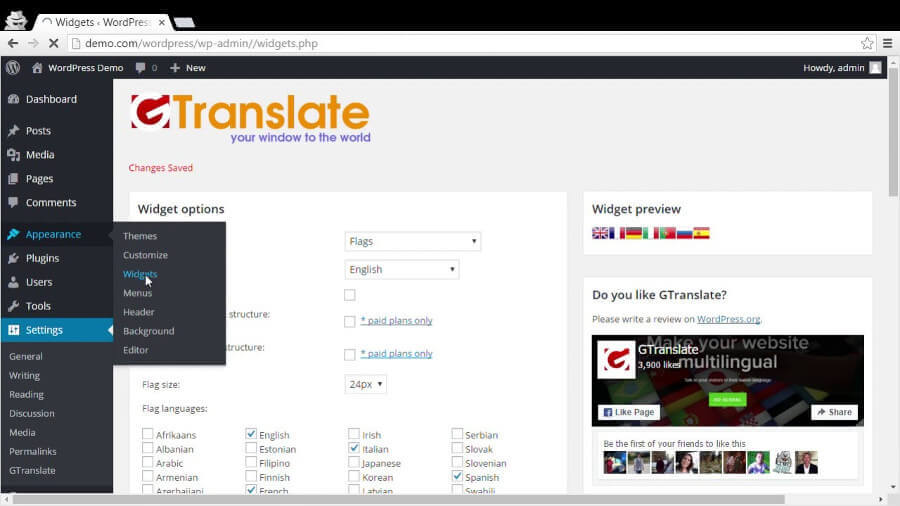 7. MultilingualPress
Contrary to other translator tools, MultilingualPress works in a much different way. Using a multilingualpress you can create a multilingual website for which this tool uses a built-in WordPress multisite network for each language rather than using a normal WordPress install.
After this, the plugin efficiently works on the content for an individual language while enhancing its performance, as it loads one language at a time. A unilateral interface helps manage translations from one single dashboard.
It supports custom post types, taxonomies, pages, posts and more. The architecture is so precise that every individual language can be on its directory, custom or even a subdomain, domain name.
The price of this translator is $199/year for a single multisite license.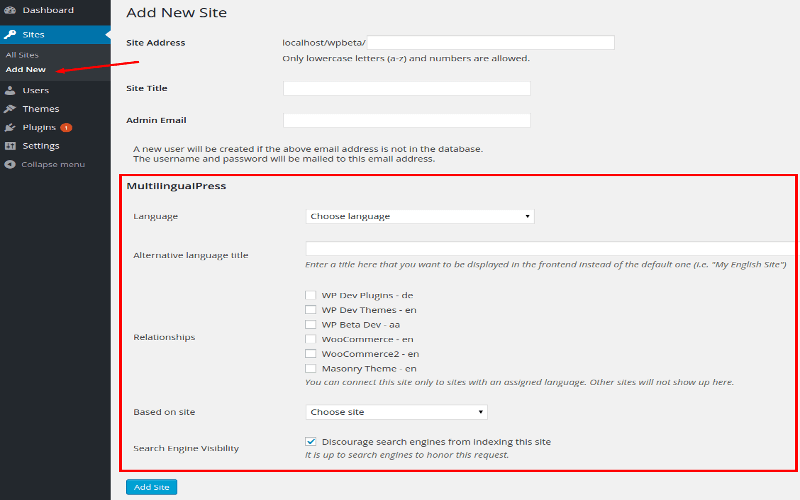 8. WPML
WPML is one of the most popular translation plugins. It allows its users to translate content, themes, plugins, and more. All this is possible with the help of powerful translation management the plugin has.
WPML is an easy to use interface, and it aids to manage and translate multilingual content across the website. It supports all post taxonomies, custom fields, strings generated and types which are assigned by the WordPress themes and plugins.
Pricing: $29 for Multilingual Blog version and $79 for Multilingual CMS.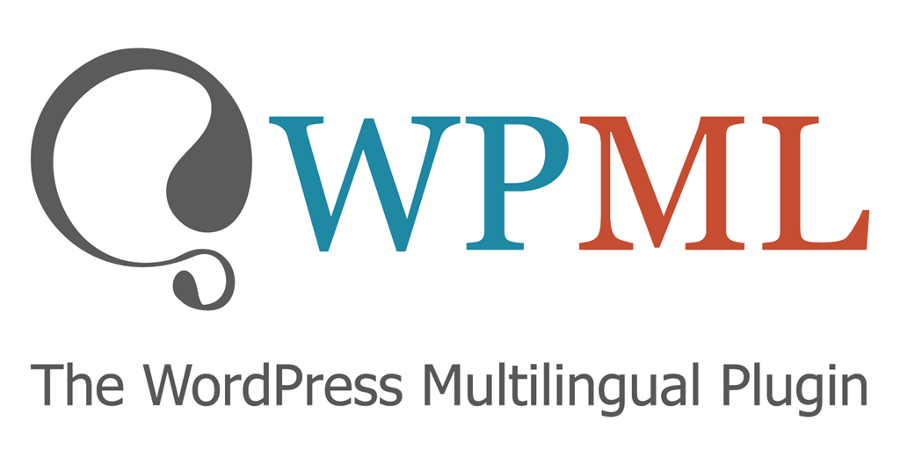 9. Transposh WordPress Translation
Transposh Translation combines the automated machine translations along with manual human translations to deliver a better translation.
It provides an easy to use in-context interface on the website, which gives users the chance to provide their valuable contributions in translating. It also empowers the website host to hire professional translation services to submit translations.
Its automated feature supports Yandex, Bing, Google and Apertium translation services. It's a free plugin.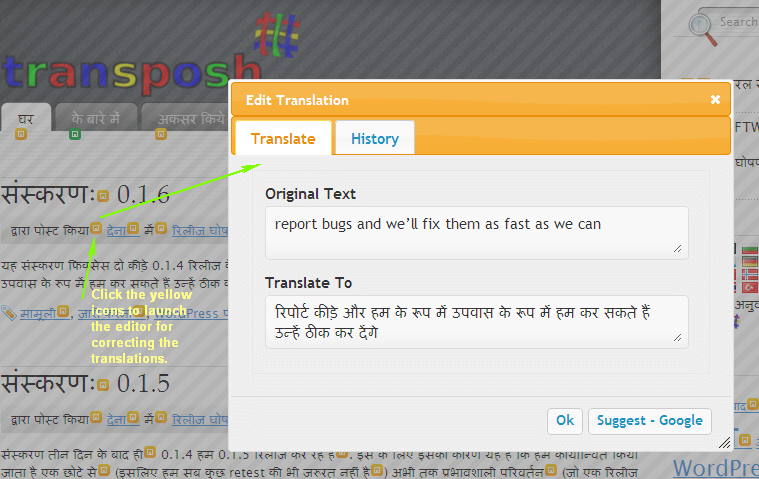 That is all folks! We hope that you will find our list helpful. Please don't forget to share your views in the comment section below.
In case you know about other Translation plugins and if they are worthy of being on this list, please fill-up the feedback form below. We shall surely look into it.
Until we meet again, how about reading our previous WordPress articles? Read on and work like a Pro!