We are in 2018 and Adobe still hasn't said anything about supporting the Linux platform. Nevertheless, developers are working hard at making it possible for Linux users to enjoy Adobe's host of Creative Cloud in all their glory.
So, today, we introduce to you one such project that goes by the name of Creative Cloud for PlayOnLinux – an install script for Adobe Creative Cloud via PlayOnLinux (a Wine alternative). It sets up Adobe's CC app manager on Linux desktops after which Photoshop, Illustrator, InDesign, and Dreamweaver, among others, can be installed.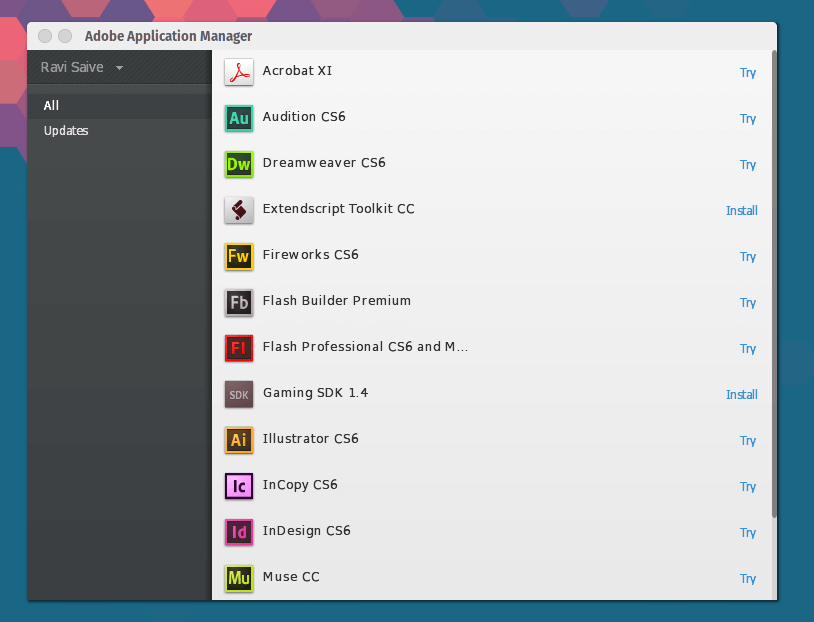 List of apps available to download (as of October 2017):
Acrobat DC
Audition CS6
Bridge CC
Dreamweaver CC 2015
Edge Animate CC 2014.1
Edge Code CC (Preview)
Edge Inspect CC
Edge Reflow CC (Preview)
Extendscript Toolkit CC
Extension Manager CC
Fireworks CS6
Flash Builder Premium
Flash Professional CS6 and Mobile Device Packaging
Fuse CC (Beta)
Gaming SDK 1.4
Illustrator CC 2015
InCopy CC 2015
InDesign CC 2015
Lightroom 5
Muse CC
Photoshop CC 2015
Prelude CS6
Touch App Plugins
How to Use Adobe Creative Cloud Script
1. Download PlayOnLinux via your distribution's package manager (e.g. Ubuntu Software Center) or from the PlayOnLinux website.
2. Save the install script to your Linux computer.

$ wget https://raw.githubusercontent.com/corbindavenport/creative-cloud-linux/master/creativecloud.sh

3. Launch PlayOnLinux and head over to Tools -> Run a local script.
4. Select the install script you just downloaded.
When the script is done setting up you will be able to open PlayOnLinux, Adobe Application Manager, and then install the apps you want and at any time.
Important!: A (free) Adobe ID is required to install additional applications. Most Adobe applications require a paid subscription.
NOTE: Only Application Manager, Photoshop CC 2015, and Lightroom 5 have been extensively tested. This method does not allow the installation of CC 2017 applications, only the earlier 2015 versions.
Developer's are looking into a fix. If you run into warnings about video memory size, open PlayOnLinux and go to Configure > Display > Video memory size.
Have you had any experience with the Creative Cloud for PlayOnLinux? Is it an efficient way to work with Adobe's App collection on GNU/Linux or would users just have to keep using alternatives till Adobe performs a miracle?
Share your thoughts and suggestions with us in the comments section below.