Anarchy Linux, compared to other Linux distributions like Manjaro and Antergos because it is actually NOT a Linux distribution.
Anarchy Linux is a free and open source package containing a set of automated scripts designed to facilitate the easier installation and configuration setup of Arch Linux.
To define Anarchy Linux in the simplest of terms, it's an Arch Linux wrapper and it offers users a close replica of an Arch Linux experience since that is what it runs under the hood.
Read Also: Why Is Arch Linux So Challenging and What are Its Pros & Cons?
What makes it quite different from Arch Linux itself is the fact that it is installed using the official Arch repo's package base and it from and also features a custom repo containing additional packages.
In the words of its developers,
Anarchy Linux is a distribution aimed at bringing the Linux revolution to the world. We believe that Linux is the way of the future for desktop computing and provide you with a platform to install a custom Arch based operating system just the way you like. Anarchy Linux is intended for both novice and advanced users alike. Simply write the Anarchy Linux ISO to a CD or USB and boot from your computer or VirtualBox.
Anarchy Linux ISO comes containing a live system that you can run off an external storage device before going on to make a permanent installation. It has support for multiple languages, an XFCE4 DE, some default software, and a plethora of configuration options.
Anarchy Linux installer is also available in a semi-graphical version to allow for a quick installation for those who do not deem a full live GUI necessary. With that being said, how well does it work as a distro on its own? Let's find out.
Anarchy Linux Installation
It is cool because you can run the installer from the Xfce4 Desktop Environment but not as user-friendly as, say, Ubuntu, because you will still need to use a text-based installer.
The installation steps, however, are straightforward. Choose your download option, set your keyboard layout, timezone and language settings, etc.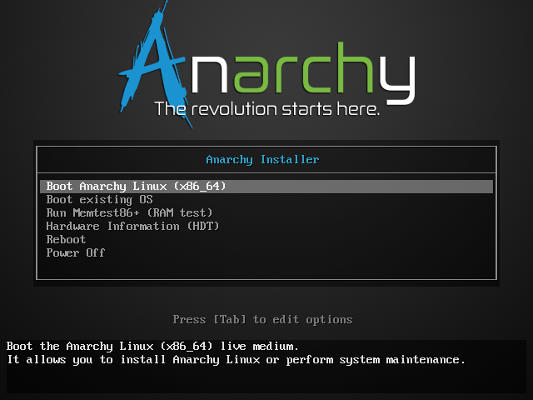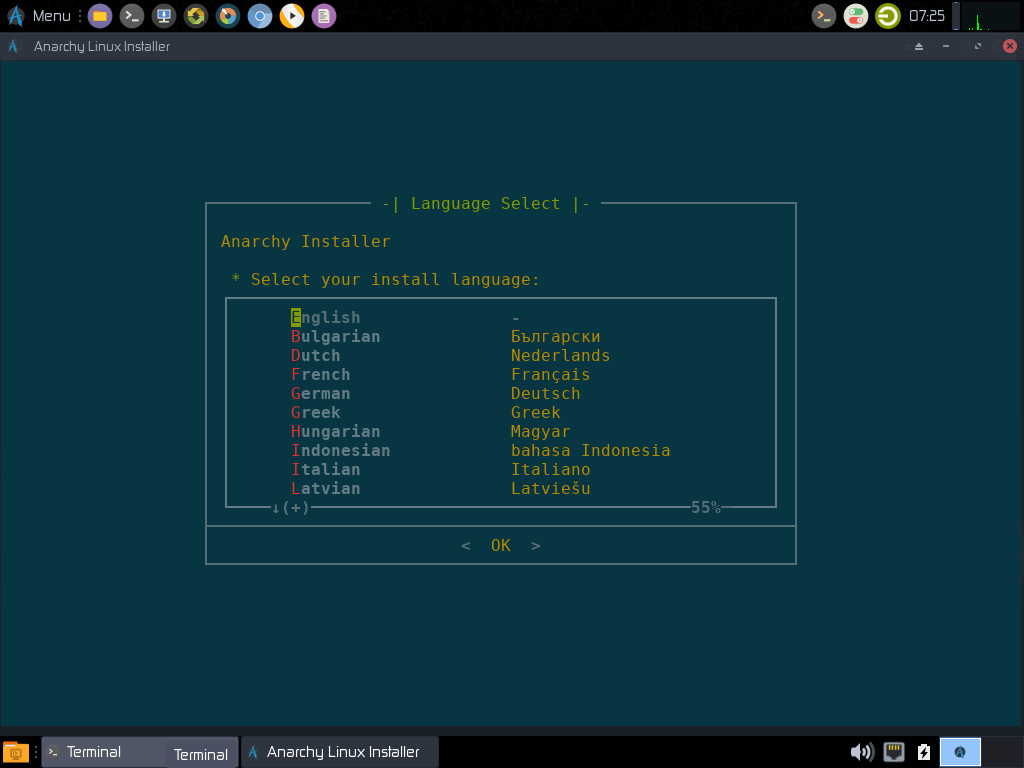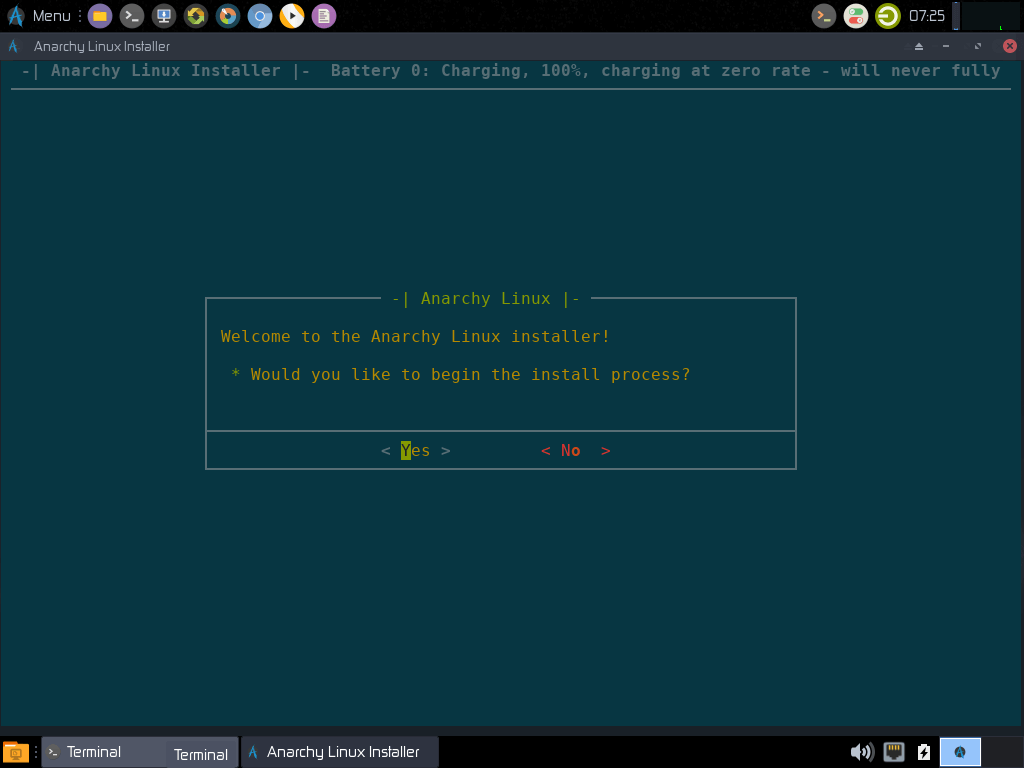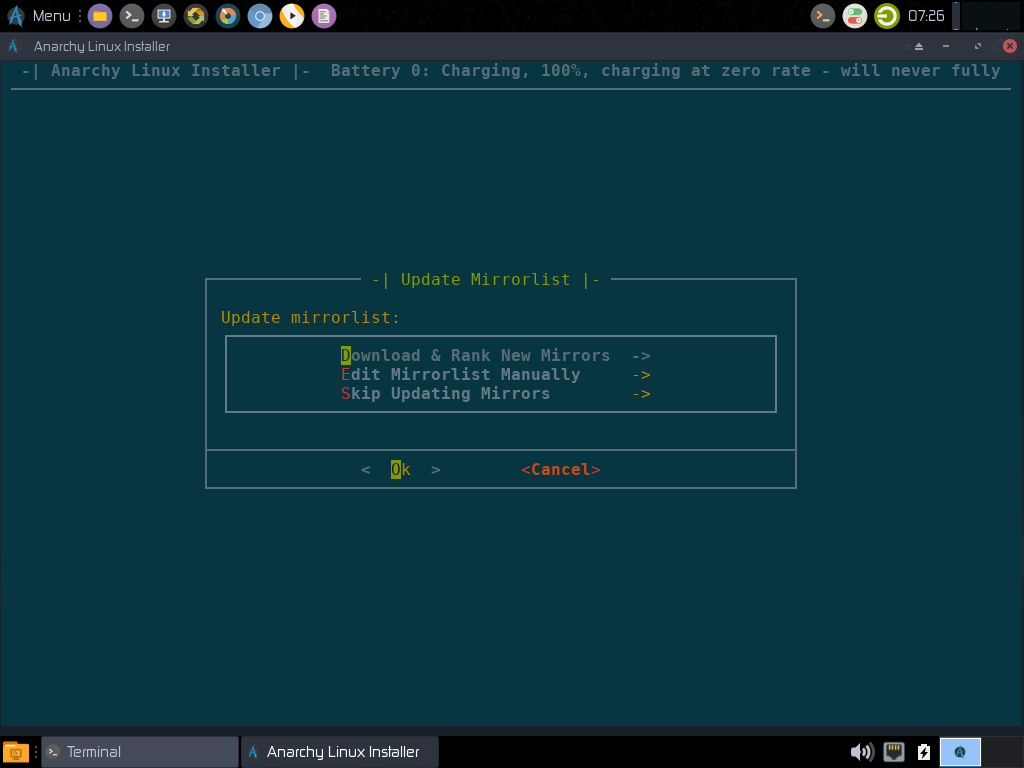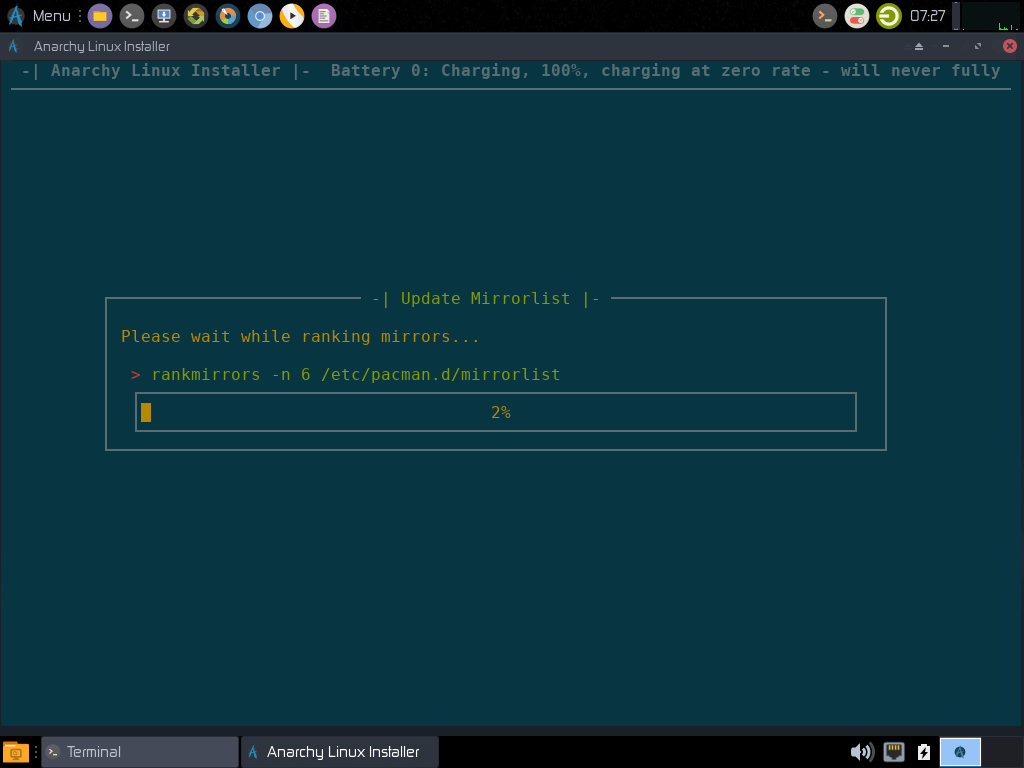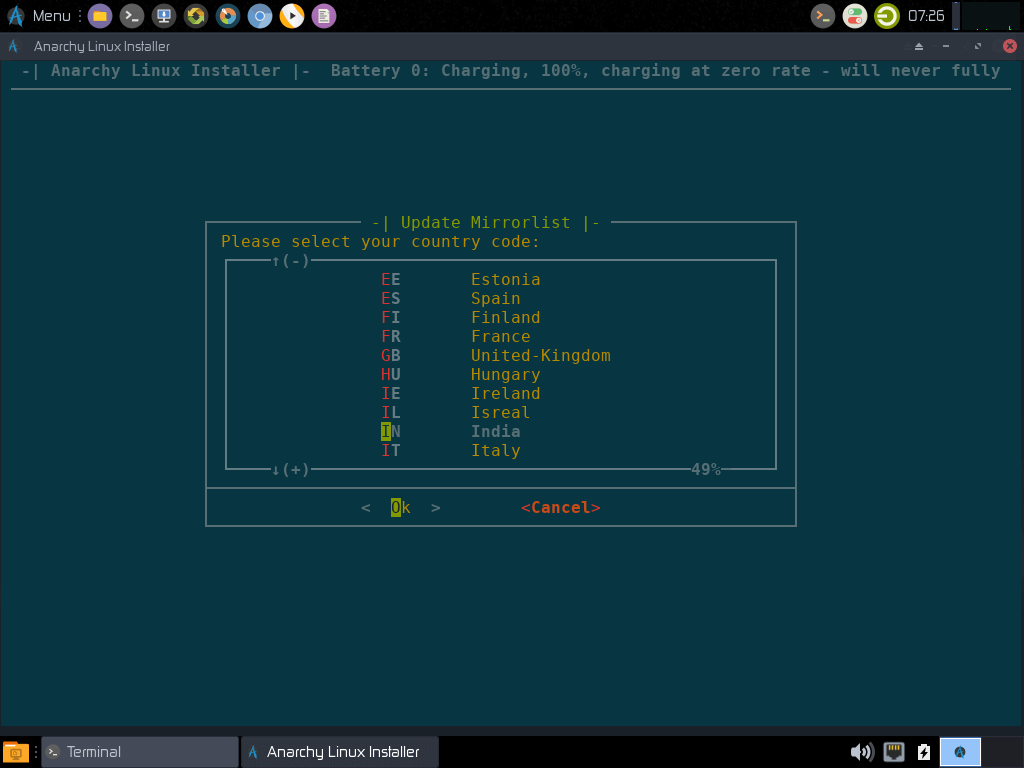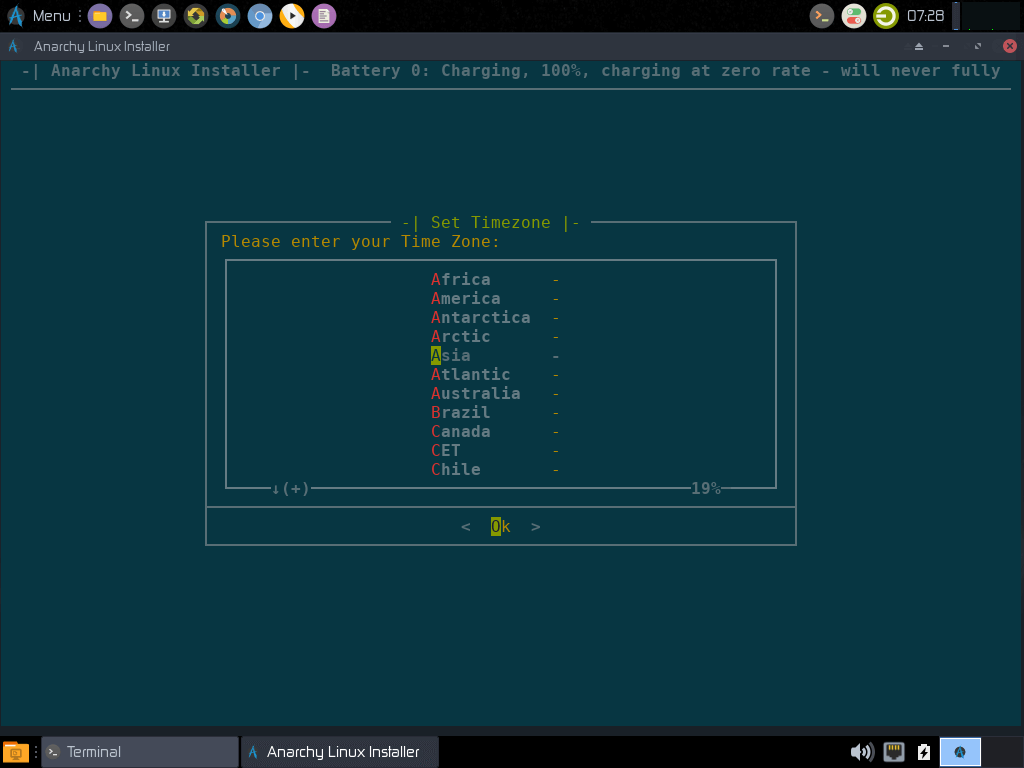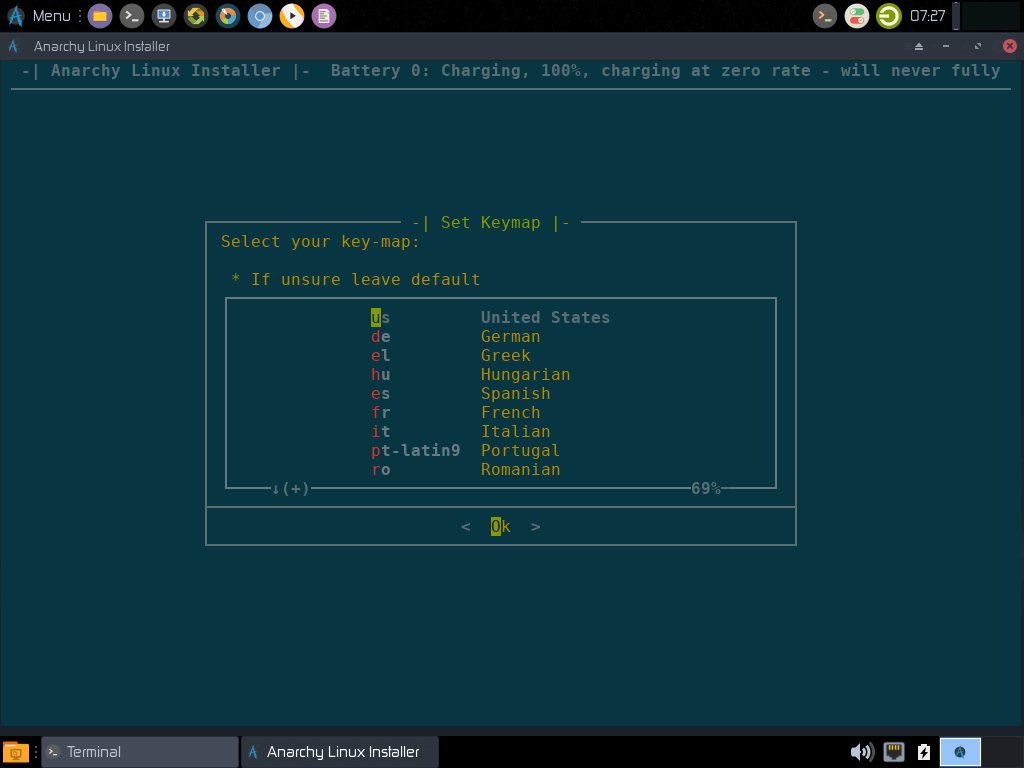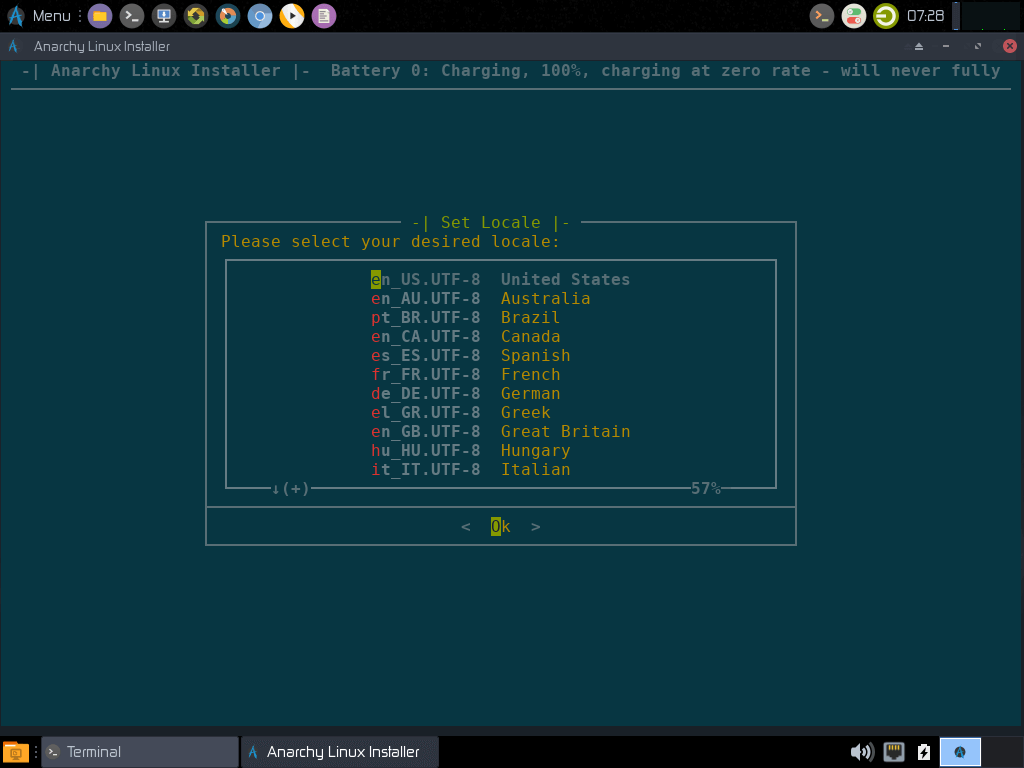 Next, auto-partition your drive, choose your swap settings if you decide to create SWAP space, and decide to go with either GPT (GUID Partition Table) or MBR (Master Boot Record) partitioning.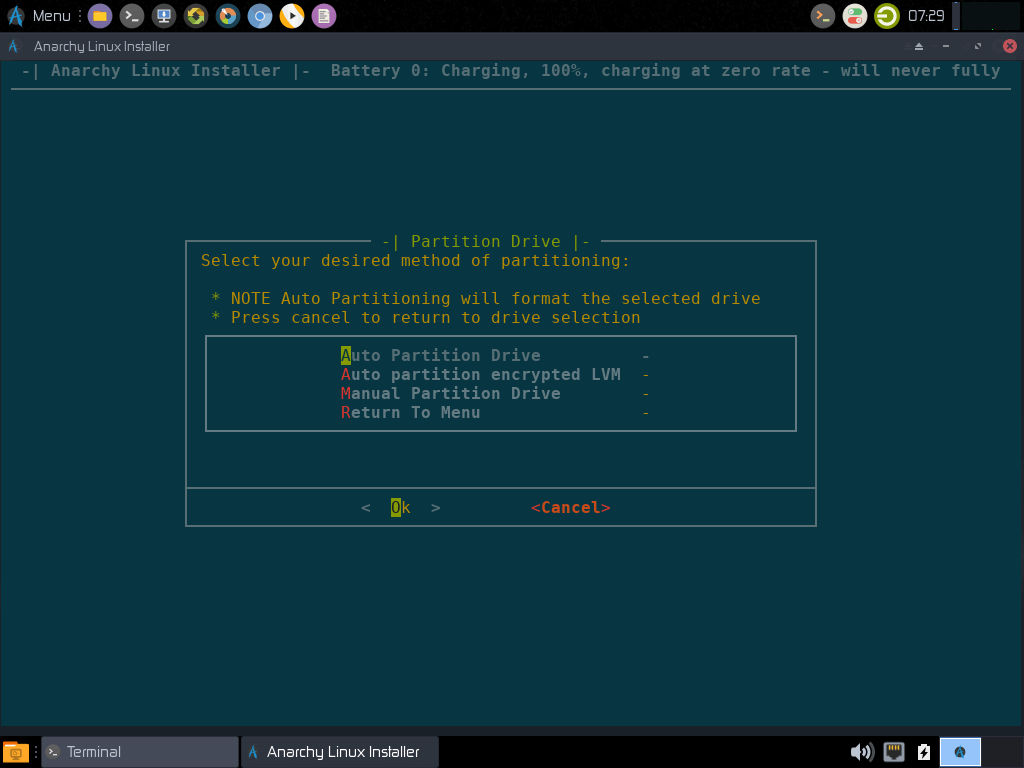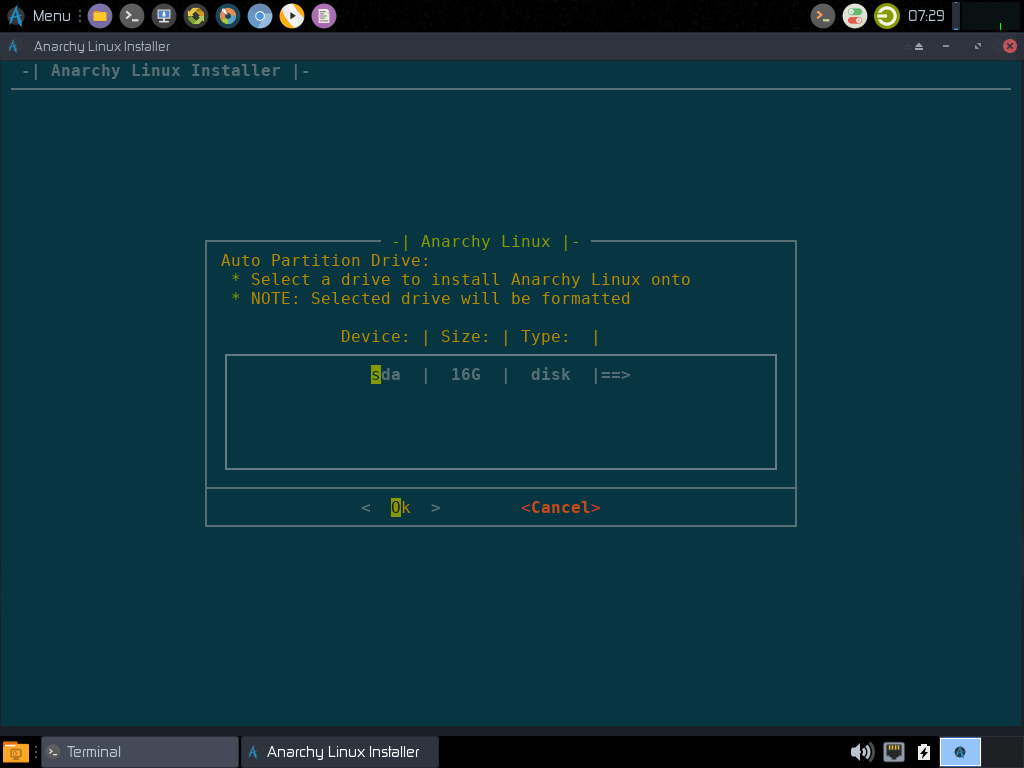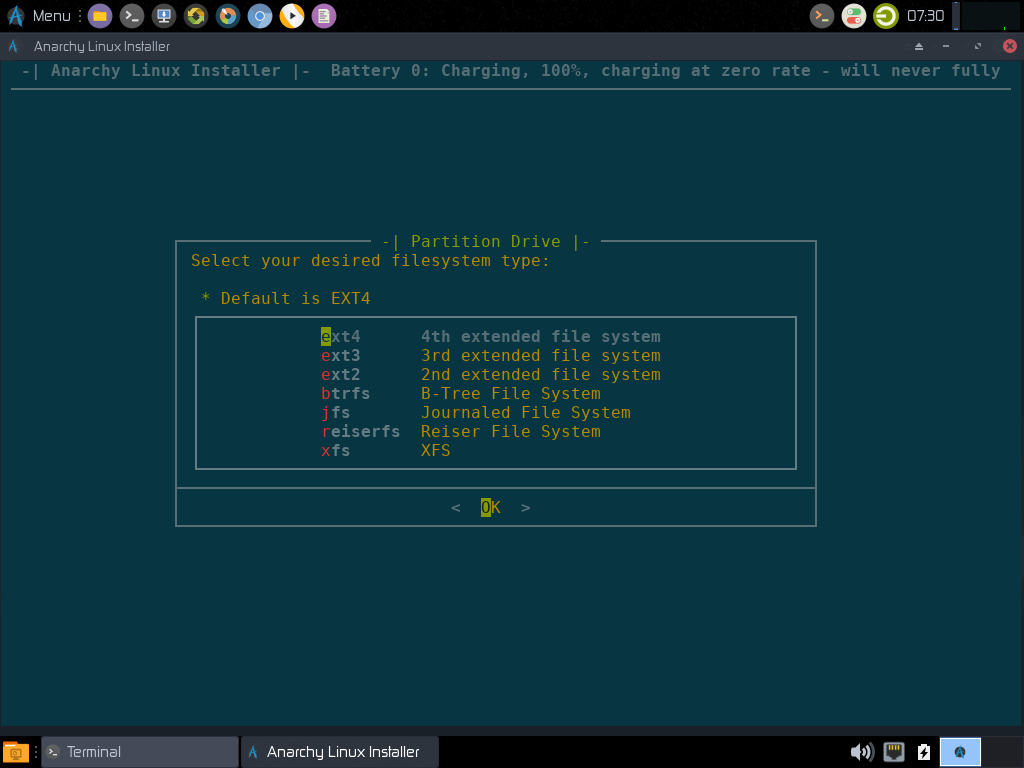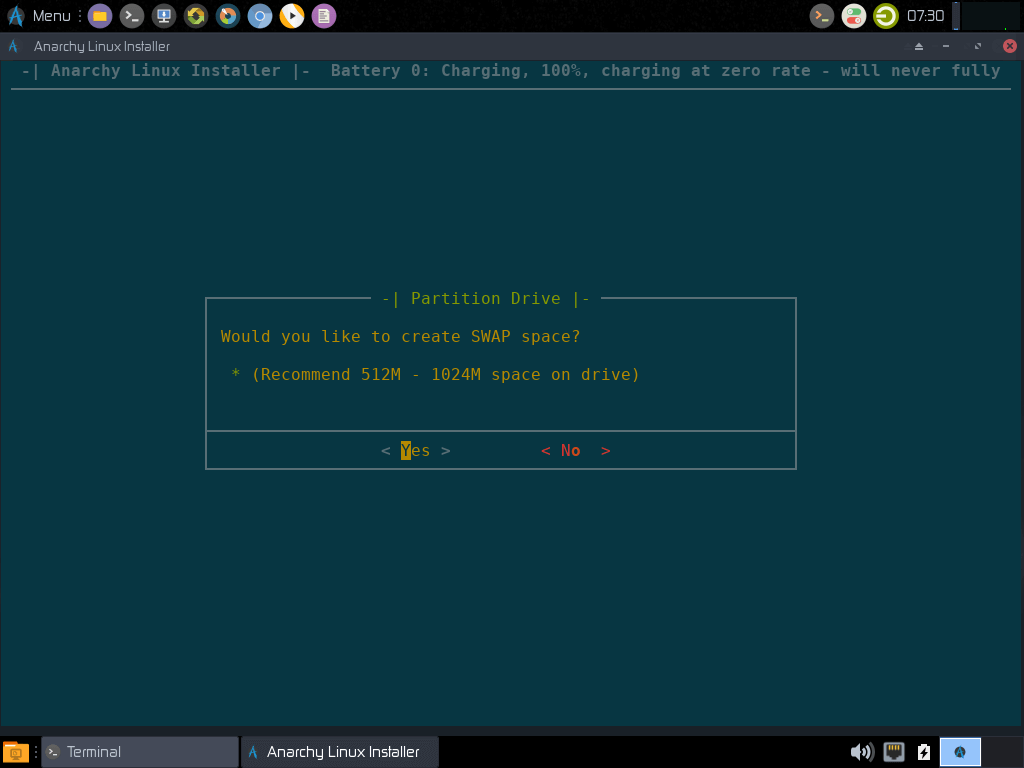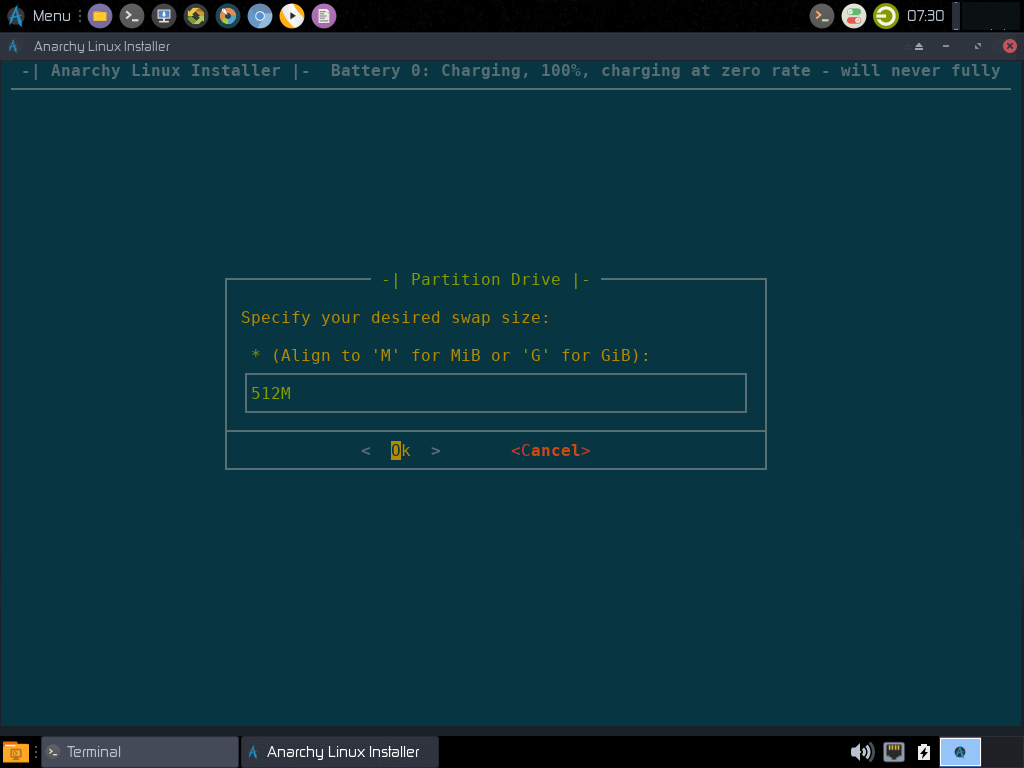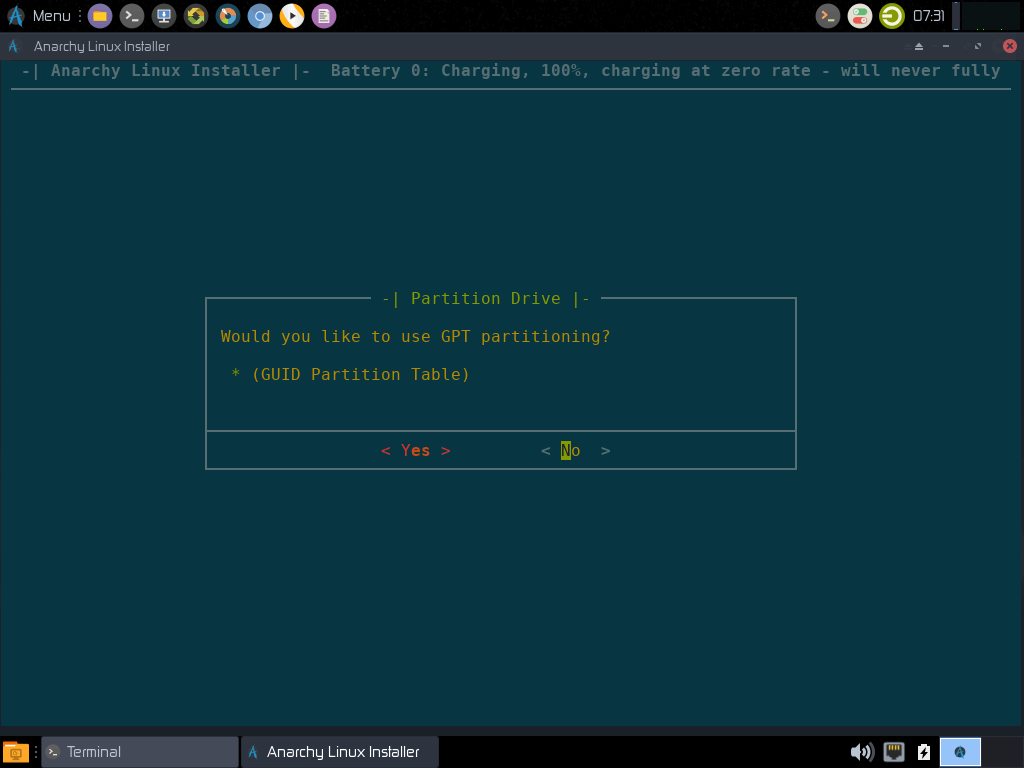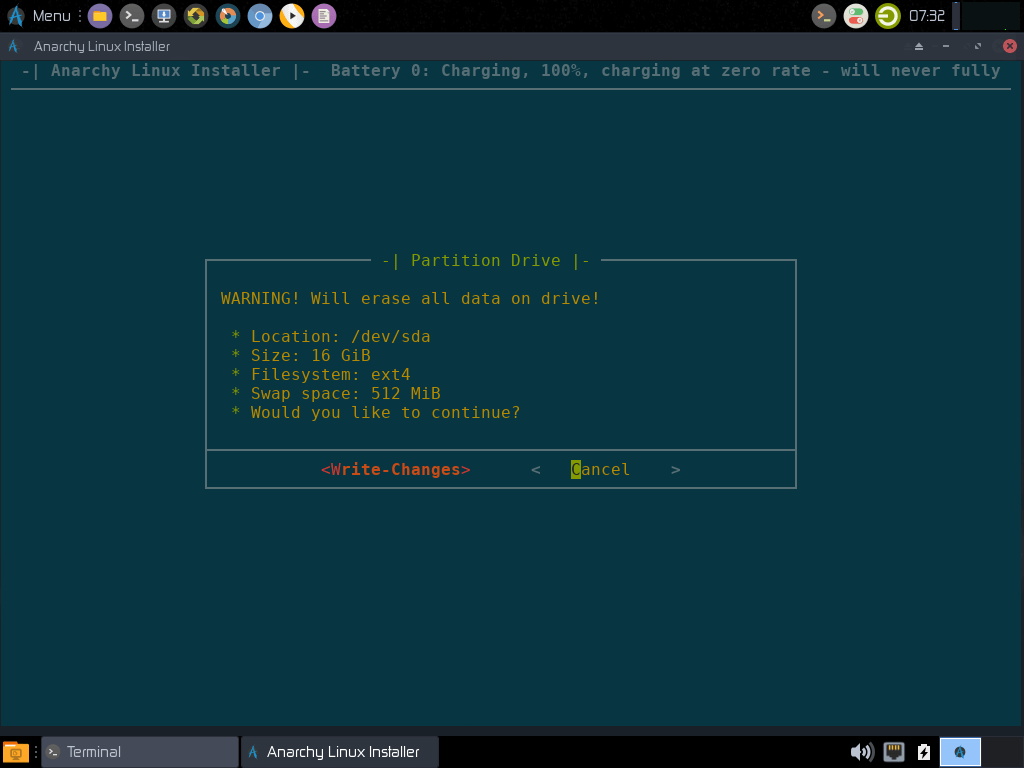 Next, choose which version you want. the options include Anarchy Desktop, Desktop-LTS, Server, Server-LTS, and Advanced. You want to go with Anarchy Desktop-LTS because it has long-term support.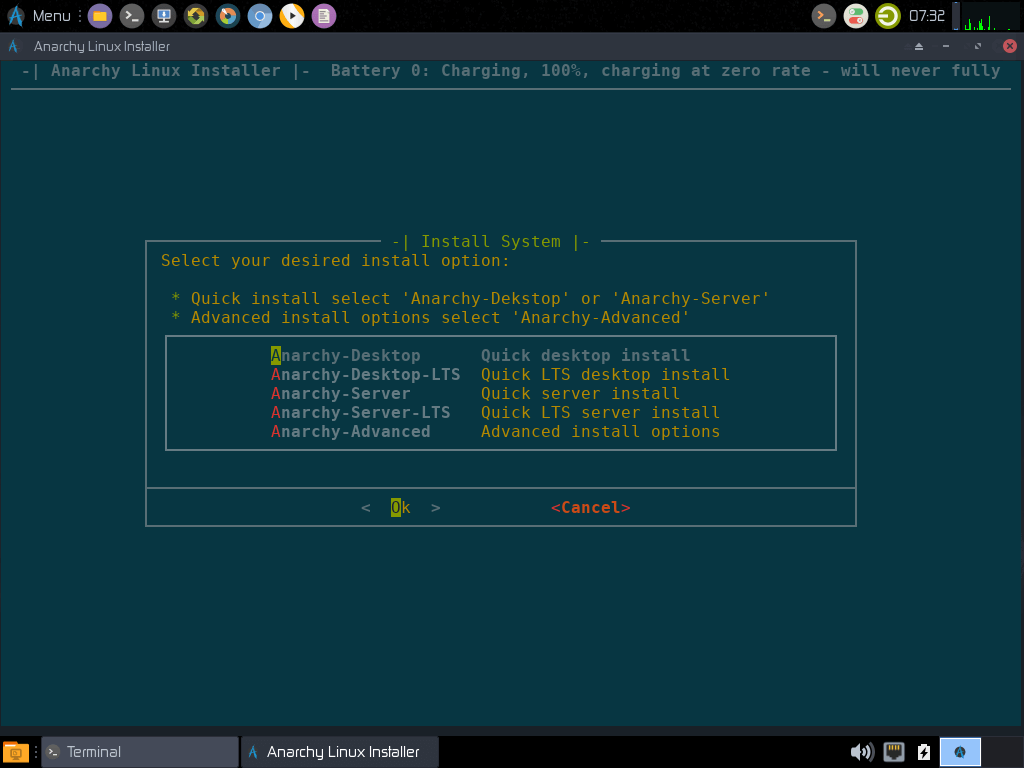 Next, choose the DE of your choice from the options, OpenBox, Budgie, Cinnamon, GNOME, and Xdce4.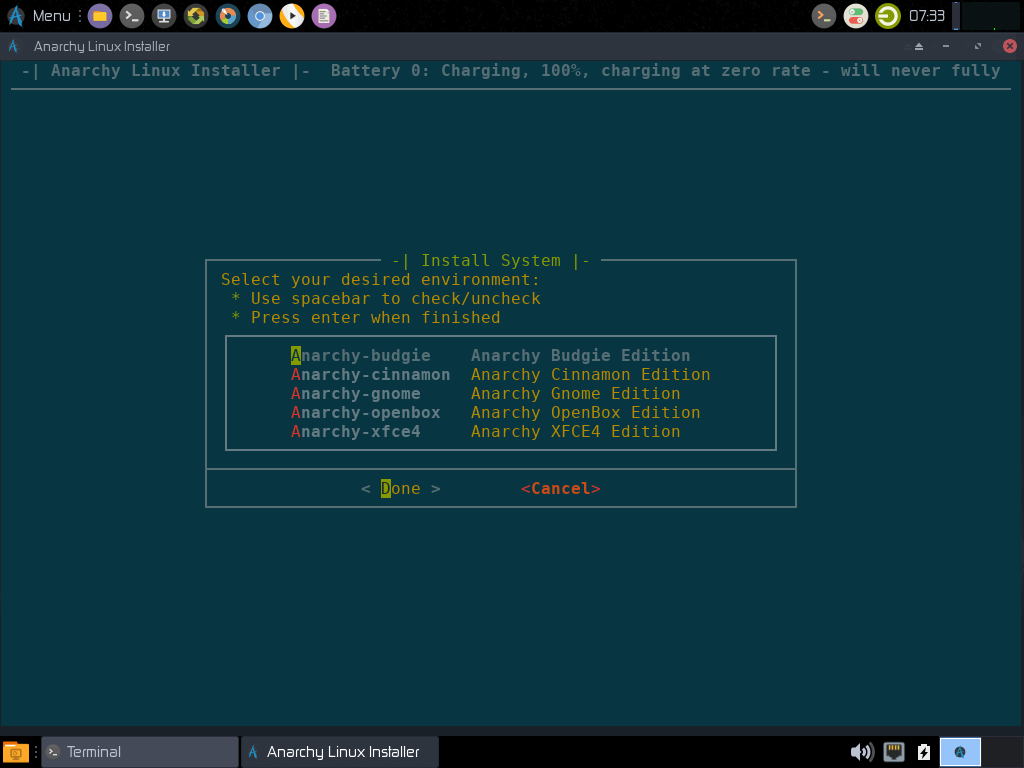 Set your account details, select the default applications that you want to install and reboot your machine. Viola!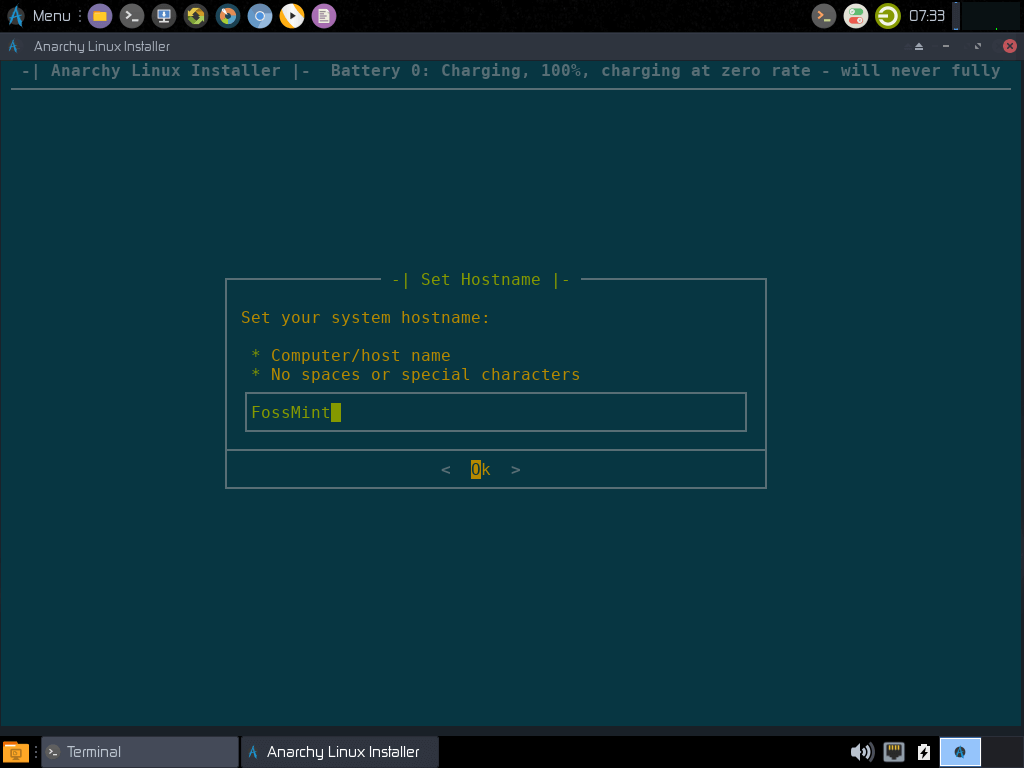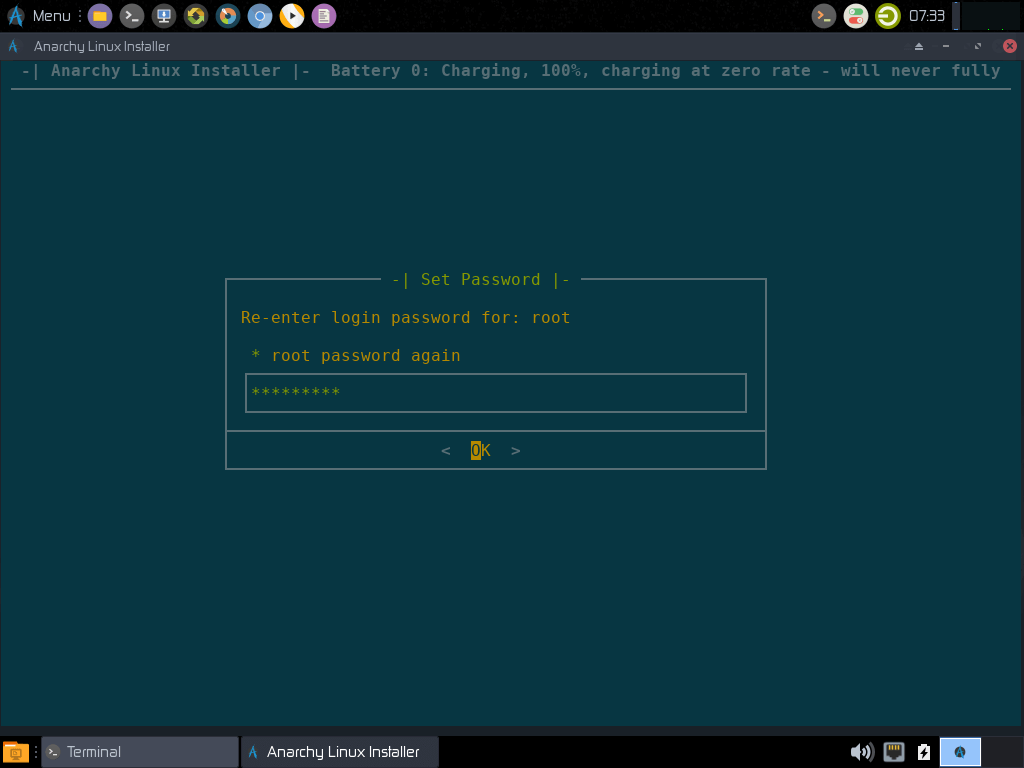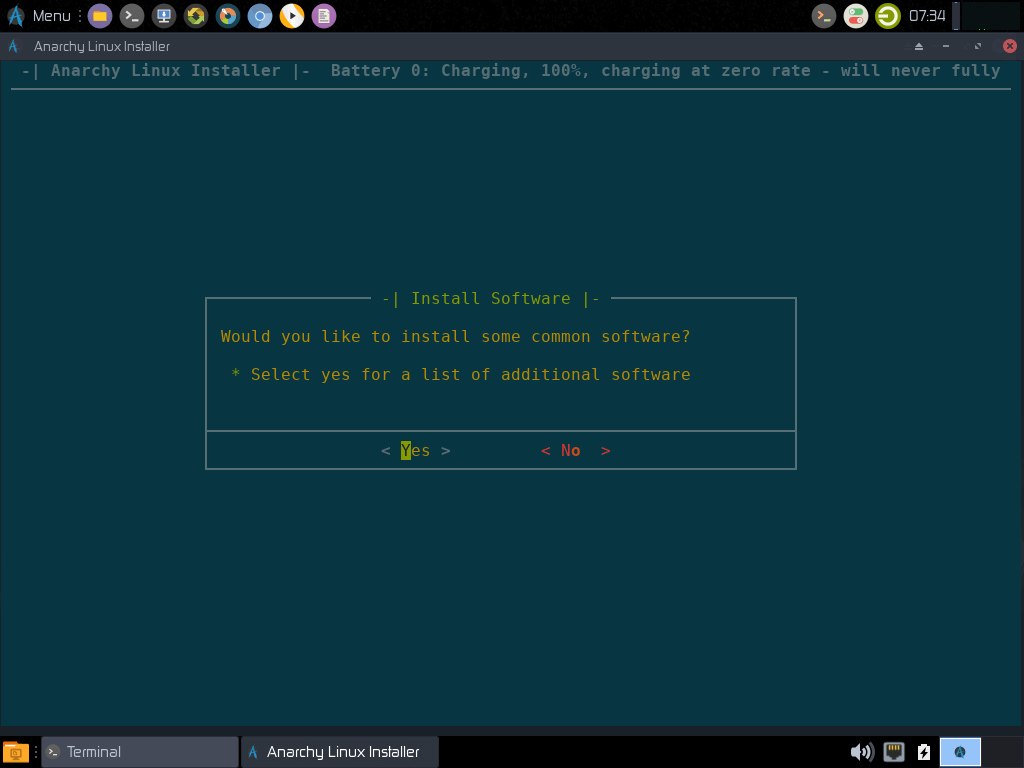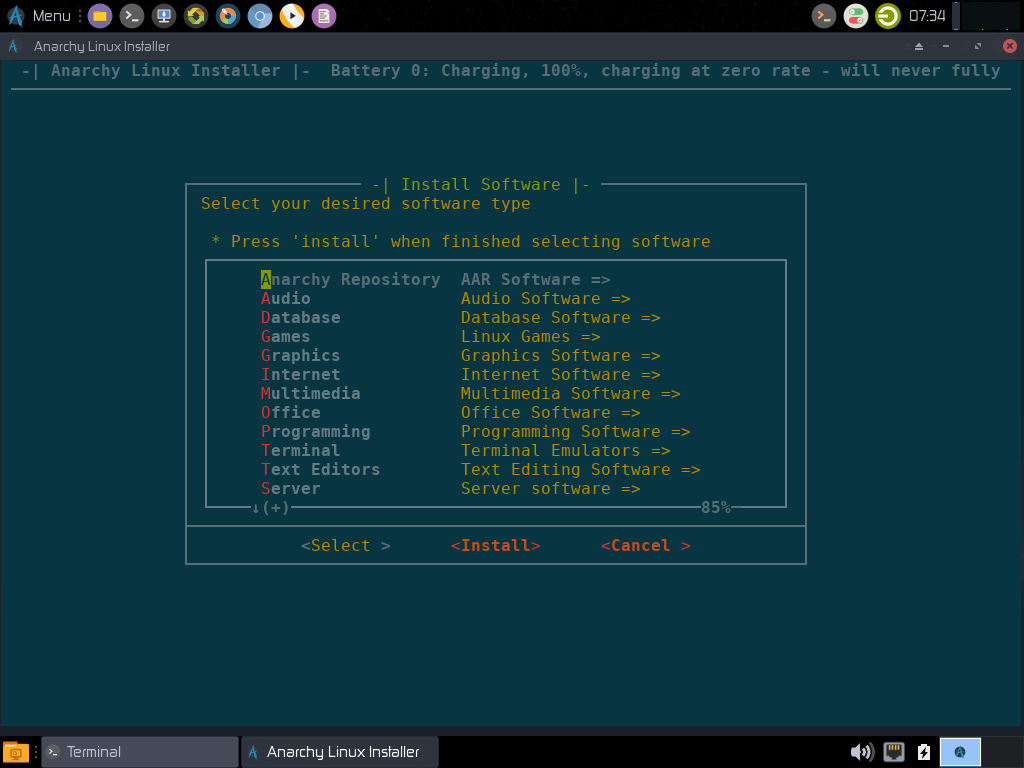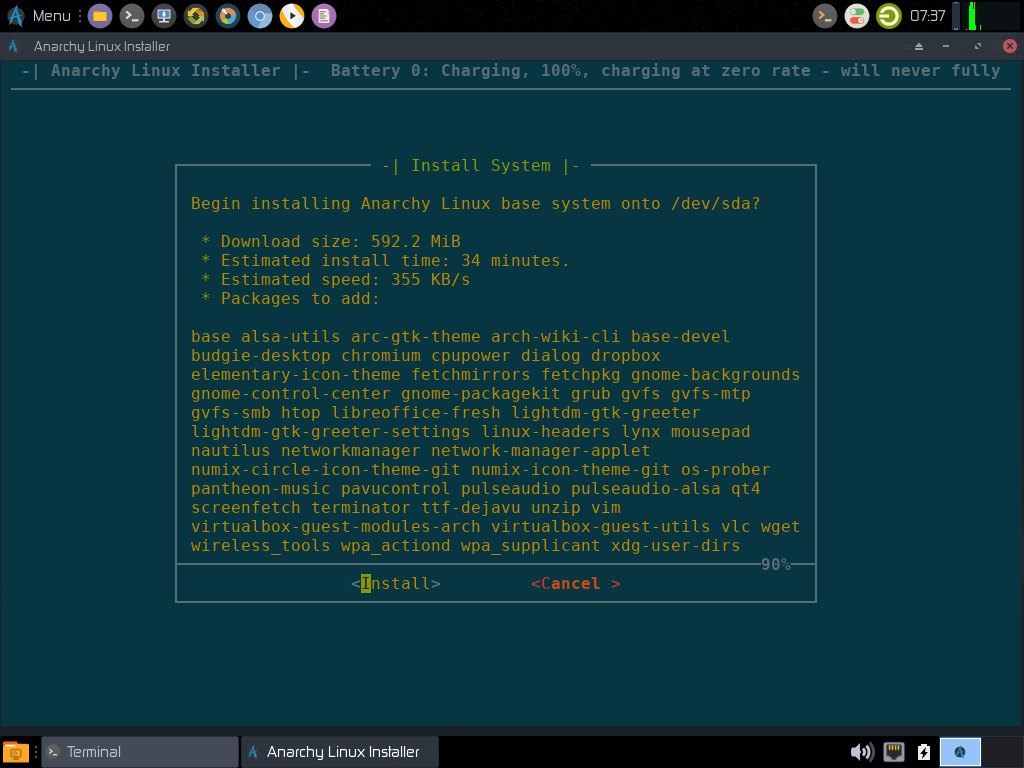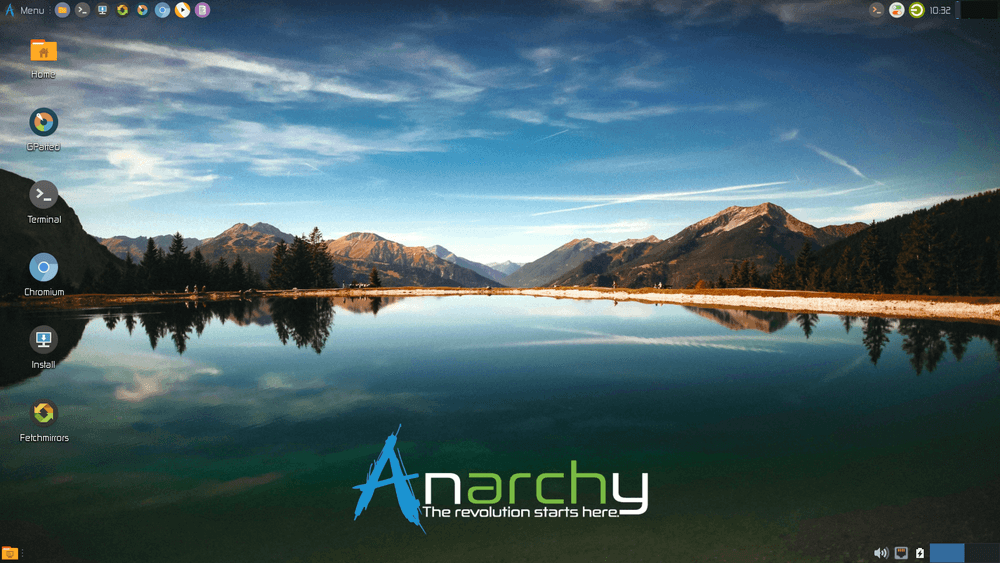 Desktop Environment, Defaut Apps, Packaga Manager, e.t.c.
This depends on which DE you select during installation and they are as efficient and customizable as they are on any other distro. By default, any Desktop Environment you choose will have a similar overview (like GNOME having a dock similar to Budgie's) until you begin using them e.g. summoning the app menu.
It is important to note that Anarchy Linux does an excellent job of making all the good features of Arch Linux available to its users. The system is completely configurable and users are at liberty to install the applications of their choosing. It has support for a hand full of Linux kernels, various partitioning methods, Desktop Environments and Window Managers, graphics drivers, bootloaders, and network utilities.
It also contains a list of non-compulsory software for audio, games, text editing, etc. from the official Arch repositories so Arch Linux users, themselves, can enjoy it.
Anarchy Linux is designed for those who want to use Arch Linux without going through any of its configuration hassles – which honestly, are usually discouraging. I've read reports of Arch Linux users not getting an Arch Linux installation right on their first time and sometimes having to spend a whole afternoon fixing the issues that they face during the initial setup.
You don't necessarily need to have Arch Linux's wiki by your side when installing Anarchy Linux and you sure don't need to be a Linux expert to set it up and use it. However, you might not want to use Anarchy Linux if you're a Linux newbie – unless you're in it to win it.
Anarchy Linux is far from user-friendly when compared to distros like Ubuntu or even Arch Linux-based Manjaro. Using Anarchy Linux is as good as using Arch Linux and if you're okay with that then knock yourself out. It is free and open source so happy learning!
If you're interested, you can look up the project on GitHub.
[mks_button size="medium" title="Download Anarchy Linux" style="squared" url="https://anarchy-linux.org/download/" target="_blank" bg_color="#529b30″ txt_color="#FFFFFF" icon="fa-download" icon_type="fa" nofollow="1″]
Are you familiar with Anarchy Linux? What is your take on the project being an Arch Linux installer? Do you think more Linux newbies will be more willing to try it out? Share your thoughts in the comments section below.