The digital world is undoubtedly a dangerous place and that's why the importance of a VPN can never be overemphasized. VPNs work by encrypting the traffic from users' machines to the exit point of the VPN network in order to protect their identity from leaking when an adversary gets a hold of their IP address.
VPNs also enable users to bypass the restrictions that Internet service providers, governments, and organizations place on Internet surfers.
In today's article, I am reviewing Ivacy VPN, a service that I can boldly say is among the most security-conscious and respectful of user privacy.
Background
Ivacy VPN is an award-winning VPN service provider headquartered in Singapore and it has been providing security services since as far back as 2007, so you can trust that they have enough experience to make good on the promises that they offer users.
In fact, Ivacy is reportedly the first tech team to announce split tunneling – a revolutionary feature that enables a user to decide which traffic is sent through an ISP and which is sent through a given proxy server.
With that being said, Ivacy VPN, although not as popular as the more common names like Nord and Express VPNs, can be mentioned in the same sentence with those big names because it, itself, is big.
Supported Devices
Ivacy VPN works on almost any device you can think of. My tested list includes Linux, Mac, Windows, iPhone, Kodi, Roku, Blackberry, Smart TVs, Routers, PS4, Xbox, Raspberry Pi, etc.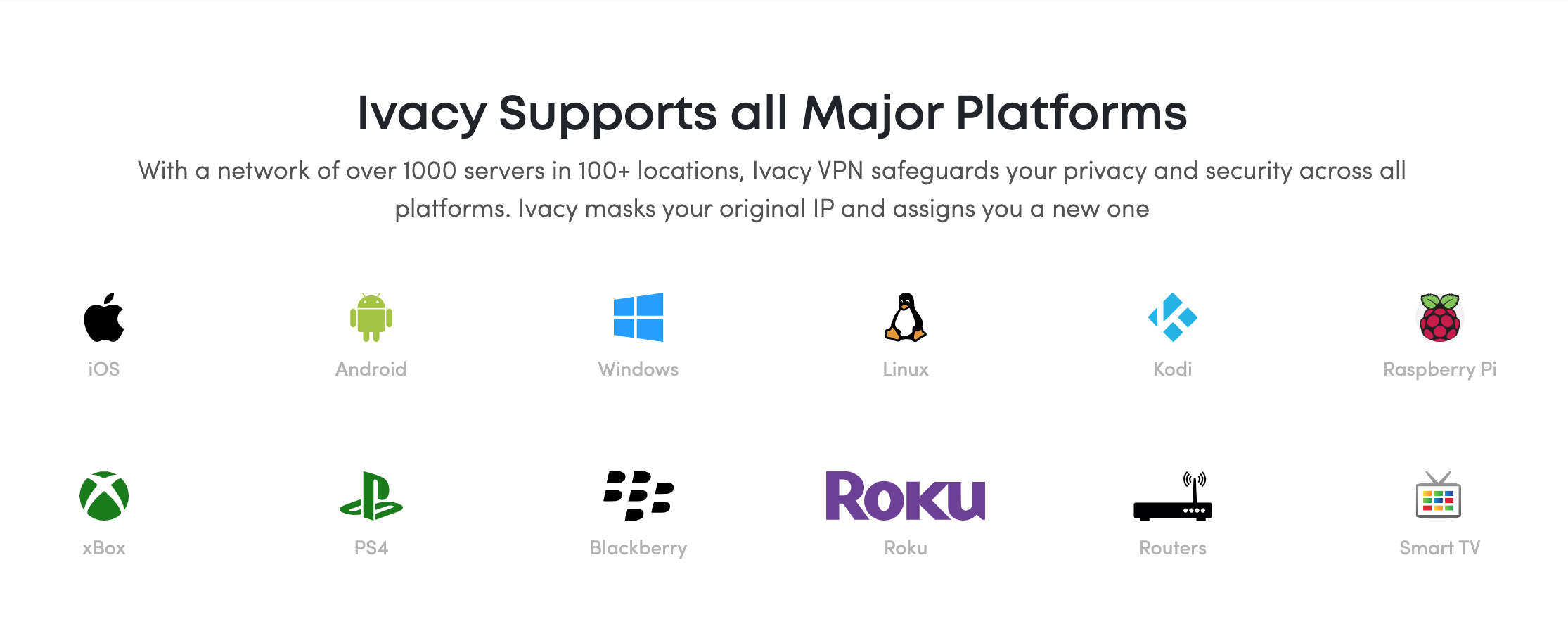 Currently, Ivacy VPN offers 1000+ servers in 100+ locations, and trust me, all their servers are highly optimized to work with all supported devices.
Decent Upload & Download Speeds
Of course, all those servers and supported devices will be useless if Ivacy offers mediocre speeds and I am happy to tell you that that's far from the case. I've covered VPNs with better speeds before (e.g. best VPNs for Mac) but Ivacy offers buffer-free surfing speeds that are ideal for a typical movie streamer that doesn't demand a lot – especially given the pricing.
Also, it is important to take note of the servers that you choose because their distance to your location can play a significant role in connection's upload & download speeds.
Security
Ivacy employs 256-bit military-grade encryption which it couples with several protocols including IKeV2, TCP, L2TP, SSTP, IPsec, OpenVPN, and UD.
Ivacy defaults to using OpenVPN for all connections and the most efficient option among the others in cases where OpenVPN is prohibited. This is coupled with that is its Kill-switch – a feature that enables users to cut their internet connection in case of a data leak.
In any case, Ivacy is sure to protect your data from man-in-the-middle attacks and ISP data monitoring by forcing all traffic through their proxy servers. Their implementation of 256-bit encryption means that users are protected against brute force attacks, which is reportedly the most common security attack in the world despite being one of the oldest in the book.
Customer Service
Ivacy undoubtedly has one of the best customer services with the support team responding timely and succinctly. One of the pointers that I look out for before choosing to use any service is the effectiveness of their customer support and the knowledgeability of the staff. Ivacy doesn't fall short here.
Zero Logging Policy
Ivacy offers users a true Zero logging policy. That is to say that they truly do not keep any user data other than the email accounts used to register accounts. So that means that even if a user is to be investigated and for some weird reason Ivacy is legally obligated to give up bandwidth, traffic, or duration logs, they can't because they don't have any. Don't believe me? You can read their privacy policy for yourself here.
Split Tunnelling
Last but not least of my favorite feature in Ivacy is Split tunneling. This feature is especially important because like all other VPNs, Ivacy doesn't support using Netflix. However, users can choose to separate their Netflix traffic from the VPN's protection.
On the surface, this sounds like a negative point but it is not because the issue comes from Netflix's VPN ban policy. And if not for split tunneling, users would have to disconnect the VPN anytime they want to stream Netflix content. That wouldn't have been cool.
Features in Ivacy VPN
Here's a summary of all the features users get to enjoy from using Ivacy VPN:
Freemium app with subscription
Beautiful, modern user interface
Available on all major platforms
Military-grade 256-bit encryption
Advanced IPsec & IKEV protocols
Smart Connect
Unlimited bandwidth
1000+ Servers in 100+ Locations
Public Wi-Fi security
No logs policy
Buffer-free streaming
Smart purpose selection
Internet freedom
Internet kill switch
Dedicated IP
Dedicated Kodi app
10 devices simultaneous logins
Split tunneling
24/7 support via live chat, email, and support tickets
Advanced subscribers get all these features and a handful of more namely IPv6 leak protection, multiple protocols, secure DNS, 5 multi logins, distributed denial-of-service attack (DDoS) protection, and secure downloading.
Pricing & Payment Methods
Ivacy has a free Lite version aimed at budget users who need a reliable VPN service for typical Internetting tasks. A yearly subscription plan costs $3.50/mo billed annually at $42.00. $5.00/mo for a biennial plan costing $30 every 6 months, and $9.95/mo for a monthly plan.

The icing on the cake is Ivacy's 5-year subscription plan which charges $1.16/mo. Meaning that where you will save 50% with the 6-month plan and 65% with the 1-year plan, the 5-year plan enables you to save 88%. And this is with a 30-day money-back guarantee*.
You are free to purchase your subscription plan using bank credit and debit cards, PayPal, BitPay, and other Cryptos, AliPay, and Payment wallets e.g. iDeal and Mobiamo.
Concerning the 30-day money-back guarantee, there is a scheme that you should be aware of.
Your claim for a refund needs to be within 30 days for an annual or biennial plan, or within the first 7 days of a 1-month plan.
You automatically lose your right to a refund if your account is suspended by Ivacy for breach of any clause mentioned in the terms of service.
You have not consumed 500+ MB of bandwidth or exceeded 30 sessions (i.e. the number of times you've connected to Ivacy's servers) before requesting a refund.
You have not used BitPay, Coin Payments, BitCoin, or a Payment wallet to purchase your subscription.
OFFER: The coupon code fossmint20 will give you additional 20% off on 5 year plan.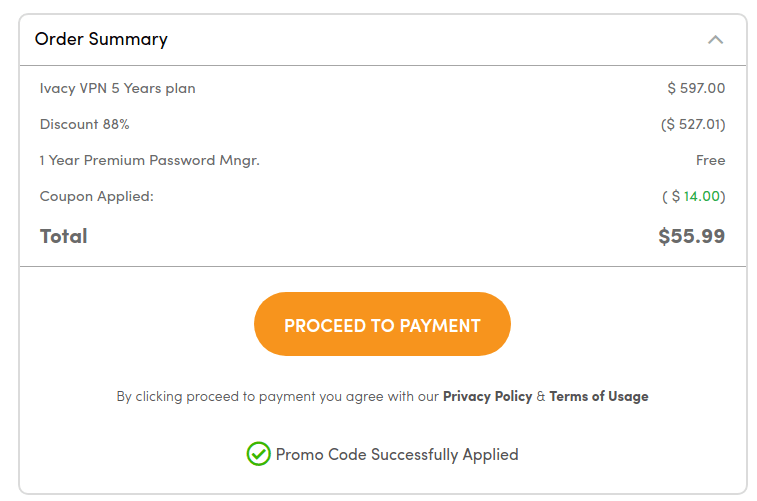 [mks_button size="medium" title="Get Ivacy VPN Now" style="squared" url="https://billing.ivacy.com/page/23355″ target="_self" bg_color="#dd3333″ txt_color="#FFFFFF" icon="" icon_type="" nofollow="1″]
Conclusion
The two things I don't like about Ivacy are its incompatibility with Tor servers and limited torrenting. If you trust the Tor network and can't stand not being able to route your traffic through it, especially after shelling out some cash for an app, then Ivacy isn't for you.
If most of what you'll be doing is working with torrent files (upload/download) then Ivacy is not the best option for you. Other than those two issues, the choice of whether to use Ivacy or not is left to you.
Have you used Ivacy before? What was your experience like and are there any points you will like to share with us in support of or against Ivacy VPN's efficiency? Let us know below.