Google Drive allows users to store and share files; to edit documents (using Google Docs), spreadsheets (using Google Sheets), and presentations (using Google Slides) with collaborators and each account comes with 15 GB of free storage (Google Photos and Gmail included). As awesome as it is, Google is yet to provide an official client app for Linux.
We have covered desktop client apps that you can use in the meantime, but because you might have missed a couple of them we have decided to compile the top 5 into a list for you to review. Today, therefore, we bring you the Top 5 Google Drive Clients for Linux.
1. Grive2
Grive2 is an independent open source implementation of Google Drive's client for Linux.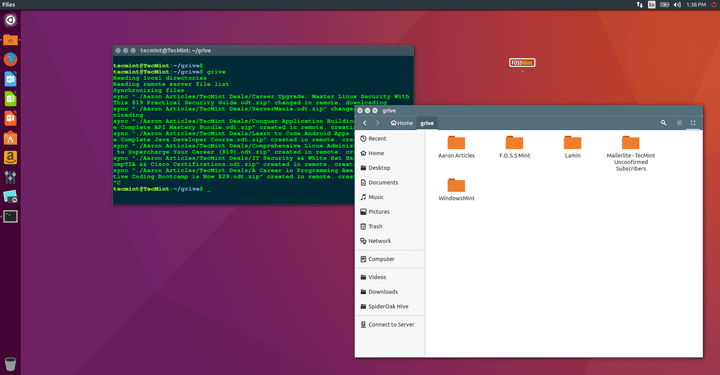 It is written in C++ and interacts with Google Drive via its REST API. It features single directory synchronization, dry-sync, and partial sync.
After downloading it, run it to begin syncing and you'll be good to go.
2. CloudCross – Multi-Cloud Client
CloudCross enables the synchronization of local files and directories across several cloud services.
It features support for Google drive, Cloud Mail, and Microsoft's OneDrive; an optional direct file upload via URL, and automatic bidirectional document conversion from MS Office and Open Office document format to Google Docs.
3. RClone – Rsync for Cloud Storage
Rclone is a command line-based synchronization app for directories. Apart from being an excellent desktop client app for Google Drive, you can sync it with your Amazon S3, Dropbox, and Yandesk accounts, among others.
Rclone features one-way directory sync, syncing between two different accounts, an encryption e.t.c.
4. google-drive-ocamlfuse
Don't be frightened by the name, google-drive-ocamlfuse is a CLI fuse-based filesystem backed by Google itself, and with it you can perform directory operations on your Google Drive account.
It features syncing with multiple accounts, access to Google Drive's trash directory, and read-only access to Google docs, sheets, and slides.
5. GoSync
GoSync is a GUI-enabled Google Drive client for Linux. It is written in Python and released under the GNU General Public License 2. It has not been perfected enough to compete with Google Drive clients on Windows, for example, but it gets the job done.
It features an automatic regular sync every 10 minutes which although cannot be turned off, can be paused. As a GUI app, it shows you how much storage you have left on your Google Drive and the type of files occupying the space.
So there you have it guys. The top 5 Google Drive clients for Linux. Are there any apps you think should have made it to the list instead? Add your suggestions to the comments section below.