Time has undergone a sea change, with which scores of technology-driven tools have come up to ease life and provide mobility. In this era of the internet, there are many applications and software that make it possible to conduct conferences and business meetings while being online or virtually available.
Zoom video conferencing application is one such application that gained immense popularity due to a wide array of features it provides to its users. But, lately, it was surrounded by many questions around its safety and privacy because of which several countries have banned this application.
Read Also: 7 Apps to Make FREE Group Conference Calls or Video Meetings
The Ministry of Home Affairs – India has warned zoom application users declaring it not safe for usage due to data leak and cyber crimes related activities.
Due to the COVID 19 outbreak, the majority of the population all across the globe is working from home due to which many working professionals are dependent upon video conferencing applications to carry out work and business-related activities, and projects.
In order to conduct business in a better way while keeping privacy indispensable, it is vital to use applications that can protect and secure your data and information. So if you are a Zoom user and looking for an alternative then this article will present you with the best alternatives to zoom for video conferencing!
1. Skype
Skype an old school application by Microsoft, is still being used to conduct safe and secure professional activities. This renowned application can support up to 50 users at a time which makes it a great choice for small scale industries and companies.
It supports features like video calling, chatting, call recording with the functionality of saving and recording data up to a month.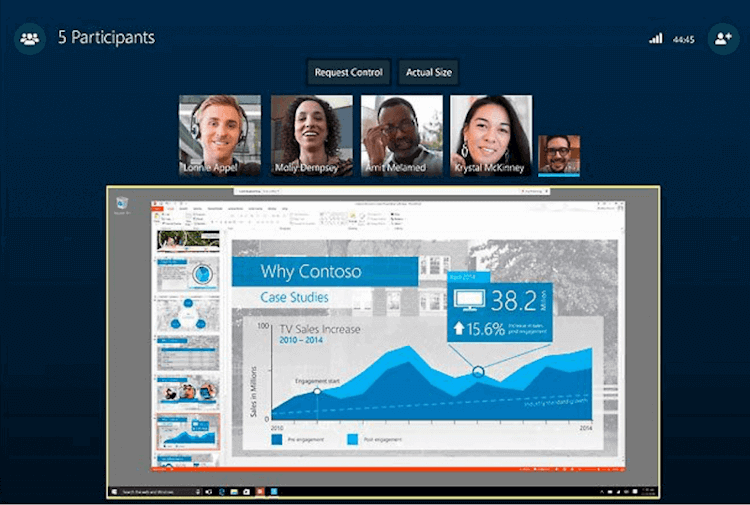 2. Hangouts By Google
Hangout meets by Google is yet another trusted and safe video-conferencing application that comes with different versions to support the variable strength of users.
The G Suite Basic version can support up to 100 users, the Business version limits to 150 users while the Enterprise can support up to 250 users at a time.
It provides brilliant features such as video meetings with the support of connecting external users. The Enterprise version allows live streaming up to 100,000 participants and options like save and record meetings to Google Drive.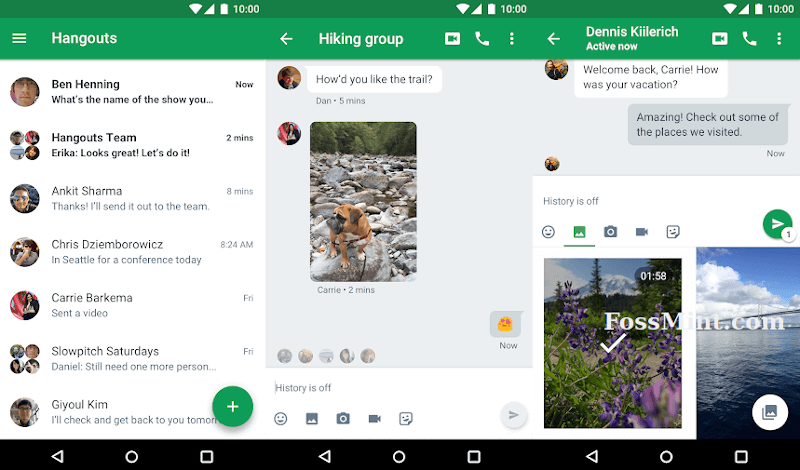 3. Zoho Meetings
Equipped with incredible features such as screen sharing, video calling, audio calling, calendar invites, and recording, etc. the ultimate Zoho Meetings application also houses functionalities like online meetings, webinars, and training.
The application comes with different plans to meet different requirements. The basic plan starts at $10 that can support 100 participants, the webinar plan begins at $19 and can go up to $79 per month which can be used by 25 to 250 users at a time.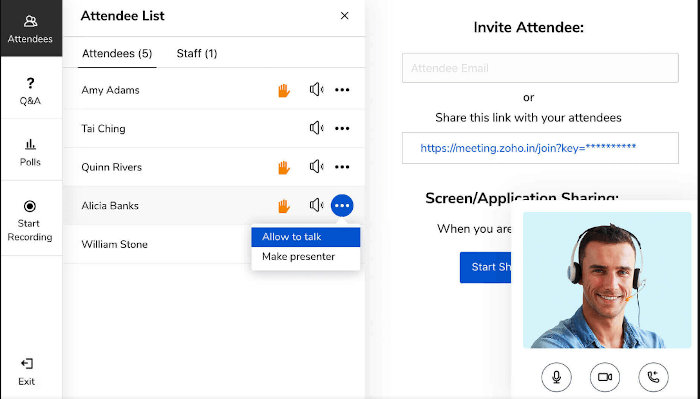 4. Microsoft Teams
Microsoft Teams video conferencing tool from Microsoft comes built-in in Office 365. Its free version allows anyone to sign-in with their email ID which can support the strength of up to 300 users with guest access and features such as audio/video calling, screen sharing, group audio/video calling and data sharing up to 10 GB.
However, the business plan has more functionalities to offer like access to management, compliance, and security tools with data sharing up to 1TB per user. This version also supports online training and webinars!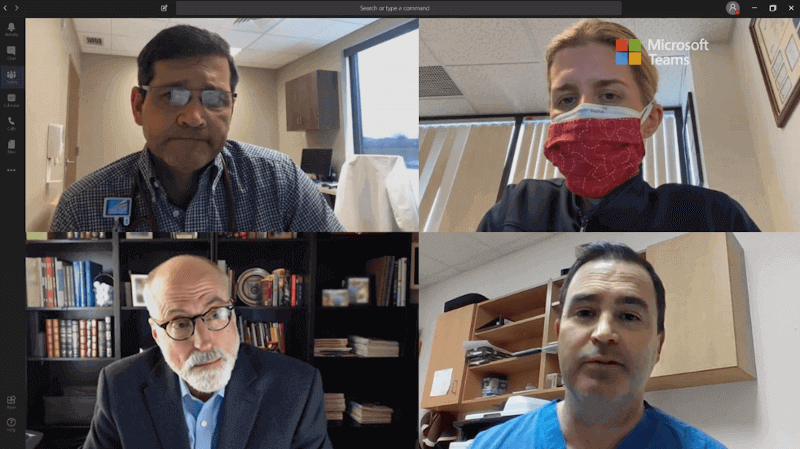 5. Join.me
Join.me from the house of LogMeIn team is a great tool for small industries and businesses. The free version of it doesn't have an option of video conferencing however, it includes audio meetings and screen sharing capabilities.
The basic plan is called Lite which can be acquired at $10 per host for a month that allows 5 members meeting at a time with no time limit. Whereas the higher versions like Pro and Business start from $20 per month allowing up to 250 participants at a time with the feature of webcam streaming.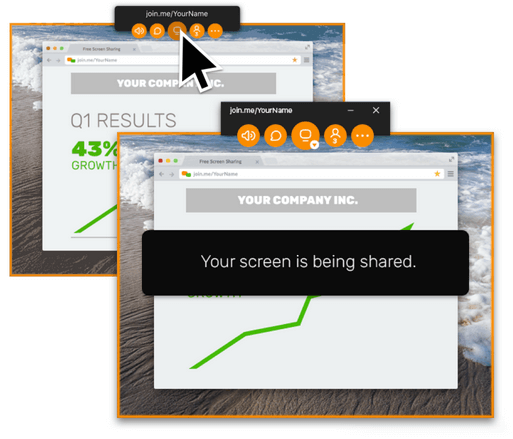 6. Cisco Webex
Webex is a free version of the popular video conferencing tool has a lot to offer, it includes up to 100 participants with no time limit and the options like recording, screen sharing, and HD video streams.
The different plans begin at $13/host/month which allows 50 attendees, $17.95/month allowing 100 attendees and $26.95/month allowing up to 200 attendees.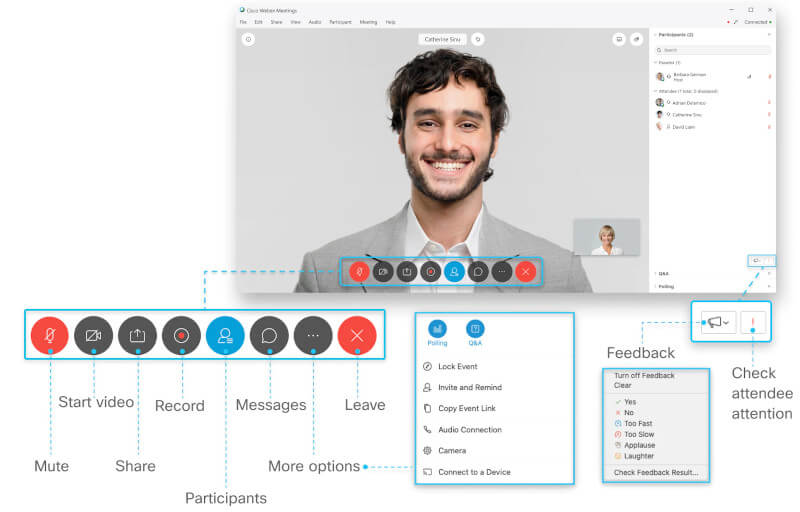 7. Blue Jeans
Blue Jeans small yet cloud-based video conferencing tool is a great option for small businesses. It comes with three options depending on your different business needs.
The basic or the Me version can be avail at $19.98/month that allows up to 50 attendees. The My Team version allows up to 75 users with a video recording option is available at $23.99/month and the My Computer version allows up to 150 participants with a system calendar feature, its price is available on request.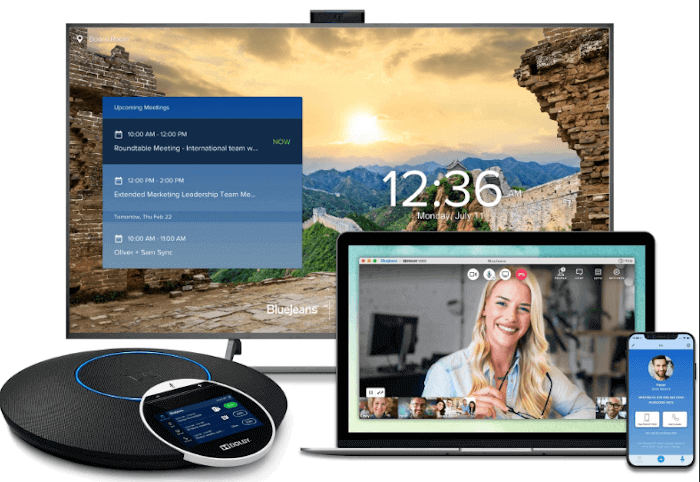 8. GoToMeeting
GoToMeeting web conferencing application supports features like screen sharing, audio and video conferencing and is compatible with both IOS and Android.
Its basic version is priced at $12/month, annually and $14/month which allows up to 150 users. The mid version supports up to 250 participants and rated at $19/month, whereas the uppermost version can be availed by directly contacting the company which allows user strength of up to 3000.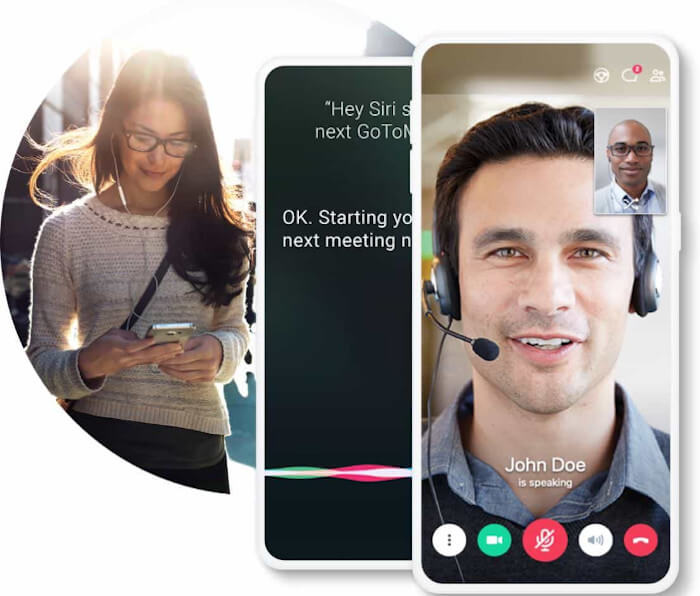 9. Team Viewer
Teamviewer is counted as a decent application that supports features like audio/video conferencing, sessions recording and screen sharing etc. However, it may not be simple to use this application for many due to complex tasking and roles.
Besides, its costing is also comparatively higher than many other applications with the same features in the market. In short, the application is not as attractive and competing anymore as it used to be a couple of years ago.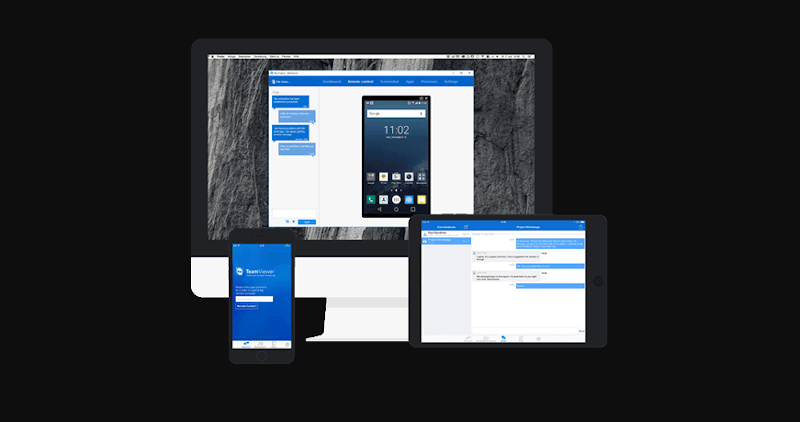 10.Cisco Jabber
Jabber from the Cisco family is another smooth and liked tool to meet small business-related needs. It comes with necessary features like call recording, audio/video conferencing, document and screen sharing, screen capturing and messaging etc.
This all in one tool does not have any free or trial version. For prices and quotes, one needs to contact the company directly.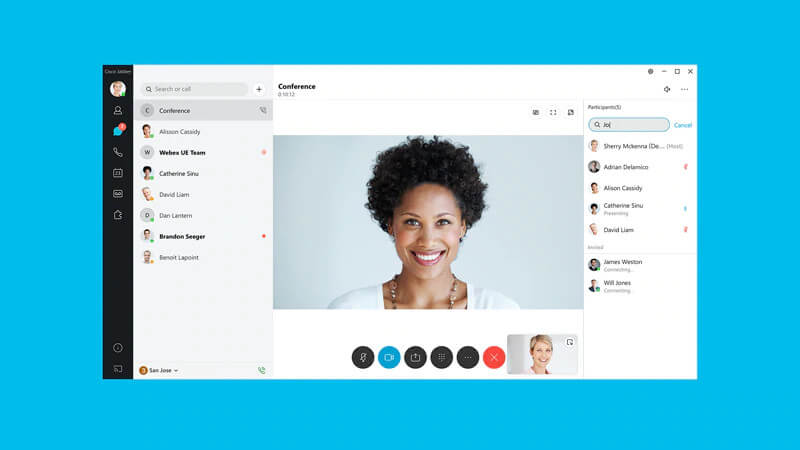 11. Fuze
Fuze is a dynamic video conferencing application which comes with amazing features like audio/video calling, screen sharing, presentation streaming, messaging and presentation tools, etc. to carry effective and efficient business activities. The application cost begins at $20/ month/host. For more pricing details, contact the company directly.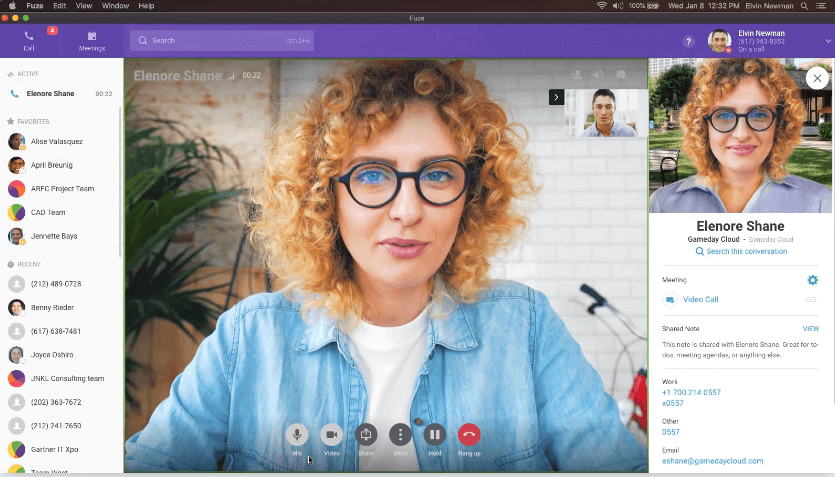 12. Adobe Connect
Adobe Connect a super impressive application is more than just a video conferencing tool. It has a wide range of features to offer such as audio/video chat, recordings, webinars, online meetings, and audio/visual classroom solutions. Its pricing begins at $50/user/month with a free trial for the first 90 days!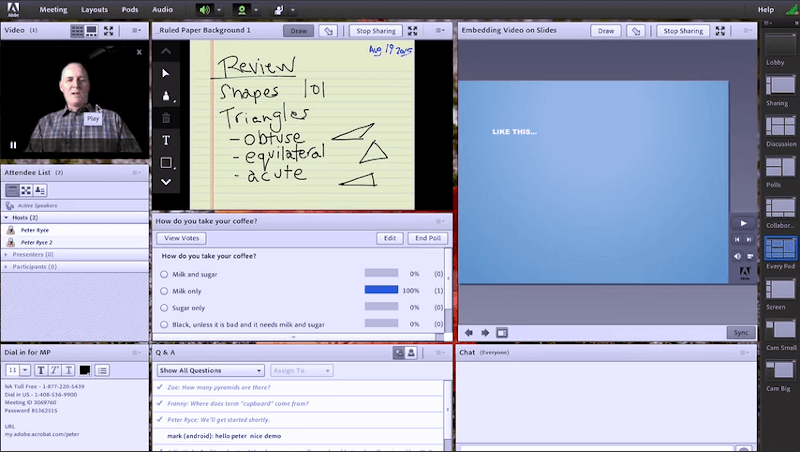 Summary:
With the most sought-after application Zoom being gathered with security and data leak related issues, many business organizations have shifted to other equally good alternatives.
The above list of some of the best Zoom alternatively, especially curated for you will surely help you pick and decide the most suitable video conferencing application to carry out flawless business activities!