With more message applications coming in, people have switched from making phone calls to sending messages. However, there are still many people who prefer making calls and we totally respect that as verbal communication always works well to explain and make things understand in a better way. But, messaging, on the other hand, is more convenient, quick, and easy to do.
Nowadays, people don't only rely on their phone's messenger to send messages, rather they make use of those trendy messaging apps which are not just easy and convenient but also fun to use. There are so many of these messaging apps, each better than the other when it comes to security, features, and user-centricity.
Related Read: 14 Best Photo Editor Apps of 2020
Therefore, it becomes difficult to choose the best of all. If you prefer messaging than a phone call and looking forward to finding some reliable and easy to use app loaded with the latest features then do not worry, just sit back and relax as we have done all the research on your behalf to find the best messaging apps. Just continue reading the post to find the best and most suitable app for yourself.
1. Signal
If you have ever used messaging applications like WhatsApp, Hangouts, and Facebook Messenger then Signal won't be much different for you.
The only difference between these applications and Signal is that it makes use of end to end data encryption which makes it a great choice for those looking for a safe and secure messaging app.
Signal app works using the phone number and doesn't require any subscription cost. Besides, this open source app supports phone calls apart from messaging.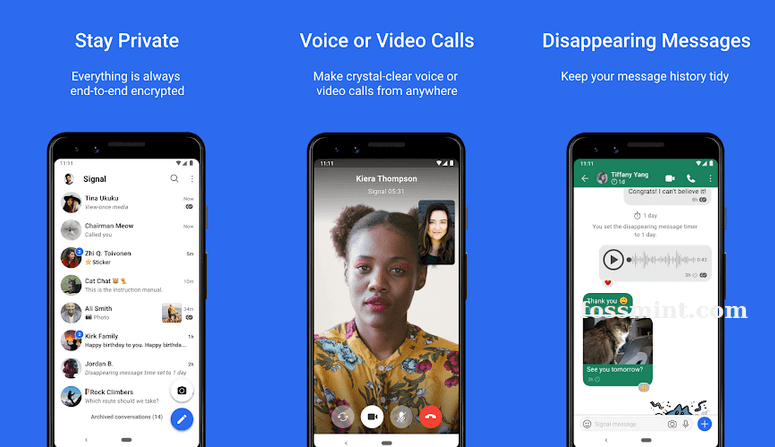 2. Viber
Viber messenger is not just a messenger, it's more than that, it allows you to make calls and send video/audio files as well. This messaging app is completely secure and safe to use which makes it an excellent choice over your regular messenger.
All that you require is a stable internet connection and you are good to go. Sync your tablet or laptop with Viber to have an amazing messaging experience. Additionally, it allows you to make international calls and create groups to chat and stay connected with your friends.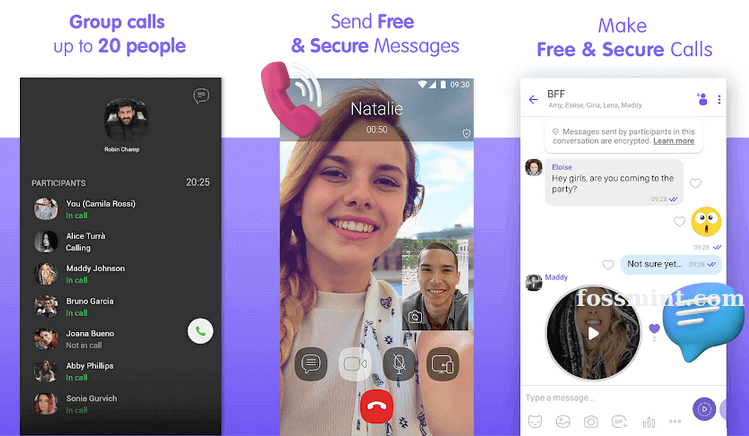 3. Whatsapp
Whatsapp, the most popular messaging application doesn't need any introduction. Being used seamlessly by a large number of people from all over the world.
This app is equipped with all those necessary features like messaging, audio and video calling facility, file sharing, voice messaging and more.
You just need to sync your mobile number with this app to start using it. Get all the notifications, emojis, stickers and calling facility, all under one roof with WhatsApp.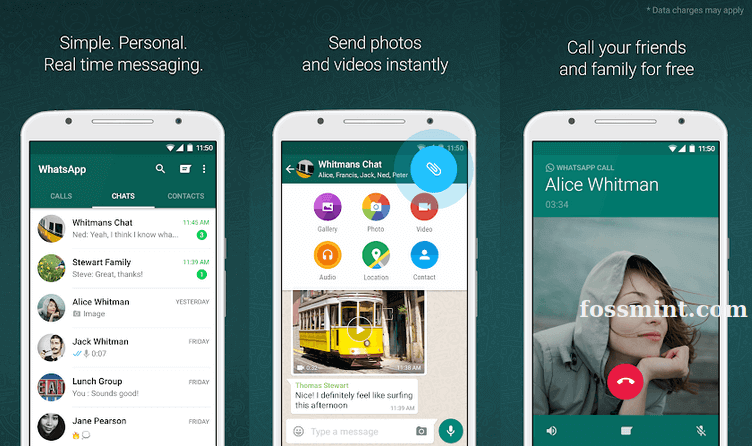 4. Wire
Wire an open-source messaging app can be availed at no cost at all besides being flooded with all those incredible features. With wire, you can make video calls, share files and sync messages on different devices.
The app is extremely safe to use, it makes use of end to end encryption even for the video calls. The app also features a self-destructing messaging mode and session verification to authenticate whether you are talking to the same person you wanted to talk to or not.
Additionally, the app doesn't sync your data to the cloud so that everything remains safe with you on your device.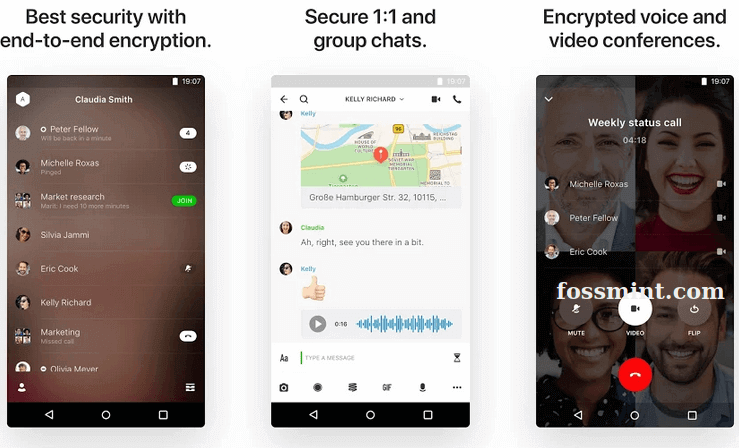 5. Telegram
Telegram an instant messaging application is somewhat like WhatsApp and Viber which offer a simple yet convenient way to communicate. Based on high-security parameters, Telegram security function lets you create private or end to end encrypted conversations with other users which get stored in Telegram's server.
To delete these messages from the server, just enable "self destruct" mode. With this app, you can do file sharing, group chats, and send personal notifications and lots more.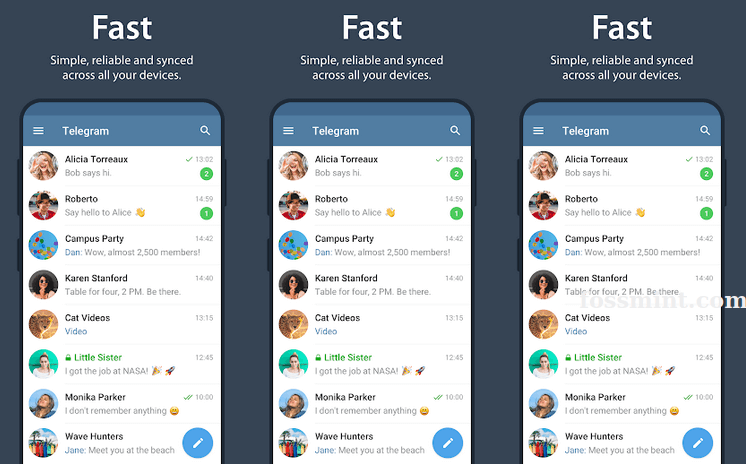 6. Discord
Discord is a famous messaging app amongst gamers. It offers great compatibility support to all mobile devices and computer systems. Discord is dense in features, it comes with GIF support, voice chat, text chats, and many other features.
Discord app is primarily for gamers but can fairly be used for organizational purposes as well. Besides, you can join other servers or create your own according to your requirement using Discord.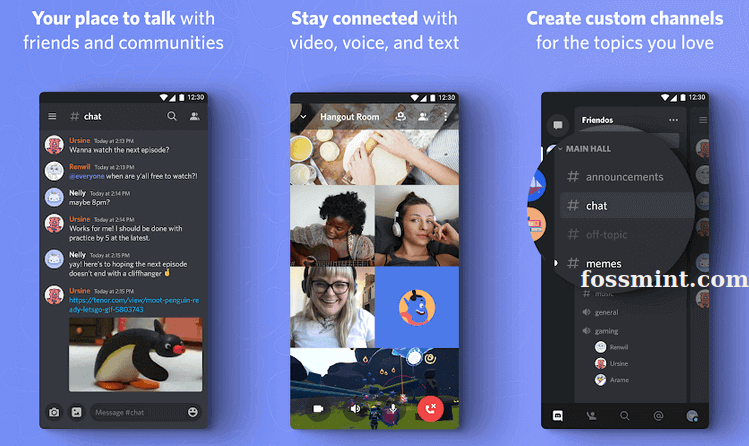 7. Riot
Riot offers a great platform to interact with your friends the way you want. It allows you to share files, chat, add widgets, make audio and video calls at no cost with your team, friends, or community. That's not it! You can even chat with your friend on other chat apps using Riot.
It keeps your conversation private with end to end encryption and allows you to keep your data on a server that you trust. Additionally, it keeps you in touch with your message history by fully synchronizing with all your devices.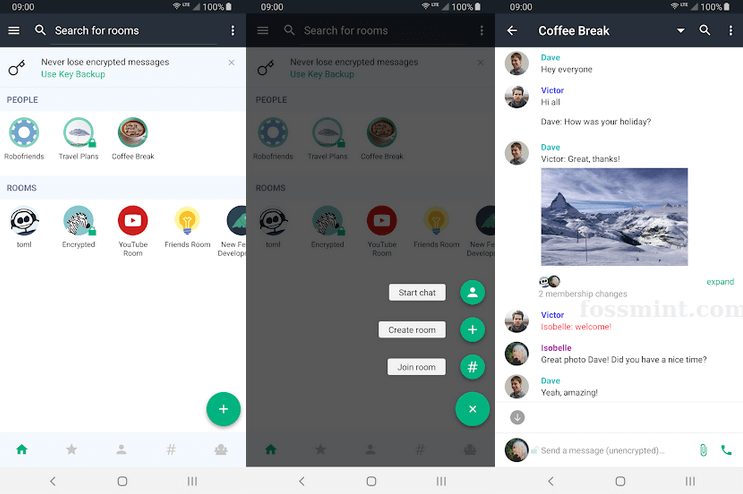 8. Silence
Silence messaging app is well known for its security as it pays a little more attention to the security and data privacy of the user. This open-source and free to use application ensures end to end encrypted messages delivery to all the users.
It's absolutely easy to use and has simple and quick features. With silence, you can chat, do file transfers, do video and audio calling with your friends. To get the complete hang of this application, opt for a remote in-house training session and unleash all its amazing features like "Burn functionality", voice memos, media transfer and upgrade to Silent World etc.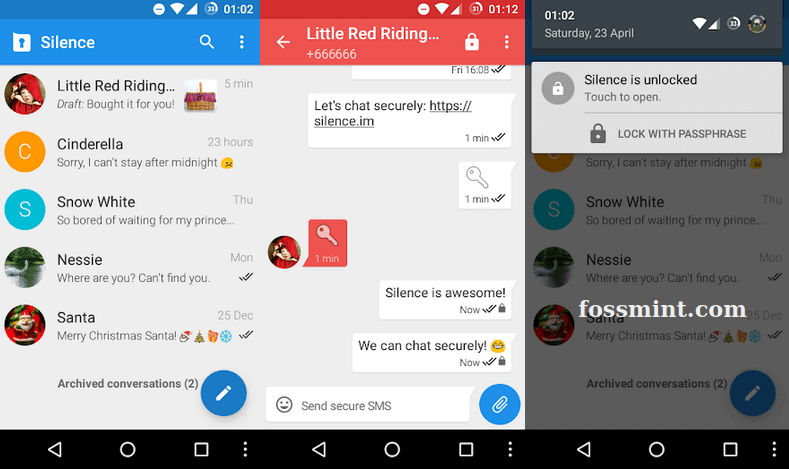 Summary:
Messaging apps have become a part and parcel of our lives. It's quick, convenient, easy, and safe. And because of all these reasons, it's being implemented in our daily lives.
With messaging and other services like audio calling, video calling, and media sharing, etc in place, more and more people have moved to send messages. In fact, organizations and business firms have started following this practice to conduct meetings, seminars, and webinars with the support of these apps.
Therefore, we have curated this list of top 8 messaging apps for Android which will make your life simpler. All you need to do is to select one of these best apps and start using it the way you want!