If you are an Instagram business account user, you would know that you can add your Instagram feeds to your WordPress. With the help of certain plugins, you can seamlessly share your real-time feeds and latest posts with popular hashtags including the posts in which you have tagged your account.
[ You might also like: 12 Best Free Instagram Name Generators ]
In case, you still haven't tried this out, we are here to help you out with some well-known Plugins which make it possible for you to do so. All these Plugins are available free of cost.
However, if you want to create customized feeds using tagged posts or hashtags with your business account, you can opt for the premium versions. So without waiting any more, let's dig in to check out these interesting Plugins!
1. Smash Balloon Social Photo Feed
The Smash Balloon Social Photo Feed was earlier known as Instagram Feed. Its free version lets you showcase your Instagram feed using your own account. Whereas, its pro version lets you create feeds using hashtags or posts in which you have tagged your account. You can select from various layouts, where the basic grid comes for free but for premium versions, it adds highlights, masonry, and carousel.
This app also brings customization options to showcase extra content like follow button, load more button, captions, likes, and comments, and lightbox comments. The Smash Balloon Social Photo Feed's free version lets you create feeds using Insta user accounts and for creating hashtags, tagged posts, filtering feeds, etc, you will need the pro version.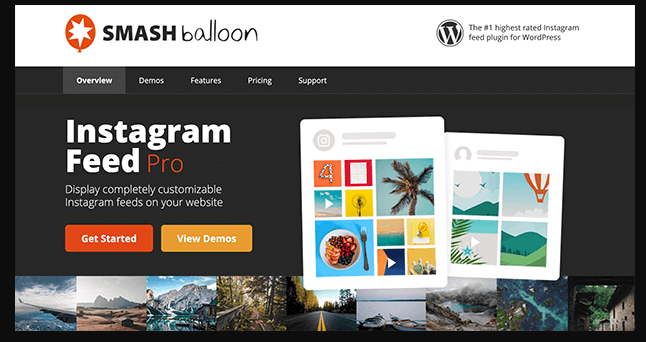 2. Spotlight
Spotlight has gained immense popularity in a short time due to its user-centric interface and live preview. This plugin comes with many features, which can be easily used by anyone and it allows a real-time preview of your actual feed while you are setting up the feed, which can be easily changed with adjustable settings.
The free version of this plugin lets you create a feed using any personal or business Instagram account that is accessible to you. Whereas, with its premium version, create accounts from hashtags or posts in which your account is tagged.
The premium version additionally has many layout options like slider, masonry, captions, highlights, likes, comments, and popup box. Besides, it allows you to add moderation options and filters to sort out certain posts.
It additionally is capable of manually approving the posts before they appear in your feed. Another unique feature of its premium version is that it allows you to link your Instagram posts to blog posts or any other types of posts. You can also add CTA for these posts in the popup box that comes up when the user selects your image in your feed by clicking on it.
With its free version, you can create endless feeds from users' accounts; however, to create tagged posts, feeds, and hashtags, you will need to upgrade to pro.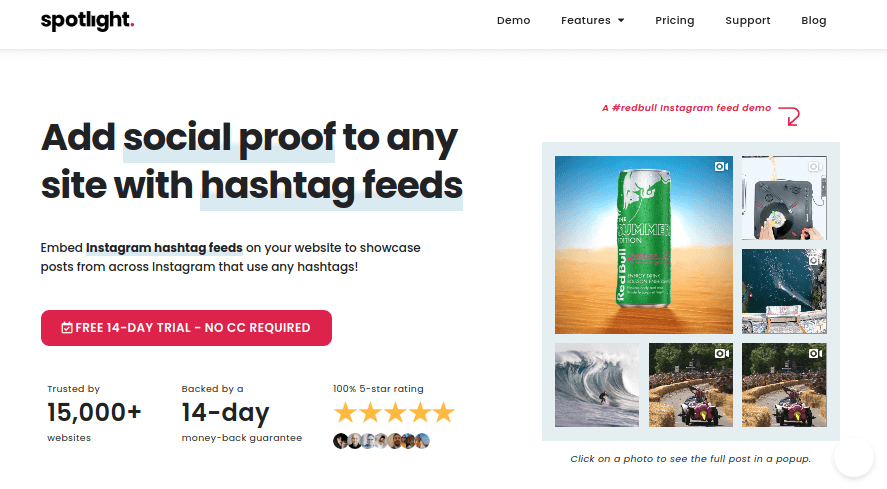 3. 10Web Social Photo Feed
The 10Web Social Photo Feed is free of cost Instagram plugin that can be availed either at WordPress.org or with a premium version for more features. It works by allowing you to create feeds using a user account or hashtag (pro version) while choosing from multiple layouts like masonry grid, slider, blog style, and thumbnail grid.
With its premium version, you can apply conditional filters to take over the charge of the content that appears in the feed. While, with its free version, you can create feeds from your personal Instagram account. Its pro version offers additional sources and display options at $25 only.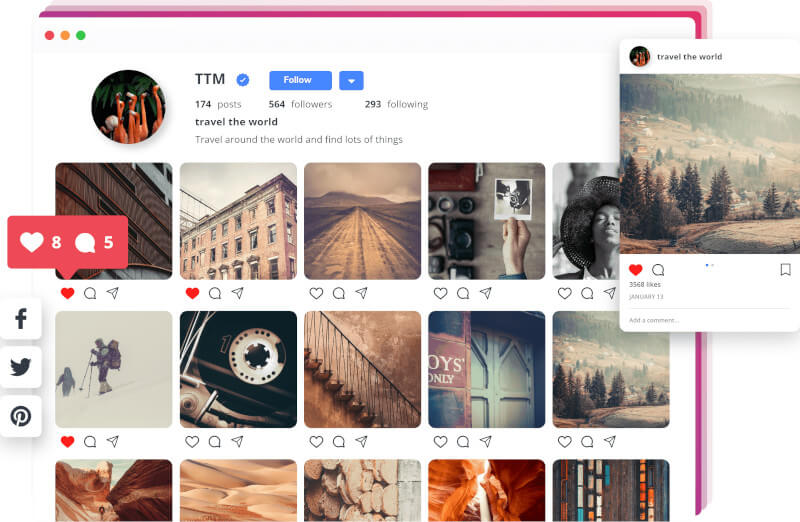 4. Flow-Flow
Flow-Flow is another well-known WordPress Instagram plugin that is equipped with amazingly unique features out of which one is that it supports 14 kinds of different sources with just a single plugin. It lets you create multiple feeds for different platforms while letting you collaborate multiple feeds into one.
For instance, you can create one feed that will work for both Instagram and Twitter. Flow-Flow can be used for Instagram, Facebook, Twitter, Flickr, WordPress, Tumblr, SoundCloud, YouTube, and more.
With this plugin, you can display the created feeds in multiple layouts such as justified, masonry, and unified height grids. It additionally offers options like the "Show More" button to load more content. To ensure that your feed stays clean, you can choose to manually approve all the posts before they are displayed in your feed.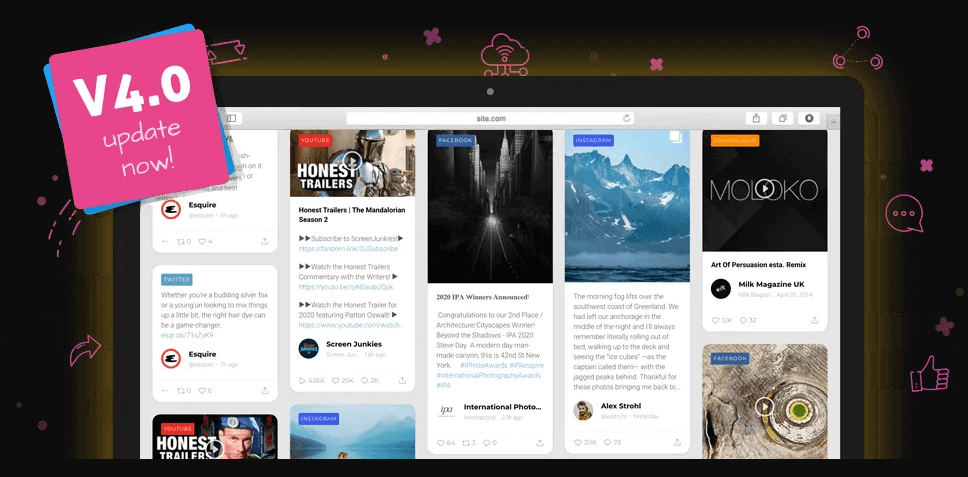 5. Intagrate
Intagrate features a distinct methodology to import your Instagram images to WordPress. Where all other plugins let you create feeds from your images, which can be added to your footer, body, and sidebar.
Intagrate, in contrast, imports Instagram posts as actual posts to be imported to WordPress. Every time it imports a new post, it creates a separate standalone post corresponding to that Instagram post and sets along with a featured image.
With its pro version, import Instagram posts as custom post types on your WordPress site. It also provides a video option with hashtag filtering. This option might not be useful for many but if you want to import your Instagram posts as the actual post in WordPress, this option is surely the best.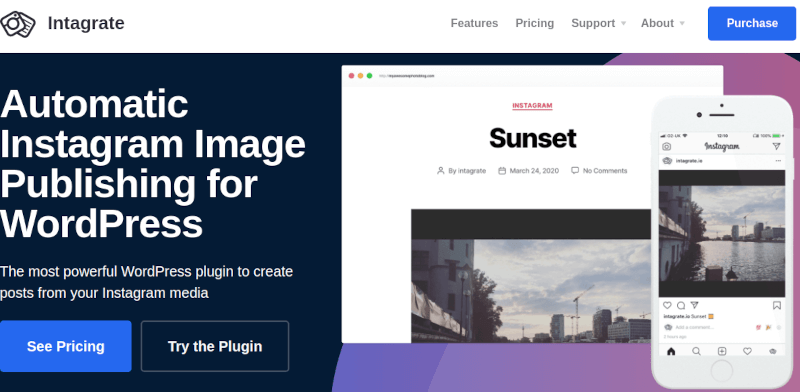 Conclusion
With the above given top 5 options for importing your Instagram posts to WordPress, choose the one which suits your requirements the most. We personally recommend using spotlight or Smash Balloon Social Photo Feed due to their impressive free versions and convenience of use while having the ability to solve your purpose entirely!