Secure File SharingInstant messaging has become the standard means of communication in our world today. WhatsApp is leading — reaching over 2.78 billion active users as of August 2023, while WeChat, Telegram, and Messenger are following closely behind with millions of users around the world.
Telegram boasts of an encryption standard (MTProto protocol) that is highly secure and just recently, Whatsapp also introduced some sort of proprietary encryption to its messaging platform – both of these standards can't be inspected for flaws, however, Telegrams' has been put to the test more than a few times via a security contest which it passed flawlessly time and again.
Telegram today stands as the most secure platform of the bunch and its clients across all platforms are open-source (allowing just about anyone to inspect the code).
The popularity of Telegram is due to a number of factors, including its security and privacy features, large file-sharing capabilities, ability to create channels and groups, ability to create polls, and the ability to use bots.
Signal (by Open Whisper Systems), on the other hand, is open about everything right from its codebase to its encryption protocols and implementation – which in essence, is the beauty of FOSS freedom.
According to Statista, as of August 2023, there are an estimated 40 million monthly active Signal users worldwide, which represents a 20% increase from 2022.
How Do Telegram and Signal Differ?
While Telegram is a secure IM platform, it backs up your chat history (by default) to its servers scattered around the world for speed and security – each and every message you send are highly encrypted so you need not worry for the most part – but then, if you're paranoid, there's a "secret chat" option that can self-destruct when you leave a chat without logging your convo on their server.
Signal then again, doesn't log your data in any way (except those locally stored) – it basically provides a secure medium through which your messages are transmitted and nothing is stored on their servers.
This enables Signal to provide its services at absolutely no cost as there's never or will ever be the need to store your data online thereby eliminating the exorbitant cost of maintaining multiple servers or providing new ones.
Signals' service is completely free to use and mainly relies on donations from users like you whereas Telegram is backed by its founder (Pavel Durov) whose main source of income is vk.com (a social network shared in some parts of Europe and Russia).
While Signal isn't as extensive as Telegram in functionality, you get the most basic benefits of a secure platform which is being able to send your SMS/MMS and make calls securely without a third party/ISP interfering or intercepting.
Set Up Signal on Your Smartphone and PC
First and foremost, you'd have to download the Signal app for Android or iPhone after which you'd register with your phone number and import your SMS/MMS from the default messaging app on your device and replace Signal as the new messaging client on your smartphone (if you so please).
Next, visit Signal's official website and download the desktop version suitable for your operating system (Windows, MacOS, or Linux).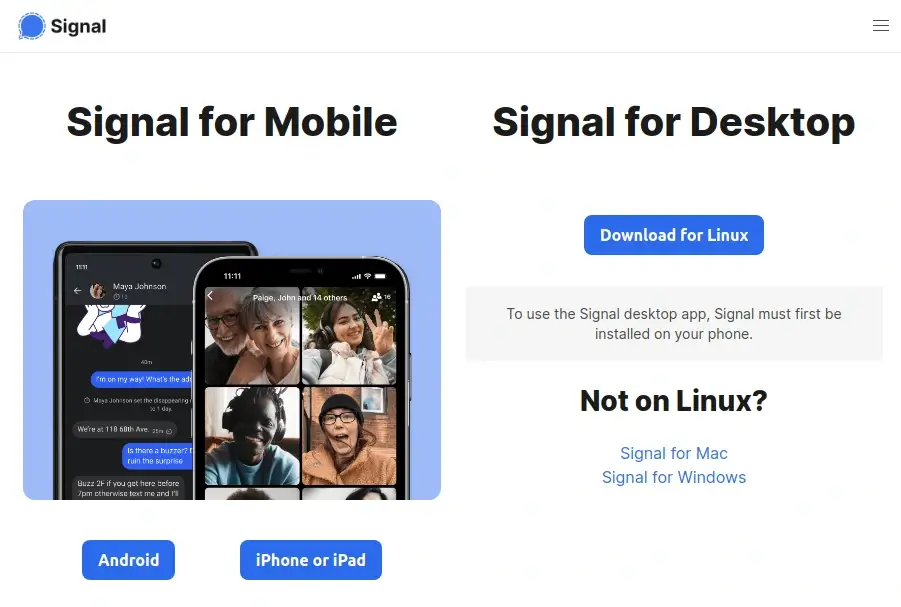 For example on Linux, you need to follow the given instructions that only work for Debian-based Linux distributions such as Ubuntu, Mint, etc.
$ wget -O- https://updates.signal.org/desktop/apt/keys.asc | gpg --dearmor > signal-desktop-keyring.gpg
$ cat signal-desktop-keyring.gpg | sudo tee /usr/share/keyrings/signal-desktop-keyring.gpg > /dev/null
$ echo 'deb [arch=amd64 signed-by=/usr/share/keyrings/signal-desktop-keyring.gpg] https://updates.signal.org/desktop/apt xenial main' |\ sudo tee /etc/apt/sources.list.d/signal-xenial.list
$ sudo apt update && sudo apt install signal-desktop

To install Signal on Windows and Mac, use:
On Windows, you need to download .exe file and follow the on-screen instructions.
On macOS, you need to download .dmg file and drag the Signal app into your Applications folder.
Now to link the Signal desktop app to your Signal account on your smartphone, use the following instructions.
Launch the Signal Desktop app.
A QR code will appear on the screen.
Open Signal on your mobile device, tap on your profile icon (or three dots on Android) > 'Linked Devices' > 'Link New Device'.
Scan the QR code displayed on your desktop using your mobile device.
Once linked, Signal will begin syncing your contacts and messages, which might take a few minutes, depending on the amount of data.
After the sync is complete, you can start messaging directly from your desktop. All messages sent or received will be mirrored on both your mobile and desktop devices.
Have you tried Signal in the past? How was your experience? Kindly share it with us in the comments below.