Boostnote is a 100% open-source, multi-platform Markdown editor and note-taking application designed for developers. Of course, non-programmers can use it without any technical requirements in order to take advantage of all its modern features which include full Markdown editing (with live preview) and Latex support.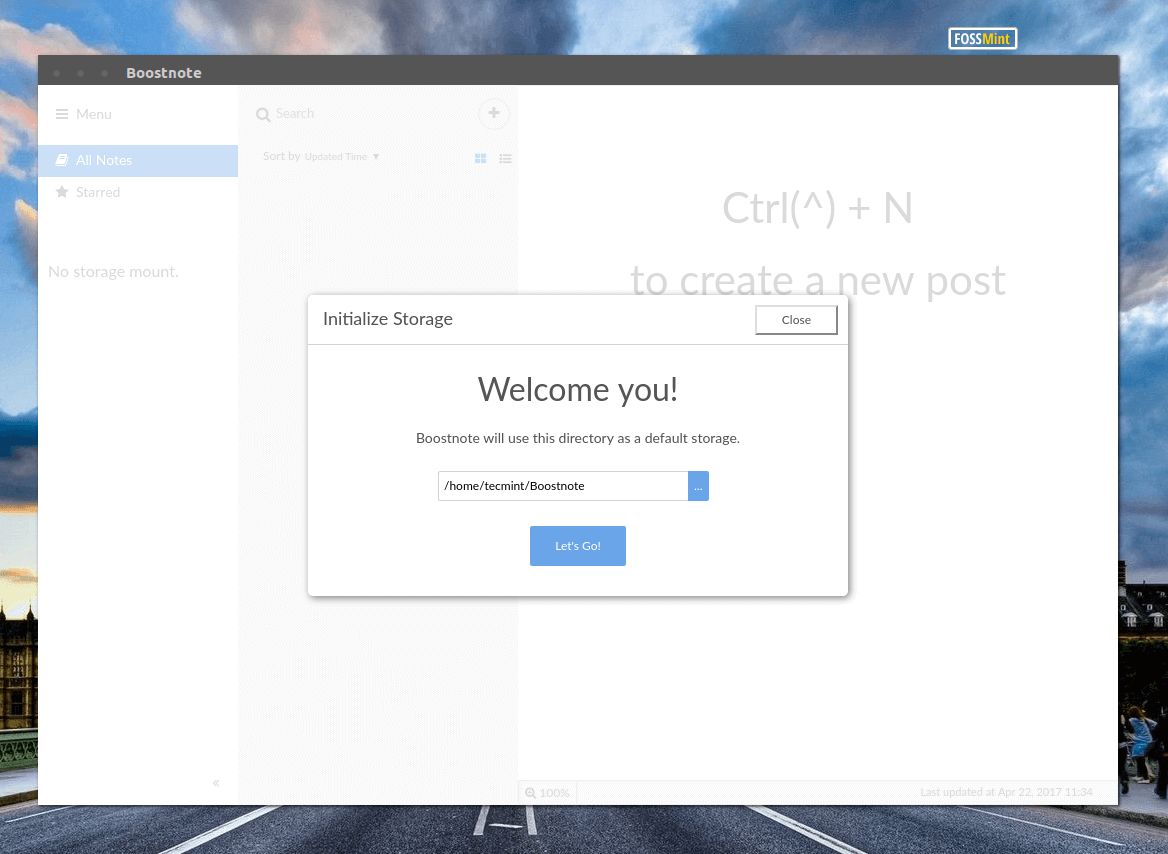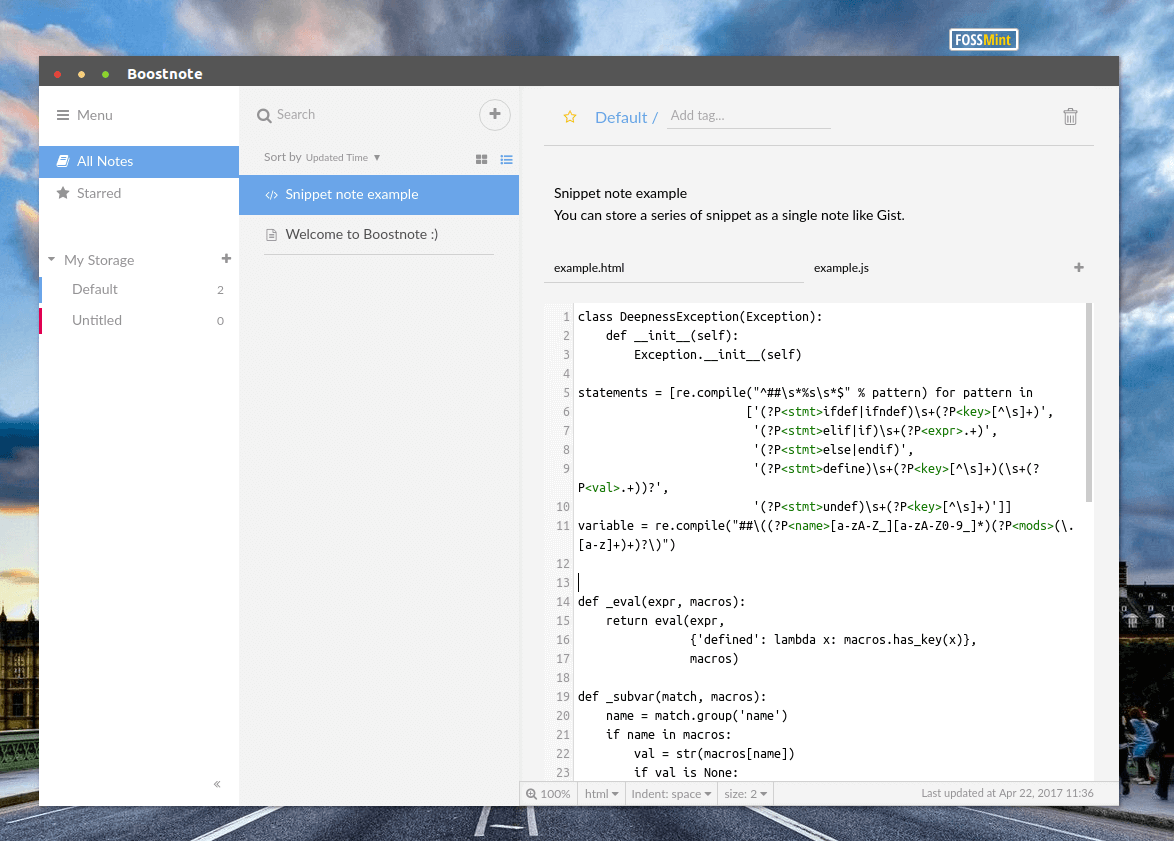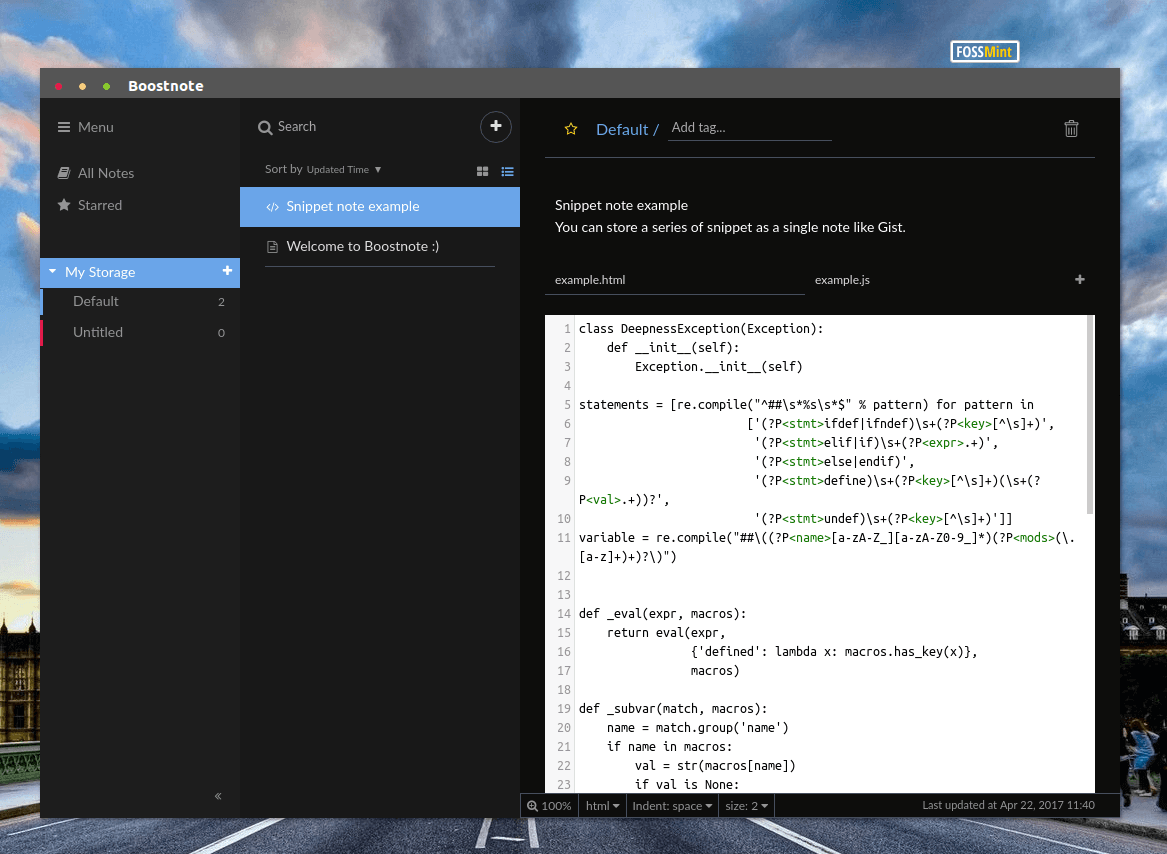 The Editor saves automatically as you type so you never have to worry about losing your data.
Features in Boostnote
Beautiful Minimal Design: Boostnote has a consistent beautiful design indeed with color themes that are soothing to the eyes and a well-thought-out typeface.
No Internet Required: Do all your note-taking and editing without an internet connection.
Full Markdown Support with Live Preview: Take your notes and watch them styled in real-time.
Full LaTeX Support: That's right! Use $$ and $$$ to get some equations nicely displayed.
Cross-platform and FOSS: It's free, Open Source, and available to download for Mac, Windows, and Linux.
Snippet Note: Keep your notes snippets within the app just like in Gist.
Finder Popup: Search for notes from anywhere within the app just like using Apple's spotlight search.
Tag Support: Use tags to smartly categorize your notes and enhance metadata indexing.
Syntax highlighting: Boostnote supports syntax highlighting for 100+ languages including HTML, Python, JavaScript, and CSS.
Theme Support: Find available themes in the Settings > UI section and choose a color scheme that appeals to you.
Synchronization: Sync your notes across as many devices as you're logged into your account on.
Web App: Conveniently create new notes and manage old ones from anywhere by using the web app in any modern browser.
Unlimited local storage: Store as many notes as you want on your local machine.
Apart from the above-listed features, you can use hotkeys to quickly navigate through the app and search for notes among other quick actions. The tab or spacebars can be customized to your taste and you can export notes as either plain text (.txt) or markdown (.md).
Pricing
Boostnote is open-source but that doesn't stop it from having a paid version. The Basic version is free with 100MB cloud storage space while the Premium version features 2GB of cloud storage space for a fee of $3/month and $5 for every extra 5GB.
Boostnote is available for Mac and 64-bit architectures for Windows and Linux. If your system meets that criteria then my advice is that you go ahead and grab it. We're still waiting for the mobile app to hit the market.
[mks_button size="medium" title="Download Boostnote for Linux" style="squared" url="https://boostnote.io/#download" target="_blank" rel="nofolow" bg_color="#3d7911″ txt_color="#fff" icon="fa-download" icon_type="fa" nofollow="1″]
If you're an Arch user then you can download Boostnote using AUR.
Boostnote has a version for teams that is not available yet. If you are interested, you can register your email to be notified of when its available.
Have you started using Boostnote yet? Feel free to take it for a spin and don't forget to let us know how much you liked the experience in the comments section below.