Instagram is one of the largest photo and video-sharing platforms, boasting a monthly active user base of one billion. Similar to TikTok, it allows you to follow people and see your followers.
For Instagram influencers, having a substantial number of followers and receiving more likes are essential goals. However, the real challenge lies in retaining your current followers.
One way to address this is by turning your Instagram account private. This way, only your followers will have access to the videos and photos you share.
Additionally, you will receive a notification when a user decides to follow you, giving you the option to accept or decline the request. However, Instagram does not inform you when someone unfollows you, as this is done to safeguard user privacy.
You may find yourself wondering who among your followers has unfollowed you. Worry not, as we have outlined two straightforward methods below that you can use to discover who unfollowed you. So, let's get started!
Manually Check Your Followers List
Checking the Followers list manually is the most basic way to find out who unfollowed you. To employ this method, start by logging in to your Instagram account and navigating to the profile homepage.
If you are aware of the specific names of the individuals who used to follow you, click on the "Followers" section.
Next, you can search for the name of the user among your followers. If the search results fail to display the user's profile, it indicates that the user has unfollowed you.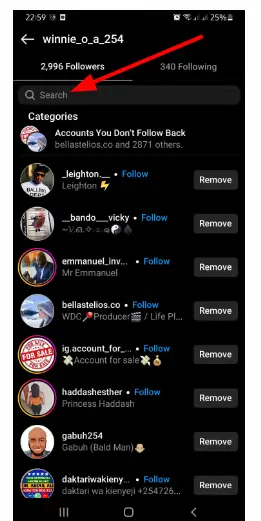 Still, using this method, you can go to the person's profile page and click on Following. Sounds easy, right? You can advance to search your name to see if the user unfollowed you.
Use Third-Party Apps
In 2018, Instagram implemented significant platform modifications to enhance the security of users' personal information.
Consequently, many third-party Instagram apps ceased to function effectively due to their heavy reliance on the outdated Instagram application program interface (API).
Fortunately, despite these changes, a few applications have adapted to the new API and continue to offer features that allow you to track unfollowers. Three notable examples are Follow Cop, FollowMeter, and Follower Tracker Pro.
For example, if you opt for FollowMeter, the app presents an intuitive dashboard with a range of options to explore. You can access features such as identifying New Followers, Unfollowers, people who do not follow you back, and even ghost followers.
This way, you can stay informed about your Instagram audience and engagement more effectively.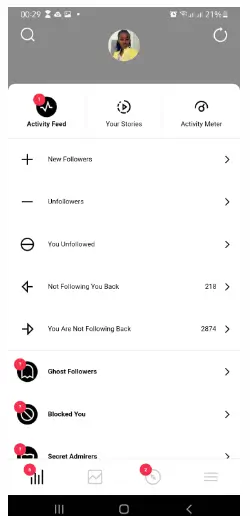 Which Method is Best for You
The best method for you will depend on your needs and preferences. If you only want to check who unfollowed you occasionally, then the manual method may be sufficient. However, if you want to track your unfollowers more closely, then a third-party app may be a better option.
Here are some additional tips for finding out who unfollowed you on Instagram.
Check your followers list regularly: This will help you to identify any accounts that have recently unfollowed you.
Use a third-party app to track your unfollowers: This will make it easier to keep track of who has unfollowed you and when they did it.
Be aware of the limitations of third-party apps: These apps can only track the accounts that you're following. This means that they may not be able to show you everyone who has unfollowed you.
Don't take it personally if someone unfollows you: There are a number of reasons why someone might unfollow you, such as they're no longer interested in your content or they're trying to reduce the number of accounts they follow.
Conclusion
Once you have used one of the aforementioned methods to view your unfollowers on Instagram, you can decide whether you want to find new followers, try to win them back, or simply forget about them.
If you do want to win them back, it will take some effort and time on your part. You can start by liking their posts, commenting on them, and perhaps even following them again. You can also try to create content that you think they will be interested in.
However, it is important to remember that not everyone who unfollows you is a lost cause. Some people may simply have been inactive on Instagram, or they may have unfollowed you by mistake. If you are persistent, you may be able to win some of your unfollowers back.
Here are some additional tips for winning back unfollowers:
Be consistent with your posting schedule: This will help to keep your content in front of your unfollowers' eyes.
Post-high-quality content that is relevant to your target audience: This will make your content more likely to be seen and liked by your unfollowers.
Use relevant hashtags: This will help your content to be seen by more people, including your unfollowers.
Run contests or giveaways: This is a great way to attract new followers and win back old ones.
I hope this article is helpful to all Instagram influencers.