Google's Play Store is by far the largest repository of Android apps and the applications featured on the mobile store is unmatched by other alternative app stores for Android.
According to Statistics, the Play Store (formerly Android Market) boasts of an approximate 2million applications thereby trumping the Apple iOS store by over half a million apps.
This takeover was very much expected as the adoption of Android has always been fast paced ever since its inception way back in 2008 particularly because of its openly extensible nature and the Linux Kernel.
Google being the sole architect of the operating system means that its bundled services are ever present on a whopping 90 percent of devices running the open-source operating system.
The control Google exerts on Android has given it an upper hand as the sole distributor of the software to the extent where Android itself is seemingly meaningless without Google's proprietary services bundled with it.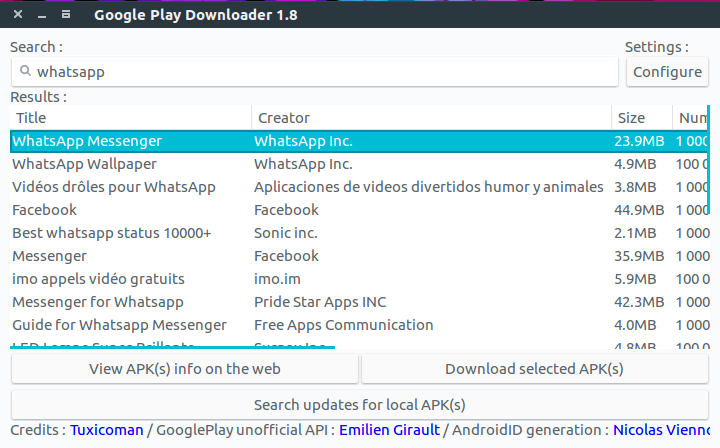 While the services the search giant offers are mostly free and extremely useful, it does come at the hidden and somewhat hefty price of sacrificing your data to the hands of the conglomerate to better help it throw targeted ads in your face which is what its core business revolves around.
This is not entirely as bad as it may sound; but in the case you're paranoid and completely want to rid your Android smartphone of Google, it would perhaps gladden you to know that you can get just about any free application on the Play Store with this open-source Google Play Downloader application on Linux.
Google Play Downloader saves APKs directly to your Linux PC
This application became available due to a concern the developer (Tuxicoman) had about privacy as elaborated in this statement, " …wanted to get applications from the Google Play store but didn't like my Android AOSP system being tainted by Google root services neither being filed in the Google account database".
The application has been in active development since its inception way back in 2013 with the latest version at 1.8. Google Play Downloader as is so-called is not affiliated with Google in any way is independently developed by Tuxicoman.
Google Play Downloader is written in Python, licenced under the GNU Affero General Public License and based on existing projects (as seen below) that allow it to seamlessly connect to the Google Play services.
GooglePlay-api to interact with Google PlayStore (https://github.com/egirault/googleplay-api/) BSD license
Androguard to read info info from local APKs on disk (http://code.google.com/p/androguard/) LGPL license
Android-checkin-1.0.jar to create AndroiID from Google credentials. (https://github.com/nviennot/android-checkin/) MIT license
The application is apparently platform independent (as seen on the developer's page) and has precompiled debs for Debian, Ubuntu and derivatives. It is also available in the AUR for Arch Linux users while for other systems, you may compile from source.