A Backlink is any link that directs a user from one resource to another which could be a different website, an external webpage, or an online directory. They can be in either text or image form and their references are comparable to document citations.
Backlinks are significant for SEO ranking and until not too long ago, they were the major metric for webpage ranking as many search engines including Google, Bing, and DuckDuckGo used their data to assign significance to websites; this in turn, positively or negatively affected website traffic, reputation, and client relationships.
[ You might also like: 40+ Best Free SEO Tools to Improve Your Google Ranking ]
SEO details can be complicated for some folks but you don't have to worry about it because there are a variety of tools available to help users do most of the "heavy-lifting".
Here is my list of the best Backlink checker tools in 2021.
1. SEMrush
SEMrush is a Software as a Service (Saas) company that was built with a focus on boosting clients' online visibility and marketing analytics for a price. Its features include analytics reports for organic growth, built-in advertising research capability, traffic analytics, backlink tools, and keyword research, among others.
SEMrush offers different subscription packages to fit different business sizes/models with the cheapest package costing $99.95/month or $83.28/month when billed annually.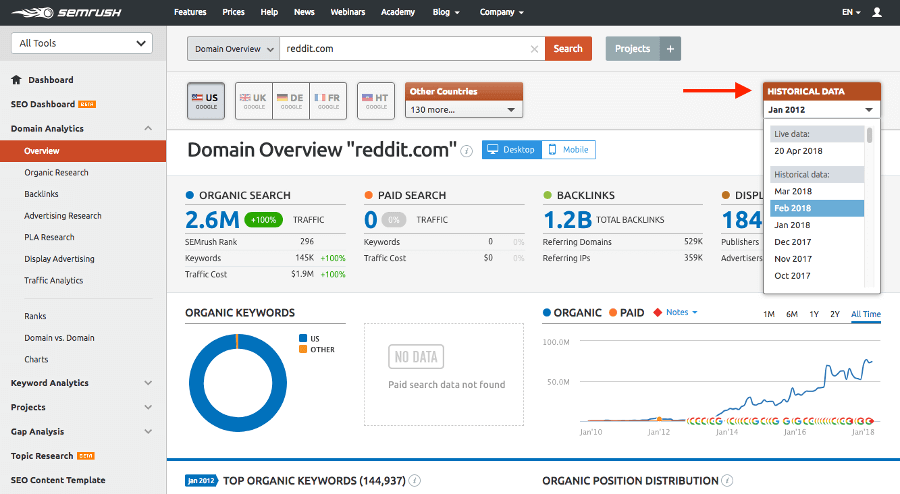 [ You might also like: 10 Best SEO Keywords Research Tools for Better Ranking ]
2. Ubersuggest
Ubersuggest is a modern keyword research tool that aims to help users gain more visitors by suggesting the best methods for boosting SEO ranking for content and social media marketing. It gains insights from other websites and informs you of which links have the most impact on your own website.
It proposes good keyword ideas using Google autocomplete in a reliable and easy-to-understand manner and it even has the option to add a URL from competitors in order to retrieve better keyword ideas. Ubersuggest is free to use.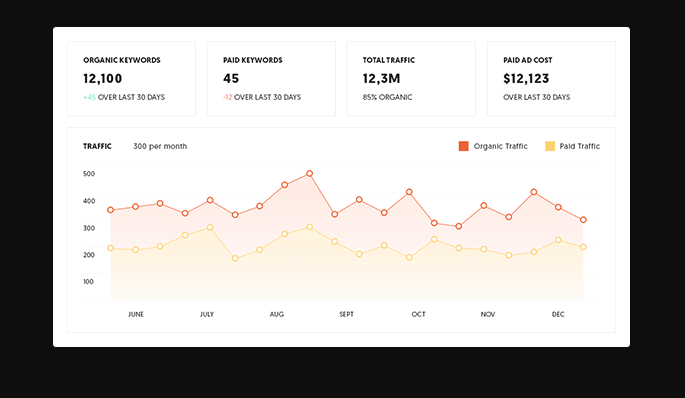 3. LinkMiner
LinkMiner is a modern powerful backlinks checker tool that allows users to find and evaluate the most powerful backlinks for their website. Its main features also include the ability to see live previews of backlinks, save backlinks to a favorites list, make custom data exports, evaluate link strength, and a database with over 9 trillion backlinks.
LinkMiner has integration support with other tools such as SERP simulator, SERPWatcher, KWFinder, Mangools API, etc. Pricing starts at €49.00/month or €29.90/month annually.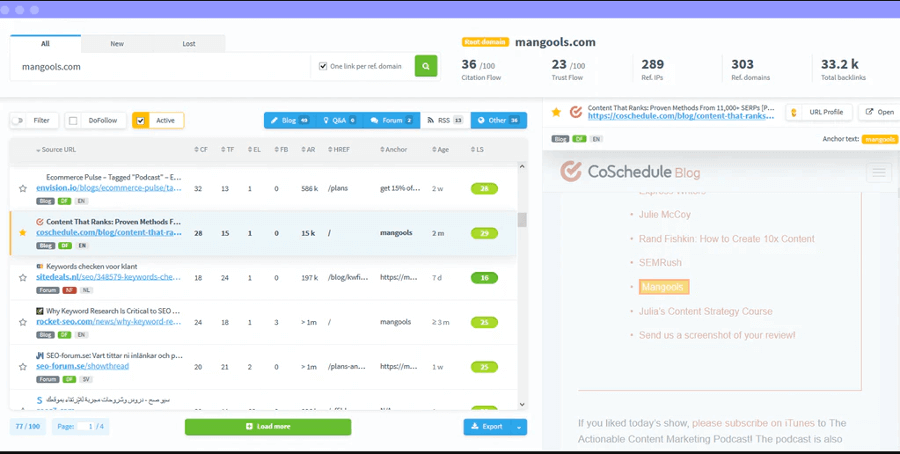 4. Ahrefs
Ahrefs Backlink Checker is reportedly the second most active web crawler after Google with a database containing at least 19 trillion known links for 170 unique domains. Its backlink index is updated every 15 minutes and the company reports a record of 6.22 billion page crawls daily.
The features in Ahrefs Backlink Checker include in-depth analysis tools such as backlink anchor text, inbuilt filters, export to PDF and CSV, and a nice view of your website's analytics. It offers a 7-day trial for $7 after which you pay $99/user/month or $82/user/month annually.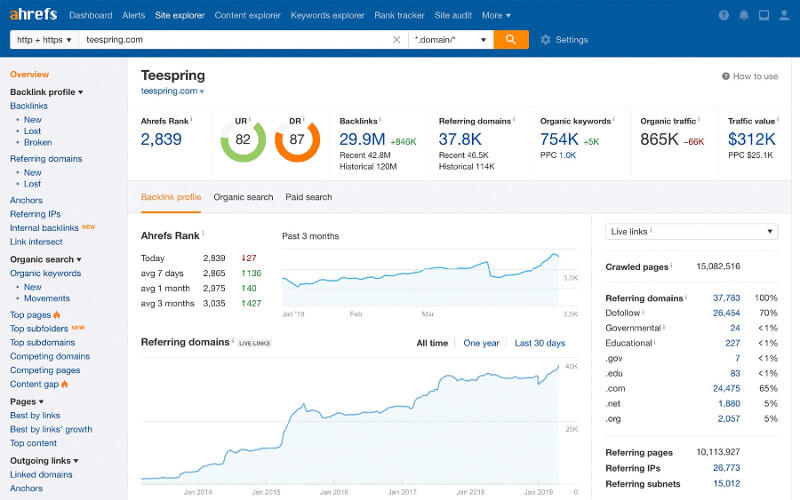 5. OpenLinkProfiler
OpenLinkProfiler is a free and easy-to-use link analysis tool that gives users detailed information about the links directing to websites. Loved by thousands of people worldwide, OpenLinkProfiler is one of the easiest tools to use for backlink checking and SEO analysis.
How to use it? Just enter a domain name into the search box on the official website, hit the 'Get backlinks data' button and you will immediately get link analyses. No apps/cards required.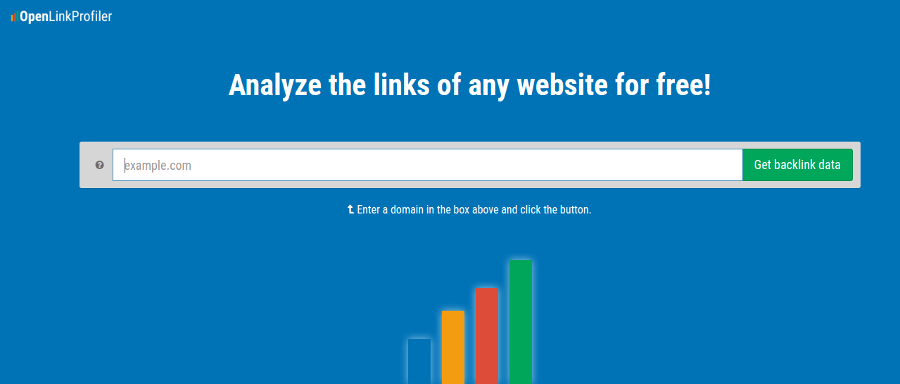 6. BuzzSumo
BuzzSumo is a content marketing research and monitoring tool for the modern society. It enables businesses to find and collaborate with social media influencers using insights to generate ideas and create high-performing content while monitoring profile performance.
BuzzSumo is available for users at different business levels with more features added to the packages relative to the personal/business needs. The cheapest pricing is for Pro which starts at $99/month or $79/month when billed annually.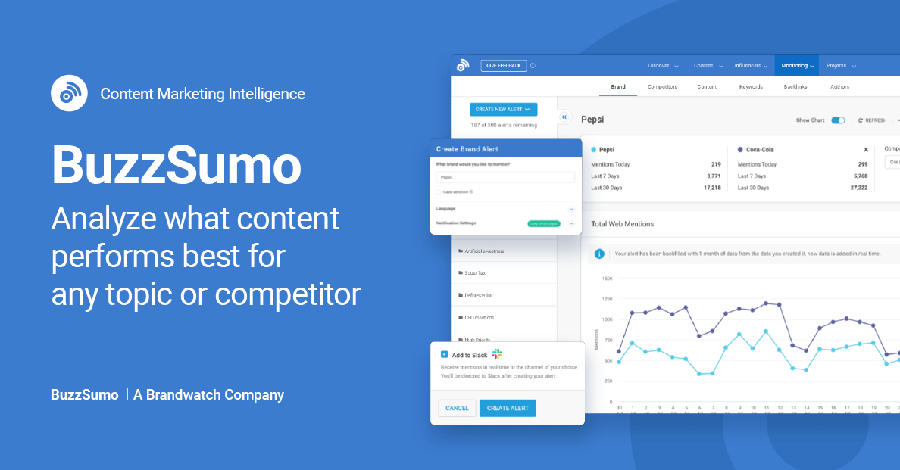 7. Moz Link Explorer
Moz Link Explorer is a keyword explorer, link explorer, domain analysis checker, and location audit tool wrapped into one software. It works as easily as a client entering a valid URL in the search field and hitting the 'Analyze Domain' button. Other features include a link explorer overview dashboard, inbound links analytics, Moz's spam score, and profile analysis.
Moz Link Explorer's features offer users the ability to monitor their online presence especially with location context and local search engines. Its pricing starts at $99/month or $79/month if you pay annually.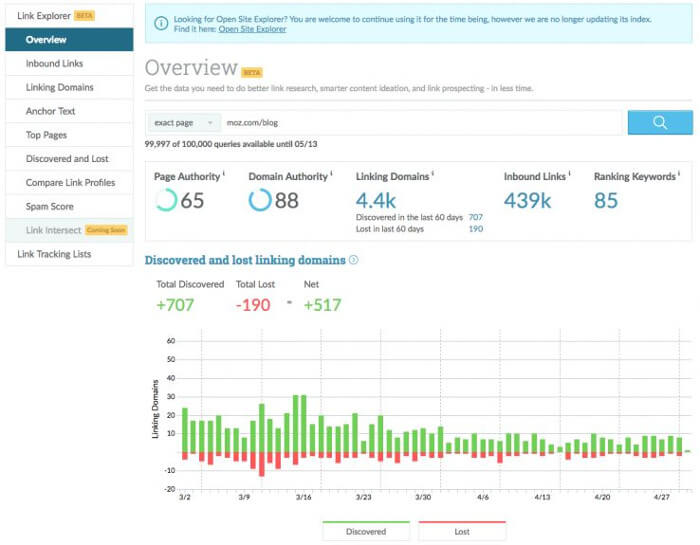 8. Linkody
Linkody is an all-in-one SaaS backlink checking tool that enables users to automate monitoring, finding, and reporting on backlinks. Its major features include email reports, SEO metrics, link analytics, link visualize, export to Excel & PDF, easy link management, new links discovery, Moz data, multi-user support, and an easy Disavow tool.
Linkody is free to try for 30 days no credit card required after which the charge for the least plan starts at €13.90/month or €10.20/month annually wherein users get 3 months free.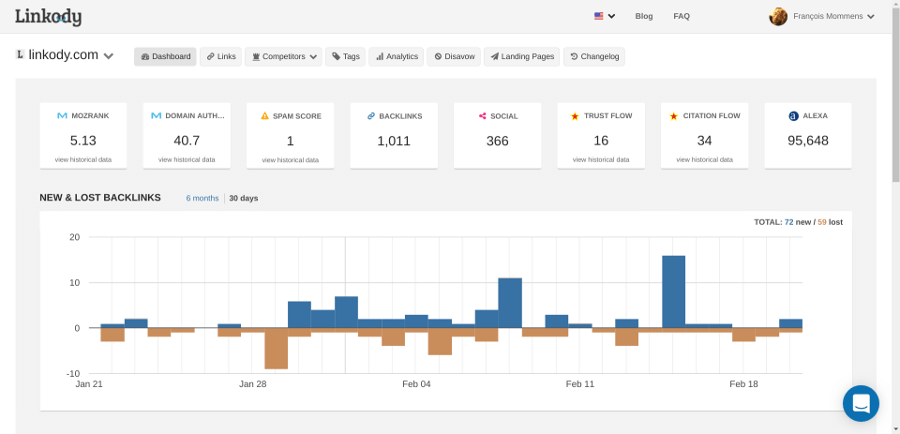 9. cognitiveSEO
cognitiveSEO is a premium tool that provides its users with the ability to increase website traffic and monitor site progress using high-class digital marketing strategy analysis and profitable insights. Its features include a comprehensive site auditing tool, keyword research, rank tracking, content optimization, social visibility, Google Penalty prevention and recovery, in-depth backlink analysis, etc.
cognitiveSEO promises to enable users to uncover all their competitor's strategies in just 10 minutes and it offers a free 7-day trial. After that, it costs $129.99/month or $89/month on an annual payment.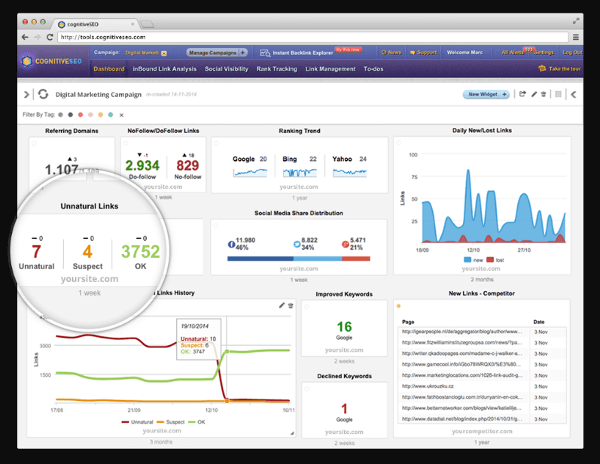 10. Monitor Backlinks
Monitor Backlinks (formerly Open Site Explorer) prides itself as the best tool for keywords and backlinks as it boasts a large link database, a powerful filter for links, and an SEO backlink checker tool. Its other main features include email alerts on gain/loss of backlinks, Google keyword rankings, visual analytics, and reports on competitors' backlink strategies.
Monitor Backlinks is available to try for free for 30 days after which the pricing plan starts at $20.10/month. If you want, you can tweak the service to fit your business needs and then pay for the recalculated cost.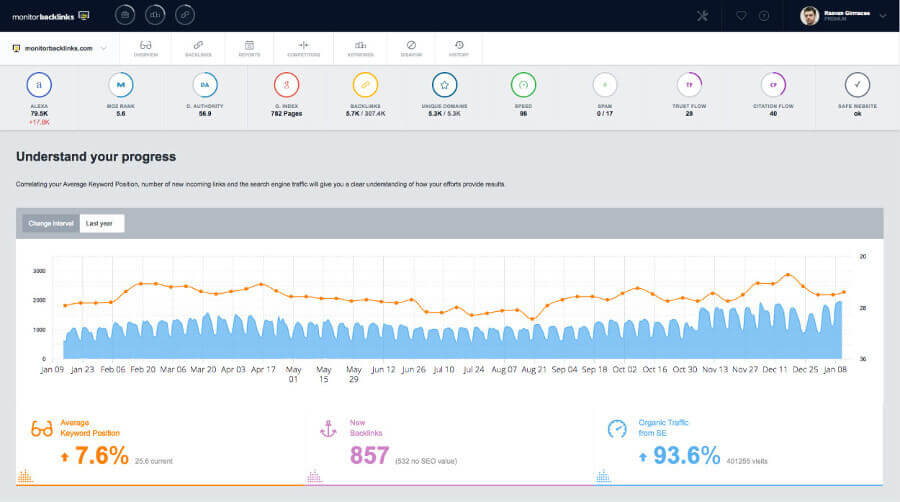 11. SEO PowerSuite
SEO PowerSuite is a freemium cross-platform SEO-centric software that aims to improve user rankings and in turn outrank their competition, generate more traffic and sales, satisfy SEO clients, and running SEO quicker in order to save time. Its features include accurate rank monitoring, robust keyword search as well as research, intelligent link analysis, on-page site auditing, etc.
SEO PowerSuite has a free version with all functionality except for the option to save the history of projects. The Professional license costs €299 and the Enterprise license, €699.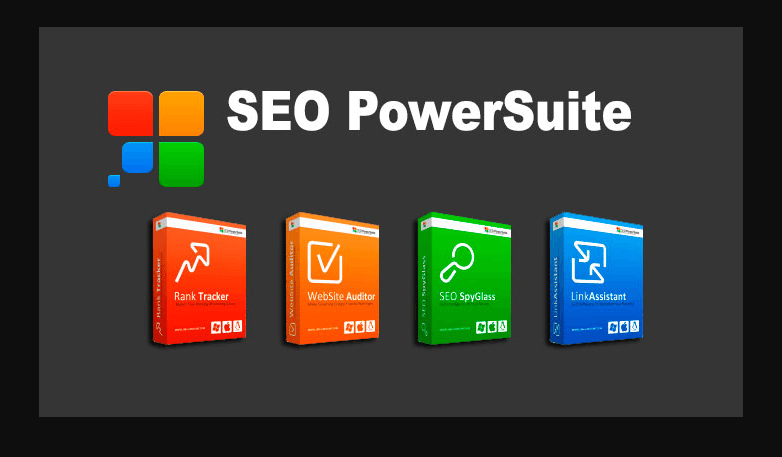 12. Raven Tools
Raven Tools is a White Label SEO reporting tool geared towards all business types including marketing, media, freelancing, and agencies. Its features include automated client reports, a customizable dashboard, shareable URL reports in HTML/PDF formats, link building, XML sitemap generation, mobile and local tracking, link sp, Google search console, etc.
Raven Tools offers a free 14-day trial after which the charge starts at $109/month for 4 users, 20 domains, and 15,000 position checks, or $79/month when billed annually.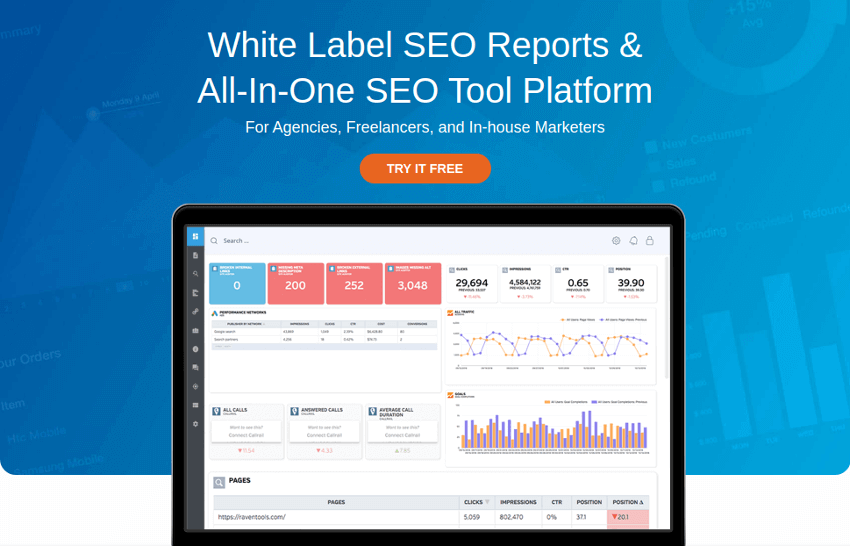 13. SEO Spyglass
SEO Spyglass enables users to implement proven SEO methods to make their web pages rank higher in search engines as well as to give insight on how to boost user engagement. Its main features include finding website backlinks, anchor text discovery in backlinks, instant page rank view, traffic identification from backlinks, sorting links from blogs, homepages, and forums, backlinks value and age calculation, custom SEO report, etc.
SEO Spyglass offers a free version with limits such as 1,100 links per project, no automatic/scheduled tasks, no custom SEO blueprint report. The paid packages are Professional and Enterprise which cost a one-time fee of $124.75 and $299.75 respectively.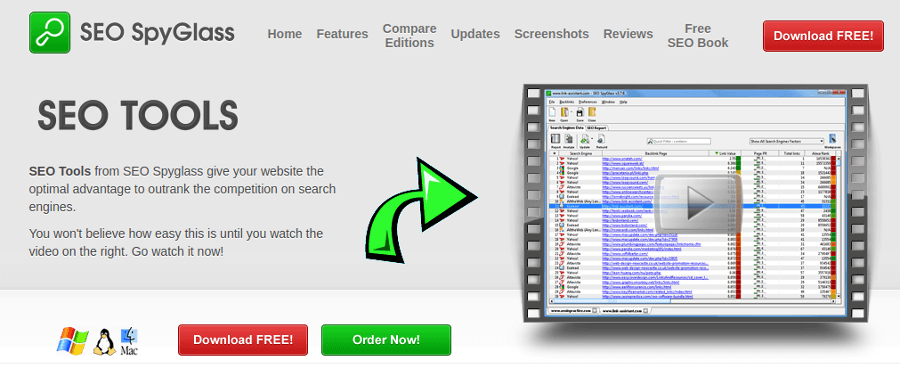 14. Backlink Watch
Backlink Watch is a simple SEO tool that focuses on the fact that Search Engine Optimization (SEO) revolves around building links and it is designed to make users' websites stand out in the SERPs. Its features provide information on anchor texts, competitors' strategies, keyword research, backlink count, outbound links, page ranks, etc.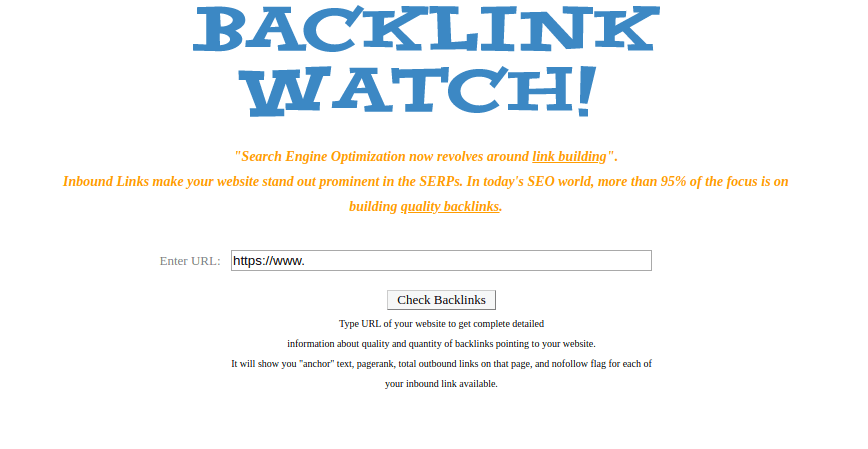 That concludes my list of the best tools you can use for checking backlinks in 2021. Do you have any experience with any of the mentioned tools? Or maybe you are aware of options that I skipped mentioning. Share your experience and suggestions with us in the comments section.