A Backlink is any link that directs a user from one resource to another which could be a different website, an external webpage, or an online directory. They can be in either text or image form and their references are comparable to document citations.
Backlinks are significant for SEO ranking and until not too long ago, they were the major metric for webpage ranking as many search engines including Google, Bing, and DuckDuckGo used their data to assign significance to websites; this in turn, positively or negatively affected website traffic, reputation, and client relationships.
SEO details can be complicated for some folks but you don't have to worry about it because there are a variety of tools available to help users do most of the "heavy lifting".
And this explains why you need to upgrade your backlink strategy with the best backlink checker tools. This blog post delves explores everything about backlink checkers.
We'll explore the features and strengths of some of the best backlink checker tools today to enable you to select the one that best suits your needs.
What Is a Backlink Checker?
A backlink checker is any tool that specializes in analyzing the backlink profile of a website, providing insights into the links directed to a specific domain.
These tools help in monitoring the health of a website's backlink profile, identifying spammy or toxic links, and discovering new link-building opportunities. The main types include:
Free Backlink Checkers: These checkers offer a basic level of analysis, typically providing information about the number of backlinks your website has and the domain authority of the linking websites.
Paid Backlink Checkers: These checkers offer more in-depth analysis, including information about the anchor text distribution of your backlinks and the backlink profile of your competitors. Besides, these tools will help you track the progress of your backlink-building efforts.
What Are the Benefits of a Backlink Checker Tool?
Backlink checker tools are valuable assets for website owners and SEO professionals, offering a range of benefits that contribute to a website's overall success.
Notable advantages of utilizing a backlink checker tool:
Performing Comprehensive Backlink Analysis: Backlink checker tools provide a report of your website's backlink profile. The report often includes the domains linking to your site, link quality, and their number. With this report, you can assess the quality and strength of your backlink profile and identify areas for improvement.
Spam Backlink Detection: Spammy backlinks will negatively affect your ranking. These could be backlinks with irrelevant anchor texts or irrelevant websites. With a good backlink checker tool, you can effectively identify these spammy backlinks and correct or disavow them.
Monitoring Backlink Growth and Progress: Backlink checker tools come in handy in tracking the progress of your backlink profile.
Competitor Backlink Analysis: Gaining insights into your competitors' backlink profiles and providing a report on backlink strategies. Backlink checker tools enable you to analyze the backlinks of your competitors, identifying potential sources for backlinks and understanding the link-building techniques they employ.
Identifying Backlink Opportunities: Backlink checker tools can help you uncover potential opportunities for acquiring new backlinks from high-quality websites. This can involve reaching out to relevant websites for guest blogging opportunities or identifying broken links that can be replaced with links to your content.
Guided Link Building Strategy: Insights from backlink checker tools can guide you toward acquiring backlinks from reputable and relevant websites. This can help you avoid spammy backlinks and focus on building a high-quality backlink profile that supports your SEO goals. Besides, backlink checker tools provide data-driven insights that empower you to make informed decisions regarding your backlink profile and overall SEO strategy.
Best Backlinks Checker Tools
Navigating the array of Backlink Checker tools poses a challenge in making the optimal choice. In this article, we explore the best Backlink Checker tools available that offer insights into the options you can consider for your needs.
1. SEMrush
SEMrush is a Software as a Service (Saas) company that was built with a focus on boosting clients' online visibility and marketing analytics for a price. Its features include analytics reports for organic growth, built-in advertising research capability, traffic analytics, backlink tools, and keyword research, among others.
SEMrush offers different subscription packages to fit different business sizes/models with the cheapest package costing $129.95/month or $108/month when billed annually.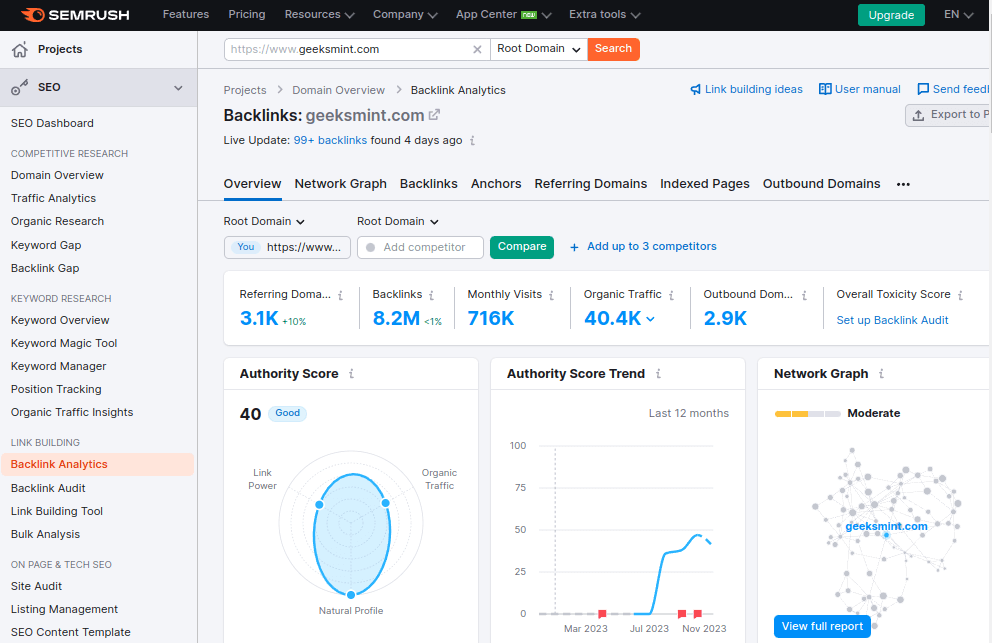 2. Ubersuggest
Ubersuggest is a modern keyword research tool that aims to help users gain more visitors by suggesting the best methods for boosting SEO ranking for content and social media marketing. It gains insights from other websites and informs you of which links have the most impact on your own website.
It proposes good keyword ideas using Google autocomplete in a reliable and easy-to-understand manner and it even has the option to add a URL from competitors in order to retrieve better keyword ideas.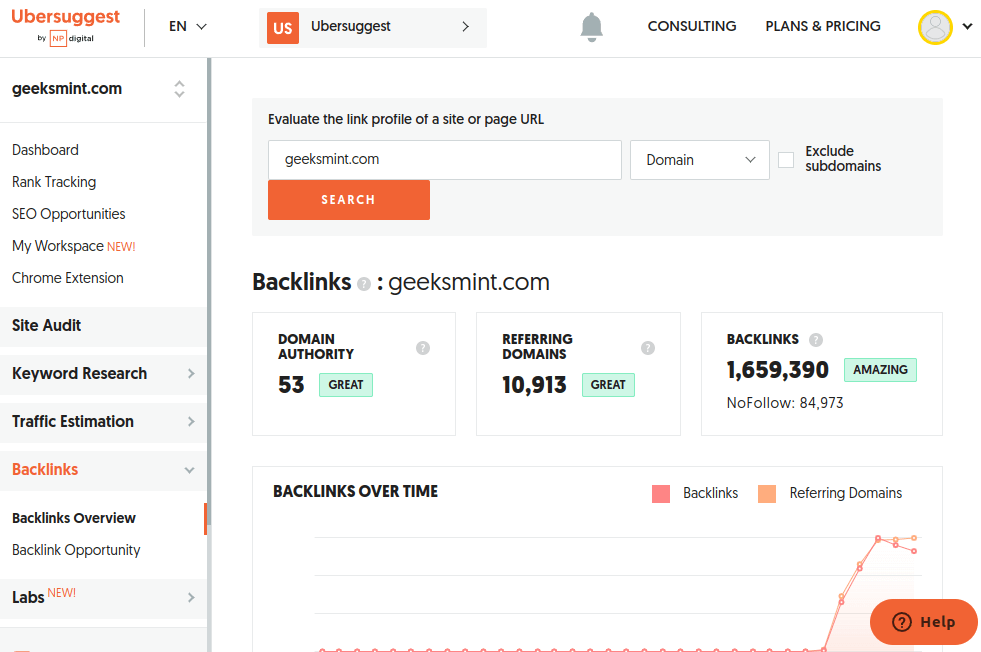 3. LinkMiner
If you are looking for a comprehensive backlink checker that can handle nearly all your backlink needs, Mangools LinkMiner is a good bet. This tool stands out as a comprehensive backlink analysis tool that helps you evaluate and optimize your backlink profiles.
Besides, it provides a detailed overview of a website's backlinks, including their quality, authority, and anchor text distribution.
Features:
Uses advanced metrics to assess the quality of backlinks
Allows you to track your backlink growth over time
Offers sophisticated filtering and search options
LinkMiner by Mongools is designed to simplify the process of backlink analysis. It makes it easier for you to identify and replicate powerful backlinks from your competitors.
With its user-friendly interface and powerful features, LinkMiner is a valuable tool for anyone looking to enhance their link-building strategies and improve their website's SEO performance.
LinkMiner has integration support with other tools such as SERP simulator, SERPWatcher, KWFinder, Mangools API, etc. Pricing starts at $18.90/month or $12.90/month when billed annually.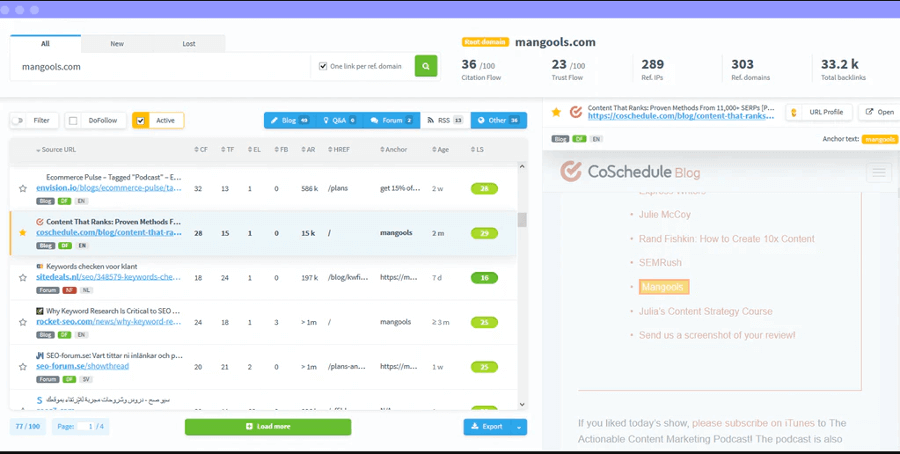 4. Ahrefs
Ahrefs Backlink Checker is reportedly the largest backlink index of any SEO tool, with a database containing at least 31 Trillion backlinks. Its backlink index is updated multiple times per day and the company reports a record of 6 billion web page crawls every day to find new backlinks.
The features in Ahrefs Backlink Checker include in-depth analysis tools such as backlink anchor text, inbuilt filters, export to PDF and CSV, and a nice view of your website's analytics.
Ahrefs offers four pricing plans which include:
Lite: $99 per month
Standard: $179 per month
Advanced: $399 per month
Agency: $999 per month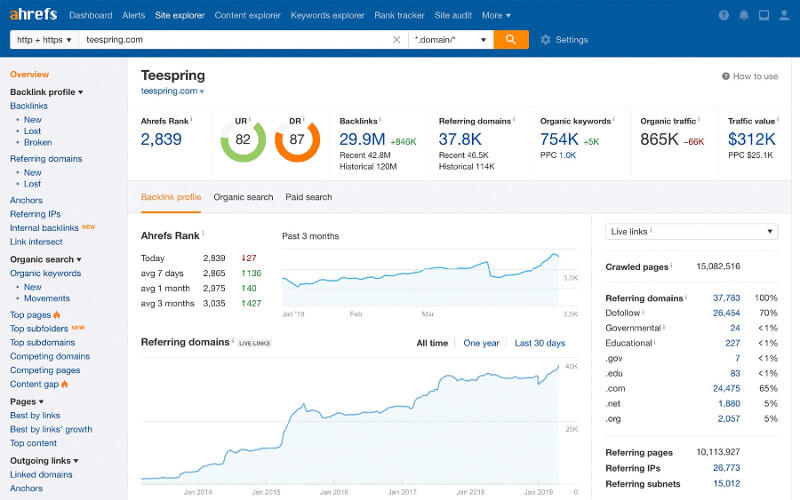 5. OpenLinkProfiler
OpenLinkProfiler is a free and easy-to-use link analysis tool that gives users detailed information about the links directed to websites. Loved by thousands of people worldwide, OpenLinkProfiler is one of the easiest tools to use for backlink checking and SEO analysis.
How to use it? Just enter a domain name into the search box on the official website, hit the "Get backlinks data" button and you will immediately get link analysis.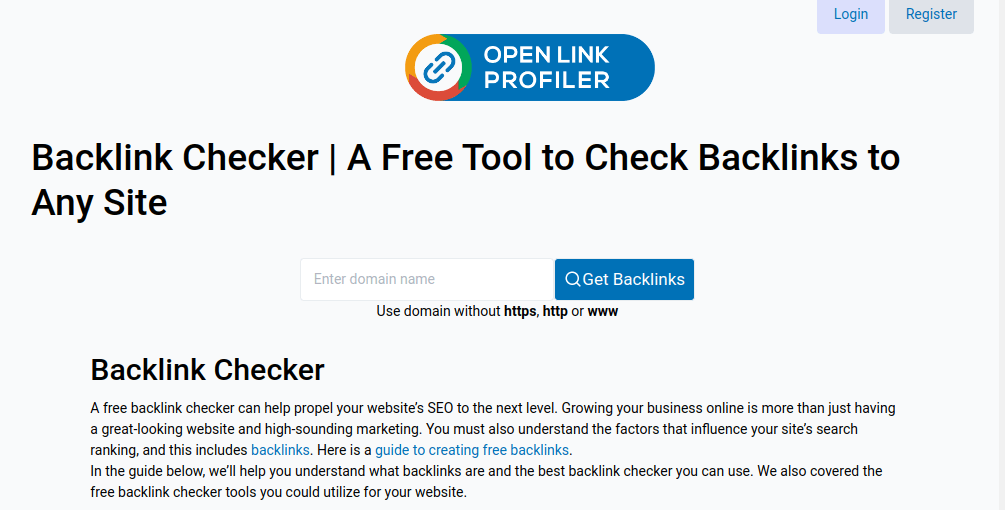 6. BuzzSumo
BuzzSumo is a content marketing research and monitoring tool for modern society. It enables businesses to find and collaborate with social media influencers using insights to generate ideas and create high-performing content while monitoring profile performance.
BuzzSumo is available for users at different business levels with more features added to the packages relative to the personal/business needs. The cheapest pricing is for Pro which starts at $199/month and goes up to $999/month when billed annually.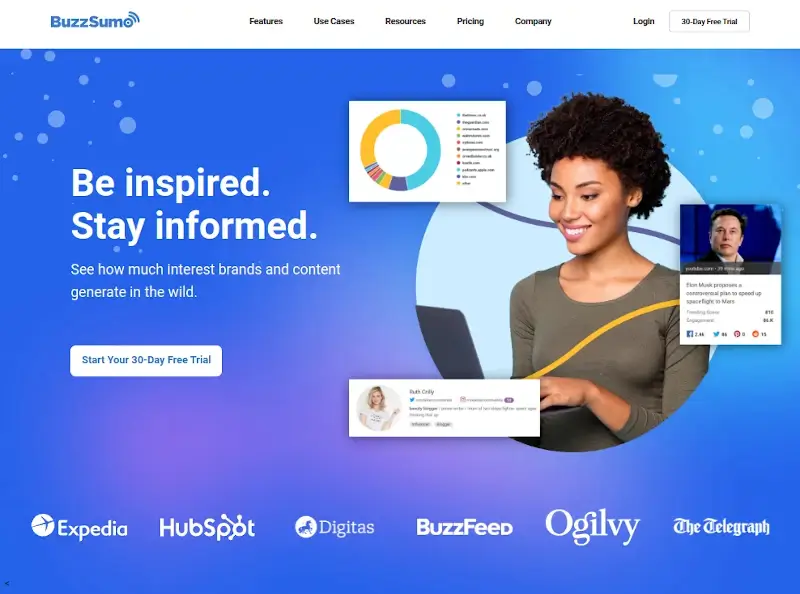 7. Moz Link Explorer
Moz Link Explorer is a keyword explorer, link explorer, domain analysis checker, and location audit tool wrapped into one software. It works as easily as a client entering a valid URL in the search field and hitting the "Analyze Domain" button. Other features include a link explorer overview dashboard, inbound links analytics, Moz's spam score, and profile analysis.
Moz Link Explorer's features offer users the ability to monitor their online presence, especially with location context and local search engines. Its pricing starts at $69/month or $59/month if you pay annually.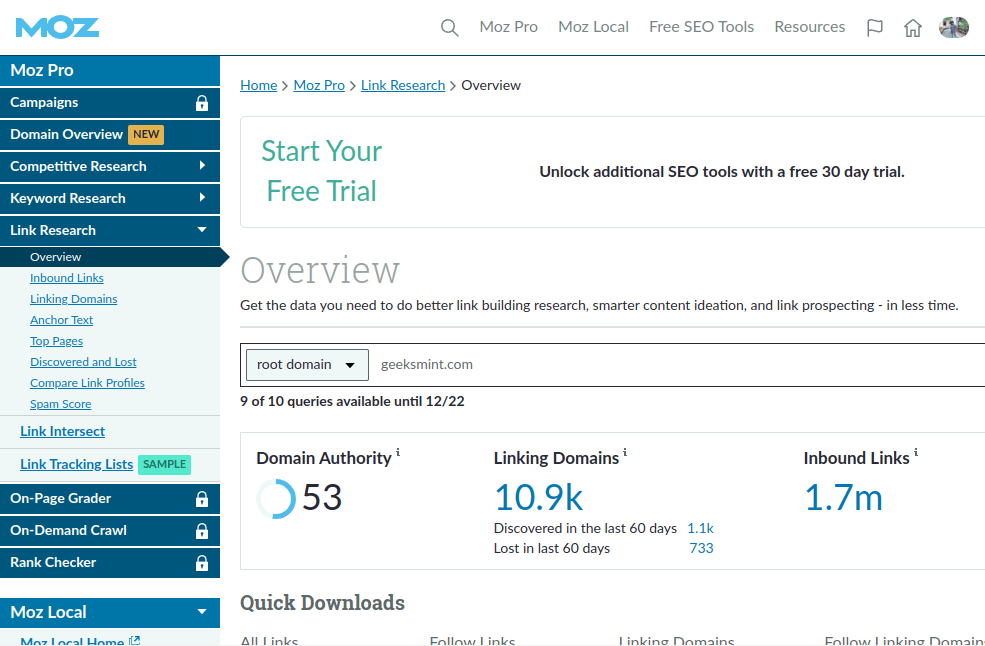 8. Linkody
Linkody is an all-in-one SaaS backlink-checking tool that enables users to automate monitoring, finding, and reporting on backlinks. Its major features include email reports, SEO metrics, link analytics, link visualization, export to Excel & PDF, easy link management, new links discovery, Moz data, multi-user support, and an easy Disavow tool.
Linkody is free to try for 30 days no credit card required after which the charge for the least plan starts at $14.99/month annually.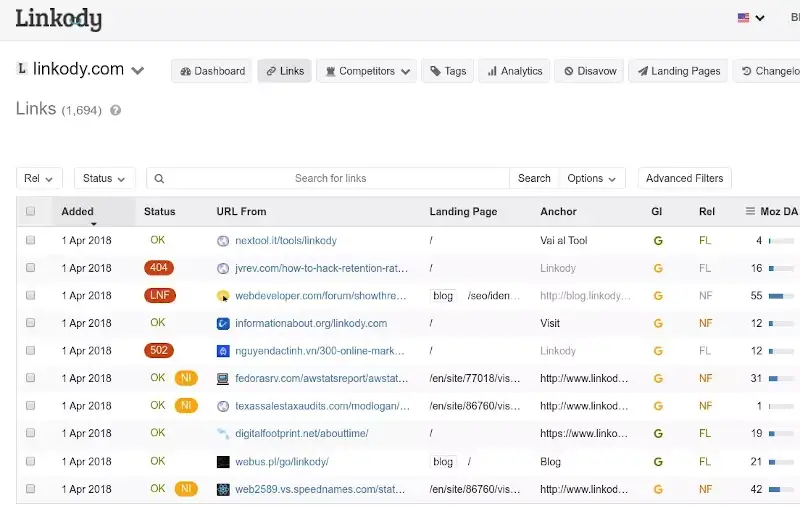 9. cognitiveSEO
cognitiveSEO is a premium tool that provides its users with the ability to increase website traffic and monitor site progress using high-class digital marketing strategy analysis and profitable insights. Its features include a comprehensive site auditing tool, keyword research, rank tracking, content optimization, social visibility, Google Penalty prevention and recovery, in-depth backlink analysis, etc.
cognitiveSEO promises to enable users to uncover all their competitor's strategies in just 10 minutes and it offers a free 7-day trial. After that, it costs $129.99/month or $89/month on an annual payment.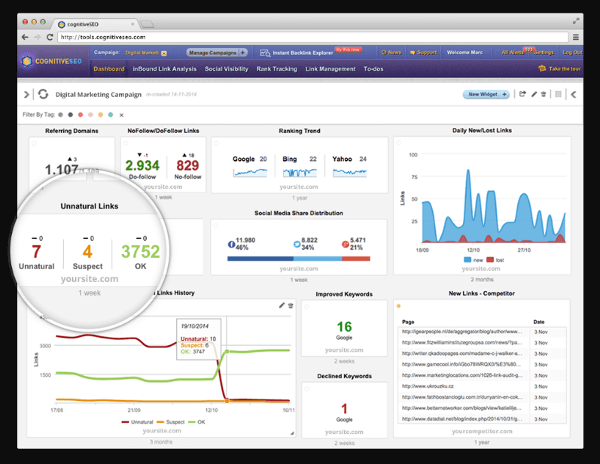 10. Monitor Backlinks
Monitor Backlinks (formerly Open Site Explorer) prides itself as the best tool for keywords and backlinks as it boasts a large link database, a powerful filter for links, and an SEO backlink checker tool.
Its other main features include email alerts on the gain/loss of backlinks, Google keyword rankings, visual analytics, and reports on competitors' backlink strategies.
Monitor Backlinks is available to try for free for 30 days after which the pricing plan starts at $47/month. If you want, you can tweak the service to fit your business needs and then pay for the recalculated cost.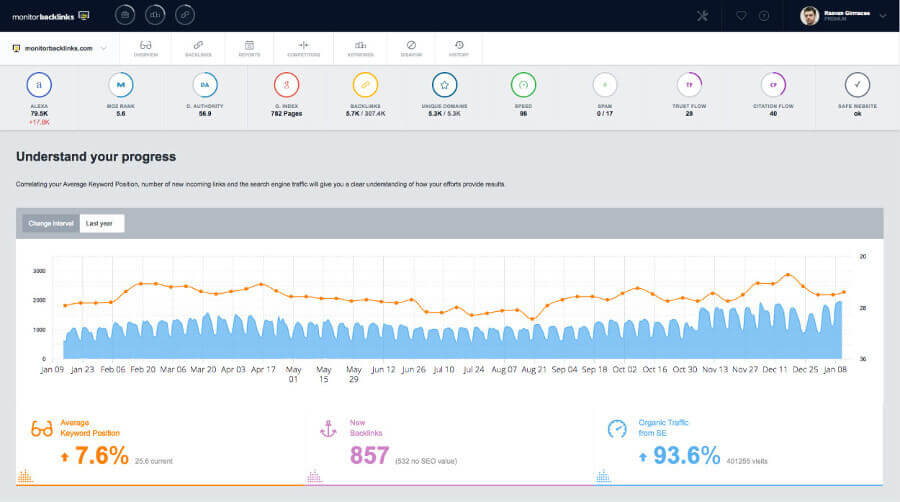 11. SEO PowerSuite
SEO PowerSuite is a freemium cross-platform SEO-centric software that aims to improve user rankings and in turn, outrank their competition, generate more traffic and sales, satisfy SEO clients, and run SEO quicker in order to save time.
Its features include accurate rank monitoring, robust keyword search as well as research, intelligent link analysis, on-page site auditing, etc.
SEO PowerSuite has a free version with all functionality except for the option to save the history of projects. The Professional license costs $299 and the Enterprise license, $499.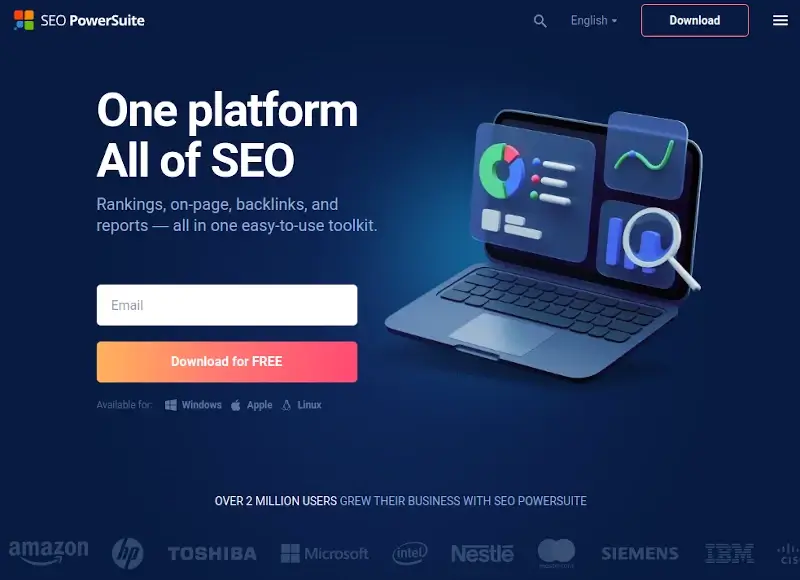 12. Raven Tools
Raven Tools is a White Label SEO reporting tool geared toward all business types including marketing, media, freelancing, and agencies. Its features include automated client reports, a customizable dashboard, shareable URL reports in HTML/PDF formats, link building, XML sitemap generation, mobile and local tracking, link sp, Google search console, etc.
Raven Tools offers a free 14-day trial after which the charge starts at $49/month for 2 users, 2 domains, and 15,00 position checks when billed annually.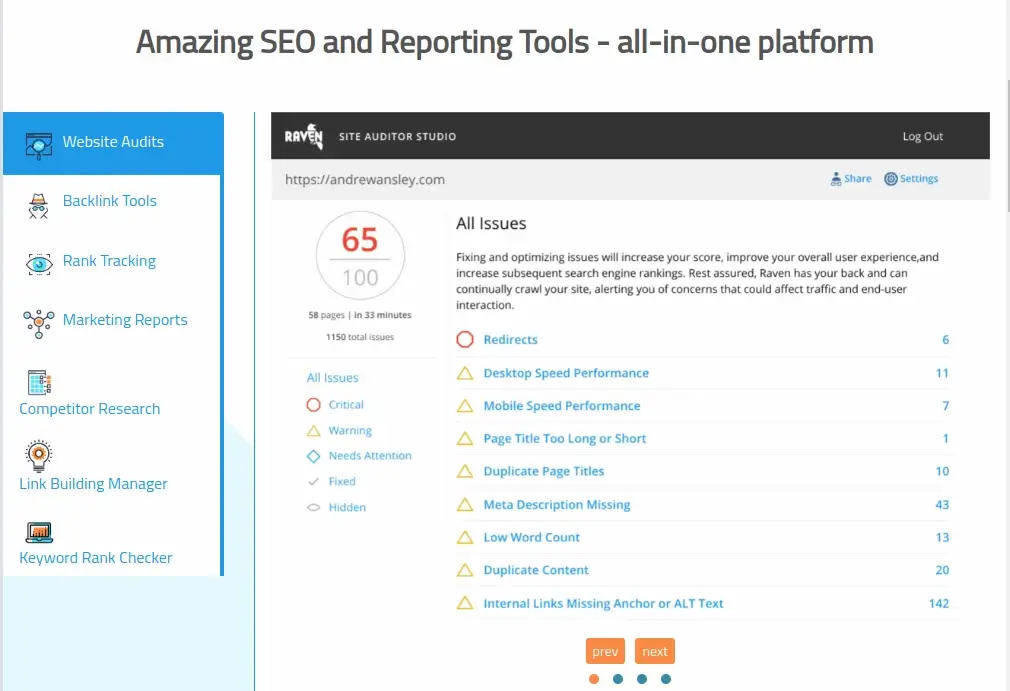 13. Backlink Watch
Backlink Watch is a simple SEO tool that focuses on the fact that Search Engine Optimization (SEO) revolves around building links and it is designed to make users' websites stand out in the SERPs. Its features provide information on anchor texts, competitors' strategies, keyword research, backlink count, outbound links, page ranks, etc.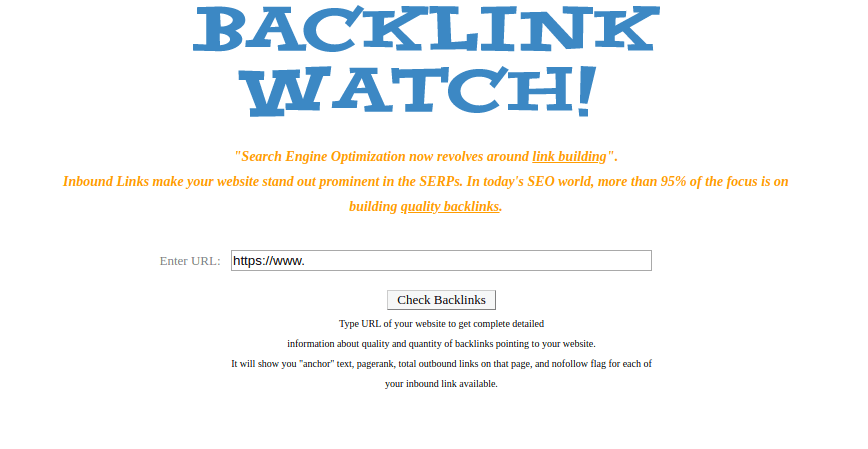 14. SE Ranking Backlink Analysis Tool
An effective backlink strategy starts and ends with analyzing and understanding your backlink profile. And since this is a tedious process to undertake normally, you can leverage SE Ranking Backlink Analysis Tool to achieve fast and accurate results.
Features:
Includes metrics that assess the quality and authority of backlinks
Allows users to export backlink data with a single click
Offers backlink categories
Offers features for monitoring new and lost backlinks
SE Ranking Bac provides a detailed report about each backlink to your website. Often, this information includes linking domain's authority, anchor texts used, and link type (dofollow or nofollow). You can also use the tool to track your backlink growth over time, identify and disavow spammy backlinks, and analyze your competitors' backlink profiles.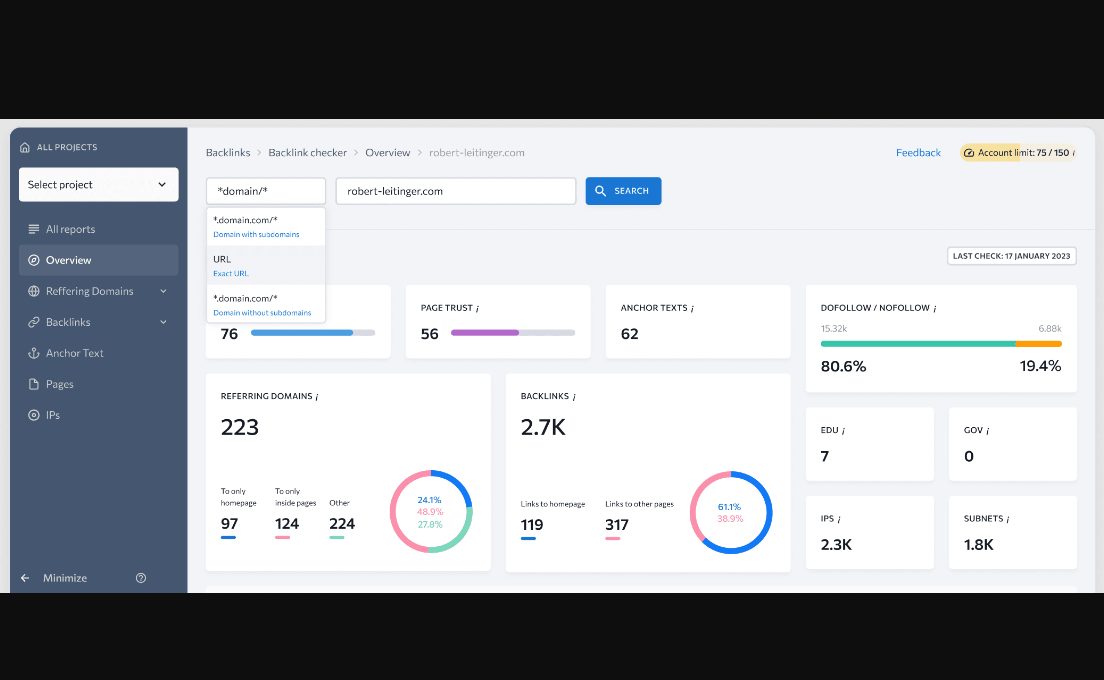 15. LinkResearchTools
You can trust LinkResearchTools (LRT) to go beyond your ordinary backlink analysis and perform a comprehensive backlink management on your site. It is a suite of 25 standalone tools designed to provide unparalleled SEO value, particularly on backlink tracking and analysis.
LinkResearchTools stands out due to its extensive link data, powerful insight into site link profiles, and its ability to identify potential link building opportunities.
Besides, it features a combination of cutting-edge technology, a user-friendly interface, and a wide range of features that cater to the diverse needs of SEO practitioners.
Features:
Allows you to see all your backlinks from various sites
Provides site monitoring and detailed SEO recommendations
Offers a wide array of link building methods and tools
Comprehensive integration allows you to export backlink data
Developed by CEMPER.COM, this tool stands out as a robust solution for link building, link detox, and competitive link analysis.
LRT aims to empower digital marketers, SEO professionals, and website owners with the insights needed to optimize their link profiles and improve overall search engine visibility.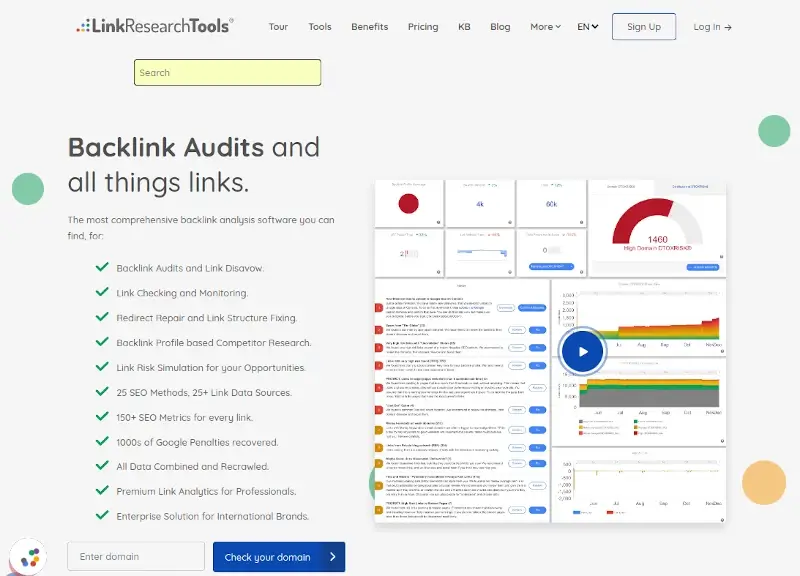 16. Majestic Site Explorer
Majestic Site Explorer is a powerful tool offered by Majestic, a leading provider of link intelligence and SEO tools. It specializes in providing detailed insights into a website's link profile, helping digital marketers, SEO professionals, and website owners understand the dynamics of their backlinks.
Majestic Site Explorer is renowned for its vast link database and advanced metrics, making it a cornerstone for those seeking in-depth link analysis.
Besides, its unique metrics, such as Trust Flow and Citation Flow, offer a nuanced understanding of link quality and authority.
Features:
Boasts the second-largest backlink index in the industry
Provides a more nuanced assessment of backlink quality
Conveniently traces the evolution of a website's backlink profile
Majestic Site Explorer is an indispensable tool for those seeking in-depth link intelligence. Its vast link database, proprietary metrics, and visualization features provide a comprehensive understanding of a website's link profile.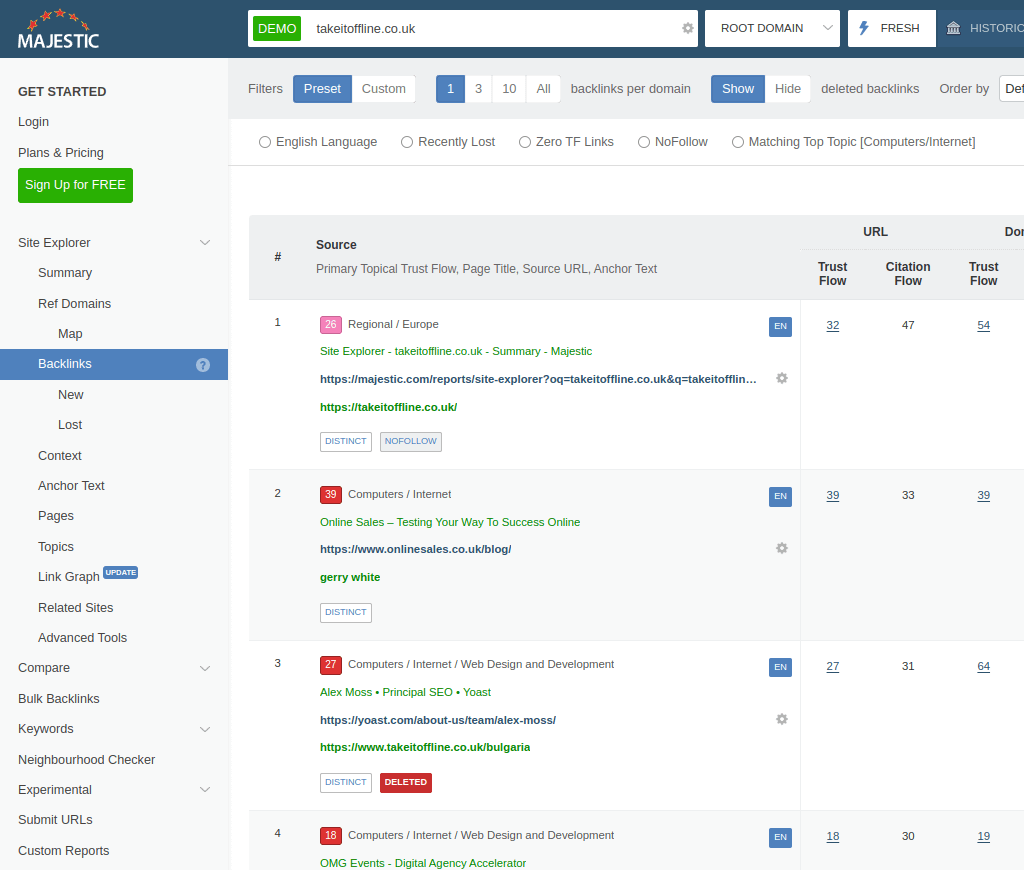 17. Sitechecker
Sitechecker is a robust SEO tool designed to provide comprehensive website monitoring and optimization capabilities. It is incredibly user-friendly interface, affordability, and the wide range of SEO metrics it offers. This makes it an exceptional backlink checker tools worth considering in 2023 and beyond.
Features:
Provides a centralized platform for conducting comprehensive SEO audits
Detects and disavows spam backlinks
Can deliver comprehensive on-page SEO analysis
Provides in-depth analysis of your backlinks
Tracks your website's ranking for relevant keywords
Sitechecker is a versatile SEO auditing and backlink analysis tool that can help you achieve their online marketing goals. Its unique combination of features, integrated SEO approach, and user-friendly interface makes it a valuable asset for anyone who wants to optimize their website for search engines and improve their overall online presence.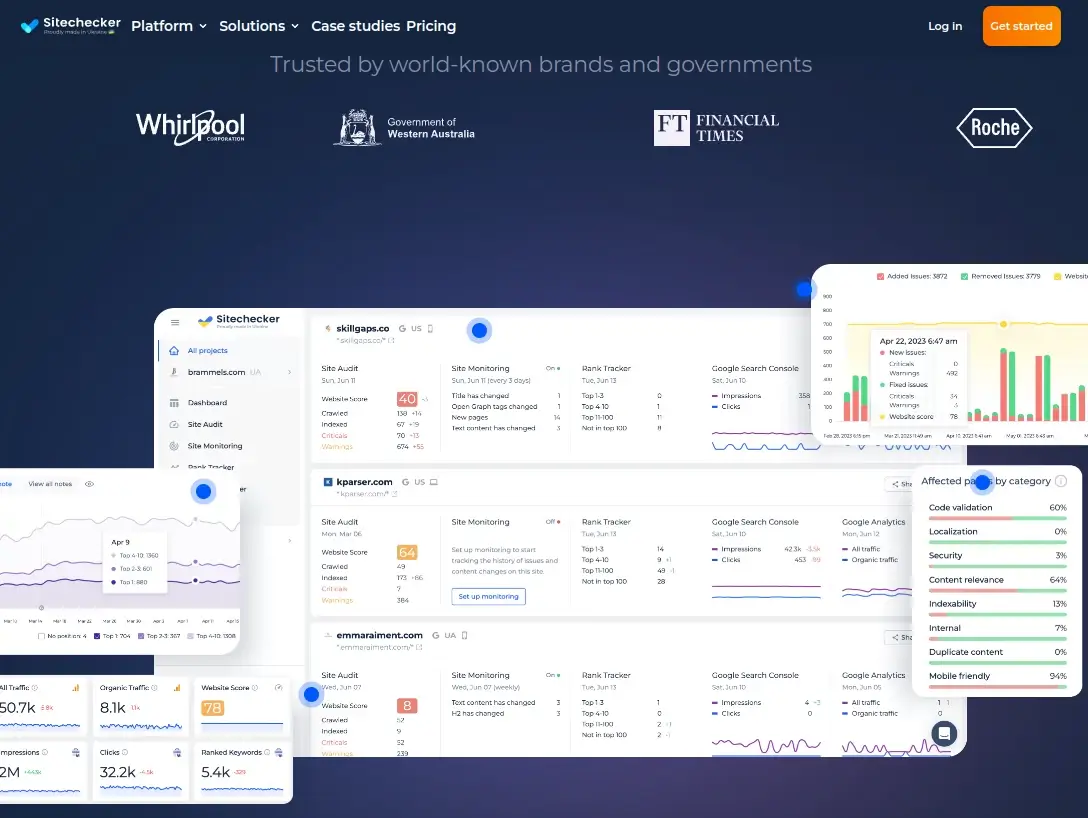 18. Google Search Console
Google Search Console is more of a website monitoring and maintenance tool than a backlink checker. Still, it allows you to see all the backlinks leading to your site and provides you with up-to-date information about your backlink profile.
While it may not provide as detailed information as some dedicated backlink analysis tools, it's a reliable source for understanding the basics of your link profile.
Notably, the platform provides site monitoring tools, including alerts for issues such as crawl errors and security issues.
Features:
Allows you to submit your website to Google Search for indexing and verify ownership
Can perform individual URL inspection for spam identification
Integrates seamlessly with other popular SEO tools and platforms
Can help monitor your website's status in Google Search
Validates and improves your site's data markup

Google Search Console boasts the largest backlink database in the industry, with over 38 trillion backlinks indexed. This extensive database allows for in-depth analysis of a website's backlink profile, revealing even the most obscure backlinks.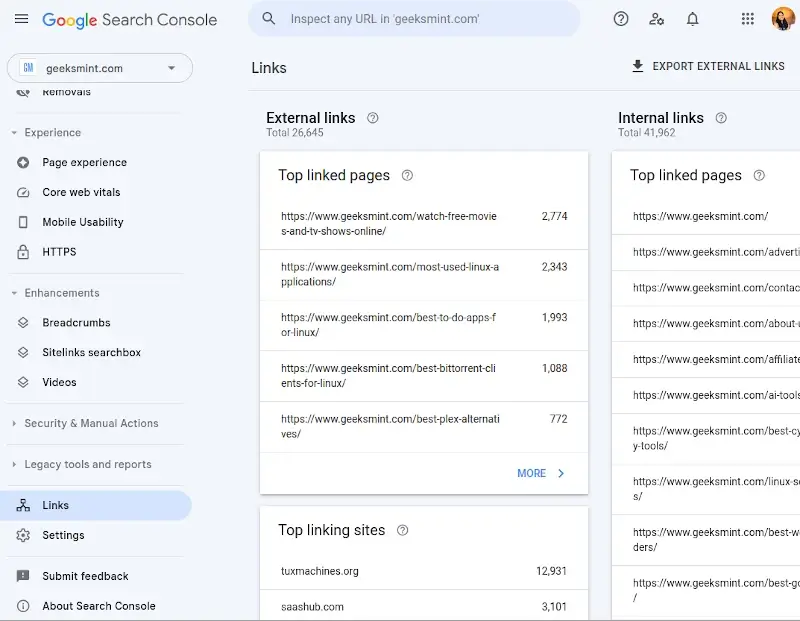 19. Seobility
Anyone looking for an all-in-one SEO platform for better ranking should consider Seobility. It comes in handy in helping you to identify and address any issues that could be hindering your website's ranking in SERPs.
This is a sure way to achieve visibility and higher ranking by correcting detrimental issues.
Features:
It features white-label reporting capabilities
Provides data-driven insights to help in making more informed strategies
Its backlink analysis tool can help you to identify and acquire high-quality backlinks
Conducts comprehensive site audits
Seobility is a cost-effective solution that offers a wide array of SEO analyses and tools, making it a valuable asset for businesses and individuals seeking to enhance their website's SEO performance.
While it may not offer the same level of complexity and detail as some well-known SEO analysis tools, its affordability and comprehensive feature set make it a compelling choice.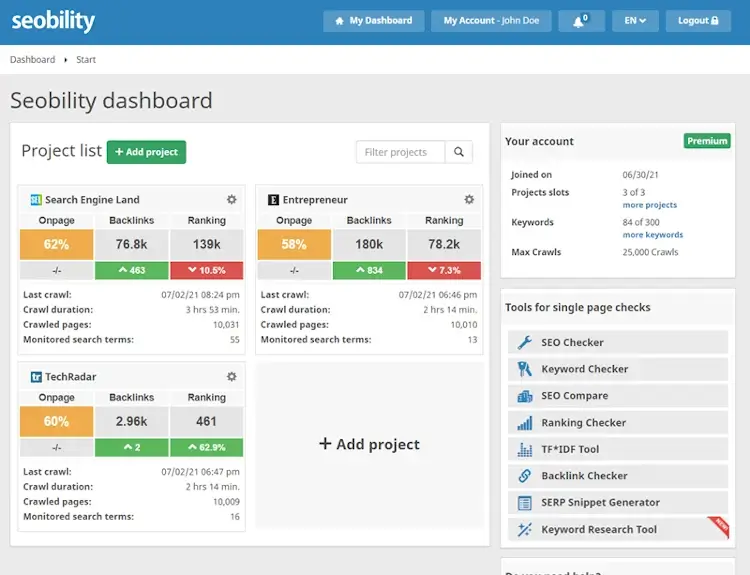 20. SEO Review Tool
SEO Review Tool is a collection of over 61 free online SEO tools designed to help website owners, SEO professionals, and marketers optimize their website's search engine performance. You will like it for its option for users to access more advanced features through a premium subscription.
Besides, it caters to users of varying expertise levels and offers valuable insights into on-page SEO, technical SEO, and other aspects of website optimization.
Key Features:
Conducts comprehensive site audits
You can analyze keyword performance and get insights into keyword usage
Features a reliable backlink checker tool
Evaluates the quality of website content
SEO Review Tools features a combination of free tools and premium features makes it accessible to a broad user base. Whether you're conducting a site audit, analyzing keywords, or checking backlink profiles, SEO Review Tools provides a variety of tools to support your SEO efforts.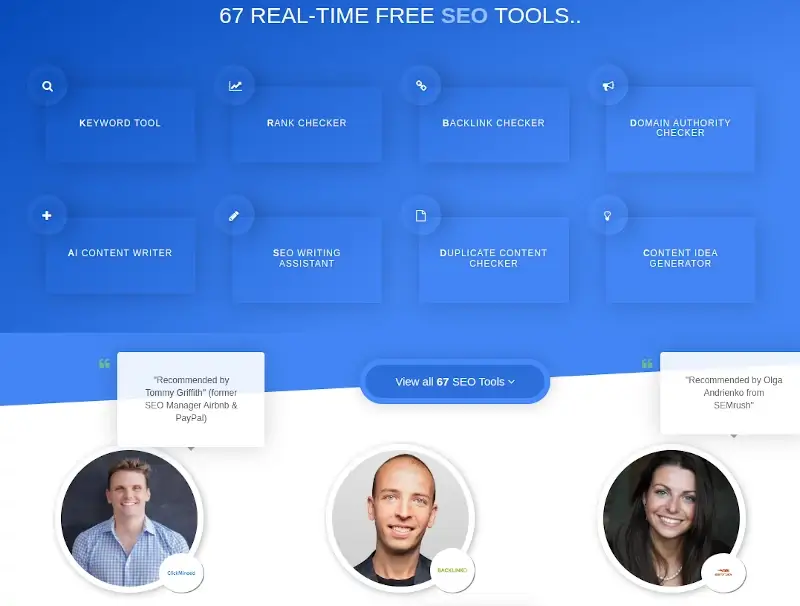 21. Keyword Everywhere
Unlike most tools discussed here, Keyword Everywhere specializes in streamlining the often-challenging keyword research process. This browser extension seamlessly integrates with search engine result pages (SERPs) and other websites to deliver real-time keyword data to users as they conduct searches.
Keyword Everywhere stands out for its simplicity and effectiveness in providing key keyword metrics directly within the user's browsing environment. You can leverage it for finding long-tail keywords, evaluate keyword competitiveness, and analyze search volume data for a wide range of websites and platforms.
Features:
Displays search volume for your keywords
Can discover long-tail keyword suggestions
Provides historical search volume trends for keywords
Keyword Everywhere offers a unique approach to keyword research by providing real-time keyword data directly on the search results pages. Its real-time data, keyword suggestions, and export capabilities make it a valuable asset if you are looking to streamline their keyword research processes.
Frequently Asked Questions (FAQ's)
Following are some of the Frequently Asked Questions (FAQs) about the BackLink Checker Tool.
1. How many backlinks do I need to rank well?
There isn't a definite number of backlinks that will make you rank well as several factors come into play. However, as a general rule of thumb, you will need at least 50-100 backlinks from high-quality websites to start seeing results.
These are some factors that will affect the number of backlinks you need.
If you are targeting keywords that are very competitive, you will need more backlinks than if you are targeting keywords that are less competitive.
When it comes to backlinks for SEO, quality comes before quantity. You would rather have 30 high-quality backlinks than have 300 from mediocre sites.
A site with a higher overall authority needs fewer backlinks to rank well as compared to that with a low domain authority.
2. What do you mean by white hat backlinks?
White hat backlinks are backlinks that are obtained through natural and ethical means. They are considerable of higher quality because of their relevance to your niche. White hat backlinks will effectively improve ranking and increase your website's authority.
3. Why Are Backlinks Important in SEO?
Use backlinks for these reasons.
When a reputable website links to your website, it tells the search engine that your website has valuable and relevant content related to the niche. More backlinks from reputable sites translate to more authority.
Among the factors used to determine ranking is backlinks. When you have more backlinks than your competitors, search engines will consider your website more relevant and valuable than your competitors' websites. This can help you to rank higher in search results.
Backlinks essentially create links that people can click on to visit your website, leading to more online traffic.
4. Can backlink checker tools help in removing toxic backlinks?
Yes, backlink checker tools can help in removing toxic backlinks. These tools can identify potentially harmful backlinks pointing to your website. After evaluating your backlinks, these tools flag them and provide you with a disavow option.
5. How frequently should I check my backlink profile?
The frequency of checking your backlink profile depends on the size of your website. If you have a small, static website, you may only need to check your backlink profile once or twice a year.
However, if you have a large, active website with a lot of new content being published, you may need to check your backlink profile more frequently, such as once a month or even once a week.
6. How quickly do changes in backlink profiles show up in these tools?
The time it takes for changes in backlink profiles to reflect in backlink checker tools varies depending on the tool and the frequency with which it updates its database.
However, most backlink checker tools will update their databases every few days or even daily. This means that changes in your backlink profile will typically be reflected in these tools within a few days or even less. Notably, some tools provide real-time data.
7. Should I focus on the quantity or quality of backlinks?
Prioritize quality over the number of links. You would rather have fewer backlinks from reputable sites than many backlinks from lowly ranked sites.
8. How can I identify spammy backlinks?
Identifying and dealing with spammy backlinks is crucial for maintaining a healthy and reputable link profile.
Use the following methods to identify them:
Irrelevant Anchor Text: If the anchor text used in the backlink is not related to your website's content or niche, it's likely a spammy backlink.
Low-Quality Linking Domains: Backlinks from websites with low domain authority, poor content quality, or excessive spammy backlinks are generally considered spammy.
Foreign Language Backlinks: If you receive backlinks from websites in languages unrelated to your website's target audience, they're likely spammy.
Sudden Spike in Backlinks: A sudden influx of backlinks, particularly from questionable sources, may indicate spammy backlink-building tactics.
Links from Unrelated Websites: Backlinks from websites that are completely unrelated to your niche or topic are often spammy.
Suspicious Domain Names or URLs: Domain names or URLs that seem odd, misspelled, or intentionally misleading might indicate spammy backlinks.
Redirects to Malicious Sites: If a backlink redirects to a website known for malware, spam, or phishing attempts, it's definitely spammy.
Excessive Backlinks from a Single Source: A large number of backlinks from a single website, especially if it's low-quality or irrelevant, can be a red flag.
Hidden or Cloaked Links: Links that are hidden from the user, such as within invisible text or JavaScript redirects, are often spammy.
Links from Paid Link Networks or Link Farms: Backlinks purchased through paid link networks or link farms are generally considered spammy and can harm your website's ranking.
If you suspect any backlinks pointing to your website are spammy, you can use backlink checker tools or manually review the backlinks to identify potential issues. Once identified, you can disavow these backlinks using Google Search Console to protect your website's reputation and ranking.
9. How can I disavow spammy backlinks?
Disavowing spammy backlinks is the process of informing Google that you want to unlink the hyperlinks from your site. Usually, you can effectively achieve this with Google Search Console.
These steps will help:
Use backlink checker tools or manually review your backlinks to identify potential spammy links. Look for backlinks from low-quality, irrelevant, or fishy websites.
Create a disavow file, this step involves making a text file with the URLs of the bad links you want to disavow. Each URL should be listed on a separate line in the file.
Submit the file, sign in to Google Search Console, and access the "Security & Manual Actions" section. Under "Links to your site", click on "Disavow links" Finally, upload the file.
Monitor the progress, Google sometimes takes time to process files. Once processed, the spammy backlinks will be considered less relevant and may have a lesser impact on your website's ranking.
Review and update the disavow file periodically: Regularly review your backlink profile and add any newly identified spammy backlinks to the disavow file. Update and resubmit the file.
Conclusion
There are many great backlink checker tools available today. Each tool has its own strengths and weaknesses, so it is important to choose the one that is right for you. Consider your specific needs and ease of use when shopping for a free or paid backlink checker.
If you are a more experienced SEO professional, you may want to choose a tool that offers more advanced features.